The Capitol Roundup

The Arc of Arizona's regular recap of State & Federal legislative happenings

January 12, 2018
At the Statehouse...


It was an exciting week in Arizona politics, as the legislature convened the 2018 session, new candidates joined the race for the open Arizona U.S. Senate seat, 16 people filed to run for an open seat in the U.S. House – including another legislator who left the state Capitol this week
 – 
and the discussion about education funding returned to front pages of media outlets around the state.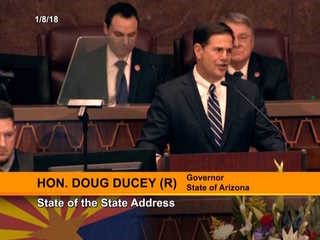 In his State of the State address to the legislature on Monday, Governor Doug Ducey pledged that 80% of his budget proposal would be focused on education priorities. On Tuesday, he released additional details with an announcement that his budget would gradually restore more than $300 million in funding for school districts and charter schools that was cut during the economic downturn – a step that led one major education advocacy group to announce they would withdraw from a lawsuit against the state seeking school construction resources that were impacted by those funding cuts. Additional details just became available today, as the Governor shared his budget proposal. (More information on the budget's implications for education and other policy priorities is below.)
 
Representative Doug Coleman (R-Apache Junction) and Senator Kate Brophy McGee (R-Phoenix) also made headlines with their bill to continue the state's sales tax for education – revenue that, the primary sponsor argues, is a "vital revenue stream for Arizona's schools." The voter-approved tax is scheduled to expire in 2021. A group of business leaders previously announced their hopes to not just continue the tax but to increase it, but their proposal is not yet moving forward. The legislative proposal would not raise the tax but would continue the current rate of $0.6 in state statute permanently. Representative Coleman and House Republican leaders concede that the bill is unlikely to advance this year, as legislators focus on the Governor's education funding priorities and delay a debate on Proposition 301 expansion and/or extension until after the election.
 
Few policy committees met this week, though several held informational hearings and considered bills. One committee approved a bill that would dedicate $2.5 million to fund the special elections needed to fill the Congressional seat vacated by Trent Franks; another approved several bills that would continue health-related state agencies in statute. 
 
The Senate Committee on Education also convened, and approved proposals to exempt severely ill students from being considered chronically absent for purposes of school accountability and to allow charter schools to follow school districts' ability to set official rules without going through the state's rulemaking approval process.
 
Another committee heard from experts on the public health implications for Arizonans who do not get enough sleep and the progress at the Children's Postinfectious Autoimmune Encephalopathy (CPAE) Center of Excellence at Banner University/University of Arizona.
 
Executive Budget Proposal Focuses on Education, Targeted Investments
 
Governor Doug Ducey's budget proposal that was released today is built on what his budget team described as a "realistic and achievable" rate of "slow but sustainable growth" in the coming year. It spends a total of $10.1 billion – a growth of 3.2% in state general fund spending over the current year's budget. 
 
The budget would increase state revenues by an increased effort against tax fraud ($30 million), stronger tax collection and auditing at the Department of Revenue ($25 million), new vending machines for the Arizona Lottery ($11.5 million).
 
80% of the new growth is dedicated to the education priorities the Governor outlined earlier this week, including a four-year phased-in restoration of the $371 million in annual assistance for school districts and charter schools. These funds have historically been used for school facilities, but school leaders will maintain flexibility to prioritize the use of the funds. Under the Governor's plan, schools would receive a total of $100 million in the upcoming fiscal year, increasing each year until reaching $371 million in fiscal year 2023.
 
The Governor's budget directs funding to a number of other priorities, as well, including:
$115.5 million for student growth and inflation;

$88.1 million in debt financing leveraged by $5.1 million from the state to construct new schools or expand capacity;

Continuation of the $38 million allocated to the Results-Based Funding formula;

$35.2 million for building renewal grants to improve or repair aging school facilities (for a total of $51.8 million), plus $10 million in supplemental funding for additional grants in FY 2018;

$34 million for the second year of the teacher salary increase and moving the total increase into the base level to ensure it will be adjusted for inflation every year (bringing the total to $68 million);

$4 million to continue expanding early literacy funding for all-day kindergarten and other early childhood programs;

$2.5 million to expand the Governor's Partnership for K-12 Computer Science pilot program that will allow schools to offer high-quality, rigorous training for new computer science teachers;

$2 million to fully funding large Joint Technical Education Districts (JTEDs), which serve more than half of all students attending JTEDs;

$7.6 million in other key education investments on information technology projects and assessments;

$1.6 million for 21 new early intervention teachers for students with disabilities through the Arizona Schools for the Deaf and Blind's "Birth to Three" program;

$507,300 for new school buses.
Though many of the Governor's new spending items are dedicated to education, the budget proposal does include resources for additional priorities:
AHCCCS
The budget adjusts line item funding to account for administrative efficiencies, and decreases funding for some programs based on an assumption that the federal government will approve the state's waiver request to impose work restrictions and lifetime limits on AHCCCS enrollment.
Child Safety
The budget would appropriate $15.8 million for adoption subsidies to families who adopt children in the foster system.
DES and Human Services
The budget includes $1.8 million for provider costs associated with the Prop. 206 minimum wage increase, and identifies federal grant funding to replace state dollars for Adult Protective Services. It directs $471,000 in state resources to support for adult and home-based services for the elderly, dedicates $33.2 million for caseload and capitation growth in the DDD program, and requests $8.8 million to backfill DDD shortfalls.
 
The proposal also transfers responsibility for Children's Rehabilitative Services and programs for children who have developmental disabilities from AHCCCS to DES, a move that the Governor believes will better integrate delivery, management, and financing of health care. It directs $1 million to enhance food banks' ability to accept and transport healthy foods, especially throughout rural Arizona.
 
Full details on the Governor's budget proposal are available at www.azgovernor.gov/budget. The House and Senate budget committees will convene for a briefing on the proposal Tuesday morning; click here to view the presentation at 9:00.
---

On the Federal Front...
Major Recent Events
The House and Senate passed the Tax Cuts and Jobs Act (TCJA) on December 20, 2017, by votes of 224 to 201 and 51 to 48, respectively. President Trump signed the measure into law two days later. Though the final version of the legislation removed some of the objectionable provisions from prior versions, such as repeal of the medical expense deduction, the work opportunity tax credits, and the disabled access credit, The Arc strongly opposed this legislation. The TCJA repeals the individual mandate to have health insurance, leading to 13 million fewer people with coverage over 10 years, and increases the deficit by nearly $1.5 trillion over a decade, adding pressure to cut Medicaid and other critical programs while providing tax cuts that disproportionately benefit the most affluent and large corporations. See a summary of what is in the law from Politifact.
 
Another Short-Term Funding Bill Enacted, Waiving Mandatory Spending Cuts
On December 22, 2017, President Trump signed another stop-gap funding bill into law that Congress passed the day before, barely averting a government shutdown. The current spending measure runs through January 19, 2018 and includes a waiver of the "Pay-as-you-go" budget rule. The "Pay-Go" rule would have required $136 billion in annual cuts to several mandatory programs (including $25 billion from Medicare alone) due to the new tax law's additional $1.5 trillion in deficits over 10 years.
 
Labor Department Releases Proposed Rule Expanding Access to ACA Non-Compliant Plans
On January 5, the Employee Benefits Security Administration released a proposed rule expanding the availability of association health plans (AHPs). While these plans are prohibited from discriminating or charging more based on pre-existing conditions, they are not required to cover the essential health benefits generally required by the Affordable Care Act (ACA), such as rehabilitative and habilitative services, and mental health and substance abuse services. This rule has the potential to destabilize the individual and small group health insurance markets, leaving people with disabilities and chronic health condition with skyrocketing premiums.
 
House Passes RAISE Family Caregivers Act
The House passed H.R. 3759, the Recognize, Assist, Include, and Engage (RAISE) Family Caregivers Act by voice vote on December 18, 2017. The Arc supports this bipartisan legislation introduced by Representatives Gregg Harper (R-MS), Kathy Castor (D-FL), Michelle Lujan Grisham (D-NM), and Elise Stefanik (R-NY) that calls for the development of a national strategy to support the nation's more than 40 million caregivers. The RAISE Family Caregivers Act would bring together stakeholders from both the public and private sector to create an advisory body. This advisory body would then develop recommendations for how government, communities, providers, employers, and others can better recognize and support family caregivers. The measure now goes back to the Senate.
 
Wandering Bill Passed by the Senate
Kevin and Avonte's Law passed the full Senate on December 21, 2017, with amendments by voice vote. The Arc supports this bipartisan legislation that assists in locating persons who wander from safe environments and expands the program to include new support for children with developmental disabilities, including autism spectrum disorder. It also allows Justice Department grants to be used to develop training and emergency protocols, supply first responders with additional information and resources, and make local tracking technology programs available for individuals who may wander because of their condition. Kevin and Avonte's Law has now passed the Senate as a standalone bill (S. 2070) and it also has passed the Senate as the Grassley-Klobuchar-Tillis-Schumer amendment to the House-passed Federal Register Printing Savings Act (H.R. 195). The next step is for the House to pass it again with the Senate amendment consisting of Kevin and Avonte's Law before it can go to the President for his signature.
 
Announcements

NPR Series on Abuse of People with Intellectual and Developmental Disabilities Begins January 8
At a moment of reckoning in the United States about sexual harassment and sexual assault, a yearlong National Public Radio (NPR) investigation finds that there's little recognition of a group of Americans that is one of the most at risk: adults with intellectual disabilities. The series starts on Monday, January 8th and runs through Thursday, January 18th. The Director of The Arc's National Center on Criminal Justice and Disability, Leigh Ann Davis, was interviewed for this series in addition to staff and clients on several chapters of The Arc. The series schedule is as follows and can be found in its etirety at www.npr.org:
Jan 8: Morning Edition: Correspondent Joe Shapiro talks about the series with host Steve Inskeep.

Jan 8: All Things Considered: The epidemic of sexual abuse of people with intellectual disability. Numbers obtained by NPR show they are sexually assaulted at rates more than 7 times those for all adults without disabilities.

Jan 9: Morning Edition: A visit to a Sex Ed class for people with intellectual disability. They talk about how they want relationships, but how the sexual violence of their past often gets in the way.

Jan 10: All Things Considered: On cases that go unnoticed when people have difficulty communicating.

Jan 16: All Things Considered: Police and prosecutors are often reluctant to take these cases. NPR goes back to Essex County, New Jersey, where the first case to get widespread attention--in Glen Ridge, New Jersey, 25 years ago--was prosecuted. And look at what prosecutors have learned since.

Jan 18: Morning Edition: Therapists Nora Baladerian and Karyn Harvey talk about the stunning violence in the lives of their clients.

Jan 18: All Things Considered: Self-advocates speak of the effects of sexual violence. This piece is entirely in the voices of people with intellectual disability (plus Joe Shapiro).
Archived Webinar on Paid Family and Medical Leave from the Disability Angle Now Available
The webinar hosted by The Arc in October on Paid Family and Medical Leave from the Disability Angle is now available. Presenters were Kali Grant, the Georgetown Center on Poverty and Inequality (GCPI); T.J. Sutcliffe, The Arc; Erika Hagensen, North Carolina; and Lauren Agoratus, New Jersey. The archived recording can be found here. See the research by The Arc and GCPI highlighting how access to paid leave can promote economic security and stability for people with disabilities and their families here. 
 
The Arc's Senior Executive Officer for Public Policy Receives Award
​Marty Ford, The Arc's Senior Executive Officer for Public Policy, received the "Policy Award" from the American Association on Intellectual and Developmental Disabilities (AAIDD) in honor of her advocacy for people with I/DD throughout her career. The award will be given at AAIDD's convention in June. Learn more about AAIDD's award recipients here.
---
The Capitol Roundup is provided weekly throughout the Arizona Legislative session and periodically between sessions as a benefit of Membership in The Arc of Arizona. To continue receiving this publication, visit

www.arcarizona.org/become-a-member

to start or renew your Membership today!