The Capitol Roundup

The Arc of Arizona's regular recap of State & Federal legislative happenings

November 3, 2017
At the Statehouse...
Just when it seemed Arizona politics could not get more complicated, they did. U.S. Senator Jeff Flake recently created headlines with his announcement that he would not seek reelection next year in a race that had been widely seen as one of the most high-profile in the country. His decision opens the door for a wide range of potential candidates – including current members of Arizona's Congressional delegation and a member of the Arizona Board of Regents. As national political parties pour time and money into seats they believe can change the balance of power in the U.S. Senate, Arizona is likely to draw attention throughout the 2018 election cycle.
| | |
| --- | --- |
| | For another year, though, the current delegation will continue to vote on issues of great importance to the state – like tax policies and health care coverage. Last week, Congress moved a step closer to addressing tax changes before the end of the year. And the Congressional Budget Office evaluated a bipartisan agreement on Obamacare reforms, determining that it would cut $3.8 billion from the national deficit without cutting health insurance coverage insurance for those who have it. The proposal faces an uncertain future; some Republicans oppose the measure because it fixes problems with the current system, rather than repealing and replacing Obamacare like they hoped to do.​ |
Politics closer to home are eventful, as well. Former state Representative Justin Olson has been sworn in as Arizona's newest member of the Corporation Commission after Governor Ducey appointed him to fill a vacant seat. The state joined the competition to land the new Amazon headquarters, and the Board of Education agreed to take another look at how to best determine school performance after their letter grades for schools created confusion and controversy.

The debate on whether state legislators should prohibit action from local elected officials reignited when the Arizona Attorney General ruled that Bisbee's ban on plastic bags violated a state policy and could cause the city to lose income taxes it receives from the state. State and local officials also disagreed on how difficult it is to implement a new database for births and deaths.

Local officials did get some good news last week, however, when Governor Ducey announced that he would fight to protect funds designated for road building and maintenance – one of the only clues he has provided on his budget priorities for the coming year. The Governor has consistently stated that K-12 funding will remain a priority, but as he puts together a budget recommendation to introduce in January, he also faces a wide array of funding requests from his state agencies.

Legislative budget experts are warning that additional spending may not be possible. As previously enacted tax cuts go into effect and revenues come in at a lower rate than expected, the state faces a potential deficit of up to $100 million in the coming year.

If revenues do not increase, that shortfall could impact many state agencies and services – and could inspire a renewed quest for outside resources for priorities. It is not yet clear whether the state will receive additional federal resources in the future as a result of President Trump's declaration of opioid addiction as a national public health emergency. The Arizona Department of Health Services is pursuing grants and opportunities outside of the emergency declaration, and recently received a $3 million grant for its efforts to teach first responders how to respond to opioid overdoses. The national and state discussion on opioid addiction – and the treatment and prevention of it – is far from over.
 
Arizona Supreme Court Hears Medicaid Arguments
On October 26, the Arizona Supreme Court heard arguments in the Goldwater Institute's challenge to the 2013 expansion of Medicaid coverage. A bipartisan coalition of legislators voted to extend Medicaid benefits to a wider range of recipients than is mandated under federal law – a step that was supported by then-Governor Jan Brewer, but opposed by Republican legislative leadership. Some of those legislators joined with the Goldwater Institute to challenge the legislation as a violation of the state's prohibition against implementing a tax without a supermajority vote.

A lot is at stake under this case, since a ruling against the 2013 law could remove 400,000 people from Medicaid programs in Arizona and potentially impact state funding mechanisms for a variety of other state agencies.

An attorney for the Goldwater Institute told the Court that her organization seeks a ruling against the use of an assessment to fund expanded programs – even if that ruling applies only prospectively and not to the 2013 change.

It is unclear when the Court will rule on the issue.​
---

On the Federal Front...
Major Recent Events
House Committee Releases Tax Bill
Ways and Means Committee Chairman Kevin Brady (R-TX) Committee would release a draft of the Committee's tax bill on November 1. Markup of the legislation is scheduled to begin on November 6. Despite the announcement, there reportedly continues to be disagreement among Members of Congress on tax expenditures (credits, deductions, exclusions, and deferrals) that should be eliminated or reduced in order to offset the cost of cutting tax rates. The Arc will review the legislation to ensure that it is consistent with our shared principles for tax reform which include not cutting essential federal programs to help pay for tax cuts that primarily benefit wealthy individuals and corporations. See The Arc's blog for more information.
House Passes Senate FY 2018 Budget Resolution, Setting the Stage for Tax Cuts and Possible Program Cuts
On October 26, the House passed the fiscal year (FY) 2018 Senate Budget Resolution (H. Con Res 71, as amended) by a vote of 216 to 212. Since the House simply passed the Senate's budget rather than going to conference to negotiate the significant differences between the chambers' bills, the timeframe for a tax reform bill has been speeded up. Though the Budget Resolution is not a binding document, it provides a blueprint for federal spending and revenues for the next decade and authorizes certain committee and Congressional action for this fiscal year. The final Budget Resolution provides instructions to the Finance Committee and House Ways and Means Committees allowing them to develop legislation that increases the deficit by up to $1.5 trillion over 10 years. That legislation would only require a simple majority (51 or 50 plus the tie-breaking vote of the Vice President) in the Senate to pass during FY 18. In addition to taxation, the Finance Committee has jurisdiction over Medicaid, Medicare, Temporary Assistance to Needy Families, and other health and human services programs. The House Ways and Means Committee has jurisdiction over taxation and several health and human services programs (see list). The Senate budget assumes, but does not require, over $5 trillion in program cuts, including a nearly 30% cut in inflation adjusted dollars to non-defense discretionary (NDD) programs. Fortunately, however, 60 votes will be needed in the Senate to change the caps for defense and NDD programs established by the Budget Control Act of 2011.
 
House Reauthorizes CHIP
The House of Representatives voted on a bill to reauthorize funding for the Children's Health Insurance Program (CHIP) this week. While there is bipartisan support for reauthorization of the program, there is disagreement on how to fund it. The current bill funds the program with Medicare and Medicaid changes. The Arc does not support paying for bills in ways that hurt Medicaid and Medicare beneficiaries and urges the House of Representatives to continue seeking appropriate funding options with bipartisan support. To learn more, read The Arc's blog post.
Department of Education Rescinds Additional Non-Regulatory Guidance Documents
On October 27, the Department of Education announced the "withdrawal of nearly 600 out-of-date pieces of sub-regulatory guidance on its books" to date. "Each item has been either superseded by current law or is no longer in effect. Removing these out-of-date materials will make it easier for schools, educators, parents and the public to understand what guidance is still in effect." A very preliminary review of rescinded documents indicates that the documents are outdated, however, disability advocates will continue to review the rescinded documents.

This announcement follows the Oct. 19 announcement of the rescission of 72 guidance documents under the Office of Special Education and Rehabilitation Services (OSERS) that were rescinded due to being "outdated, unnecessary, or ineffective" with no explanation provided. The Department followed up a few days later with a document that included brief justifications. A preliminary review also indicates that these rescissions appear to be valid. The Department's Regulatory Reform Task Force's full report and a list of out-of-date sub-regulatory guidance by office is available here.
 
Senate Holds Hearing on Working and Aging with Disabilities
On October 25, the Senate Aging Committee held a hearing entitled, "Working and Aging with Disabilities: From School to Retirement." Witnesses were David Michael Mank, Ph.D., Professor Emeritus, Indiana University; Tamar Heller, Ph.D., Professor, University of Illinois-Chicago; Eric Meyer, President and CEO, Spurwink; and Jeff Smith, Senior Mail Clerk, Arkema. Visit the Committee web site to view the archived video of the hearing.
 
Announcements
Health Insurance Open Enrollment Begins November 1
Now is the time for individuals who are uninsured or looking for affordable health insurance to investigate the private health insurance plans available through state marketplaces (to find your state information visit the health care website). During "open enrollment", a person can purchase private health insurance through the marketplace in each state. There may also be financial assistance to help with health care costs available for low and moderate incomes. It is also important for people who currently have insurance through the marketplace to look at the plan to determine if it will continue to meet their needs. Individuals who do not take action will be automatically re-enrolled in the current plan. Re-enrollment is also an important opportunity for people to report any changes in income. To learn more, read The Arc's blog post.
There's Still Time to Register...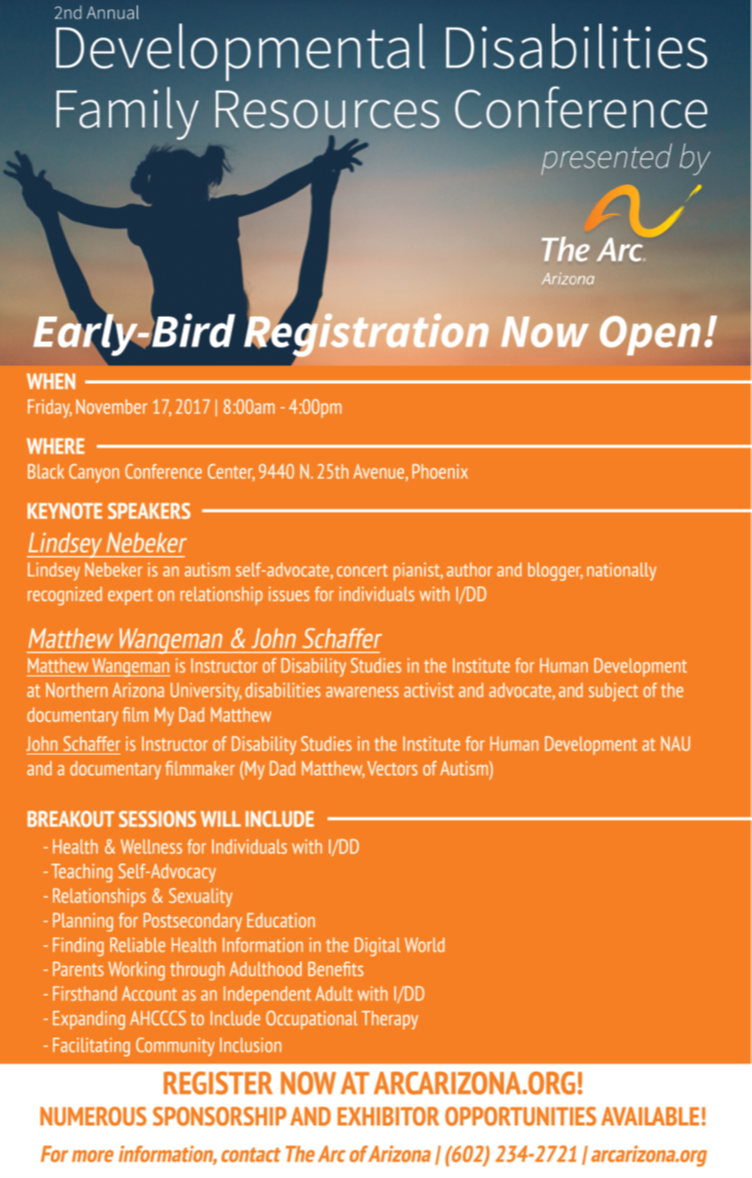 ---
The Capitol Roundup is provided weekly throughout the Arizona Legislative session and periodically between sessions as a benefit of Membership in The Arc of Arizona. To continue receiving this publication, visit

www.arcarizona.org/become-a-member

to start or renew your Membership today!