The Capitol Roundup

The Arc of Arizona's regular recap of State & Federal legislative happenings

October 6, 2017
At the Statehouse...
​Though the 2018 election is more than a year away, Arizona races are already in the headlines. With one of the most high-profile U.S. Senate races, a gubernatorial race, and other key statewide, Congressional, and legislative contests, Arizona voters will have long months of campaigning.
​
The election systems themselves are also in the headlines, after the U.S. Department of Homeland Security announced that the Russian government attempted to hack into Arizona's voter registration system in last year's election. Investigations are ongoing.
| | |
| --- | --- |
| State budget debates have also begun, though the legislature will not approve funding priorities until 2018. State agencies submitted their budget requests to Governor Ducey last month, including a call from the Department of Economic Security for an increase of more than $3 million to cover costs associated with the minimum wage increase. As predicted, the costs for providers of services for individuals with disabilities exceeded the funding allocated by the state last year; DES says it needs more funding to meet those costs now and in the future. | |
The Arizona Supreme Court may also impact Arizona's budget for state Medicaid programs. The Court 
agreed to consider
 a case brought by opponents of the state's 2013 restoration of the state's broader Medicaid eligibility, who believe the change implemented a tax and therefore required a super-majority of legislative support. 
A lower court
 disagreed and declared the policy was enacted appropriately; the Supreme Court ruling will determine whether coverage for hundreds of thousands of Arizonans will continue.
​
As the 2018 legislative session draws closer, legislators are spending more time at the Capitol. Study committees are working to evaluate the health care workforce in the state, recommend solutions for the treatment of incompetent and dangerous defendants, and improve the juvenile justice system.
 
Congressional Indecision Causes Uncertainty for Arizona Health Care Programs
For weeks, federal health care proposals have dramatically played out in the headlines. As high-profile scrambles for votes unfolded on one idea after another, observers were left with virtual whiplash, debates grew more heated, and political tension increased. The proposals divided Arizona leaders, who disagreed on whether or not to support concepts that would hold significant implications for state budgets and health care programs.

Though Congressional Republicans say they have not given up on their efforts to repeal and replace the Affordable Care Act, for now the focus has moved onto changes to tax laws.
Amidst the broader health care debates, Congress also failed to reauthorize the Children's Health Insurance Program – a fact that creates uncertainty for state programs like Kids Care, Arizona's program that provides health insurance to children. AHCCCS says cash balances for the program will allow them to continue to provide service through the end of the year; the agency is hopeful that Congress will reauthorize funding in time to prevent a lapse in coverage for Arizona children.
 
DES to Form Working Group on Improvements to DDD Services
The Arizona Department of Economic Security needs to establish additional oversight for agencies that provide care to members served through the Division of Developmental Disabilities, according to a recent audit by the Arizona Auditor General. The report pointed to a lack of oversight processes for ensuring quality service and care, and recommended a working group charged with developing annual training requirements and minimum qualifications for the staff caring for DDD clients. The agency agreed with the audit findings, and committed to implement the recommended improvements.

The Auditor General also reviewed the full operations of DES and recommended a variety of improvements. The agency agreed to the recommendations, and committed to finalizing state rules for the ABLE program.
 
State Auditor Reviews Staffing Practices at Department of Child Safety
In a recent report, the Arizona Auditor General praised the Arizona Department of Child Safety for steps it has taken to address problems with staff retention – changes that have reduced the agency turnover to 28.7 percent this year. The report recommended additional steps to enhance retention, including enhanced training for staff.
On the Bright Side…
The Arizona State Parks Department is identifying opportunities to make state parks more accessible to individuals with disabilities, under the leadership of the first-ever State Parks Americans with Disabilities Act Coordinator.​
---

On the Federal Front...
Major Recent Events
Budget & Appropriations: House to Vote on Budget Resolution, Setting the Stage for Tax and Medicaid Legislation
The House planned to vote on its fiscal year 2018 Budget Resolution on Wednesday, October 4. Click here for a summary of the House Budget Resolution, which includes plans to "reform" Medicaid, cut spending, and enact tax reform. Passage of the House resolution (H.Con.Res.71) would set up a conference with the Senate on its budget blueprint (see article below). The House and Senate could quickly adopt a joint budget resolution to pave the way for legislation that can be passed by a simple majority (51) vote in the Senate. The Arc opposes the House Budget Resolution.
 
Health Care: House Energy and Commerce Committee to Hold Markup on CHIP Reauthorization
On October 4, the House Committee on Energy and Commerce scheduled a markup on a bill to reauthorize funding for the Children's Health Insurance (CHIP) program. This markup came after the program's funding expired. Some states' programs ran out of funding on September 30. The Arc urges swift passage of legislation to continue this vital program. See the committee's announcement for more information.


Health/Medicaid: Senate Declines to Vote on Repeal of the Affordable Care Act by Fiscal Year Deadline
Last week, Senate Majority Leader Mitch McConnell (R-KY) cancelled plans to hold a vote on the Graham-Cassidy bill. With Fiscal Year (FY) 2017 having ended on September 30, Congress can no longer use that fiscal year's budget reconciliation process to pass the bill with a simple majority vote. It now requires 60 votes. This victory would not have been possible without the disability community. Had this bill become law, it would have:
Capped growth in per capita Medicaid spending at below the cost of providing services;

Replaced premium tax credits and Medicaid Expansion funds with a block grant that grows more slowly than current law and expires after 2026;

Redistributed funds away from states that accepted Medicaid expansion; and

Allowed states to let insurers sell plans that cover fewer services and charge more based on health status or disability.
The Senate Finance Committee hearing on the Graham-Cassidy-Heller-Johnson Proposal on September 25 was marked by high attendance of disability advocates. Protesters from ADAPT started a chant of "No cuts to Medicaid, save our liberty" and their arrests delayed the start of the hearing by 15 minutes. Senator Robert Casey (D-PA) mentioned The Arc's advocacy and showed the stack of letters with stories from our advocates across the country.

While the cancellation of the vote on the "Graham-Cassidy" bill closed the door on Congress's best opportunity to pass this legislation for now, there are still major challenges ahead. The 115th Congress can write two more budgets, one each for FY 2018 and FY 2019. With each budget, there is an opportunity for one reconciliation bill which requires only a simple majority to pass in the Senate. The reconciliation bill for FY 2018 will most likely focus on tax cuts. It is possible that Congress will attempt to cut Medicaid, Medicare, Supplemental Security Income, or other programs that pay for basic livings needs of people with disabilities as a way to offset revenue reductions. Additionally, Congress could attempt to pass an Affordable Care Act Repeal with Medicaid per capita caps and major tax legislation in one package. In summary, fewer pathways now exist to cut program that cover basic living expenses, but threats still remain. See article above for Congressional efforts to develop a new budget resolution similar to the most recent efforts which allowed for consideration of major Medicaid cuts and repeal of the Affordable Care Act in 2017.
 
Budget & Appropriations: Senate Releases FY 2018 Budget Resolution
The Senate Budget Committee released its Fiscal Year 2018 Budget Resolution on September 29. The budget resolution (BR) is a 10-year spending and revenue blueprint for the federal government. The Senate Budget Committee's BR contains reconciliation instructions that will allow the Finance Committee to develop tax reform legislation that increases the deficit by to $1.5 trillion over the next decade. In addition, the BR includes reserve funds for legislation to repeal or replace the Affordable Care Act, extend the State Children's Health Insurance Program (CHIP), and ensure "state flexibility" in education, among other things. The BR is expected to be marked up in committee next week and brought to the full Senate in mid-October. The Arc is concerned that the BR will open the door for Congress to try again to limit health care and cut the Medicaid program as well as to provide large tax cuts that result in the need to cut Medicaid and other programs down the road to pay for them. Click here for the summary of the Senate budget resolution.
 
Social Security: House Passes Bill to Cut Off Basic Income for Adults with Disabilities and Seniors
Last week, the House of Representatives voted 244 to 171 to revive a failed former policy that cuts off Supplemental Security Income (SSI) benefits for certain people with disabilities and seniors. As amended and approved by the House, H.R. 2792 would revive a failed former policy targeting SSI recipients with old, outstanding arrest warrants for alleged felonies or alleged violations of probation or parole. This former policy ended following the resolution of class action litigation. Federal law already prohibits payment of SSI benefits to people fleeing from law enforcement to avoid prosecution or imprisonment, and the Social Security Administration has a process in place to notify law enforcement of the whereabouts of such individuals. Based on experience with the former policy, H.R. 2792 would not help law enforcement to secure arrests, but instead would target people whose cases are inactive and whom law enforcement is not pursuing. Anecdotally, a very high percentage of people affected by the former policy were people with mental impairments, including people with intellectual disability. To learn more, read The Arc's press statement condemning the House vote to advance this harmful legislation.
 
Family Support: RAISE Family Caregivers Act Passes Senate
On September 27, the Senate passed The Recognize, Assist, Include, Support, and Engage (RAISE) Family Caregivers Act by unanimous consent. This bipartisan legislation, introduced by Senators Susan Collins (R-ME), Tammy Baldwin (D-WI), Lisa Murkowski (R-AK), and Michael Bennet (D-CO), calls for the development of a national strategy to support the nation's more than 40 million caregivers. It would bring together stakeholders from both the public and private sector to create an advisory body. This advisory body would then develop recommendations for how government, communities, providers, employers, and others can better recognize and support family caregivers. See the statement from the lead Senate sponsors here. The next step is for the House to pass its version of the bill, H.R. 3759, out of committee. The Arc encourages advocates to ask their representative to join the list of cosponsors.
Major Recent Events
Only 10 Days Left to Get Early-Bird Registration!!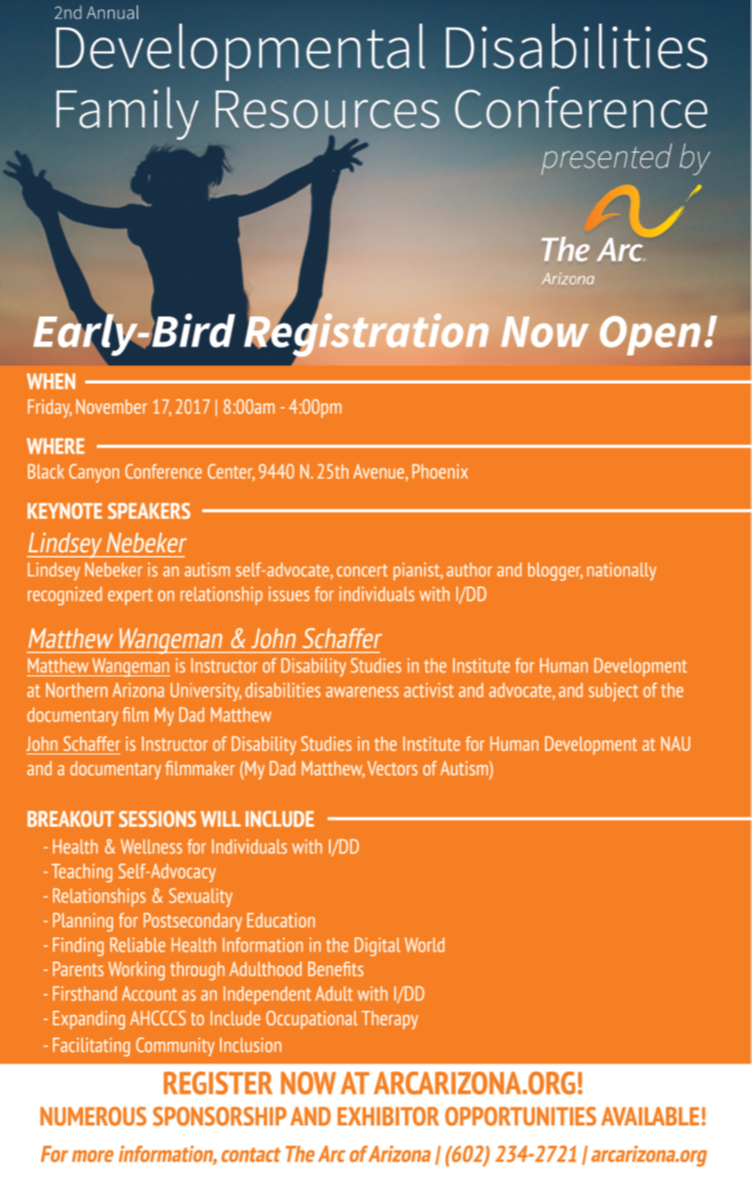 ---
The Capitol Roundup is provided weekly throughout the Arizona Legislative session and periodically between sessions as a benefit of Membership in The Arc of Arizona. To continue receiving this publication, visit

www.arcarizona.org/become-a-member

to start or renew your Membership today!