Pour lire la version française de ce rapport, 

cliquez ici.
Monthly Brief: February 2017​

Overview
The Lord's Resistance Army (LRA) was responsible for 16 attacks in February 2017 in which they abducted 70 civilians, 32 in 
Democratic Republic of Congo (DRC) and 38 in the Central African Republic (CAR). The 70 abductions was 
the highest LRA monthly abduction total since September 2016, but was a distinct reduction from February 2016, when LRA groups abducted 131 civilians, primarily in eastern CAR. 53
 of the 70 people abducted in February 2017 have since
 escaped or been released, leaving 17
 abductees unaccounted for. In addition, 15 people escaped from long-term LRA captivity in February,
while Invisible Children also helped facilitate the repatriation of several long-term LRA abductees who escaped in late 2016. 
In addition to LRA-related activity, u
nidentified armed groups were responsible for 6 additional attacks on civilians. Most notably, unidentified armed forces looted a truck near Obo that had been tasked with carrying food for refugees near Obo
, CAR,
continuing a trend of attacks on vehicles along the Rafai
–Obo road. 
Armed group attacks in February 2017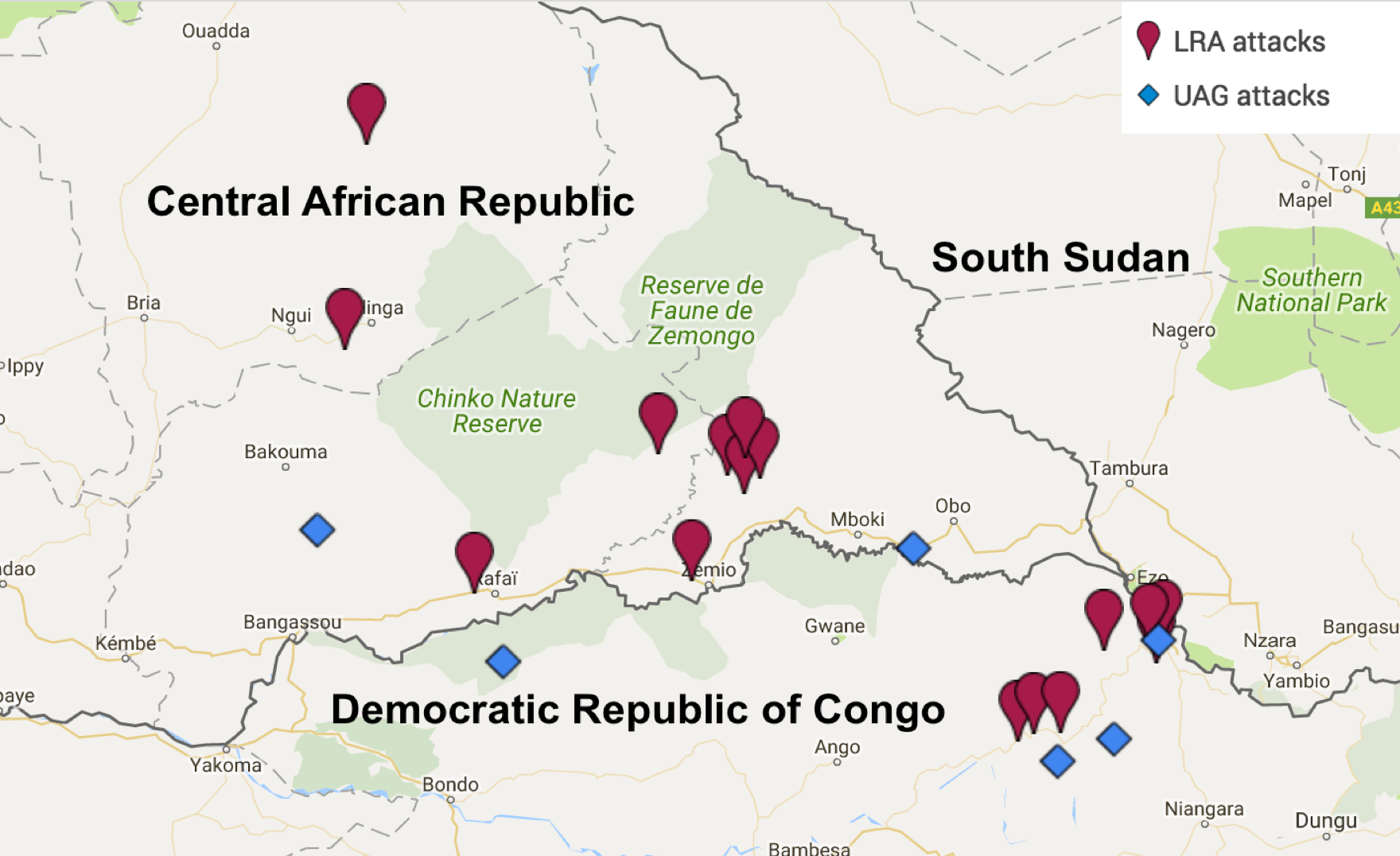 Armed groups target the Djemah-Derbissaka-Zemio area in eastern CAR
In February, attacks by LRA groups in CAR's Haut Mbomou prefecture were concentrated primarily around the community of Ngouyo in the Djemah-Derbissaka-Zemio area. Over the course of 3 days, between February 22
–
February 25, LRA assailants attacked cyclists near Ngouyo four times, looting
food
,
money
, and
clothes
, and
abducting 7 people
to porter the looted goods. On
February 17, 2017
, LRA forces attacked the nearby community of Derbissaka, where they forced 4 civilians, including 2 women, to carry goods that had been looted from the community. It remains unclear whether these attacks were carried out by an LRA group loyal to Joseph Kony, or by the dissident LRA group led by Achaye Doctor, which has periodically operated in this region of Haut Mbomou in CAR since its desertion from Kony's LRA in late 2014.
In addition to LRA activity, on 
February 10,
 an unidentified armed group ambushed a truck that had been tasked with carrying food for refugees
. The truck was escorted by Central African security forces (FACA) who exchanged fire with the assailants. No casualties were reported after the incident. However attacks along the Rafai
–
Obo road have increased since October 2016, and have included the looting of another truck carrying food for refugees, the ambush of a MINUSCA convoy, and the attack on a convoy escorted by soldiers from the AU Regional Task Force in January (see
Monthly Brief: January 2017
). The February attack is the seventh ambush by unidentified armed groups reported
along the Rafai
–Obo
 road since October 2016.

​
 LRA attacks in the Djemah-Derbissaka-Zemio area, February 2017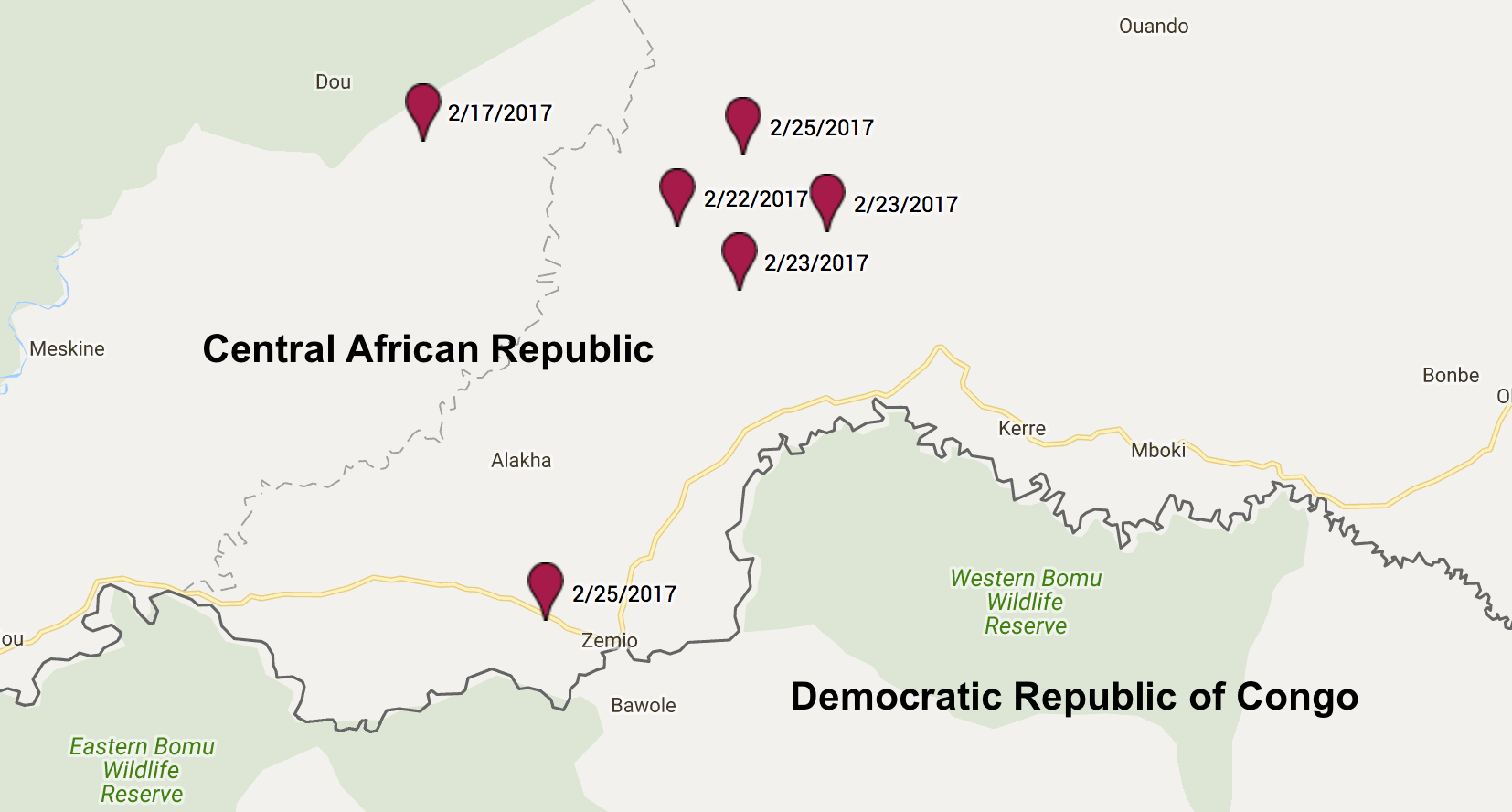 Spike in attacks along Banda

–

Doruma road in northern DRC
Haut Uele province in northern DRC experienced a resurgence of attacks in February 2017 along the Banda
–
Doruma road, where LRA forces carried out seven attacks. On
February 9
, the LRA temporarily abducted 14 civilians to porter looted goods, while on February 4,
9 miners
were abducted in Dingilo. Three of them remain unaccounted for. Southwest of Doruma and closer to Banda,
5 men and 4 boys were also temporarily abducted
 on February 20 by LRA assailants after the latter looted food from the community of Dikuma. 
Attacks by unidentified armed groups were also carried out near Banda, where unidentified armed men looted a farmer on
February 15
 and a cyclist on
February 25
.
15 people escape long-term LRA captivity
In February, 15 people escaped long-term LRA captivity, defined as a period of six months or more within the LRA. This figure represented a significant increase from the previous three months, when a total of 9 long-term abductees escaped LRA captivity. In CAR, two young Central African men escaped the LRA in
Kitesa
and
Bria
after spending more than a year each in captivity. In DRC's Haut Uele province, a
Ugandan combatant defected
on February 24 accompanied by 2 Congolese young men and a woman and her baby. LRA commanders also released five women and children to a Congolese civilian
near Naparka on February 4
. A
19-year-old Central African boy
was able to escape captivity during an exchange of fire between security forces and LRA forces in Dikuma on February 25. Finally, 2 Congolese boys escaped captivity near
Zangabai
 following almost a year
i
n
c
a
p
t
i
v
i
t
y. A March 10 article in the Wall Street Journal documented continued efforts to encourage long-term LRA captives to defect, while also referencing LRA Crisis Tracker statistics to note that the rebel group remains an active threat to civilians. 
Long-term LRA returnees, January 2016
–
February 2017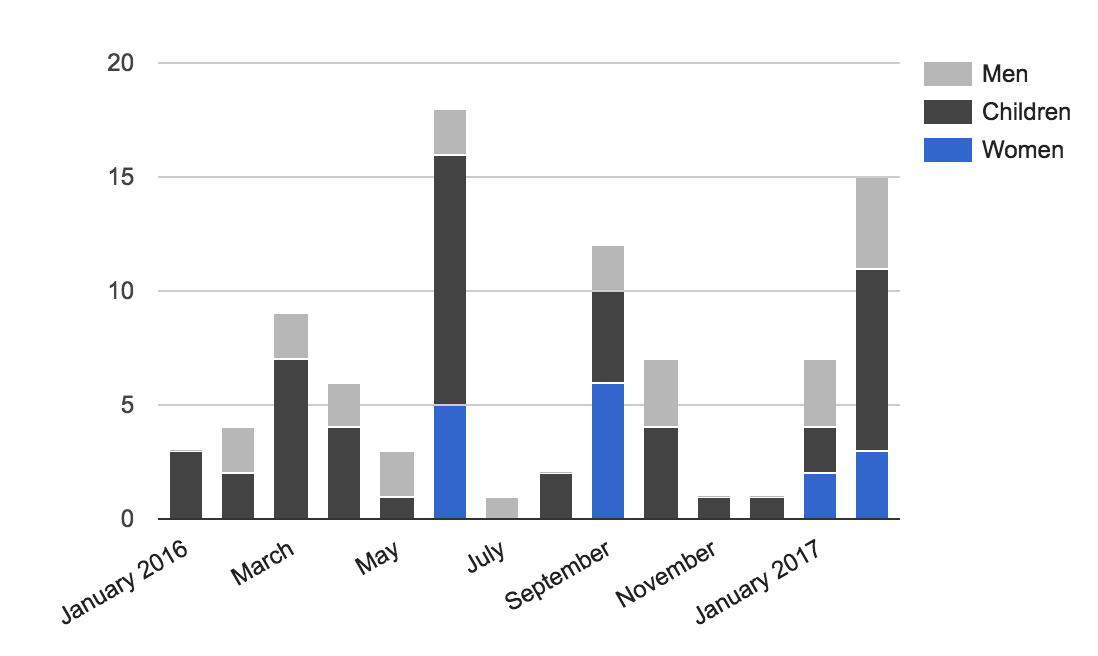 Programmatic Updates
In February, Invisible Children's teams in DRC and CAR, working with regional partners, were able to coordinate the repatriation of 3 Congolese young men who had escaped LRA captivity at the end of 2016. Invisible Children also assisted in placing all three boys with host families in DRC. Their families have been notified of their escape through the Invisible Children-supported HF radio Early Warning System (EWN). 
The Invisible Children-supported EWN also facilitated the rescue of a young Congolese man
 after he was shot by armed poachers while fishing with his brother and father west of DRC's Garamba National Park. After being notified by the EWN, our colleagues at Garamba National Park sent a plane and doctor to retrieve the young man, who was in critical condition. They flew him to the nearest hospital in Dungu, DRC, where medical personnel stabilized him. He is now healing and on the path to recovery.  
In CAR, Invisible Children worked with local partner AFASVR to train host families on trauma-healing and child protection to strengthen their capacities to welcome LRA escapees into their home while they await repatriation and reunification. The training included workshops on psychosocial support, trauma healing methods, and the rights of children, as well as best practices in how to protect them. 
Host families during a training on trauma-healing and child protection, February 2017