Quarter 3 Brief: July

–

September 2016 

Overview
Lord's Resistance Army (LRA) forces abducted 94 civilians in 38 attacks in Quarter 3 2016 (Q3 2016), covering the months of July
–
September 2016. Q3 levels of abductions and attacks were significantly lower than those in Q1 and Q2. Within Q3, September was the most violent month of LRA activity, with nearly double the number of abductions (61) as July and August combined (33). 

The Crisis Tracker recorded 29 attacks on civilians by unidentified armed groups in LRA-affected areas of eastern Central African Republic (CAR) and northeastern Democratic Republic of Congo (DRC) in Q3 2016. The Q3 figure represented a slight increase from the number of attacks by unidentified armed groups in Q1 (25) and Q2 (23). 
LRA abductions of civilians, January

–

September 2016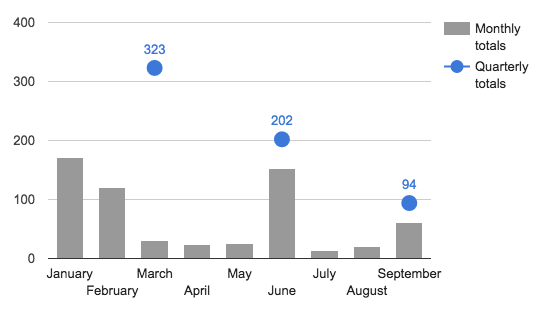 ---
LRA attacks in CAR concentrated in Rafai

–

Djemah

–

Obo triangle
In Q3, LRA groups continued a trend of targeting civilians in the Rafai
–
Djemah
–
Obo triangle. 67% of LRA attacks and 73% of LRA abductions in eastern CAR in Q2
–
Q3 of 2016 took place in this area, compared to Q1, when a vast majority of attacks and abductions took place further west and north in CAR. 
In Q3, LRA attacks were particularly concentrated southwest of Djemah near the village of Derbissaka, where LRA forces abducted ten civilians on August 8th and another ten civilians on September 3rd. 
A splinter LRA group led by Achaye Doctor is likely responsible for some of the attacks in the Rafai–Djemah–Obo triangle, while others have been committed by commanders loyal to LRA leader Joseph Kony. The trend of concentrated LRA activity in this area, regardless of which commanders conduct the attacks, raises concerns about insufficient civilian protection mechanisms, particularly with Ugandan troops reportedly scheduled to withdraw from eastern CAR by the end of 2016. 
Attacks by unidentified armed groups were more scattered in eastern CAR in Q3, including a cluster of four attacks near Yalinga (Haute Kotto prefecture) from September 4
–
16. Unidentified armed groups were responsible for a total of 14 attacks in Haut Mbomou, Haute Kotto, and Mbomou prefectures in Q3, compared to nine in Q1 and seven in Q2. 
LRA attacks on civilians in eastern CAR in Quarter 1 (blue circles) vs Quarter 2 and Quarter 3 (red pins)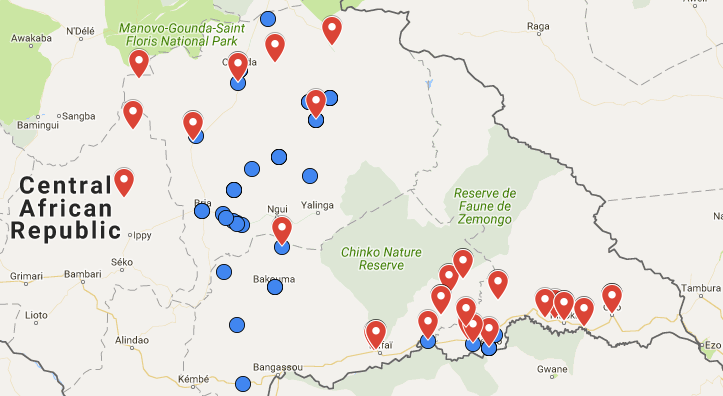 ---
LRA groups reduce attacks in DRC, continue to release women and children 
LRA forces abducted 45 people in 17 attacks in DRC in Q3, a reduction from Q2 and return to levels seen in Q1. Only one LRA attack was recorded near Garamba National Park in Q3, an incident on July 11th in which LRA forces interrogated a women about the presence of security forces near the town of Kpaika. Reports also indicate that an LRA group left Garamba Park in mid-2016 to deliver poached ivory to Joseph Kony' group, which operates near the border between CAR and Sudan. 

The most notable LRA returnee incident in Q3 took place west of Bangadi on September 5th, when LRA commander Alphonse Lamola released four women and three children who had been held in long-term captivity by the rebel group. The women reported they were released on orders given by Kony. The release took place just 40km northwest of an incident on June 9th in which an LRA group intentionally released 12 women and children from long-term captivity, including several women who were "widows" to deceased LRA fighters. 
---
South Sudan conflicts continue to seep into northeastern DRC
Congolese communities near the border with South Sudan were also affected by spillover from escalating conflict in Q3 2016. Following renewed conflict between the SPLA and SPLA-IO in Juba in July, more than 750 SPLA-IO fighters crossed into Garamba National Park. Some, including Machar and his inner circle, were evacuated to more secure locations by forces with the UN peackeeping mission in DRC (MONUSCO), while hundreds more remain in limbo at two separate MONUSCO bases. 

While this dramatic turn of events caught international media attention, the spillover of conflict from South Sudan into DRC began in mid-2015 when fighting erupted between government security forces and various armed groups affiliated with the SPLA-IO. The armed groups include one led by Alfred Fatuyo, a former Arrow Boy commander who forces operate in South Sudan's Western Equatoria State, which borders DRC. Though affiliated with the SPLA-IO, Fatuyo's forces are primarily motivated by localized political dynamics in Western Equatoria, including tension between
 Az
ande communities and Dinka pastoralists and Dinka-dominated government security forces
. Government forces and local armed groups have both been responsible for targeting civilians in Western Equatoria State, forcing thousands of civilians to flee as refugees into DRC's Haute Uele province. Many civilians in both areas are from the Azande ethnic group and share close cultural and economic ties. 

In early 2016, multiple sources reported that Western Equatorian armed groups were recruiting Congolese youth, offering cash rewards. Renewed indications of recruitment surfaced in September, with reports that an armed group, likely Fatuyo's forces, was planning to recruit in Congolese communities and South Sudanese refugee camps near the towns of Doruma, Gangala, Masombo, and Sugba. On September 11, South Sudanese armed men attacked the Congolese town of Bangulu before losing one fighter in a subsequent clash with the Congolese military. In retaliation, the South Sudanese armed group allegedly killed one of two civilians they had abducted from Bangalu. The other abductee escaped after more than a week in captivity.
Attacks on civilians in Haut Uele province, Q3 2016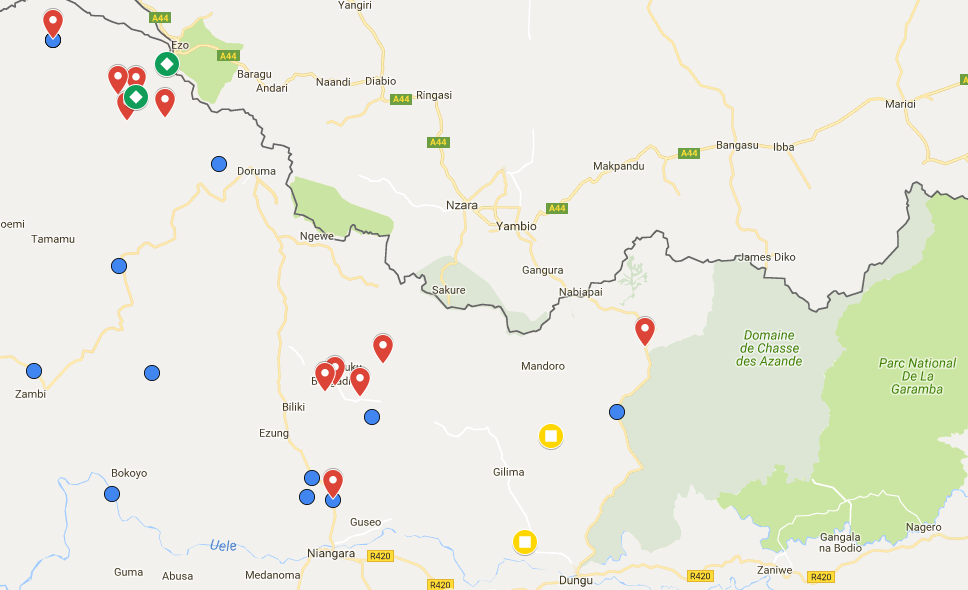 | | |
| --- | --- |
| | Note: GPS coordinates of some incidents have been altered slightly to maximize visibility of incident markers.  |
---
Forecasting armed group activity in Q4 2016
Patterns of armed group attacks vary considerably by year, making predictions of future activity difficult. However, historical data can provide insight to help communities and civilian protection actors prepare strategies to mitigate risk. From 2011
–
2015, LRA forces in eastern CAR abducted an average of 64 people in Q4, the highest quarterly average. In Q4 2015, LRA activity in CAR was concentrated in Haute Kotto prefecture, where LRA forces abducted 33 people in 15 attacks, primarily between the towns of Sam Ouandja and Mbangana. In addition to the LRA threat, recent violence between ex-Seleka and anti-balaka forces in Kaga Bandoro and the gathering of ex-Seleka factions in Bria has also raised concerns that civilians in eastern CAR may face greater threat from such groups in the coming months. 

In DRC, LRA forces abducted an average of 47 people in Q4 from 2011
–
2015,
the lowest quarterly average, though trends have varied considerably in each year. In Q4 2014, LRA attacks were concentrated near Garamba National Park and conducted by a group on a mission to collect ivory. In Q4 2015, LRA abductions were concentrated further west in Bas Uele province and included the forcible recruitment of young boys by the Achaye Doctor splinter group. In Q4 2016, Congolese communities will face not only LRA attacks but continued spillover from the conflict in South Sudan's Equatoria region. South Sudanese armed groups may continue to recruit male youth from South Sudanese refugee camps and Congolese Azande communities, and could also seek to exploit Garamba National Park as a source of refuge and illicit ivory. 
Average LRA abductions by quarter, 2011–2015​