2018 is off to a running start and we have all your headlines for DiveGUE.tv, Quest, and everything new at GUE HQ. Scroll through for the basics, or click through for more information on the topics that interest you. Miss our previous installments? 
Check out all of the past issues of our quarterly HQ Updates
 to make sure you have all the latest
here
.
​
---
Annual Reports Now Available
We are excited to release the 2017 GUE and Project Baseline Annual Reports and the 2017 Project Reports! Thank you to all of the teams who contributed to the Project Reports and all of those who continue to devote their time and resources to exploration and conservation around the world.
Thanks to 
Halcyon Manufacturing's
 generous sponsorship, a printed copy of the Project Reports was mailed to Silver, Gold, Scholar, and Platinum members with their recent issue of
Quest.
​
Visit 
https://bit.ly/2pyJcmF
 to download and read all three reports.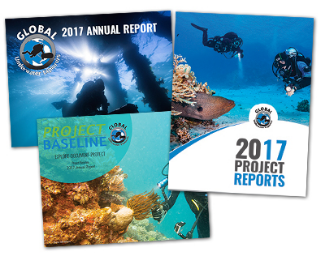 ---
GUE Conference 2019

The 2019 GUE Conference is on the calendar! We hope to see you here in Florida next November 9-10 for a great time of presentations, workshops, socials, and more!

​

Visit

https://bit.ly/2GfYEhW

to sign up for the mailing list and stay informed!
---
Photo of the Year

​Thanks to everyone who submitted photos! John Kendall was this year's winner with a photogrammetric model of the MV

Rozi

, located off the coast of Malta. Visit

https://bit.ly/2DLuWMo

to learn more!
---
New Product Alert

​GUE line markers are now available!

​

Cookies and arrows are available individually or as packages of 3 each and 6 each. Visit

https://bit.ly/2IGj6GV

to place an order today!
---
​Brand new issue of Quest magazine out now!
Printed copies have been mailed and the electronic version is available now! GUE Members can read the newest 
Quest 
or ANY back issue at 
http://www.gue.com/quest
. 
Silver, Gold, Scholar, and Platinum members – to ensure you receive future copies of
Quest
, verify that your address is up to date! Make sure you are logged in to GUE.com, then go to
https://www.gue.com/user
 and click on the "addresses" tab to ensure your preferred address is set as the default. If you have any trouble, or if you haven't been receiving your
Quest
s, you can email info@gue.com.
​
Quest Volume 19, No. 1 features include:​
​​Jewel of the Aegean by Leigh Bishop​
Greece, Europe's Newest Cave Country by Stratis Kas
The Exploration of Izvor Licanke by Christine Grosart
Inverse Everest by Peter Adamkó and Gergely Ambrus
Drifting Perceptions and Risk by Jon Bernot

Plus:

The Fathom CCR

by Charles Roberson;

New Winter Hummingbirds

in the Southeast United States by Barbara Speck;

New Amphipod Species Discovered in Florida Cave Systems

by Thomas Sawicki, Ph.D.; and

"You Are Not Forgotten:" The Tulsamerican Story

by Gemma Smith.

​

Have an idea for a

Quest

article or want to contribute? We'd love to hear from you!
---
Now available on DiveGUE.tv:
​

Buoyancy Tips and Tricks for Beginners 
RB80 Refresher Series: Unit Disassembly, Unit Re-Assembly, Scrubber Packing, and Frame Assembly 
Project Westhinder Documentary 
Project Baseline: Haarlemmermeer Documentary
Underground 2017
SMB Deployment [Hungarian] 
Basic 5 Dry Runs [German]
Equipment Configuration: Regulators [German]
---
​New and Upgraded GUE Instructors



​
Congratulations to GUE's newest instructors: Alejandro Alvarez Enriquez (Mexico), Youngwoo Seo (Korea), Huang-Jung Jiang (Taiwan), Jon Kieren (Florida, USA), Jae Hun Sim (Korea), and Anthony Tanneur (Mauritius)!
We are also pleased to announce Antonio Bresciani (Egypt), Gunnar Midtgaard (Norway), and Guy Shockey (BC, Canada) as CCR instructors; Kyle Harmon (Florida, USA) as a Cave 1 instructor; and Nuno Padrao (Spain) as a Tech 1 instructor!
Find a GUE instructor near you at
http://www.gue.com/gue-instructors
.
---
Are you getting the benefits of GUE Membership?

GUE Members get access to 

Quest

, discounts at the GUE Store, and other benefits including free exclusive apparel, personalized gear stickers, access to course materials, and more. This year's member shirt even features a limited edition 20th anniversary print!

Find the level that's best for you at

www.gue.com/membership

!
---
Upcoming Events
​
Have an event to include in the next HQ Updates? Reply to this email and let us know; be sure to include the event name, date, location, and a website or Facebook link!
---
Miss our previous installments? All of our HQ Updates are archived at 
gue.com/updates
 so you can make sure you have all the latest news.
Have feedback about HQ Updates? Just reply to this email!