​8th Oyster Roast/BBQ Fundraiser
Great American Cleanup 2018 -

Volunteer

 with a KMB project or organize your own
Abandoned Buildings Program UPDATE
Tree Celebration and Planting at Todd Grant Elementary
More Upcoming Events with Partners
Car Donation Program UPDATE
---
8th Annual Oyster Roast/BBQ Fundraiser Successful & Fun

​A big THANK YOU to our Oyster Roast Committee, sponsors and contributors, and all who attended. The Oyster Roast is our main source of funds each year, and along with the support of members, businesses, organizations and friends, keeps us going.  We hope everyone had a great time, too!
 
Special thanks to KMB member Bob Claxton for once again taking some great photos and sharing them with us. 
---

KMB is sponsoring litter pickup and planting projects this spring during Keep America Beautiful's 2018 Great American Cleanup.  VOLUNTEER
 with a project below or ORGANIZE YOUR OWN cleanup, beautification or improvement project for your block, street, neighborhood, church, school or business.
 To learn more, visit 

www.keepmcintoshbeautiful.com
Saturday, MARCH 17, 8 am
Shellman Bluff and Minton Road Litter Pickup
Meet at the old boat shed across from the Dollar General  store on Shellman Bluff Rd.,
where road assignments will be made.  Trash bags, trash grabbers, safety vests, gloves and water provided.  Volunteers should wear long pants, long sleeves, boots or sturdy shoes and bring their own bug spray.  For additional information contact Sallie Ann Marsh at 912-266-0449.
Make North McIntosh "Green" for the March 24 St. Patrick's Day Parade 
​
​Saturday, APRIL 7,  8:30 - 11:30 am
Blount Crossing Road Litter Pickup 
Smith Road Litter Pickup 
Volunteers are needed for litter pickups on both of these roads.  The more volunteers we have, the more miles we can cover.  KMB will supply trash bags, trash grabbers, gloves, water and snacks.  Starting location TBA, but put one of these opportunities to "keep McIntosh clean and beautiful" on your calendar now.  Email Julie at
director@keepmcintoshbeautiful.com
or call 912-289-1082 to sign up in advance or just show up the day of the cleanup!    
Spring BEAUTIFICATION WEEK April 10-12

 

Tuesday, APRIL 10, 8:30-11:30

  


Todd Grant Elementary School  

Landscaping around School sign on Hwy 17

Volunteers are needed to install, mulch and water new plants around the sign area.   Please bring shovels, trowels, rakes and gloves and favorite bug repellant.  KMB will provide water and snacks.

 

Thurs., APRIL 12, 9 am-Noon

Fort King George Historic Site


FKG Parking Lot Raised Bed Planting

We'll be renewing the large raised planter in the Ft King George parking lot, using native and pollinator-friendly plants.  Please bring garden tools (shovels, trowels, rakes, gloves, etc.) and bug repellant.  KMB will provide water and snacks.
---
Abandoned Building Program UPDATE

This mobile home on Shellman Bluff Rd. was a distressing eyesore for the property owner and for all who passed by it. Now it's a thing of the past....  For more about this program, visit

http://keepmcintoshbeautiful.com/abandoned-building/
---
Georgia Arbor Day with Todd Grant Elementary 4th Graders
On March 1, Keep McIntosh Beautiful partnered with McIntosh County 4-H and the Georgia Forestry Commission for a celebration of Georgia Arbor Day at Todd Grant Elementary School.  All fourth grade students took part in planting a live oak tree in front yard of the school, and each received a tree seeding provided by Keep McIntosh Beautiful to take home and plant.  Community forester Mark McClellan talked with the students about the importance of trees in our landscape and as wildlife habitat, how to plant and care for new trees, as well as the special qualities of the Live Oak, the state tree of Georgia.  The activity was organized by McIntosh County 4-H Extension Agent Tammy Tyre.  KMB director Julie Sowell and board member Jody Martin prepared more than 100 seedlings and handed them out to each student at the event.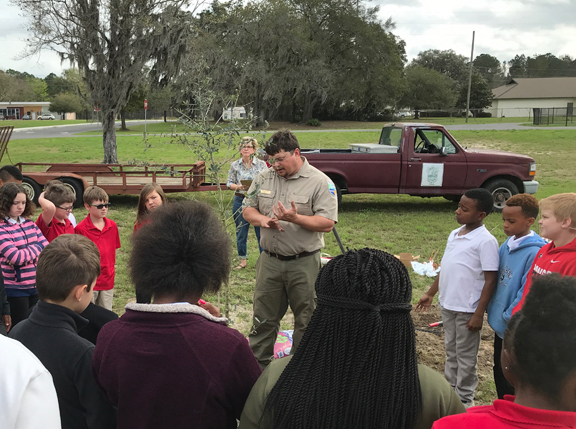 MORE UPCOMING EVENTS & VOLUNTEER OPPORTUNITIES


---
​
​Wed., & Thurs., MARCH 28 - 29,   8 – 11:30 am  
Todd Grant Elementary School, Darien 
OUTDOOR CLASSROOM Construction Work Days–
volunteers needed
KMB is a contributor to the construction and installation of an outdoor classroom at TGES.  The new space will be used by all students and have special areas for art and music and many other features. TGES art teacher Kelly McClellan received a "Bright Ideas" grant from Coastal Electric Member Cooperative for the first phase of this new teaching and learning resource and is the project coordinator. 
​
Saturday, APRIL 7,  9 am – 1 pm  Ashantilly Center 
COASTAL WILDSCAPES Spring Native Plant Sale
Free admission
KMB will have a table at this event, which features several native plant vendors, and educational programming.  Learn more at www.coastalwildscapes.org
---
​THANK YOU to our Adopt-A-Highway Volunteers
for helping keep our roadsides 
clean, green and beautiful! 
You are appreciated!
Volunteers can now adopt parks and other public recreational and beauty spots in Darien and McIntosh County in addition to sections of roads.  

A green, clean McIntosh County begins with YOU and this is a great way to have an impact.  

Remember to schedule your regular pickups and to send in your reports and photos to
http://keepmcintoshbeautiful.com/volunteers-needed/​
To request cleanup supplies or to learn more about volunteering, contact Julie at 

director@keepmcintoshbeautiful.com
---
DONATE YOUR USED VEHICLE to help KMB and yourself!  

The Keep America Beautiful
Vehicle Donation Program through Insurance Auto Auctions' Donation Division, provides an opportunity for individuals to get rid of unwanted vehicles and donate to Keep McIntosh Beautiful at the same time.

The new program is a tax-deductible way to dispose of vehicles in almost any condition, working or not, including cars, trucks, boats, tractors, motorcycles, ATVs, snowmobiles, jet skis, RVs as well as construction, farm and other heavy equipment. KMB now receives 50 per cent of the sales proceeds from cars donated from McIntosh County.

Contact KMB if you have a vehicle you no longer need or want to remove from your property at keepmcintoshbeautiful@gmail.com or call 912-289-1028.
 
Learn more at https://1car1difference.com/donate/#/vtype//charity/00259

​