KMB Summer Membership Drive
Volunteer for our Annual Litter Survey July   

A Tale of Two Trees

Newest Green Thumb Awards
KMB at Ida Hilton Library Kids Summer Reading Program
Thank You Sallie Ann Marsh....
Cleanup Opportunities
Support KMB on Amazon PRIME Day




---
Renew
your KMB Membership or
Join
us TODAY
during our SUMMER MEMBERSHIP DRIVE
Join with residents and businesses working together for a clean, green and beautiful Darien and McIntosh County
See what we're doing at

www.keepmcintoshbeautiful.com




​

and how YOU can be involved:
ADOPT-a-Highway Mile, Park or Spot
VOLUNTEER with beautification, recycling, cleanup and other events and programs
INVEST in our County with a donation to our Abandoned Buildings Removal Assistance Program
KMB needs your help and your support. RENEW, JOIN or DONATE NOW online using PayPal or credit card, or download a membership form and mail in. 

Your membership donation is 100% tax deductible.  
CLICK HERE

​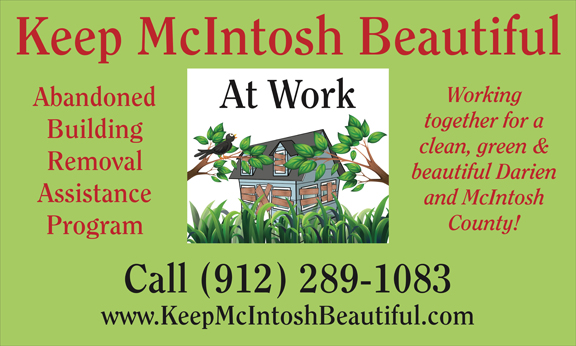 VOLUNTEER FOR KMB's ANNUAL LITTER SURVEYIt's time for the Annual Litter Index Survey, a tool developed by Keep America Beautiful to assess Darien and McIntosh County roadsides for appearance and amount of litter present. The same areas are surveyed each year, allowing for year- to-year comparison. Teams of 3 drive will be driving various "routes" during the week of July 10 - 14 doing the survey and recording and photographing any abandoned buildings or mobile homes at the same time. If you have a couple of hours to spare next week or there are three of you who want to drive a route together, contact Julie at director@keepmcintoshbeautiful.com or 912-289-1083 for more information and instructions. If we have enough volunteers, we will survey some additional roads for abandoned buildings.

r one column text block.
---

​A Tale of Two Trees…..
The two live oaks planted by volunteers at Columbus Square in February are healthy and growing well, thanks to the good care of Darien's Public Works Department and recent frequent rainfall.  KMB partnered with the Georgia Forestry Commission for the event to celebrate Georgia Arbor Day and Darien's status as a Tree City USA.  We also gave away several hundred tree seedlings. 
If you planted any of these seedlings, we'd love to see how they're doing and what they look like now.  Please send any photos (with or without people) to director@keepmcintoshbeautiful.com and we'll post them on our Facebook page and website.
---
---
​The 

GREEN THUMB AWARD

is presented by KMB to a different business, residence or institution each month, "for going above and beyond in keeping their outside premises clean and attractive" and for their contribution to a clean, green and beautiful McIntosh County. Nominations from the community are welcomed.  For more info and photos visit www.keepmcintoshbeautiful.com  
Newest

GREEN THUMB AWARDS

Cathead Creek Ranch and RV Park,

on Cox Road, owned by Bill and Linda Brown.  Wi

th white horse fencing along the front, neatly maintained buildings and acreage, along with fun touches such as a carved wooden alligator and signs that say "WHOA" instead of STOP, the property presents an inviting face to campers and travelers along the road. There isn't a scrap of litter anywhere, and the impression is of a business well run and a property very well cared for.  

Congratulations and THANK YOU! to the Browns for their attention to detail and their attractive property. 

​

"When people come here, they aren't just visiting our RV park, they are visiting McIntosh County," says Bill Brown. "We want them to leave with a good impression of our RV park, but also of this area."
Elm Grove Baptist Church

The buildings have changed, but Elm Grove Baptist Church has occupied for more than 125 years the site on Ga Hwy 99 in Meridian where it is today.  Old photos show simple, well-maintained structures and premises. Today, a clean and neatly mowed yard, freshly mulched shrubs, and beautiful wreaths on the church doors that change with the season characterize the premises, earning Elm Grove a Green Thumb Award. 

Congratulations and Thank You! to Elm Grove, and groundskeeper Vann Brooks for contributing to a clean and beautiful McIntosh County.
​KMB at Ida Hilton Library Kids Summer Reading Program
​Kids and their parents learned about keeping our community beautiful, litter prevention, recycling and composting through stories, interactive fun and song at a program June 7 with KMB executive director Julie Sowell, part of the Ida Hilton Library Kids Summer Reading program.  They also made vehicle litter bags to take home (pictured below).
 "I like this," said one parent.  "It's educational, but in a fun way."
    
July 19, 1 p.m. – KMB's Recycling for Kids, with volunteer Nancy Woodward
​
---

​A HUGE thanks to Sallie Ann Marsh
​
who has retired from the KMB Board of Directors
after serving for 8 years. Sallie Ann was an original organizer beginning in 2008 and has been a KMB board member ever since, also serving as the group's President for several of those years. Sallie Ann's contributions and dedication to KMB can't be overstated.  Many in McIntosh have generously volunteered their time, talents and resources to benefit of our county through Keep McIntosh Beautiful, but Sallie Ann, along with former KMB President Jimmy Vann, have to be at the top of the list. A belated thank you here to Jimmy, who now lives in Florida. Current board members Al Ferguson, Mary Stimmel and Mandy Harrison and Kelly McClellan are also due thanks for many years of service to KMB.  More recent Board members include President Mary Ann Rentz, Mark Yeager, Bob Skerratt, and Angie Padgett.
​Pictured on the left below are Sallie Ann and Al Ferguson at an early KMB Oyster Roast Fundraiser.  The photo at right shows Sallie Ann (second from left) and current Board members (clockwise from left) Mary Stimmel, Angie Groover, Mary Ann Rentz, executive director Julie Sowell, and board member Bob Skerratt, following a lunch at Skipper's in Sallie Ann's honor on June 28.  We wish Sallie Ann many "Happy Days."   
---
---
Clean up your neighborhood during Keep America Beautiful's




Great American Cleanup

Organize a project in your neighborhood or place of work to make it cleaner, greener and more beautiful.  Learn more at

www.keepmcintoshbeautiful.com 



​FALL Quarterly Cleanup date for Adopt-A-Highway is SEPT 9 
AAH Volunteers:  Please submit Spring/June pickup reports and photos at
http://keepmcintoshbeautiful.com/online-aah-pick-up-report/​
A big thanks to all current AAH volunteers!  You are appreciated!
 

More AAH volunteers are needed to keep our roadsides looking clean, green and beautiful!
Volunteers can now adopt parks and other recreational and beauty spots in Darien and McIntosh County in addition to sections of roads. 
A green, clean McIntosh County begins with YOU and this is a great way to have an impact.
 Learn more about volunteering, contact Julie at 

director@keepmcintoshbeautiful.com
---
DONATE TO KMB with Amazon Smile – it doesn't cost you a penny!

When you shop at Amazon, log in using the smile.amazon.com portal and your purchases benefit Keep McIntosh Beautiful. Using the directions at the site, choose KMB as the charity to benefit and then every time you shop there, AmazonSmileFoundation will donate 0.5% of all eligible purchases made, to KMB.  This can add up, friends! There is a special promotion on July 11 for Amazon Prime users or new subscribers.  THANK YOU!