A Letter from Executive Director Rick Smith

Adaptive Cycling Program News

Youth Program Updates and Information on Berkeley Unified School District Field Day 

13th Annual Poker Slam Report

Fitness Center Information

Staff News

Access Northern CA Feature: Accessible Cabins at Samuel P. Taylor Park

Center for Accessible Technology ​Needs Your Help with a Survey!
---
A Letter from our Executive Director: BORP PREPARES TO TURN 40!
| | |
| --- | --- |
| As I noted in the last newsletter, BORP is preparing to celebrate a major organizational milestone– 40 years of uninterrupted service and dedication to our mission! In BORP's case, that's 40 years of making a real difference for people with physical disabilities and vision impairments through adaptive sports and recreation programming.  | |
To honor BORP's past and celebrate all the advances in adaptive sports and recreation, we are planning a 40th birthday party for BORP, to be held at the Ed Roberts Campus on June 23rd from 5:30pm to 8:00pm. So SAVE THE DATE: 6/23/16! Part off the festivities will include an announcement of new additions to the BORP Hall of Fame, which was originally established for our 30th Anniversary in 2006. Ticket information will be available soon, so please plan to be with us to help us celebrate.
As we move into our 5th decade, the mission continues and we are not resting on our laurels. This year, with support from the California Coastal Conservancy, we will launch the an exciting new effort – the Outdoor Coastal Access Project for Individuals with Disabilities (that's a mouthful). Under the direction of Lori Gray and Greg Milano, the project will offer a series of coastal adventure trips and cycling rides along California's majestic coast throughout 2016 and 2017. In addition, we are planning to offer more archery, kayaking, and rowing opportunities along with new fitness classes, and a revitalized track & field program.   
​
Our success (past, current, and future) is all possible because of the generous contributions of time, money and encouragement that comes from our community – and we are very grateful for the continuing support that keeps BORP rolling! BORP is extremely fortunate to have your engagement and support.
Rick Smith
The BORP Cycling center reopens this Saturday, March 6th! 

BORP's Adaptive Cycling Center in Berkeley has the country's largest and most diverse collection of cycles for use by people with physical disabilities. BORP offers orientation and training to new riders, independent use of our cycles, and group rides.

Hours: 

Tuesdays & Thursdays from 1:00pm – 6:00pm (open until 7:00pm beginning April 1st)

Saturdays from 9:00am – 3:00pm.
| | |
| --- | --- |
| | In February BORP received a Quality of Life grant from the Christopher & Dana Reeve Foundation to purchase a new transfer lift for the Adaptive Cycling Center.  The new power lift, which will replace an old manual lift, will safely and independently enable riders to transfer in and out of hand cycles.   |
 One of BORP's regular riders described the benefits of the new equipment:
 As a quadriplegic, BORP's cycling program is so critical to my overall health      because it gives me the rare opportunity to exercise and get a cardio workout, but  just as importantly, I get to experience great joy participating in a recreational  activity on an equal basis with my non-disabled peers. However, since I depend on  two strong people to lift me into the bike, I often cannot ride and experience those  life-enhancing benefits. A mechanical lift will eliminate that barrier to  participation and enable me and many others who require lifting, to safely go for a  bike ride whenever we want. 
 We are grateful to the Christopher & Dana Reeve Foundation for providing this  grant. This new lift will increase access for people with disabilities to enjoy the many  benefits of cycling. ​
---
Youth Sports and Programs
| | |
| --- | --- |
| | Join us on Wednesday March 30th for the inaugural Fully Accessible Family Field Day Event in partnership with the Berkeley Unified School District. The event will be held at King Middle School from 10AM to 2PM and will showcase BORP's youth programs such as wheelchair basketball, cycling, power soccer, and track. This is a great opportunity to check out our programs while also helping to educate other kids, families, and education professionals about adaptive sports. |
 Sled Hockey:

 The BORP Sled Hockey program played three games during the Jordan Kocian  Memorial Tournament at Oakland Ice Center. BORP kids played inter-squad games  on Jan. 2. 

 The three games provided a great opportunity for the kids to play in front of a  crowd, and have a chance to work on team concepts. The Sled Hockey program will  be working with the emerging program in Fresno to start having more games in the  near future.

 Basketball:

 In February, the Jr. Road Warriors played in a Varsity tournament in San Diego. In  a game the kids lost to Spokane, they played the best they have ever played.  They  had intensity and played for each other instead of on their own.  

 Unfortunately, the kids went 1-3 on the weekend with their only win being over the  San Diego Hammer.  

 The kids came back from the San Diego tournament and had an exhibition during  the halftime of the Stanford vs. Oregon game at Maples Pavilion at Stanford.  They  played in front of over 5,000 spectators.  The kids did an amazing job of  representing the sport.
 On the horizon, the Jr. Road Warriors will be competing at the National  Tournament as a JV team in April. That tournament will host five divisions and  almost 100 teams.  Three of these divisions will be the Varsity, JV, and Prep  divisions. Over 400 kids with disabilities are expected to participate.  
 Track:

 Track continues to be a focus for us moving forward. Steven Toyoji has been able to  host several track clinics over the past couple of months and we have gotten four  new track chairs from U.S. Paralympics. We are excited about the direction that the  CIF (California Interscholastic Federation) is taking this year.  They will be  including Paralympic type (wheelchair and ambulatory) racing in the high school  state championships this year for the first time.  This opens the door for our BORP  participants to be involved in their high school track programs and represent their  school in sports. BORP will continue to support this moving forward.
---
Power Soccer Poker Slam Fundraiser a Success!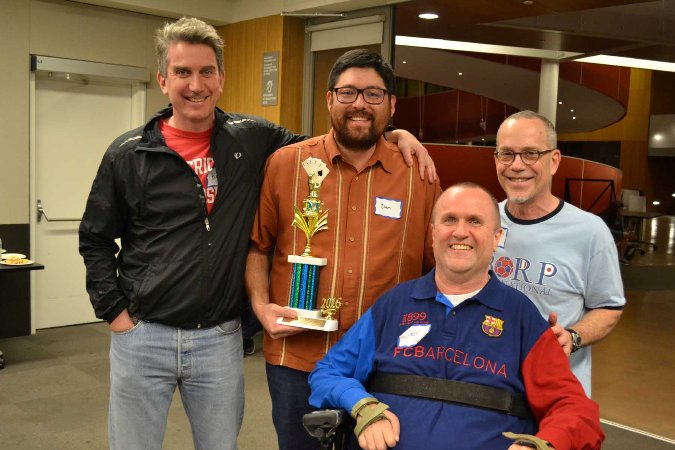 If you judge events by the fun and good fellowship generated, then the 13th  BORP Poker Slam was an off-the-charts success! Add to that a healthy fund-raising  haul and you can understand why the Poker Slam continues to be one of the most  popular events on the BORP calendar. 

 Congratulations to first-time Slammer Dan Nakahara on winning  the Poker Slam title and Vincent Christian (2nd) and Ryan Texeira (3rd) for their  podium finishes.

 THANKS to all our prize donors: Suoja Family, Chinn-Castillo Family, CamelBak,  TranSports, Hupert-Kinmont Family, Cain family, Cindy Chang, See Jane Run,  Margaret Kendrick, Dindzans Family, Misako Akimoto, McPhail Family Wines,  Franklin Estate Winery, Geyser Peak Winery, Robert Mondavi Winery, Marimar  Estate Wineries, Constellation Brands, Inc., Roberts Awards, Anonymous  (multiple).
 
 THANKS to the many event volunteers, BORP Board, BORP staff, financial donors,  ERC staff, Delta Gamma, etc. for their hard work and generosity.
---
---
| | |
| --- | --- |
| Congratulations to our Youth Outreach and Support Specialist, Steven Toyoji, who will be heading to Rio as part of the 2016 U.S. Paralympics Track and Field National Team! | |
| | |
| --- | --- |
| | Congratulations to our Youth Sports Program Coordinator, Trooper Johnson, on his recent induction into the Class of 2016 National Wheelchair Basketball Association Hall of Fame. |
 Excerpted from the NWBA website:


​
 "...Leading the four 2016 Hall of Fame inductees is Trooper Johnson of San  Lorenzo, Calif., one of the most productive scorers in the game, and is most  recognized as the player in the National Wheelchair Basketball Association's logo. 

 Johnson, the only U.S. player to compete on 15 NWBA National Teams, is widely  acknowledged as the most prolific three-point shooter. His shooting acumen led  Team USA to the top of the medal platform for a total of nine gold medals and one  silver. Additionally, he earned two bronze medals at the Paralympic Games (1996  and 2000), and was a member on the 1992 and 2004 U.S. Paralympic teams. 

 He captained the NWBA's Golden State Warriors team, where the Warriors have  maintained a top 10 ranking for 14 of the 24 years Johnson has been with the  team. He holds the record for the most three-point field goals in a game with 10.  He holds all Warrior scoring records. He helped guide the Warriors to their first  final four in 1997 in Birmingham, Ala. He was also named the MVP of the first  wheelchair basketball game during the NBA Jam at the NBA All-Star Game in New  York City in 1998. Johnson will serve as the U.S. Women's Paralympic Games  Assistant Coach in Rio de Janeiro, Brazil in September."
---
​Accessible Cabins at Samuel P. Taylor State Park

By Bonnie Lewkowicz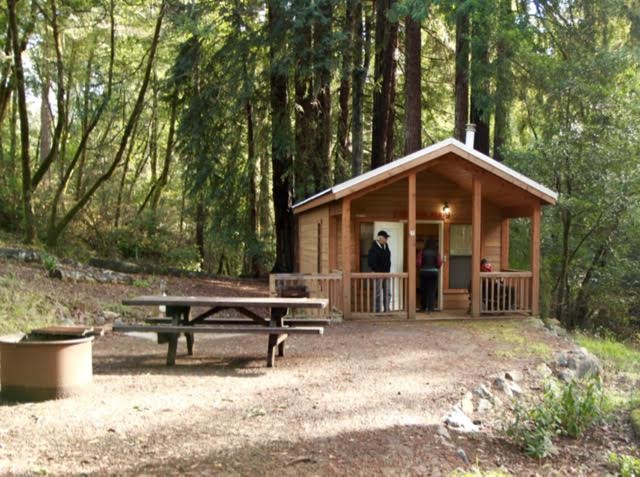 Located just an hour north of San Francisco, the nearly new (2 yrs. old) Madrone Cabins at
Samuel P. Taylor State Park
provide an easy, weekend outdoor getaway for those in the Bay Area and is a great home base for exploring the park as well as nearby Point Reyes National Seashore. Two of the five cabins are wheelchair accessible even though the website shows one. They keep one off line for people that might show up at the park for same day reservations. Situated amongst bay, oak, madrone, and redwood trees, the 12 x 20 sq. ft. cabins are equipped with the following; 

Sleeps 5 (2 single size platform bunk beds with mattresses but one of the lower beds is double sized)
Electrical outlets with one located by the beds 
Gas woodstove style heater
Lots of counter space

Outside the cabin there is a picnic table, a potable water spigot and a bbq. The accessible bathroom/shower facilities with flush toilets, hot water and a coin-operated roll in shower (lowered showerhead but no hand-held and a wooden fold down bench) are located several hundred feet, slightly uphill from the cabins. 

After you've checked in you can explore several miles of accessible trails in the park including the Cross Marin Trail that is paved for at least 2.5-miles and the newer compacted dirt and gravel, South Creek Trail that follows Lagunitas Creek. Check the
Access Northern California website
for accessible trails to explore in Point Reyes.

Given its quality and setting, the Madrone Cabins are one of the best deals in the Bay Area at $100/night plus a refundable $100 security deposit. For reservations 
visit the
Reserve America website
or call (800) 444-7275.
---
Center for Accessible Technology Collecting Stories on Telephone Affordability and Accessibility
Over the next few weeks the Center for Accessible Technology (CforAT), one of BORP's ERC partners, will be collecting stories about how people with disabilities use and pay for telecommunications services, including wireline phones (landline), wireless phones, internet-based phones, and broadband internet service. We're gathering information about affordability, accessibility and other issues people may have with these services.   
CforAT will use the information we gather in our work before the California Public Utilities Commission (CPUC), a state agency that regulates telecommunications . The CPUC is investigating whether customers have adequate choices for reliable and affordable service that meets their needs throughout the state.  All personal identifying information will be kept confidential unless you agree otherwise.
To gather this data, we are conducting a short Internet survey or a short (15 minute) telephone interview. If you would like to take the survey, please click on this link:
https://www.surveymonkey.com/r/H8F8V3G
, or if you would prefer a phone interview, you may email Kate Woodford at
kwoodford@cforat.org
to set up a date and time for your interview.