FABB News
September-October 2018
A bi-monthly publication of Fairfax Alliance for Better Bicycling
Amendments Would Remove Planned Trails in Huntley Meadows
Fairfax County is proposing to remove two key bicycle trails from the Countywide Trails Plan and the Bicycle Master Plan. Both trails are located in Huntley Meadows Park and would provide improved pedestrian and bike access to the park and nearby communities. FABB is concerned that removing these planned trails would limit access to this wonderful park.  
Information about the proposed amendments, hearing dates and maps are contained in the Trails Plan Amendment - 2018-IV-TR1 and the Bicycle Master Plan Amendment - 2018-IV-BK1. One planned trail would run along the northern edge of the park connecting the Lockheed/Harrison Street entrance to Telegraph Road. The other trail would run along the eastern and southern perimeter of the park connecting Hayfield Road to Harrison Lane.
FABB recently visited the park and reviewed the location of the proposed trails. The trail along the south edge of the park would be built along the power line right of way, like the W&OD Trail. The power company clears the corridor of vegetation every 3 years. Construction of the trail along the east edge of the park could be more challenging and there may be on-road alternatives for cyclists. The section of trail along the north edge is mostly contained in a utility right of way. FABB plans to meet with County staff and others to find out more about the proposals and to ensure that bike/ped connectivity is maintained in the area.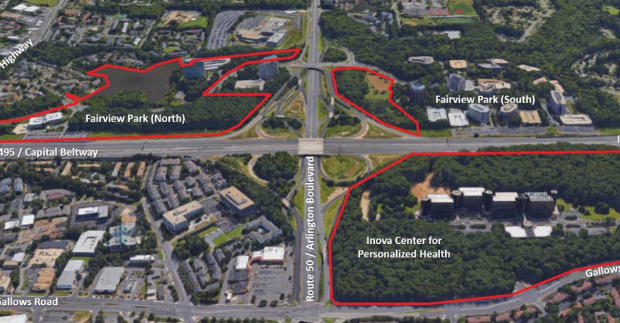 Speak-Up for Better Bike Access at Merrifield Rezoning Community Meeting 
​Fairfax County is hosting a community meeting this Wednesday on the Merrifield Suburban Center Study, which is considering land use changes to the INOVA/Exxon-Mobil site and Fairview Park that would allow mixed-use office, hotel, and residential development. Learn more about the plan amendments being proposed at the meeting and speak up for better bicycling access in these areas, especially across I-495.
FABB is urging the County Planning Commission to include two planned bike/ped bridges as part of any comprehensive plan update. The County Bicycle Master Plan calls for the two bike/ped bridges across the beltway: one on the south side of Rt. 50 (Arlington Blvd.) at the Inova site and another on the north side at Fairview Park North. These connections would provide much needed bicycle access along Arlington Blvd. and across the beltway in the Merrifield area. The community meeting is 7-8:30pm, September 12, at the Inova Center for Personalized Health Conference Center, 3225 Gallows Road, Fairfax.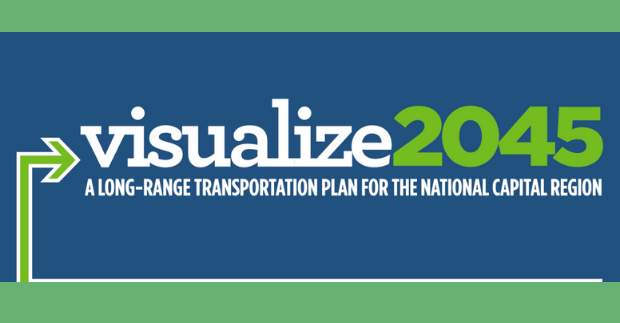 Visualize 2045 Should Include Regional Bike Network
​The National Capital Region Transportation Planning Board is hosting a series of open houses, including one in Fairfax, to dive deeper into its long-range transportation plan, Visualize 2045. Visualize 2045 contains two bicycle related initiatives to improve walk and bike access to transit and to complete the National Capital Trail. While completing this trail is a good goal, the trail initiative doesn't go far enough to create a regional vision for better bicycling. The trail wouldn't even serve Fairfax County. A better vision would be to build out a regional trail network, similar to the Capital Trails Network, that offers to improve biking and walking access for the entire region.
The open houses provide an opportunity to learn about the Visualize 2045 initiatives and to urge the TPB to include a regional bicycle network as part of its long-range plan. The Fairfax open house is 4-7pm, September 17 at VDOT's Northern Virginia District Office, 4975 Alliance Drive, Fairfax. Comments can also be submitted through an online form here or by emailing TPBcomment@mwcog.org. For more information about the plan and upcoming open houses, visit the Visualize 2045 website.
3rd Annual Tour de Mount Vernon Coming Soon
Join FABB and Mount Vernon District Supervisor Dan Storck October 27th for the 3rd Annual Tour de Mount Vernon. The Tour de Mount Vernon is a 35-mile ride through the beautiful Mount Vernon District. There will also be a shorter 15 mile option. Both routes will be on road and in a few areas on paved trails.
Grab your bike friends to ride this scenic route, enjoy the outdoors, and explore the Mount Vernon area of Fairfax County. There is a $25 registration fee that includes TdMV bike socks, food and prizes. $5 of the fee supports the Fairfax Alliance for Better Bicycling. Check out the Tour de Mt. Vernon Facebook event for the latest information. 
Interested in volunteering? TdMV needs help the day of the event to register, distribute socks, and support riders at pit stops along the route. For more information, contact us at info@fabb-bikes.org.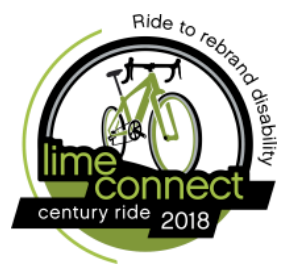 Lime Connect Century Ride Coming to Reston
The first annual Lime Connect Century Ride presented by Bloomberg Philanthropies will be held in Reston on Saturday, November 3.  Lime Connect is a global non profit organization that is "rebranding disability through achievement." They do this by connecting high potential university students and professionals, including military veterans, with disabilities for scholarships, internships, and full-time careers with Lime Connect's corporate partners. In addition to the Century (100 miles) route, a Metric Century (62 miles) and 30-Mile course will be available. Registration closes on October 27, so make your plans now by checking out the details here.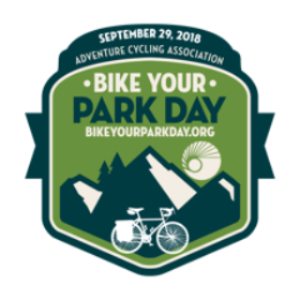 Join the Fun on Bike Your Park Day
The third annual Bike Your Park Day is coming up on Saturday, September 29. It is great opportunity to enjoy our parks by bike and encourage others to join you! 
Adventure Cycling has a program where bicyclists can register and lead their own 'Bike Your Park' rides or simply join a ride near you.  All registrants will receive a Bike Your Park Day sticker and be entered to win prizes, such as a bicycle and two Amtrak tickets to Glacier National Park. There are a number of registered rides in Fairfax County, including the W&OD trail, Lake Fairfax Park, and Burke Lake Park. Check out the Bike Your Park Day website to join a ride near you or register your own ride. ​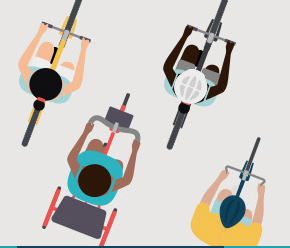 National Bike Challenge Finishes in September
Fairfax County riders participating in the National Bike Challenge have logged more than 9,300 trips and 140,000 miles. That's fantastic and real tribute to biking in our area. Fairfax's total miles represented well over half of the 260,000 miles all Virginia bicyclists logged for the challenge. Among communities with one million or more residents, Fairfax has maintained fourth place throughout the challenge, trailing only the San Francisco Bay area, Atlanta, and Philadelphia. You can still register and join us for a strong finish to the challenge.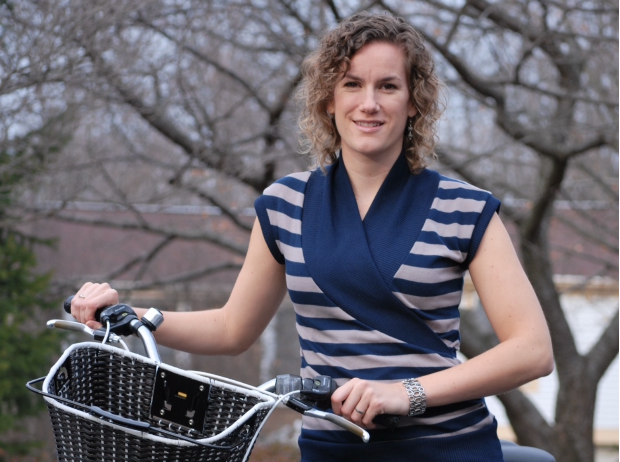 Nicole Wynands is New Fairfax County Bicycle Program Manager
FABB is pleased to spread word that FCDOT earlier this year elevated Nicole Wynands to be the new Bicycle Program Manager. Since joining FCDOT in 2016, Nicole has been working on bicycle and pedestrian infrastructure, wayfinding projects, promoting the Bicycle Friendly Business program, updating the Fairfax County bicycle map, and public outreach. She previously held positions with the League of American Bicyclists in its Bicycle Friendly Community and State programs.
Nicole is a great partner with FABB and a strong advocate in her own right for improving bicycling over the past two years. FABB congratulates Nicole on her new position and looks forward to continuing to work with her to make bicycling better in Fairfax County.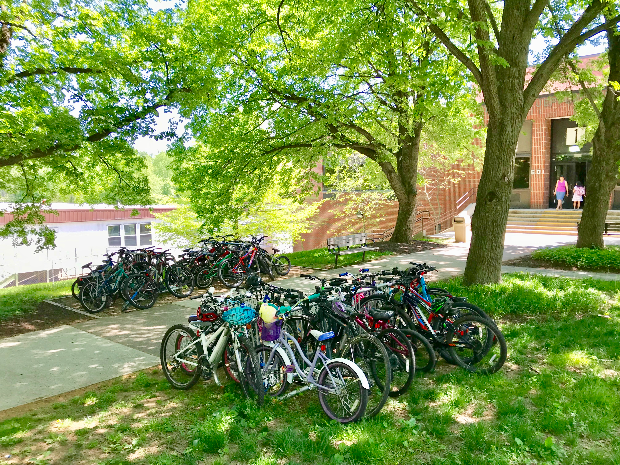 Encouraging Active Ways to Get to School
​The start of a new school year is great time for parents and educators to consider active ways to get to school. Walking, biking or scootering  to school can be a fun and healthy way to start the day. Walking school busses or bike trains are a great way to get started, and FABB is here to help. 
For years FABB has worked closely with Sally Smallwood, the county's Safe Routes to School Coordinator, helping parents, students, and teachers participate in the Safe Routes to School (SRTS) program. Sally will be joining FABB at our September meeting (details below) to discuss ways to start a SRTS program at your school. If interested in learning more, come to FABB's September meeting, or check out Fairfax County's SRTS website.
FABB Offering Bike Classes at GMU
FABB is collaborating with George Mason University's Transportation Office to offer bicycle classes for students and staff this fall. Details are being finalized, but classes are tentatively set for September 21 and October 20. If you or someone you know is a GMU student who would like to learn to ride or improve their bicycling skills, please mark the dates and watch for registration details on FABB's social media.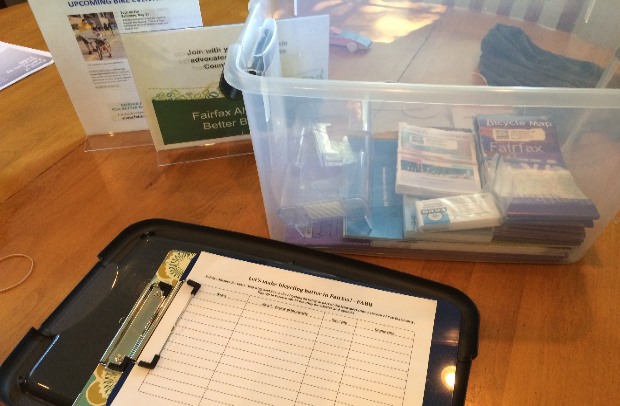 FABB Looking for Volunteer Coordinator
​FABB continues looking for someone to serve as our Volunteer Coordinator. Do you have the skills to help manage FABB's volunteer program and an interest in improving bicycling in our communities? Then this is a great volunteer opportunity for you! Feel free to share with others who might be interested.  Duties can be performed at home with an anticipated commitment of 5-15 hours per week.  If interested, please contact us for more information.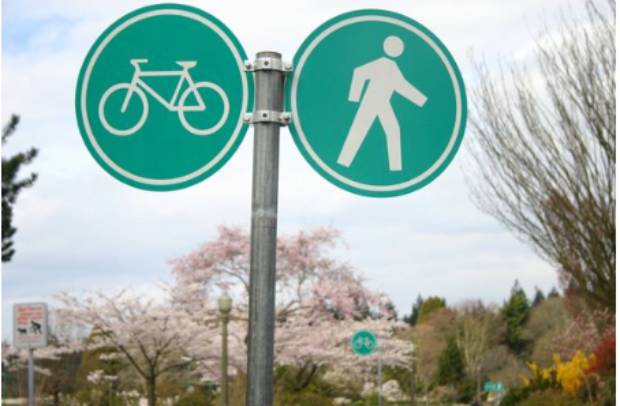 Volunteers Needed for Bicycle and Pedestrian Counts
​The City of Fairfax is conducting bicycle and pedestrian counts at key intersections in the city and are looking for volunteers to help.  The counts will be Thursday, September 13, from 5:00-7:00 PM and on Saturday, September 15, from 12:00-2:00 PM. Click here to sign up and get more information.
FABB continues to rotate it's monthly meetings around the County to highlight district specific bicycle needs and improvements. Hope you can make it!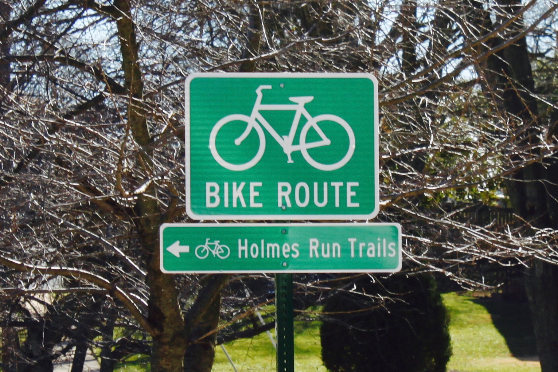 7415 Arlington Blvd., Falls Church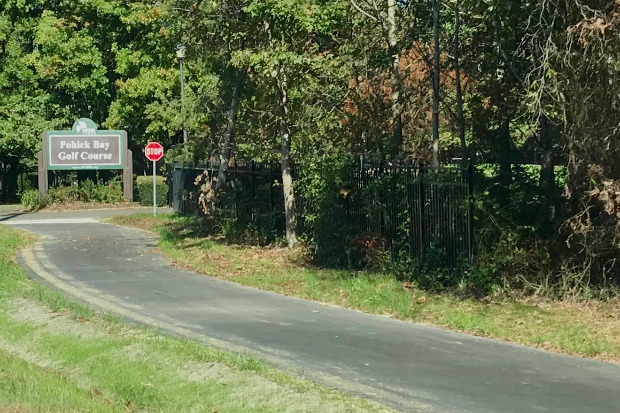 Mount Vernon & Lee Districts
FABB Meeting
Sherwood Regional Library
2501 Sherwood Hall Lane, Alexandria