9-10 February 2018, 23 Adar 5778

Shalom Temple Sinai Family and Friends,
Betzalel Models Leadership from the Middle

 In this week's parsha, Vayakheil-Pekudei, God fills the visionary leader Betzalel with "Godly spirit, with wisdom, insight and knowledge, and with every craft" to perform the design and oversee the construction of the Mishkan, the traveling Sanctuary in the wilderness. While Moses and Aaron led "from the top" [famously, Moses oversaw leaders of thousands, hundreds and tens among the Israelites], Betzalel would lead "from the middle," inspiring all Israelites whose hearts motivated them to give of themselves and contribute to the Sanctuary's construction.  ...
Spring Simcha 2018

It's time to start spreading the word!
The 2nd Annual Spring Simcha Fundraiser for Youth Programs is right around the corner!

Saturday 4/21/2018 5-9:00 p.m.

The Grove in South Reno
Super Hero Theme (costumes encouraged)

Silent Auction, Raffle, Dinner, Dancing and fun for the whole family!  Online tickets sales are open now at
SinaiReno.org/simcha
where you can purchase event tickets and make a monetary donation to support our Youth Education programs.  ...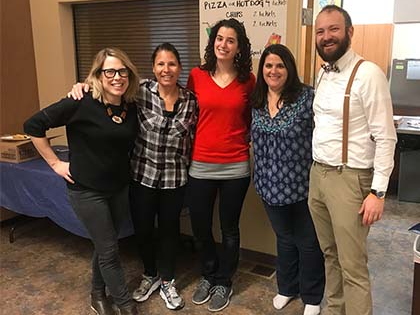 Sunday, February 25
Parents' Purim Carnival Committee of Mindy Hertz (chair), Amanda Shackelton, Lynn Kotlicky and Stephanie Gibson with Rabbi Bair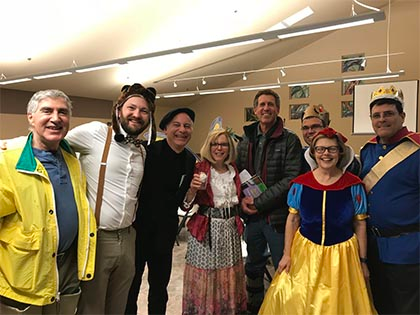 Wednesday, February 28
Community Purim Spiel Cast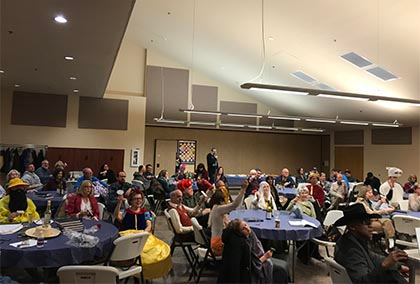 Wednesday, February 28
Community Purim Celebration with Temple Sinai and Temple Emanu-El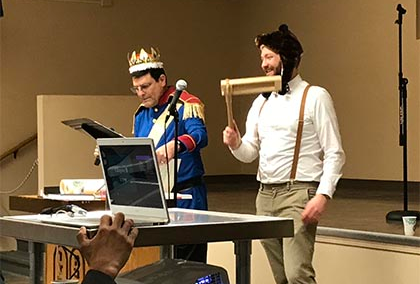 Wednesday, February 28
Rabbis Mark Fasman and Ethan Bair at the Community Purim Celebration

Sabbat Parah --
שַׁבָּת פָרַה
Parashat Vayak'heil-P'kudei --
פָּרָשָׁת וַיַּקְהֵל־פְקוּדֵי
Torah Reading:  Exodus 35:1 - 40:38

Haftarah Reading:  Ezekiel 36:16 - 36:38

URJ Weekly Torah Commentary:  Click here  
7:30 p.m. Kabbalat Shabbat Service
Thanks to this week's greeters, Temple Board members, Evan Klass and Temple Board president, John Louie.

If you would like to host a future Oneg Shabbat to celebrate a special event in your life with the community, please call the Temple office at 747-5508 or sign up online here.
Temple Sinai Board Meeting
The Temple Sinai Board of Trustees will meet on Wednesday, March 14 at 7:00 p.m. in the Temple library. All Temple members are welcome to attend. Please contact the Temple office, 747-5508 or admin@sinaireno.org, if you have any difficulties downloading the agenda below.
from 7-9 a.m.
Atlantis Casino Resort Spa,
Reno, Nevada
Grand Ballroom 4-7, 2nd Floor
Temple Sinai will have a table at the Nevada Prayer Breakfast. Only $12.50 to join us at our table instead of a the price of a General Ticket. Call the Temple office at 775-747-5508 or email admin@sinaireno.org if you would like to join us at our table.

Torah for Tots
Passover Celebration
Thursday, March 22
at 4:15 p.m.
The class teaches about Jewish holidays and themes using simple prayers, stories, puppet shows, arts and crafts, and games and is open to Temple members and non-members.

There is no fee for the class. To join Torah for Tots, or for further information, contact Judy Schumer at garyjudy2@sbcglobal.net. or click below for details.)
You are cordially invited to the
of
Alexa Rollnick Foley

Ignacio Montoya
Steve Myerson
10:00 a.m. Saturday, March 24, 2018
12:00 p.m. Luncheon to Follow
at Temple Sinai

Men's Breakfast: April 8, 2018
Note:  our next speaker will present before your individual tax return is due and before the United Kingdom departs the European Union, the European Economic Area, and the Customs Union. Will Prime Minister Theresa May pull it off without dire consequences for England and Northern Ireland? Were UK voters too rash in their voting decision? Join us in April to hear our guest speaker, Chair of the History Department, UNR and recently married Dr. Dennis Dworkin shed light on the Brexit matter and what it may ultimately mean to the United States and the European Union.

Note also, nominations for President, VP and Secretary of the Men's Club are open for consideration.
See you soon,
Steve Myerson
President, Temple Sinai Men's club
Calendar: The Next Two Weeks
Sunday, March 11

9:30 a.m. Sinai School

10:00 a.m. Familyhood Committee Meeting

2:00 p.m. Congregational Form with Rabbinic Candidates

Tuesday, March 13

6:00 p.m. Adult B'nei Mitzvah Class
7:00 p.m. Adult Hebrew Class
7:00 p.m. Israeli Folk Dance Night (1st time FREE, $5 regular, $3 for students)
12:00 p.m. Talmud Study (Sinai Library) 
7:00 p.m. Temple Sinai Board Meeting (All members welcome.)

Thursday, March 15

7:00 p.m. International Folk Dance Night ($3 per person)
6:00 p.m. Shabbat Unplugged! followed by a robust, catered Oneg with desserts provided by the Social Action Committee

Saturday, March 17

9:30 a.m. Shabbat Morning Service
10:30 a.m. Torah Study
9:30 a.m. Mitzvah Day


11:00 a.m. Library Committee Meeting


1:30 p.m. Teacher's Meeting with Rabbi Bair

7:00 a.m. Nevada Prayer Breakfast (Atlantis Casino)

6:00 p.m. Adult B'nei Mitzvah Dress Rehearsal

6:00 p.m. Social Action Committee Meeting

7:00 p.m. Israeli Folk Dance Night (1st time FREE, $5 regular, $3 for students)

12:00 p.m. Talmud Study (Sinai Library)
5:30 p.m. FACTS Meeting

6:00 p.m. SUNNY Class & Board Meeting

4:15 p.m. Torah for Tots (Passover)
7:00 p.m. International Folk Dance Night ($3 per person)
7:30 p.m. Kabbalat Shabbat Service with the Oneg Shabbat hosted by Steve Myerson, Ignacio Montoya and Alexa Rollnick Foley in honor of their adult B'nei Mitzvah

10:00 a.m. Adult B'nei Mitzvah of Steve Myerson, Alexa Rollnick Foley and Ignacio Montoya with a Shabbat luncheon to follow
For our Online Calendar and a complete list of upcoming events at Temple Sinai...
Donations to Temple Sinai

We thank those who support Temple Sinai.
Lucille Alexander


Enid Matteson, z''l, in memory of her son, Ken Yeghoian

Howie and Sue Holden toward the upcoming March 18 Mitzvah Day lunch expenses


Lucille Alexander


Kurt and Dawn Frohlich in memory of Dustin Harter, nephew of Dawn


Phil Shalitt 


Debra and Gary Pomeranz in celebration of the birth of Dagan Kovsky Pomeranz, by his parents David Pomeranz and Moriel Zelikowsky, in loving memory of Dagan's great-grandmother, Ruth Dickens


Sanford Friedlander in memory of his brother, Howard Friedlander


Julie and Mark Rosenberg in honor of Rabbi Ethan and Dr. Nadya Bair and the birth of their daughter, Chaya Miriam


Sanford and Annette Friedlander in memory of Max Broudy, father of Annette


John Louie and Neva Donovan to support the Sinai table at the 2018 Nevada Prayer Breakfast

Passover Seder Subvention Fund
Michelle and Jeremy Gellman


Barton Barrow


The Rabbi's Discretionary Fund


Suzy and Evan Klass


Marilyn and Ken Roberts


John Louie and Neva Donovan


Yani Dickens and Jessica Younger

Rabbi's Discretionary Fund
Dr. David, Kathryn and Keiana Snell in honor of the Rabbi Bair and Family


Martha Hildreth in honor of Dennis Dworkin and Suzanne Silverman on their wedding

Please Consider Making a Donation
Available funds to contribute into:
General Fund: General operating expenses
Capital Fund: Servicing capital improvements to the Synagogue
Cemetery Fund: Maintenance of the Hebrew cemetery
FF&I Fund: Furnishings, fixtures and interior improvements
Jewish Practice Fund: Sanctuary and religious supplies, Torah mantles, and other Jewish Practice expenses 
Library Fund: to support the Temple library 
Maintenance Fund: Building and grounds maintenance
Music Fund: Events, equipment, musicians
Rabbi's Discretionary Fund: Directly supports the Rabbi's tzedekah efforts and hospitality
Sinai School Fund: General school needs, scholarships, and hiring a new Jewish Family Education Director 
Youth Engagement Fund: Supports our youth and teen programs 
Sunday Forum: What Jews can Teach UUs
March 11, 9 AM, Starr King Room at UU Fellowship of Northern Nevada


(780 Del Monte Ln, Reno, Nevada)
Jewish members bring a richness to our spiritual lives. Rabbi Ethan Bair, of Temple Sinai, will engage UUs on their third UU Principle of "encouragement to spiritual growth", as he endeavors to imagine what Judaism as a whole could teach them.  ...
Words to Action
Empowering Communities to Address Anti-Semitism.Presented by the Anti-Defamation League
Sunday, March 18th
10 a.m. - 12 p.m. RSVP Today!
Temple Emanu-El (1031 Manzanita Way)
RSVP to Harriet Young 775-825-5600

Day o f Remembrance 2018:
In honor of the 75th Anniversary of the Warsaw Ghetto Uprising, April 1943
7-9:30 p.m. Wednesday, April 11, 2018
Exhibit opens at 6:30 p.m.
This free event is open to the public.
Atlantis Casino Resort Spa,
3800 S. Virginia St., Reno
Israel is turning Seventy, join in the celebration!
Share the simcha Israeli style:
Tickets:
$36 per person in advance,
$18 students (and 14-18) ,
To purchase tickets in advance please visit synagogues in northern Nevada or online to atlantiscasino.com/israel70 and the Atlantis Gift Shop.
a Northern Nevada Community Event
Enid Matteson mother of Steve Yeghoian and Paula King, 3/1/2018
Sh'loshim (Deaths these past 30 days)
Harvey Slater father of David Michael Slater, father-in-law of Heidi Slater and grandfather of Maxwell Slater
Joseph I. Bluhm father of Susan Bluhm, March 5
Mary Garfinkle wife of Jake Garfinkle, z''l, March 5 *

Leonard Levenson step-father of David Zucker, March 5
Carol Ann Rubin daughter-in-law of Arthur J. Rubin, March 5
Louis L. Aaronson father of Marynne Aaronson, 19 Adar (March 6) *
Isaac Cohn in the Virginia City Cemetery, March 6 *
Claire M. Greiner mother of Miles Greiner, March 6
Rae Aaronson Carpol aunt of Marynne Aaronson, 20 Adar (March 7)
Donna Herndon-Elliot cousin of Philip Shalitt, March 7
Deborah Langley girlfriend of Jay Rutkovitz, March 7
William Garell uncle of Debra Pomeranz and Robert Dickens and great-uncle of Ken Dickens, March 8 *
Jack Salnick father of Susan Holden, March 8
Esther Davis mother of Stephen Davis, March 10
George Greenberg father of Leslie Greenberg, March 10
Daryl J. Jones father of Mimi Premo, 23 Adar (March 10)
 * Indicates a plaque on the Sanctuary wall will be lit.
R'fuah Sh'leimah --
רְפוּאָה שְׁלֵמָה
For a complete healing of body, mind and spirit:
Ronnie Gorelick mother of Jeff Gorelick
Marlene Harris sister of Leslie Pansky
Michael Legan
Dave Levine
Peggy Levine
Daniel Moss

Steve Myerson
Judy Redman cousin of Leslie Pansky
Tsipor Leyb ben Ya'akov v'Dina (David Shneer)
HaRav Yisrael Shimon ben Liba Bryna (Rabbi Mark Fasman)
Jessica Younger
Todah Rabbah (Thank You) --
תּוֹדָה רַבָּה
A big thank you to everyone who attended Purim events at Temple Sinai and especially the following brave souls for creating and performing the Temple Sinai Purim Shpiel last week: Dr. Steve Rubin, Jake Margolis, Ignacio Montoya, Gail Ferrell, Rabbi Mark and Alice Fasman of Temple Emanu-El, and Steve Myerson.
Mazel Tov (Congratulations) --
מַזָּל טוֹב
Mazel Tov to Julie and Procter Hug on the birth of their twin daughters last week! Birth announcement and meals sign-up coming soon!
Tan'chuminu (Our Condolences) --
תַּנְחוּמִינוּ
Our condolences to Steve Yeghoian on the passing of his mother, long-time Temple member Enid Matteson. Thank you to all community members who attended her funeral.
The Sisterhood can send greeting & sympathy cards for you. To order tribute cards, call
Pam Sloan
at
771-1971
or email her at:
sisterhood@sinaireno.org
Send payment checks directly to the Sisterhood: c/o: Pam Sloan, 7995 Meadow Vista Dr., Reno, NV 89511.
Cost: $3 per card or 10 cards for $27.
Hannah Davis (3/5)
Ellen Lessinger (3/5)
Arthur J. Rubin (3/5)

Oshrat Orenstein (3/7)

Natalie Sera (3/7)

Jeffrey Shackelton (3/9)

Wendy Alderman (3/10)

Kella Rose Kantor (3/10)

Chris Berry (3/11)

Miles Firschein (3/11)

Hannah Garfinkel Berry (3/11)

Steve Matles (3/11)

Lori Johnson (3/15)

Cayce Lee Kantor (3/15)

Kamakoa Flagg (3/16)

Daniel Kantor (3/16)

Jameson Foley (3/17)

Lucille Davis (3/19)

Daphne Graffam (3/20)

Esther Graffam (3/20)

Nathaniel Edmands (3/21)

Jeff Gingold (3/21)

Barbara Kohlenberg (3/23)

Eleanor Davis (3/28)

Robert Colt (3/30)

Kenneth Kauffman (3/30)

Elizabeth Alderman (3/31)

Barton Barrow (3/31)

Steve and Leslie Pansky (3/9)
Amanda and Jeff Shackelton (3/13)

Jane Grossman and Brad Louis Rassler (3/15)

Alexa and John Foley (3/19)

David and Kathryn Snell (3/21)