Cat Chat News • December 2018
​Latest Happy Homing News • A Lucky Escape for Three Kittens • Feline Welfare Heroes of 2018 • Overlooked Cat News • Reindeer Feeding Advice
We Three Kitts... (& Mum!)
Midnight (left) had been living rough, with her three young kittens in East Yorkshire. In a happy twist of fate, it was the kittens who drew attention to this little family's plight; huddled up on the engine block of a van, they began meowing just as it was being driven away. Luckily the driver heard their cries and raised the alarm...
Mum and kittens were taken to Ren's Rescue in Hull, where the three youngsters were quick to learn that humans are fun to play with, and a source of good food! Naturally, their mother, Midnight was much more wary of people.
​
We are delighted to report that after their lucky escape, all three kittens were spotted on Cat Chat, and are now happily homed in time for them to settle in for their first Christmas!
Midnight is still being cared for at Ren's Rescue, waiting for her special someone to come along and adopt her. If you live in East Yorkshire, and might consider giving Midnight a wonderful New Year and a new start, please contact her rescuers at rensrescuerehoming@gmail.com
The warmth of a cooling car engine is a very tempting refuge for cats. Before starting your engine on a cold morning, bang loudly on the bonnet to give cats a chance to get away if they are sheltering there. 
See more Cold Weather Pet Advice here.
Let's Hear It for the Heroes!
We'd like to applaud all the rescue organisations that have worked tirelessly during 2018 to rescue, care for and rehome so many wonderful cats. They are responsible for relieving the suffering of thousands of unwanted or stray felines, who will now be spending Christmas in warm, loving homes of their own.
Thanks also to everyone who has chosen to adopt a rescue cat this year. Not only have you helped the cat you have adopted, you have freed up a rescue shelter place for another animal in need of help.
Most rescue centres suspend rehoming over the Christmas period, as most homes are noisier and busier at that time; so not ideal for a new pet! This also underlines the message that pets should not be being given as Christmas presents

.
If you are thinking of welcoming a pet into your home in 2019, adoption is the BEST option.
​
Visit our "Pets - Why Rescue? (and why not to buy)" page to find out more.
Maisie
Poor Maisie was found alone in a layby. She was a tiny little cat, who looked to be around six months old. She was rescued and taken in at Maesteg Animal Welfare Society, Bridgend. A scan of her microchip revealed that she was in fact 12 years old, and was originally from Sussex! Sadly the microchip was completely out of date and no owners could be found.
Maisie
waddled instead of walked, and although it didn't bother her at all, 
an x-ray revealed that
cartilage
 in her back legs hadn't developed properly. Her rescuers hoped that someone would see past her disability and give her the loving home she deserved.
We are thrilled to report that dear little Maisie found her forever home after appearing on Cat Chat. We wish her lots of love and a happy, homely Christmas!
Animal lovers know that a cat is a cat regardless of his or her disability.
Beautiful Tia was once a much loved family member. However she grew up with an energetic child and eventually found it too hard to cope. She was given up with great sadness and taken in at Cool Cats at Mitzi`s Kitty Corner, Totnes. Although she was initially shy, Tia's foster carer found her to be an adorable, sweet natured girl. No one could understand why Tia had to wait almost a year at the rescue shelter, for someone to give her a loving home!
Tia's rescuers told us: 
"This darling girl who had been overlooked for so long has found a fabulous home via Cat Chat. It was love at first sight when she met the couple - experienced cat lovers. This photo of Tia in her new home says it all!"
Once they learn to trust you, shy or nervous cats can make the most loyal of pets.
Ask about shy cats at your local shelter:
UK & Ireland Cat Shelter Directory
Samson is somewhat larger than your average cat - over 6kg in fact! His rescuers  at
Pet Rescue Adoption, Greater Manchester
 describe him as '
a beautifully marked marble tabby, with the head of a lion'
.  He had lived rough on an allotment for many years, and had had to fight for his survival and territory. In spite of his difficult life, Samson responded well to human kindness at the shelter, and soon began purring and sitting on his  
rescuer's knee. Samson's past experiences resulted in him being FIV positive, but despite that, Samson is still robust, in good health and fastidious with his litter box!​
​
Samson's rescuers told us
"Samson's new parents found his details on your Overlooked Cat section, so we wanted to pass on the good news and thank you for your assistance".
FIV cats still find it harder than most to find new homes, even though in all other respects they are normal, loving cats, and deserve a chance at a happy life.
Find out the
Facts about FIV, not the Fiction
!
​
Thousands of rescued cats are overlooked, and spend many months or even years waiting for someone to adopt them. This may be because of age, colour or temperament for example, but it is never through any fault of their own. Let's make 2019 a year where 'harder to home' cats are 
sought after, just as much as younger or prettier cats.
Ask about adopting an Overlooked Cat at your local Rehoming Centre:
​
Rupert (left) and Rosie (right) are around 18 months old and have been waiting patiently for someone to offer them a new home. They are both quite shy and timid until they get to know you, but once they trust you they are affectionate.  Rupert & Rosie would like to find a quiet,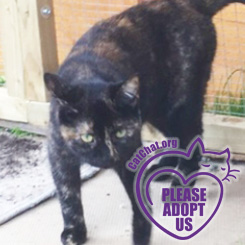 adult only home together, and would rather not live with other pets. They are a stunning pair, both neutered, and have been waiting patiently for over a year to find their forever home.​ Could 2019 be their year? Find out more here: Overlooked Cats in Warwickshire
Hildy is a playful young neutered female who is looking for her new human best friend, having spent most of her life in rescue. Hildy likes to zoom about and play with any toys she can find! When she is not busy doing that, she will settle on a knee for a good fuss. However, she generally prefers to curl up in a comfy spot where she can keep her eye on you, and just feel comforted that you are in the room... 
Hildy is looking for a home with no young children as she can be a little feisty at times. She needs cat savvy humans who can understand when she needs some time to herself. 
Find out more about Hildy here:
Overlooked Cats in West Yorkshire
If you are putting food out for Santa's reindeer this year, it's better to make your own! Although some pre-packed reindeer treats look pretty and sparkly, these often contain glitter which is harmful to wildlife.
You can make delicious reindeer food with ingredients like rolled oats, bird seeds and sunflower hearts, and perhaps cranberries or blueberries for colour. Word has it that reindeer love all of these things! You can find more reindeer food recipes on the
RSPCA website
.
If you must use reindeer food of the sparkly kind, please keep it indoors next to Santa's nibbles, and dispose of any leftovers carefully!
Grateful Thanks and Festive Wishes
We are very proud of what we have achieved since our launch in June 2000, and our recent figures show that around 10,000 cats found a new homes through Cat Chat last year. This would not be possible without our wonderful Volunteers,
Friends, Page Sponsors and Supporters
.
Thank you all so much for your ongoing help and support.
All of us at Cat Chat wish you and your loved ones (both human and furry!) a very Merry Christmas, and a Happy New Year!
Until next time - please join us on Social Media...
We never pass email addresses on to others.
If you no longer wish to receive our monthly updates, please click 'Unsubscribe' below.