Cat Chat News • November 2018
In This Issue

​
 Happy Homing News • #YouMadeItHappen Day • Cats Protection's Purrfect Landlords Campaign • Why Not to Give Pets as Presents • Help us when Christmas Shopping Online • Prize Draw Winners!
November 19th was #YouMadeItHappen Day!​
This initiative by the National Council for Voluntary Organisations is a great way for charities to thank their supporters and volunteers for the huge difference they make.
Cat Chat, along with hundreds of charities across the UK, posted on social media on Monday 19th with the hashtag:
#YouMadeItHappen
.
So it's a MASSIVE THANK YOU to our wonderful Supporters and Volunteers who have helped these rescued cats (above), and thousands more find loving homes - You Made It Happen!
Alfie
Alfie's owners moved away and asked a neighbour to look after him, as they no longer wanted him. He was then signed over to Lancashire Paws Cat Rescue, but was initially found to be quite aggressive. Given his unpredictability, and being the least favoured colour for adoption, his rescuers thought finding a new home would be difficult. But after receiving TLC at the shelter,
Alfie
became loving and gentle, purring and rubbing around his rescuer's legs. Alfie needed a loving home, where he could make up for lost time and cuddles...
Alfie's rescuers told us,
"Alfie, our little black boy, has been adopted after he was spotted on Cat Chat by his new owners. Thank you for all you do."
Believe it or not, black cats in rescue often wait much longer to get adopted, being overlooked for more 'colourful' cats
.
Read our Top 10 Reasons to Adopt a Black Cat.
Poor Miss Lemon lost her happy home due to her owners ill-health, and was taken in by National Animal Welfare Trust, Tameside in Manchester. She then waited an incredible 18 months for the right home to come along, and the stress of cattery life had started to take its toll. This this beautiful five-year-old had waited so long in rescue that she had become very nervous and feisty. But then a special someone decided to give her a chance..
.
Miss Lemon's rescuers told us,
 "A massive thank you for putting our Miss Lemon on Cat Chat for homing. We couldn't believe how well the she reacted on arrival at her new home; fussing rolling over etc. From a fiesty and unpredictable cat, to a very happy cat!"  
Winning the trust and love of a nervous cat could be the most rewarding thing you ever do!
Ask about shy cats at your local shelter: UK & Ireland Cat Shelter Directory
Tom's world was turned upside down when his owners moved away and left him behind. He spent the following years struggling for survival on the streets before being rescued by Small Pet and Cat Care in Hull. He was found to have a maggot infested wound, feline leukaemia and was very fearful of humans and loud noises. But, after eight weeks of veterinary care and TLC, his wound healed and he slowly began to trust people again. Tom needed an understanding owner to give him love, patience and a real home at last...
Tom's rescuers told us,
"Tom has found his 'furever' home! He was seen on Cat Chat. Thank you."
Cats with feline leukaemia, or any other condition deserve the same love and care as any cat. We should do our best for each individual cat whatever their circumstances.
For more information about FeLV, visit our FeLV (Feline Leukaemia) Virus page.
Please Don't Give Pets for Christmas
Despite years of campaigning and animal welfare advice, some people still give pets as Christmas presents.
Pet ownership and Christmas gifts are two very different things!
Despite of years of campaigning and welfare advice from many animal charities, including Cat Chat, pets are still being given as Christmas presents.
Late winter and early spring will see an increase in abandoned or surrendered kittens and puppies, that were given for Christmas. This may be because they've outgrown their 'baby animal' cuteness, or because their owners have since realised they are unable to afford or care for the animal, or because they have simply become 'inconvenient'.
Taking on an animal is a long-term commitment, much like a marriage, for better or worse, in sickness and in health. They will require care and consideration from all household members. 
Food is relatively cheap, but vet bills are not, so pet insurance and regular costs such as worming and flea treatment must also be considered, as well as future boarding / sitting fees.

Giving a pet as a gift also gives the recipient a lifetime's responsibility, which they may not want - so pets should never, ever be given as a 'surprise'. 
For anyone wanting a pet for Christmas, a better idea would be to give them a book about how to care for their chosen animal, giving them insight before committing. Or, to make a donation at their
local animal rescue shelter
, so they can befriend or sponsor an animal in need.
If someone you know has carefully considered getting a pet, and has planned for their care and upkeep, it is still best to wait until after the Christmas melee before bringing a new animal into the home. Instead, give a home-made 'pet adoption' gift certificate - perhaps along with a toy animal - then in the New Year, you can go with them to your local rescue centre and pay the adoption fee. Most animals will settle much faster in a calm home when the festivities are over.
Welcoming a new pet into your family is a joyous event in itself, and shouldn't get lost in the excitement and chaos of Christmas.
Purrfect Landlords Campaign
Cats Protection's Purrfect Landlords campaign, highlights the benefits to landlords of allowing pets in rented accommodation
The campaign points out that by owning a cat, tenants are already demonstrating respect and responsibility. These are good attributes for someone renting property. The campaign also draws attention to the fact that cats make their owners happy and content. Cats protection said, "The purring heart of the home, a pet cat helps tenants feel happier and more likely to stay for longer, which is good news for landlords."
Landlords can remain in control by having a clear pet policy in the tenancy agreement. This should include limiting the number of cats allowed, and requesting that cats should be neutered, microchipped, vaccinated and treated for worms and fleas.
Adopting an
Overlooked Cat
could be the most rewarding thing you ever do! Here are just a few cats that have been waiting far too long for a loving home.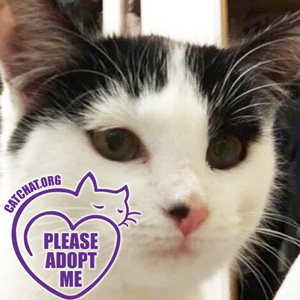 This petite, beautiful girl is around 2 years old and neutered. She had found a home previously but it didn't work out, so she has her paws crossed that this time, it will be her forever home. Sketch is a little lady with a big attitude and is looking for a home as the only pet as she doesn't like to share her space with other cats. She loves to play and likes to keep watch over her humans. She also likes to explore and is hoping to find a home in a rural location.
Sketch is at Lincs. Ark Animal Welfare, Louth, Lincolnshire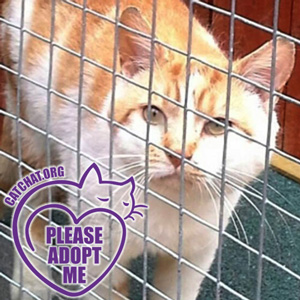 Alfie appeared at a cat foster home unkempt, hungry, and wary of people. All attempts to find where he came from have been unsuccessful. At the shelter, he was given regular meals and lots of patience, and soon began to show his true personality… This once frightened cat will now allow you to groom him, and enjoys the company of humans. In fact, he now enjoys attention, and has become quite a chatty lad! All Alfie needs to complete is his transformation is a loving home.
Alfie is at Small Pet & Cat Care, Hull, East Yorkshire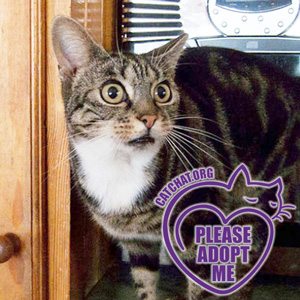 Lickle Ickle was rescued a year ago with her siblings, who were rehomed quickly. But Lickle Ickle was very underweight, and needed to stay at the rescue shelter until she was healthy enough to be rehomed. She is a big character in a little body and is now 18 months old and neutered. Lickle is a small and perfect package and is in good health. She could happily join a family home where there are other cats. This purr-fect little lady needs someone to give her the chance of a loving home.
Lickle Ickle is at Community Cats Network, Cork, Ireland
Support Cat Chat while Christmas Shopping!
There are TWO great ways to shop online this Christmas, and help Cat Chat for free!
Easyfundraising and Give as you Live are both free to join and free to use, enabling you to raise funds for Cat Chat simply by shopping online. There are thousands of retailers to choose from, including eBay, Argos, Amazon, John Lewis etc, and Cat Chat will benefit every time!
As well as shopping for goods, you can shop for groceries, switch utility providers, take out insurance or book your New Year's getaway - and help us for Free!
Then, next time you are ready to shop online, just log into your account!
Thanks to our wonderful supporters who already support Cat Chat when shopping online!!
To celebrate 'Black Cat Day', we held a prize draw to win one of three copies of 'Cat Poems, a book of poems by the world's greatest poets'. Congratulations go to the following winners: J. Nelson, J. Bennett and J. Copeland!
You may also remember in our October issue, we had a Feliway Classic Diffuser for 3 lucky prize draw winners… Congratulations go to A. Erskine, P. Mason and H. McPherson.​
Until next time - please join us on Social Media...
We never pass email addresses on to others.
If you no longer wish to receive our monthly updates, please click 'Unsubscribe' below.