Cat Chat News •  September 2018
Welcome to our September Update!
Presenting the latest Happy Homing news! Also included: Why neutering at four months is the new 'norm', and choosing the right cattery at Christmas. Plus, how Cat Chat helps shelters for free, and how you can help Cat Chat for free too!
Millie (14) and her 13-year-old son Frodo (pictured here) spent many happy years in a loving home together. Sadly their lives were devastated when their beloved owner passed away. They were taken in at The Ashmore Rescue for Cats, Wolverhampton. In spite of their upheaval, both cats were found to be very loving and in good health. Millie & Frodo's rescuers set out to find them a quiet home where they could remain together, and have a sofa to curl up on. Even cats as young as just 8 or 9 years get overlooked, so things looked uncertain for this older pair...
We are happy to say that the duo were spotted on Cat Chat, and went off to their new home together! Cats often live into their late teens these days, so most older cats will have many years of life and love to give. Please consider Giving a Home to a Mature Moggie!​
Honey


​
Honey was found abandoned with her kittens. She had an air of sadness about her, and her actions suggested she may have suffered some abuse in the past. Her rescuers at Maesteg Animal Welfare Society, Bridgend restored her confidence and found her a new home. Sadly she was returned to the shelter, as a child in the home was afraid of her. Once again, her rescuers worked hard to reassure her, and found her yet another home. Unbelievably, she was returned to the shelter again through no fault of her own. Was this poor girl ever going to find happiness?
The answer is yes! Honey's rescuers told us, "Honey has now been rehomed via Cat Chat. Because of this site she has found a loving home, thank you". Withdrawn, shy or nervous cats have often had a difficult past, and deserve a better future. Could you change the life of a nervous cat like Honey?  » 
Find out more at your Local Rescue Shelter​
Coco
8-year-old Coco was rescued and taken in at Little Cottage Rescue, Luton. She arrived at the shelter with the most dreadful skin issues due to flea infestations. She was covered in flea bites that had gone untreated. Her rescuers worked tirelessly for months to get her skin and coat healthy again. However her condition had left her with a weepy left eye. She needed a loving home where she would be given the chance of a happy life, and an owner who would give her the TLC she lacked in the past, and who would clean her eye regularly with saline solution.
We were delighted when Coco's rescuers told us that she had found a new home, after only a few days on Cat Chat! Second chances like Coco's, are only possible because of the wonderful work of rescue shelters, and cat lovers who know that "Adoption is the BEST Option!"​
» See our Top 10 Reasons to Rescue
If you are going away over Christmas, make your cat boarding reservation well in advance.
Catteries become full very quickly during holiday times!
Boarding catteries vary greatly, so if you are looking for a cattery for the first time, please choose carefully, to ensure you are getting the best for your cat. 
Start your search by making a list of potential catteries near you.
Bear in mind that cats can get nervous from the sound of barking, so it's best to choose a cattery rather than a combined kennel and cattery.
Ask friends, family and your vet if they have any insight into the catteries on your shortlist. Also, it's important to visit the cattery in advance. A well run cattery will be happy to show you around. Phone the cattery in advance to find out when you can visit.
All licensed catteries should insist on seeing a current vaccination card. 

If your cat has not yet been vaccinated against cat flu and enteritis, this will need to be done at least five weeks before boarding. Any booster injections should be done at least one week prior to boarding. 
Most, if not all rescue centres have some cats who get overlooked when it comes to adoption. They spend many weeks and sometimes years in rescue care, watching the younger, brighter coloured and more extrovert cats going off to their new homes, when they deserve a home every bit as much!  Pl
ease consider Adopting an Overlooked Cat.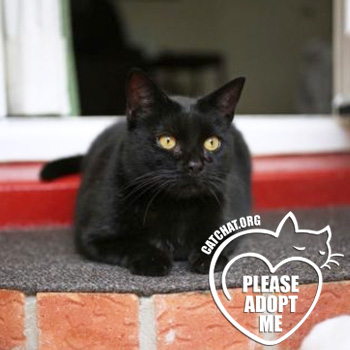 Baxter is affectionate, playful, handsome and litter trained. He loves a cuddle and is desperate to find a home of his own. He is 7(ish) years old and has previously had a brush with cat flu. This has left him with runny eyes, and although this needs no treatment, he may be a carrier of cat flu. For this reason, Baxter would like to be the only cat so that he doesn't have to share food and toys (he loves toys that he can chase!). He is on a special diet due to an allergy, but this food is widely available. Please could you give Baxter the chance of a loving home?
Baxter is at Animal Accident Rescue Unit, Notts.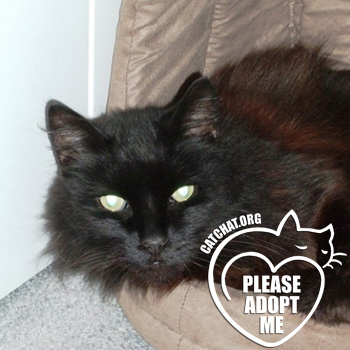 Raymond is a beautiful black cat who has been waiting patiently for a home. He is 12 years young, and very friendly! He was severely malnourished when he was first found living has a stray. Thanks to his rescuer's TLC, he has gained weight and is back to his handsome former self. Raymond loves to have an occasional wander around the garden, and is looking for a quiet home with access to a a safe outdoor area. He would be happy to share his home with other cats. Raymond would like a loving human, regular meals and a warm cosy bed. Can you help him?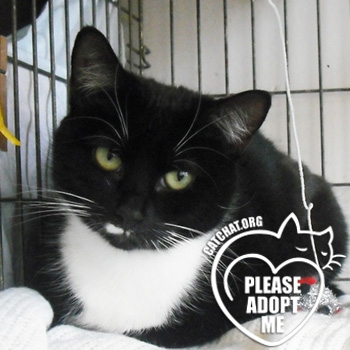 China Rose is an independent young lady of 3 years old. She she has lots of energy and loves playing with her toys, she especially loves stalking her favorite toy mouse! China enjoys fuss and strokes on her own terms, but like all discerning moggies, will let you know politely when enough is enough. She is looking for a loving, adult only home, where she can be the only pet (she really doesn't like other cats!). China Rose is neutered, microchipped, vaccinated, has been treated for worms and fleas, and is ready for her new home and human companion(s).​
A Snip In Time... 4 Month Neutering
There are thousands of unwanted and abandoned cats and kittens throughout the UK & Ireland today. Cats can become pregnant as young as four months old, so Neutering at this age is crucial to prevent any 'unplanned' litters.
1 un-neutered female cat, can be responsible for 20,000 descendants 
in just 5 years!
The old idea of neutering at six months is now considered outdated, and the recommendation by the British Veterinary Association to neuter at four months is becoming general practise. Leaving it later often results in un-planned pregnancies. You can find vets practices who neuter at four months, on Cats Protection's Kitten Neutering Vet Database.
The neutering procedure involves a simple operation, which thanks to modern veterinary medicine, is pain-free and your cat will usually be back home the same day.

​
Neutered cats are less likely to stray, reducing the risk of becoming lost, or being involved in road traffic accidents. Neutering also lessens their need to fight, reducing the risk of contracting certain viruses, including: 
FeLV (Feline Leukaemia) and FIV (Feline Immunodeficiency Virus)​
Don't let the cost of neutering put you off - help is available...
Many animal welfare and rescue organisations can help with neutering costs, or arrange for discounted neutering - click below for details: 
Neutering = Contentment… A simple 'snip' really does show you care!
Free Help for Rescue Centres
Central to Cat Chat's mission is helping rescue organisations find more homes for cats in their care. Our Cat Homing Pages are available to cat rescue centres and rehoming groups in the UK or Ireland, as well as vets practices who have cats to rehome. Rescue organisations with a Homing Page can also take advantage of our 'Overlooked Cats' section, to feature any harder to home or long-stay cats. All our services to rescues are free of charge. So...
If you, or someone you know runs or volunteers with a cat rescue organisation with cats needing homes, a FREE Cat Chat Homing Page can help!
Give as You Live - Help us for Free!
Cat Chat sources new, loving homes for currently over 8,000 unwanted and abandoned cats annually from rescue shelters across the UK and Ireland. We believe we can achieve much more... but we need your help!
You can support us without it costing you a penny, with 'Give as you Live'.
Over 4,200 top retailers and service providers belong to the Give as You Live 
scheme. Whether shopping online, or in store, you can support us via Give as You Live. In each case, the retailer or service provider will makes a donation to Cat Chat - it doesn't cost you a penny! There are lots of ways you can support Cat Chat through Give as you Live:
Thank You to those who already support Cat Chat through Give as You Live!​
Until next time - please join us on Social Media...
We never pass email addresses on to others.
If you no longer wish to receive our monthly updates, please click 'Unsubscribe' below.