Cat Chat News • July 2018
Welcome to our July Update...
Bringing you the latest happy homing news, plus important advice on checking microchips, and keeping cats cool in the heat. Grab a last minute cottage holiday deal, or a Humble Bundle for all you Gamers out there, and help Cat Chat at the same time!
THREE Reasons to Check Your Chips!
Even if your cat has been microchipped, we strongly advise you to carry out these 3 checks to make sure the microchip will be effective if your cat gets lost!
1.  Does the Microchip Provider still exists?  
We heard recently of a case where former provider 'PetProtect ID' had been taken over, but not all customers' microchip details had been transferred, so those cats' details are not on any system. So please check this urgently, if your chip was registered via PetProtect ID. We also advise periodically checking that your cat's microchip provider is still operating.
2. Are your Contact Details up to date?
While you are checking your microchip provider, also check that your contact details are up to date. It's no use having a microchip if you can't be contacted if your cat turns up at a rescue shelter or vet surgery as a stray!
3. Is the Microchip still working, and easily located?
Finally, when you take your cat for their annual check at the vet, ask them to scan your cat to ensure that the microchip is still working, and easily located.  Occasionally, microchips can move around under the skin, and very rarely may be found to not be working correctly. These are rare occurrences, but for peace of mind, ask your vet to check each year.
Tinker
Three year old Tinker (Tinkerbell until he went to the vet to be neutered!) was once a much loved pet, and constant companion of an older lady who he loved dearly. The lady recently had a hip replacement, and was told on doctors advice to give up her companion in case she tripped on him. Poor Tinker didn't understand where his special person went and why he was suddenly alone. He was taken in at Maesteg Animal Welfare Society, Bridgend and put up for adoption.
Thankfully, Tinker has now been rehomed as a result of his appearance on Cat Chat. Although no one can take the place of his lifelong special companion, we know he will be loved, and his new owners will help him to overcome his grief. Have a lovely new life Tinker!
Black, and Black & White
cats are often overlooked in favour of more 'colourful' cats, so when you are next adopting, please consider the 'character' not just the coat!
Mr Dingle Dingleberry​
This lad had a happy home and two doting humans who looked after him well. However, Dingle's world was shattered when a new baby arrived. In spite of the best efforts of his owners, the stress was too much for Mr Dingle, and he became ill; leaving him with bouts of cystitis. He was taken in by Aylesbury Cat Rescue, Bucks, who began searching for a quiet home where he would be groomed daily, and cared for when his cystitis flared up.
His rescuers told us,
"
Thank you for adding Mr Dingle Dingleberry to the overlooked section, he got his forever home after being seen on Cat Chat". 
Cats often end up being overlooked due to medical conditions or disabilities. Could you adopt... and adapt? Ask at your
Local Rescue Centres
.
Phoebe
Two-year-old Phoebe started out as a long-term stray cat. In order to survive she would eat anything and everything that local people gave her and was actually slightly overweight when she was taken in at Cats in Need - Nuneaton & Hinckley, Warks. At the time of rescue, this beautiful long haired female's ears were covered in ticks. With the right treatment, a healthy diet and a strict grooming regime given by her rescuers, Phoebe was soon ready to find her forever home.
Cats in Need, Nuneaton & Hinckley told us,
"Phoebe has been successfully homed, after appearing on our Cat Chat homing page. Great work as always!".
We are proud to have played a small part in Phoebe's life story, and wish her well for the future.
Smart Cats Beat the Heat!
Hot weather poses many risks for

cats, including dehydration, sunburn, flea infestation, allergies, and and perhaps the most serious; heat-stroke. So here are our top tips for keeping cats healthy and happy this summer!
Provide plenty of water, in various positions around the house, and in shady garden areas.
Ensure they have a constant cool, shady place to escape from the heat, and encourage them into the shade during the hottest part of the day.
Cats with light coloured or fine hair should have these areas, particularly noses and ears, protected with pet-safe sunblock. Sunscreen for humans should NOT be used on animals, as some of the ingredients can be toxic to pets.
Groom your cat to remove excess hair. This helps to avoid overheating, and gives you the opportunity to check for fleas, ticks or skin allergies.
Keep all cat bedding clean and flea-treated.
If you have an indoor cat, careful supervision, or a suitable window screen is advisable to prevent them from falling from a height, escaping into traffic etc.
Wet food and litter trays attract flies in summer, so change litter regularly, and don't leave wet food out for longer than necessary.
If your cat is in any distress or discomfort, please contact your local vet.
PC Games • Mobile Games • Books • Comics
Humble Bundle is a leading retailer of digital games and eBooks. Since starting out in 2010, their mission has been to support charities, while providing great content to their customers at great prices. 
When you buy a bundle from Humble Bundle, you choose the price you want to pay, which charity to support, and also how much of your payment goes to charity. We have been bowled over by the number of gamers choosing Cat Chat to benefit from their 'Humble' purchases!
You can buy one-off bundles, or subscribe monthly to get a curated bundle of games sent to your inbox every month. Everything sold provides a share to charity.


Use our unique link to Humble Bundle below, and Cat Chat will benefit from a portion of your purchase cost. The funds are sent to us each month through PayPal Giving Fund.
​

Thank you to all you cat-loving gamers!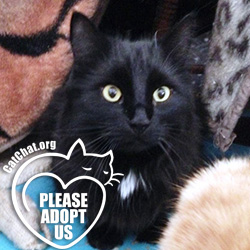 Danny & Davey are handsome 5-year-old twins. The fact that these boys are are both a little timid until they get to know you, are mainly black, and need a home together, means they have spent a year so far waiting at the rescue shelter.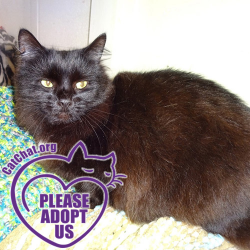 They are happy to live with other cats and dogs, but are worried by children. They are used to living in a rural environment and like to come and go as they please, so a stable, smallholding or farm would be a purrfect place for them.
Freya
became very ill shortly after being rescued, and although she is now fully recovered and healthy most of the time, her illness has left her with toxoplasmosis. She is looking for an indoor home, where where there are no pregnant women or young children. Freya will need testing every 9 months or so, which her rescuers will pay for. You can find lots of information on toxoplasmosis on the International Cat Care website. 
Freya is a pretty, snuggly cat who would love the chance to come out of rescue, and experience a loving home.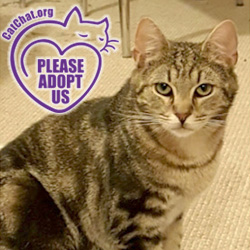 Bertie & Basil

were found as stray kittens. They were being fed and cared for alongside other strays, but clearly wanted to come into the home as they were not feral cats. Bertie & Basil are around 2 years old, and are best pals. They can be a little timid with new people and will definitely need time to settle in,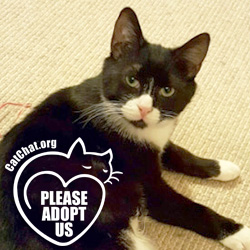 but once they do they will be loyal companions. 

Bertie has three legs, although no-one seems to have told him and it hasn't slowed him down! These handsome boys are looking for a home with a few comfy chairs for afternoon snoozing and a patient human to give them time to gain their confidence.​
Sykes Holiday Cottages - Super Summer Sale!
It's not too late, to make the most of the season and book yourself a summer holiday through Sykes Holiday Cottages! Sykes currently have their Super Summer Sale with over 10,000 price reductions on 2018 summer holidays throughout July and August!
And don't forget, if you book via our link Sykes/CatChat or by calling the special phone number below, Sykes will donate 10% of your booking cost to Cat Chat - at NO COST to you! 
Summer holidays and help for cats... What's not to love!
Until next time - please join us on Social Media...
We never pass email addresses on to others.
If you no longer wish to receive our monthly updates, please click 'Unsubscribe' below.