Cat Chat News • June 2018
Welcome to our June Update!
To match this lovely weather, we have some wonderfully heart-warming Happy Homing news for you. Plus, find out about our first radio advert, our new page helping lost & found cats, and why rescues need more cat fosterers. Enjoy! 
Cat Chat & Radio Caroline - Putting Cat Rescue on Air!
Cat Chat has teamed up with Radio Caroline to put Cat Rescue on the airwaves! Our special Cat Chat radio advert launched on Caroline on May 28th, and will be aired regularly over the next few months. This will enable us to reach even more potential cat adopters, and spread the 'Please Adopt' message even further.
Those of you old enough will remember Radio Caroline from the 60's and 70's (back when they were a 'pirate' radio station), and they do sometimes still broadcast from their current ship; the MV Ross Revenge. Now, thanks to digital technology, they can reach a much wider audience, which is what we aim to do too!
If you are in London, Birmingham, Brighton, Glasgow, Norwich, Portsmouth or Aldershot/Woking, you can also find Caroline on DAB radio. Those in South Eastern counties can listen on 648 AM (Medium Wave) The Cat Chat advert is currently playing 3 - 5 times daily.
Do drop us a line on social media if you hear the Cat Chat ad!
Kahzia (and her kittens!)
Kahzia was found as a stray, having just given birth to her kittens in the pouring rain. This poor girl, who was little more than a kitten herself was rescued and taken in with her kittens by Cat Action Trust 1977 Doncaster South. Thanks to the care they received, Kahzia and her two kittens; Eywa & Neytiri were soon ready to find loving homes. Incredibly, thanks to some very special adopters, this little family of three all ended up being rehomed together... 
"We saw Eywa & Neytiri (now Skuggi and Pandora) on Cat Chat. When we collected them, we also met their mother (Kahzia). I kept seeing pictures of Kahzia (now Agatha) on Facebook, and a few months later we decided to adopt her as well. They are so loved by us all, I am so glad that we decided to take the entire family".
​
One lucky Feline Family + Fabulous new owners = Three Happy Endings!
Teddy has really been through the mill! He had already been living rough for a few years, before being adopted. Sadly, due to circumstances beyond his control, Teddy was once again returned to Kathy's Cat Rescue, Merseyside. This 10-year-old boy with a cauliflower ear from an old injury, needed to find someone who would be happy with him just snoozing, pottering around and finally taking things at a leisurely pace.​
Lady luck finally smiled on Teddy, and he has now found his 'forever' home. His rescuers told us,
"Teddy has fallen on his paws, and has gone to a wonderful home where he will be loved and cared for at last!".
Even cats as young as 8 or 9 years get overlooked, even though these days that's just middle aged! Please consider Adopting An Older Cat.
Stokey Cats and Dogs, Hackney were notified of a cat that had been lying still for hours on a pavement. They collected the him and took him to the vet, who discovered his lethargy was due to a very deep abscess on his face. His injury healed up nicely, but sadly his owners could not be traced. Larry turned into a beautiful black panther of a cat of 
around 8 years old, but then remained in foster care for almost a year before finally being chosen...
Larry's rescuers told us,
"Larry found his new home through Cat Chat. He was spotted by a lovely person who instantly fell in love with him. Larry sent us this beautiful photo from his home and we are so happy to see him in a home he can finally call his own".
​
Did you know that black cats are least likely to be adopted?
See our Top 10 Reasons to Adopt a Black Cat.
 New to Cat Chat -  Lost & Found Cat Reports
Cat Chat is proud to be working with Pets Reunited to help reunite lost pets and their owners.
You can now see the very latest Lost and Found cats reports, including photos and locations on CatChat.org, kindly provided and updated daily by Pets Reunited - thanks guys!
LOST a CAT? FOUND a CAT? Find step-by-step practical advice on what to do if you have lost or found a cat, including lost pet registers and helplines on our 'Lost & Found Cats - Advice' page. Lost and Found cats can be registered for free on Pets Reunited.
Could You be a Cat Fosterer?
The number of cats being given up for rehoming in the UK is at an all-time high, and yet still more are left un-neutered, or are being bred for sale and profit. As a result, most rescue centres are full, and have waiting lists of cats needing to come in for rehoming.
So, what happens when a cat urgently needs somewhere to go... but there are no rescue spaces available?
 Just one extra foster home makes the world of difference!
A fosterer can really turn a cat's life around for the better. Fostering makes a huge difference to the lives of homeless animals, keeping them safe and healthy until they are permanently adopted. Letting them go to their new home can be emotional of course, but f
ostering
 brings a huge amount of
 satisfaction, knowing you have helped a desperate animal out of hardship or danger, and on to their new life. You were there when they really needed seomeone!
If you have patience, understanding & unconditional love...
Please consider fostering! 
Some rescues provide pens for their fosterer's garden, similar to those in a cattery, other rescue groups prefer their cats to live inside the fosterer's home. Different rescue shelters will have different procedures. So, if you are thinking of fostering, contact one of your local shelters to find out more. To find your nearest rescues, go to Cat rescue centre listings - UK & Ireland.
Some cats spend months in rescue, sometimes even years, waiting for someone to see past their age, colour, disability etc. When adopting, please ask about the harder to home cats.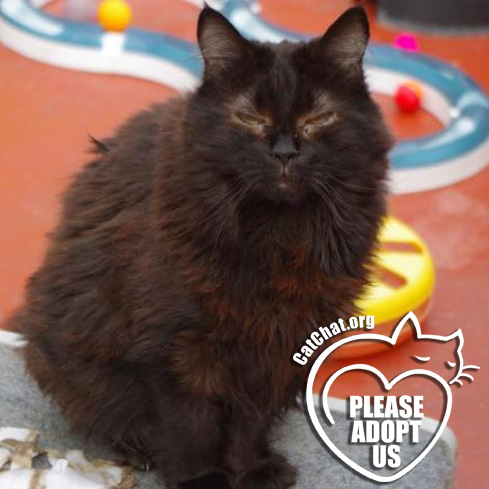 Coco & Mr Tom are 5 year old partners in mischief! Coco loves attention and laps. Mr Tom is far more reserved; he is worried by new people and will need a human or two who are willing to give him the time and patience he will need to gain confidence.
Coco & Mr Tom
are looking for a home where there will be no children or dogs. They are hoping that someone will fall in love with them, and give them the time they need to settle into a new home. Coco & Mr Tom are best friends, and do not want to be separated.
Coco & Mr Tom are at Feline Care Cat Rescue, Norwich, Norfolk
Ruby has been in rescue for almost a year, and it is starting to get her down. Just lately she stays curled up on her bed or her tower,  as if she has resigned herself to this way of life. The problem is that she is in a pen, and potential adopters don't understand when she's had enough fuss and persist in stroking her. In a normal home she could just walk away when she's had enough. 
Initially, she was quite feisty but now will happily let her fosterers stroke her and will even roll over for tummy strokes.  This beautiful 3 year old girl is desperate for a loving home, without children or other pets.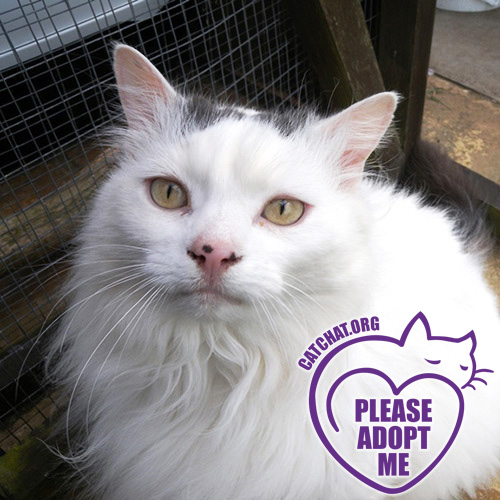 Little Cinders has been waiting for over two years for her prince (or princess) charming, to whisk her away to a new home. She is 11 years young, and arrived at the rescue following the sad loss of her previous owner. When she first arrived at the rescue, she was understandably nervous, but once she gets to know you she will show you just how lovely she is. Her Rescuers are looking for a pet-free, child-free, long term foster home, and are willing to help with food, litter and vet fees through their foster scheme to try to help her find her forever home. 
Cinderella is at Bentham & District Pet Rescue, North Yorks
Help Cat Chat with Amazon Smile
Cat Chat is now registered with AmazonSmile. This scheme enables shoppers to choose their favourite charity, and each time you shop, Amazon Smile will donate 0.5% of the sale price to the charity at no cost to you. It's a great new way to shop and help homeless cats for FREE!
Shopping with AmazonSmile is the same as shopping on Amazon, with the same products, prices and service. 
So next time you shop on Amazon, just log in through www.smile.amazon.co.uk instead, and select Cat Chat as your chosen charity to earn us a free donation!
To see other ways you can help Cat Chat, visit our
Support Us
page.
Grateful Purrs of Thanks to all our Supporters!
Thank you to Sykes Cottage Holidays!
If you enjoy the freedom of a self-catering cottage holiday, you can help us for free, at Sykes Cottage Holidays. If you book via our link Sykes/CatChat or by calling the special phone number below, Sykes will donate 10% of your booking cost to us - at NO COST to you!
Until next time - please join us on Social Media...
We never pass email addresses on to others.
If you no longer wish to receive our monthly updates, please click 'Unsubscribe' below.