Cat Chat News • February 2018
Welcome to our February Update
We hope you enjoy this month's selection of happy homing news. Also, we have advice on addressing 'no pets' tenancy clauses, a special offer on the best pet fur remover around, plus a great way to help us when booking your holiday!
Nala
​​
Beautiful two year old Nala had a dreadful start in life. She had been taken in as a stray by someone who hadn't realised Nala was pregnant. Sadly her first two kittens died. She was taken to Maesteg Animal Welfare Society, Bridgend and became a brilliant mother to her remaining kitten. Nala even fostered a kitten at the rescue shelter who didn't have a mother! She was adopted a second time, but was returned to the rescue shelter through no fault of her own. Then...
It was third time lucky for the lovely Nala - after appearing on Cat Chat, she has now found a wonderful new home with someone who will give her all the company she needs.
We were delighted to hear that Nala will finally receive the love and respect she deserves. As we come into spring, and 'kitten season' approaches, Nala's story is a reminder to make sure your cat is neutered before it's too late! Find out about Neutering & Low Cost neutering options
Leonard
Leonard arrived at Stokey Cats… and Dogs, London, as one of many local strays in need of help. He was very skinny, unneutered, and his mouth was extremely painful. Because of his rough start in life, Leonard was found to be FIV+ and due to a secondary mouth infection he had all his teeth removed. In spite of it all, this handsome five-year-old boy remained sweet and gentle, and was very much in need of a loving home...
Leonard found his dream home via Chat, and his smitten new humans had this to say:
"Leonard is doing wonderfully:) He has settled in well and seems to be enjoying himself. He has become very playful over the last couple of days. He's just so wonderful!"
FIV positive cats often find it harder to be adopted, due to misconceptions and myths -
Find out about FIV here
Elsa
Elsa was being cared for by Nikki's Cat Rescue, Melton Mowbray, and was added to our Overlooked Cats section, as she needed extra help in finding a home. Whilst Elsa is a very beautiful, semi-long-haired white cat, she is also deaf and needed an extra caring indoor home. Living with other cats was also out of the question, as Elsa has a tendency to "express her displeasure" towards them! Thankfully her happy ending was not too far away...
Elsa is now a doted on, only pet after a lovely young couple saw her on Cat Chat. They had lost their three legged cat 9 months previous, and really wanted to give a forever home to another cat with special needs.
Adopting a cat with a disability is not as daunting as it might sound, and can bring huge rewards - Find out about Adopting and Living with a Disabled Cat
Rented Accommodation… The 'No Pets' Clause
Sadly, we are hearing more and more of cats being put up for adoption because their owners have had to move to rented accommodation with a 'no pets' rule in the tenancy contract. For anyone faced with this situation, remember that landlords often use a 'standard' contract with this rule in, and may in fact be flexible on this issue.
Proving that you are a thoughtful and responsible pet owner can be the key to persuading a landlord to relax the 'no pets' rule. For example, making guarantees to reassure the landlord that your pet will not cause mess or damage, or providing a reference for your pet from a previous landlord, or perhaps offering to pay a higher deposit or for the property to be professionally cleaned when you move out.
There is lots of advice on ways to negotiate around the

'no pets' rule, and Top Tips for finding pet-friendy accommodation on the 'Lets With Pets' website. (Although this is a Dogs Trust website, the advice applies to all pets)
carPET - Pet Hair Remover
CAT CHAT SPECIAL OFFER!
Buy a Twin-pack for £9.98 & SAVE £1.00
(that's one for home & one for the car - or one upstairs & one down!)
The carPET is a must-have for all pet owners. It lifts, gathers and removes fur, hairs and general fluff & fuzz. It even picks up the fur that your vacuum cleaner doesn't!
carPET is Durable, hygienic, easy to clean, and i
deal for furniture, clothes, car upholstery and carpets.
Currently available singly in the Cat Chat Webshop at £5.49 each or buy a Twin-pack for £9.98 and save £1.00
helps more cats out of shelters… into homes - Thank You!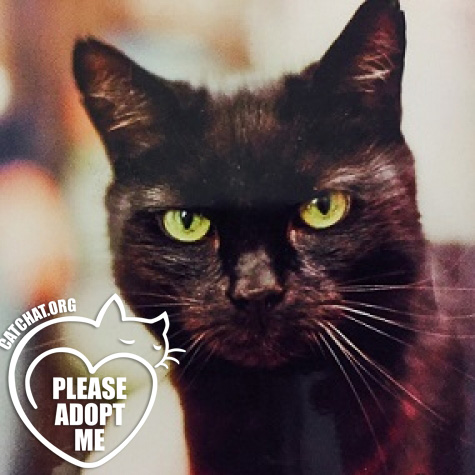 Pepper is 16 years young with a sleek black coat. He has an over-active thyroid which is controlled by medication but sometimes makes him extra hungry,  so he'll give a loud meow when his tummy is rumbling! This lovely lad likes attention, enjoys a cuddle and has bags of character.
Pepper is at Feline Friends London, Hackney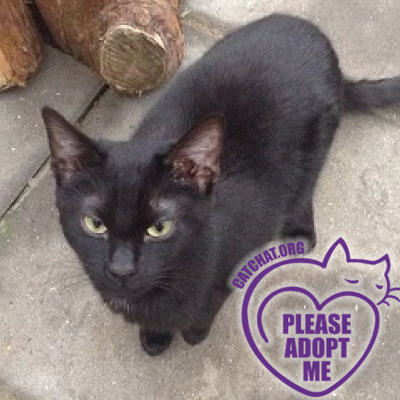 Pixie (in Bridgend)
18 month old Pixie is looking for an experienced cat lover; preferably with no young children or dogs. Pixie is a small, speedy, agile cat and could be ideal if you are looking for a mouser who still likes a cuddle at the end of the day! She is looking for a loving home where she can still have her freedom.
Pixie is at Maesteg Animal Welfare Society, Bridgend.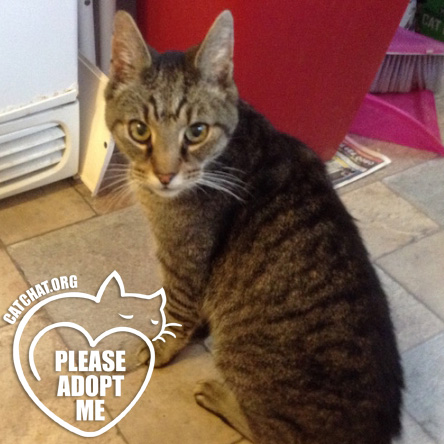 Charlie (in Manchester)


Charlie came into rescue, cold, wet and confused after he was abandoned. He is around 11 years old and is a gentle, friendly cat. Charlie would prefer a mature home with no dogs. He will need a renal diet and thyroid medication which his rescuers are happy to continue to pay for.
Charlie is at National Animal Welfare Trust - Tameside, Manchester ​
Cat Chat sources homes for currently over 8,000 rescued cats annually from hundreds of shelters and rehoming groups all over the UK and Ireland. It's an achievement we're very proud of, but one that is only possible thanks to our wonderful team of Volunteers!
So, this is a shout out to all those who work so hard behind the scenes at Cat Chat - A big THANK YOU to you all…  we couldn't do it without you!
Find out more about the work of our Volunteer Teams, and any current vacancies here: Cat Chat Volunteers
Cat Chat Volunteer Lindsey, with one of her rescue cats "JoJo"
​

How to Help Cat Chat with 'Give as You live'
Give as you Live is an easy way to to help us, just by shopping on-line at your favourite retailers, including holiday bookings, hotels and lots more. It's free to join, and you don't pay anything extra!
Once you've signed up and selected Cat Chat as your chosen charity, a donation is made at no extra cost to you every time you shop via the Give as you Live website.
Over 4,200 retailers and service providers are signed up to Give as You Live,
​Why not join today...
It's quick and free, and helps us achieve more 'happy homings'!​ ​​  
Until next time - please join us on Social Media...
Our news updates are only sent to those who have shown interest in Cat Chat. We never pass email addresses on to others. If you don't wish to receive our monthly updates, please unsubscribe below.