Cat Chat News • December 2017
Welcome to our December Update!


Bringing you some special heart-warming Happy Homings, advice to keep your cats safe and warm this winter, plus how to become a Friend of Cat Chat, for entry into our Friends prize draw on 31 December.
Homed in time for Christmas!
Would you believe this dear little cat was taped up in a box and dumped in a lane. Luckily, a passerby heard his cries and took him to Maesteg Animal Welfare Society, Bridgend. In spite of it all Boxer was still an affectionate boy, although a little quiet. 
He still loved and believed in humans, and his vet nurses fell in love with him as he was such a cuddly cat.
Maesteg Animal Welfare Society have since told us, "Thanks to Cat Chat, Boxer has now found his forever home where we believe he will feel very safe and never be put out with the rubbish again!" 
Cat Chat is delighted that Boxer has found a loving home where he will get the love and respect he deserves. We wish him many happy New Years to come!​
These two young females were rescued from an overcrowded flat way back in February. Both cats were initially timid when they arrived at Yorkshire Animal Shelter in Leeds, having shared their previous residence with 26 other cats! These poor cats then spent over seven months in the rescue shelter, being overlooked by adopters mainly because of their colour.​ Black & white cats get passed by just as often as black cats.
To everyone's delight, Yorkshire Animal Shelter reported: "I can happily confirm that Lottie & Lotus were spotted on Cat Chat and have gone to a wonderful home with a really lovely couple. As awful as it was to wait so long, it was worth it and we are so incredibly happy for them!".

Next time you are adopting a rescue cat, please ask about those who have been in care for the longest - they really deserve a chance, and are longing for it to be their turn!
Ronnie and Roxy were 3-year-old siblings who enjoyed each other's company. Then one day, Frankie followed Ronnie and Roxy's owner home, made himself comfortable and decided to stay! These inseparable feline friends needed a new home, but wanted to stay together. Their rescuers; Purrs Cat Rescue, Hornchurch appealed for a 'three cat home' on their Cat Chat homing page - quite a tall order - but miracles do sometimes happen...
Purrs Cat Rescue have since told us: "Our Terrific Trio have just found a home through Cat Chat! Thank you very, very much!!! We really needed them to find a home together, and they have". 
It's great to know that these cats have now landed on their paws (all 12 of them!).
Have You got Your Cat Mannequin Yet? 
Only a few days left to get your special limited edition cat mannequin!
Cat Chat and 
River Island
 got together this Christmas to find loving homes for 600 very special limited edition cat mannequins. These stylish figurines are starring in River Island's 'Give a Cat a Home' window displays until Friday 22nd December. All proceeds from the sale of the cats goes directly to Cat Chat. Thanks River Island!
The "Adopt a Cat Wednesday" feature takes place each Wednesday, during the last hour of "The Mid-Morning Show" which runs from 10:00 - 13:00. If you are in North Yorkshire and run an animal rescue organisation, or are thinking of adopting a cat, don't forget to tune in.
 

Adopting an overlooked cat could be the most rewarding thing you ever do!​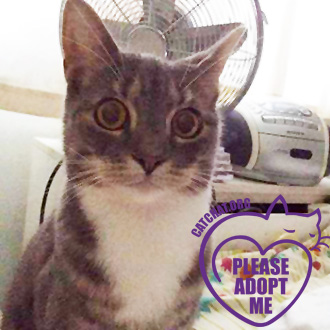 Maizie is a very friendly 4 year old female who enjoys human love and fuss. She also loves playing with her toys. She will be happy in a home with or without other cats or children, and would like access to outdoors. This easy-going, happy girl has been in foster care for over a year and is desperate to move on. Maizie is care of Sophie's Refuge for Animals in Need, Nottingham.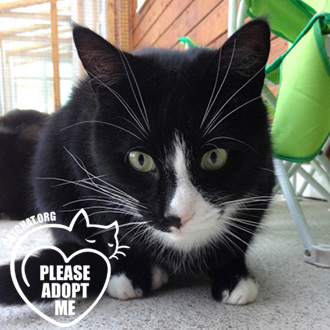 Badger is very timid when faced with people he doesn't know. This makes it difficult when meeting new potential adopters. But with a little patience and time (and treats!), he will make a loving companion. Badger has been waiting over a year for someone to see past his shyness, and give him a home. Badger is at Furry Tails Feline Welfare, Blackpool.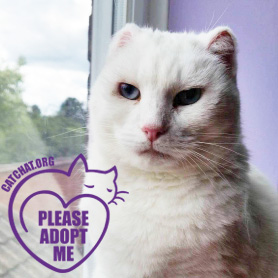 Life has been tough on 11 year old Sapphire; not only is she deaf, she had her is removed due to cancer several years ago. She is set in her ways, and vocal, but she is a nice calm girl who needs the chance of a home of her own to settle and flourish. If you'd like to help a "harder to home" cat, this could be the girl for you. Sapphire is at Ravens Rescue UK, Dudley.
Support Us - Friends of Cat Chat
Our Friends of Cat Chat supporters scheme is vital to ensure the 'Rehoming Lifeline' that we offer, free of charge, to shelters.
Join Friends of Cat Chat by 31 December, and you will be entered into our next Friends Prize Draw to win one of two exclusive cotton tote bags (right).
Good Luck!
The cold weather has definitely arrived! We've put together some tips on avoiding the difficulties and dangers faced by our feline friends in icy weather:
Accompany your cat in a safe enclosed area if it is their first experience of snow.

House cats should not be shut out of the house for long periods of time. They should always have access to warmth and shelter.

For cats who remain outside in cold weather, such as feral cats, please make sure there is some outside shelter, which is dry and waterproof.

Check your cat flap regularly to make sure it doesn't get frozen shut.

Keep your cats (and dogs) away from paths where rock salt has been used, or if they have been exposed to it, wash their paws when they come in.

The warmth of a cooling car engine is a tempting refuge for cats. Before driving off again, bang on the bonnet to give any hiding cats a chance to get away.

Keep Anti-freeze containers firmly shut, and clear up any spills promptly. 
We hope you and your cats stay well and warm this winter! 
Happy Christmas from Cat Chat!
All that remains is for us to wish you and your cats the very best of the season...
We wanted to share a little piece of Christmas magic with you, courtesy of Jacquie Lawson e-cards... 

We hope you enjoy it!
Until Next Time - Stay In Touch on Social Media
Our news updates are only sent to those who have shown interest in Cat Chat. We never pass email addresses on to others. If you don't wish to receive our monthly updates, please unsubscribe below.