Cat Chat • Monthly Update • October 2017
Welcome to our first Monthly Update!


Our new monthly updates are replacing our old quarterly newsletters, for two very good reasons. Firstly, they are mobile and tablet friendly (something many of you asked for). Also, being more compact and more frequent will enable us to bring you more up-to-the-minute Happy Homings and current news. We hope you like the new format!
These two little scamps were recently adopted by Peter and Alison, who run the Cat Gallery in York.  A short time ago, their much-loved cat Ethel sadly died at the grand old age of 21. As long time Cat Chat supporters, Peter and Alison knew there would be many cats in care, desperate for the home they now had to offer.
Peter said: "We wanted a pair of cats and went straight to Cat Chat. The site showed us that Leeds Cat Rescue had suitable cats, so we called the shelter."  After meeting a few 'pairs' and having a home check,  Peter said: "Alfie and Charlie spoke loudest to us and within days they were at home with us. The whole process was really smooth and we can't thank Cat Chat or Leeds Cat Rescue enough for helping us find our new family members."  
We can report that Alfie & Charlie settled in almost instantly, and being typical youngsters, equally instantly began causing total chaos!​
Sixteen year old Molly was taken in by Cats in Need, Nuneaton after her owner had sadly died.  Due to her age, Molly was not considered a good prospect for homing, but the rescue featured her on their Cat Chat page anyway. Then fantastic news - Molly was spotted on the page by a friend of an elderly lady who was lonely after the loss of her little dog, and who was
 looking for a companion. The lady visited Molly and it was love at first sight!
Cats in Need told us: "Molly loves her new home and has brought a new lease of life to her owner. Molly has given her a reason to get up in the morning, and has changed everything, following her around and is always there. The two of them have brought so much to each other's lives and it is all down to her profile being seen on our Cat Chat page. It is a fantastic outcome for Mollie and we couldn't have done it without you!"  
All of us at Cat Chat are delighted for Molly and her new owner. Older cats have so much to give - Read our Top 10 Reasons to Adopt an Older Cat
Tilly & Cherry
Great news! At long last, after three years in rescue, Tilly & Cherry have got a home of their own. The girls had been living rough, and were incredibly nervous when they were taken in by Kingsdown Cat Sanctuary, near Deal, Kent. Sanctuary owner Clare said: "It took six months for them to accept me, but are now happy to be stroked especially when I have treats!"
Their extreme nervousness meant they needed a very special person to adopt them, and despite everyone's efforts, Tilly & Cherry remained in rescue as the months ticked by. But then, last month Clare contacted us with the fantastic news: "Tilly and Cherry have finally been chosen and the new owners found them through Cat Chat!!!!"
​
We wish Tilly & Cherry a long and happy life in their new home. When adopting from a shelter, please ask about their long-stay cats; you really will be giving them their lives back!
​
Time to treat the special feline in your life? These toys should definitely hit the spot!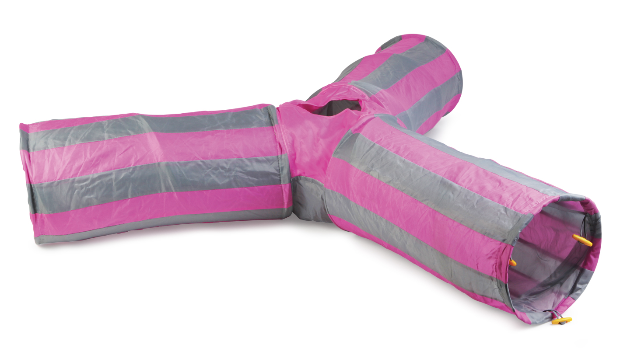 Acticat Y-Shaped Play Tunnel 
Made of crinkly, scrunc​hy material inside which cats love. This 3-way Y shaped tunnel features a peep/pounce hole in the middle, and is fully collapsable for easy storage.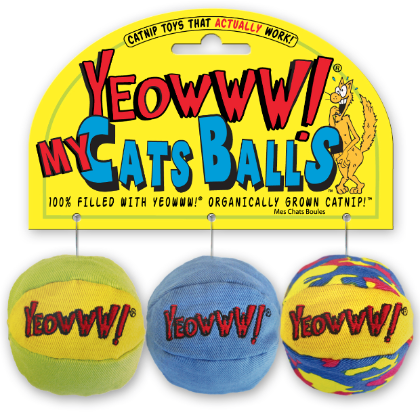 YEOWWW! Catnip Balls (Set of 3)
These balls are filled with 100% "Yeowww" organically grown catnip! More Yeowww! items can be found on our Webshop
​ 
 

These three lovelies are being cared for by Cat Action Trust - West Wales, and are all being overlooked! Homes needed in Pembrokeshire, Carmarthenshire or Ceredigion.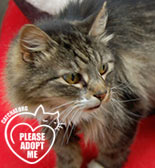 Sweet natured, mature tabby and white girl, seeks a quiet home with a garden and no children please.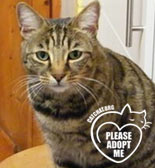 Jasmine​
Six year old female, silver tabby/bengal cross, seeks loving home. Jasmine is fine with other cats.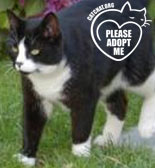 Felix
Friendly but shy-at-first, 3 year old female, seeks child-free home & garden as the only cat please.
More details on their Cat Chat page here: Cat Action Trust - West Wales. 
To ask about any of these cats, please call 01994 205020 or Email: catcarmarthen@btinternet.com
ANGEL, in the care of:
Nuneaton & Hinckley Cats in Need

Angel arrived at Nuneaton & Hinckley Cats in Need un-neutered, and quite aggressive, but her dedicated fosterer has helped her transform! Angel now loves human company and will jump on laps for cuddles and ear rubs, but gives clear signals when she's had enough. Angel needs an experienced owner, an indoor home, and no other pets.​
Sykes Cottages  
Big thanks to Sykes Cottages, who are helping Cat Chat by donating 10% of the cost of all bookings made either through our special 'Cat Chat' link below or via the dedicated phone number: 01244 746602. Sykes have well over 7,000 cottages to choose from, and many are pet-friendly too!
To help us when you book your next cottage holiday or weekend break, please click through from our link above, or call 01244 746602 to book, thank you!
Our grateful thanks to the Cat Gallery, who are donating 10% of the purchase price of their 2017 Christmas Charity cards (pictured) to Cat Chat.  Entitled 'Santa's Here', the cards come in packs of 10, costing £5 per pack. Visit their site for a huge range of cat-themed gifts, cards and cat stuff!
The Cat Gallery has very kindly chosen Cat Chat as one of their nominated charities for 2017. So we would also like to say a special thank you to the many Cat Gallery customers who have donated when making purchases this year. Your support is amazing!!
STOP PRESS!
Cat Gallery owner, Peter Hanson
is running a 26 mile marathon on Saturday 14 October. Peter will be raising funds for Cat Chat, to help more rescued cats find loving homes. You can sponsor Peter here: www.everyclick.com/thecatgalleryforcatchat

 
Thank you to all our Supporters
And finally Thank You to ALL those who help Cat Chat, in so many ways! Volunteers, Donors, Page Sponsors, Friends of Cat Chat, and so many more. Your support enables us to help more cats out of shelters, into homes, now and in the future. Thank You!
​
Until next time - please join us on Social Media...
Our news updates are only sent to those who have shown interest in Cat Chat. We never pass email addresses on to others. If you don't wish to receive our monthly updates, please unsubscribe below.