HORIZON HONORS
MIDDLE SCHOOL

EBLAST
9.14.2018

RATED AN "A" SCHOOL BY THE AZ DEPARTMENT OF EDUCATION 
---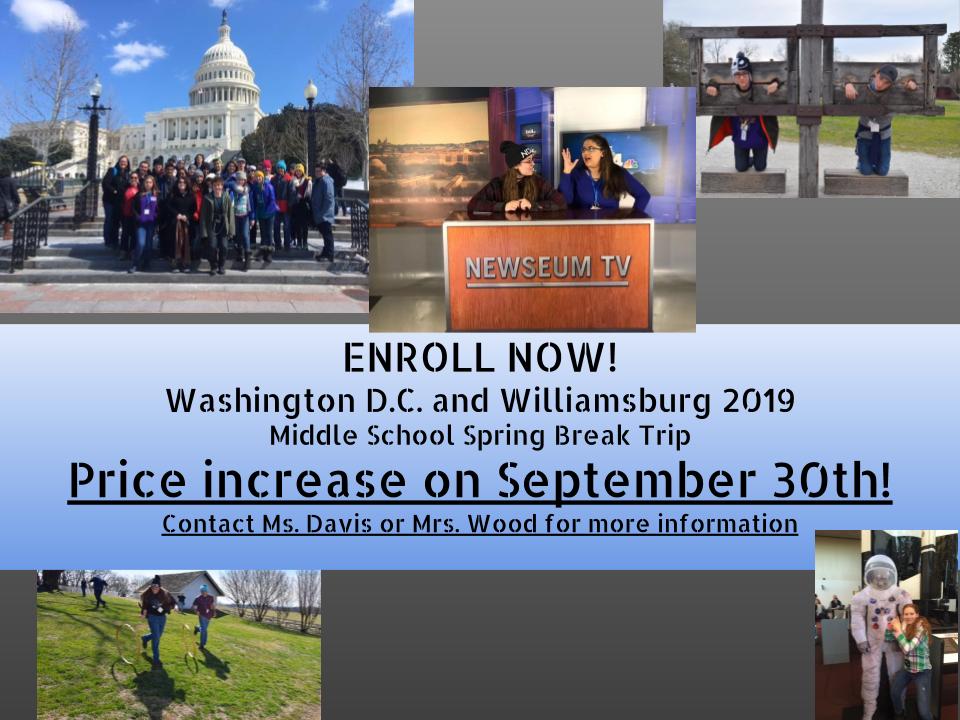 | | |
| --- | --- |
| LOWEST PRICE OF THE YEAR $50!The Horizon Honors Secondary Yearbook is an award-winning book five times over.  Be sure to reserve your copy of the 2018-19 yearbook at Jostens.com now - prices are the lowest that they will be all year!  Don't procrastinate! | |
---
IT'S A GREAT DAY TO BE AN EAGLE!  COME AND SUPPORT YOUR TEAMS!
*Dates and times are subject to change.
Monday, September 17th:
MS Girls Volleyball Away @ Gilbert Christian
Blue Team – 4:00 pm
Silver Team – 4:45 pm
Wednesday, September 19th:
MS Girls Volleyball Home vs North Valley Christian
Silver Team – 4:00 pm
Thursday, September 20th:
Friday, September 21st:
Co-Ed Soccer Update
Horizon Honors MS co-ed soccer team beat Trinity Christian 7-0 on Monday, September 10th.  Dan Stedman, Carter Kappes, Madison Schenk, Logan Tinsley, Jackson Walsh, Aniyah Fair, and Adrian Suljuzovic each scored for the Eagles.
 
The following day the team defeated Bethany Christian 8-1.  The player exhibited great team effort with good defense from Jackson Walsh and a shared offensive triumph from Carter Kappes with a hat trick.  Logan Tinsley had two goals while Grayson Armstrong, Dan Stedman, and Aniyah Fair each scored a goal respectively.
 
Eagles' record is 3-0. Go team!

Girls Volleyball Update
The girls volleyball teams played Northwest Christian on Tuesday, September 11th.  Ryan Cusick led the blue team 7 consecutive serves in a set, followed by Aashna Ramani with 5. Aubrey Harbertson and Meghan Tuzzolino had an amazing double block. The girls lost in two close sets, 21-25 and 22-25.
---
---
---
LEARN... BELIEVE... DREAM... DARE
---
Horizon Honors loves Volunteers!  Please consider volunteering at our next book fair!  Please click on the Signup link for details and shifts!  The book fair runs Monday, Sept. 24th - Thursday, Sept. 27th, 7:30am to 5:00pm daily!  We will also be open during elementary summatives Tuesday, Sept. 25th - Thursday, Sept. 27th 5:00pm to 8:00pm, for your convenience.
If you cannot make the book fair, there is an online book fair for you to visit or preview books from Sept. 16th - Oct. 6th.  Books ordered online will be shipped to the school and delivered to students as soon as they are received.
Download the Scholastic app to your smartphone before the book fair!  This will assist you in finding lexile levels and book trailers to find the perfect books for your child.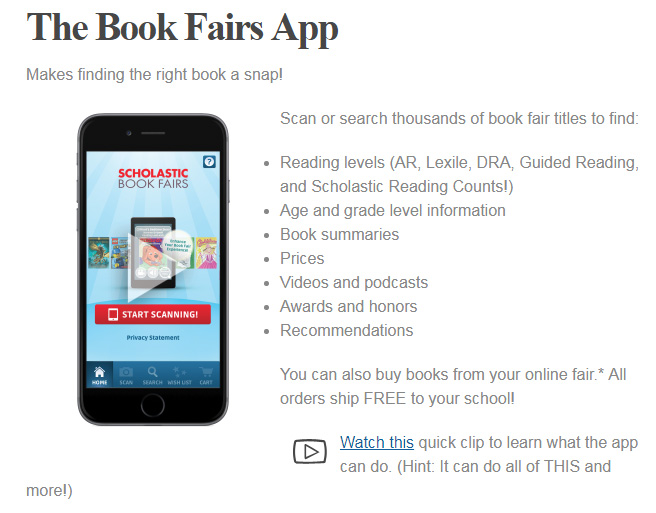 ---
SPEECH AND DEBATE TEAM NEEDS JUDGES
Parents! Alumni! Staff members! If you are looking for a way to get involved with student activities, please consider judging Speech and Debate events!  Every time the team goes to a tournament, we must bring judges for the events we enter.  Don't worry if you have no experience in Speech/Debate -- we will train you!  Our team is currently competing in Lincoln-Douglas debate and in Individual Events such as oral interpretation and original oratory (argumentative speaking).  Tournaments are typically on Friday-Saturday and are in the Phoenix metro area.  If you are interested or have questions, please contact Ms. Hensel at Camille.Hensel@horizonclc.org.
ILP CONFERENCES
Individual Learning Plan Conference (ILP) Days will be school days with early release, followed by ILP Conferences beginning at 1:00 pm.  Horizon Honors Secondary School students will be released at 12 pm with scheduled conferences beginning at 1:00 pm.  Second Quarter ILP Conferences are Thursday, October 11th and Friday, October 12th. Appointment times are 1:00 pm to 6:15 pm.  Students must attend with their parents.  Call the office for an appointment at 480-659-3000.  There will be NO lunch on early release days.
 
SECOND QUARTER ILP CONFERENCES
Please call the office for an appointment at 480-659-3000.
Thursday, October 11th 1:00 pm to 7:00 pm.
Friday, October 12th 1:00 pm to 7:00 pm.
 
ILP DATES FOR FUTURE PLANNING
Thursday, January 10th 1:00 pm to 7:00 pm.
Friday, January 11th 1:00 pm to 7:00 pm.
Thursday, March 28th 1:00 pm to 7:00 pm.
Friday, March 29th 1:00 pm to 7:00 pm.

---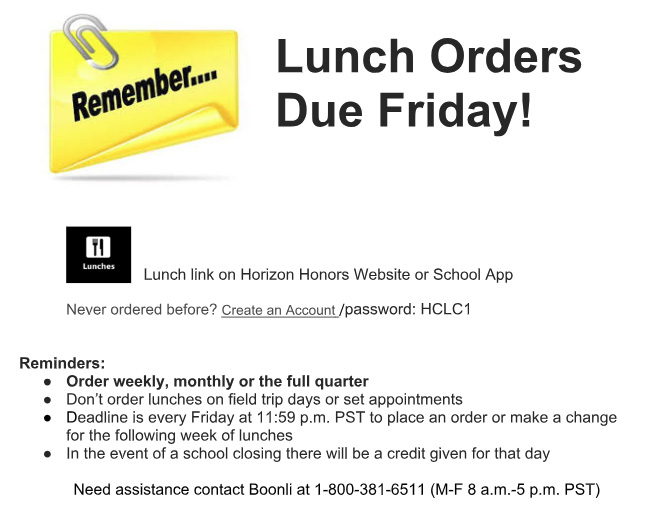 ---
SEPTEMBER
AT A GLANCE

    

September 14
Baking Club @ 2:45 in room 216
Band Council @ lunch in the Band Room
Radio Club @ 2:45 in room 202
Lunch Orders Due
 
September 15
Fall Drama Set Construction 8 am to 4 pm in the Multipurpose Room

September 18

Critical Thinking Club meets 2:45 to 3:15 pm in room 108

Harry Potter Club meets 2:45 to 3:45 in room 102
NJHS meets during lunch in room 204
 
September 19
Gamers Club meets 2:45 to 3:45 in room 107

 September 20
Kindness Krew meets during lunch in room 127
Project Group 2.0 meets 3:30 to 4:30 in room 415
 
September 21
Baking Club @ 2:45 in room 216
Band Council @ lunch in the Band Room
Radio Club @ 2:45 in room 202
Lunch Orders Due
 
September 22

Fall Drama Set Construction 8 am to 4 pm in the Multipurpose Room

September 24
Book Fair
School Improvement Team (S.I.T.) @ 3:30 pm



September 25
Critical Thinking Club meets 2:45 to 3:15 pm in room 108
Harry Potter Club meets 2:45 to 3:45 in room 102
Protecting Our Environment (POE) meets during lunch in room 109
Book Fair
 
September 26
FCA Huddle meets during lunch in room 208
Student Council meets 2:45 to 3:45 in rooms 107/108
Book Fair
 
September 27
Kindness Krew meets during lunch in room 127
Project Group 2.0 meets 3:30 to 4:30 in room 415
Book Fair
Choir Council meets during lunch in the Choir Room
 
September 28
Baking Club @ 2:45 in room 216
Band Council @ lunch in the Band Room
Radio Club @ 2:45 in room 202
Lunch Orders Due

October 1
Fall Break
 
October 2
Fall Break
 
October 3
Fall Break
 
October 4
Fall Break
 
October 5
Fall Break
 
October 8
Fall Break
 
October 9
Fall Break
 
October 10
Fall Break
 
October 11
First Day of Second Quarter
Early Release Day:  Students must be off campus by 12:15 PM
ILP Conferences 1:00 to 7:00 PM
 
October 12
Early Release Day:  Students must be off campus by 12:15 PM
ILP Conferences 1:00 to 7:00 PM
Lunch Orders Due
 
October 15
Spring Break Travel Clubs ½ payment due
 
October 16
Critical Thinking Club meets 2:45 to 3:15 pm in room 108
Harry Potter Club meets 2:45 to 3:45 in room 102
NJHS meets during lunch in room 204
 
October 17
Gamers Club meets 2:45 to 3:45 in room 107
 
October 18
Kindness Krew meets during lunch in room 127
Project Group 2.0 meets 3:30 to 4:30 in room 415
 
October 19
Baking Club @ 2:45 in room 216
Radio Club @ 2:45 in room 202
Lunch Orders Due
 
October 20
Fall Drama Production Set Construction 8:00 am to 4:00 pm in the Media Center
 
October 23
Critical Thinking Club meets 2:45 to 3:15 pm in room 108
Harry Potter Club meets 2:45 to 3:45 in room 102
Protecting Our Environment (POE) meets during lunch in room 109
 
October 24
FCA Huddle meets during lunch in room 208
Student Council meets 2:45 to 3:45 in rooms 107/108
 
October 25
8th Grade Human Growth & Development Parent Meeting at 6:00 in room 202
Choir Council meets during lunch in the Choir Room
Kindness Krew meets during lunch in room 127
Project Group 2.0 meets 3:30 to 4:30 in room 415
 
October 26
Baking Club @ 2:45 in room 216
Band Council @ lunch in the Band Room
Radio Club @ 2:45 in room 202
Lunch Orders Due
 
October 27
Fall Drama Production Set-up 8:00 am to 9:00 pm in the Multipurpose Room
 
October 30
Critical Thinking Club meets 2:45 to 3:15 pm in room 108
Harry Potter Club meets 2:45 to 3:45 in room 102
NJHS meets during lunch in room 204
 
October 31
Gamers Club meets 2:45 to 3:45 in room 107
Student Council meets 2:45 to 3:45 in rooms 107/108