HORIZON HONORS
MIDDLE SCHOOL

EBLAST
10.27.2017
RATED AN "A" SCHOOL BY THE AZ DEPARTMENT OF EDUCATION

(2014)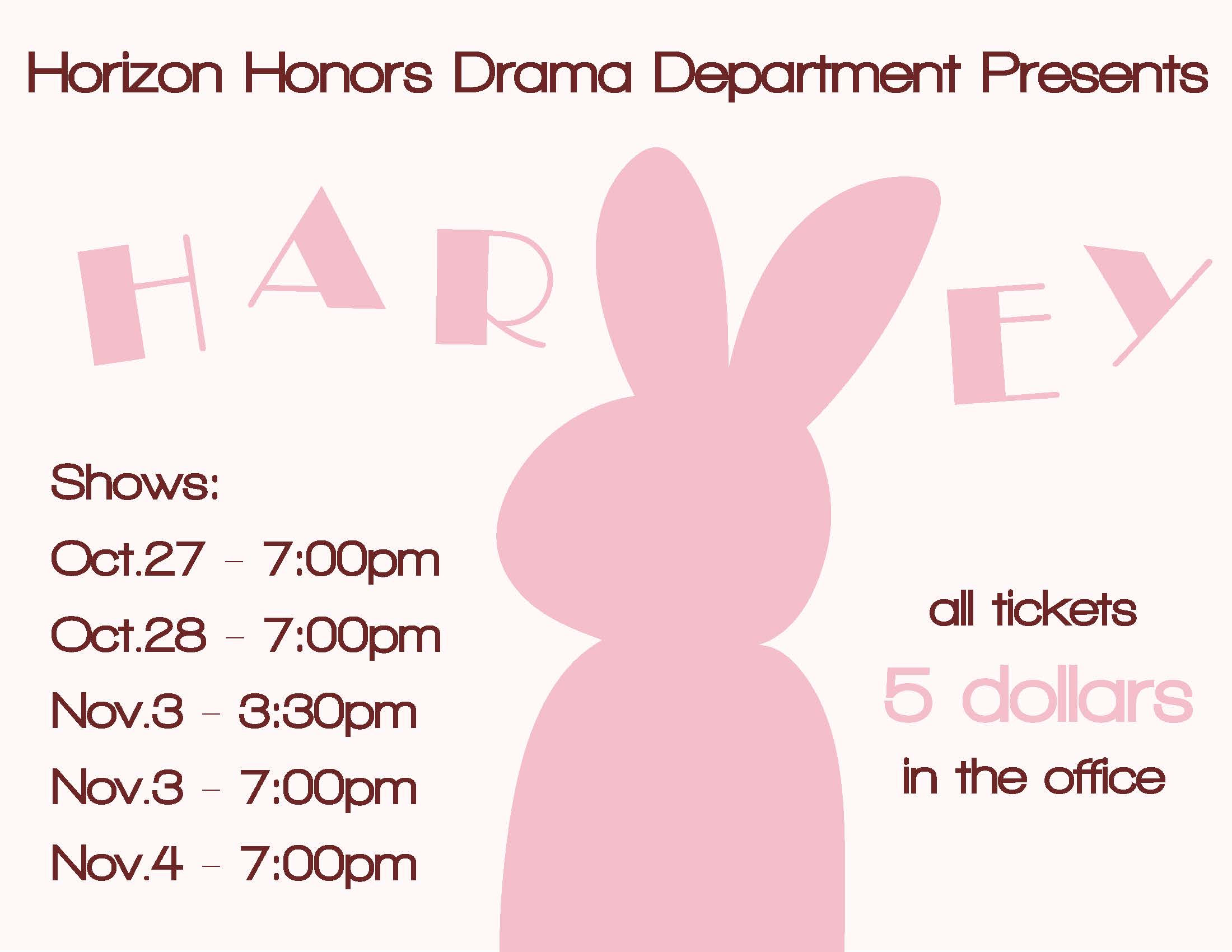 Mary Chase's Pulitzer Prize winning Harvey
 is the story of Elwood P. Dowd, who insists on including his friend Harvey in all of his sister Veta's social gatherings. Trouble is, Harvey is an imaginary six-and-a-half-foot-tall rabbit. To avoid future embarrassment for her family—and especially for her daughter, Myrtle Mae—Veta decides to have Elwood committed to a sanitarium. The search is on for Elwood, who eventually arrives at the sanitarium of his own volition, looking for Harvey. But it seems that Elwood and his invisible companion have had a strange influence on everyone they've encountered.   This classic comedy is delightful for all ages.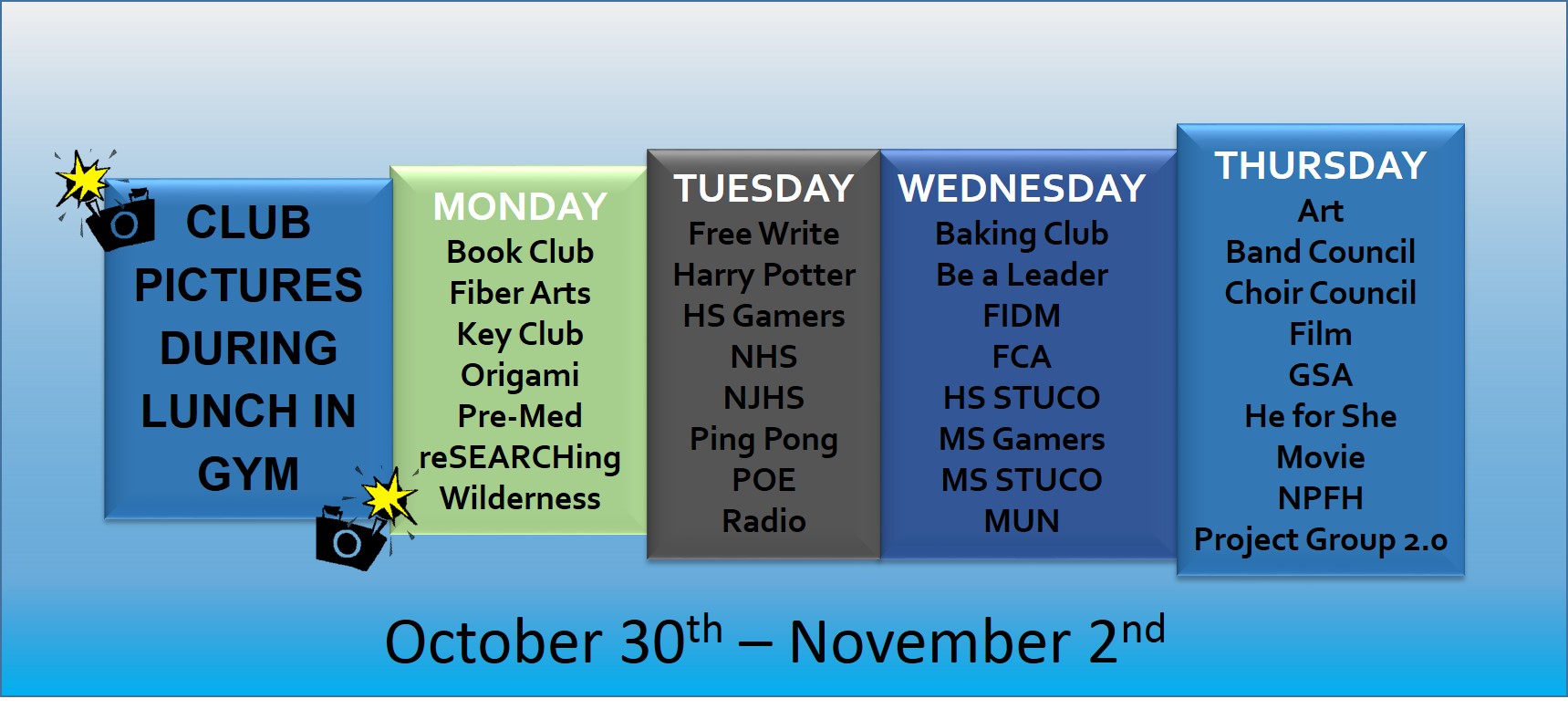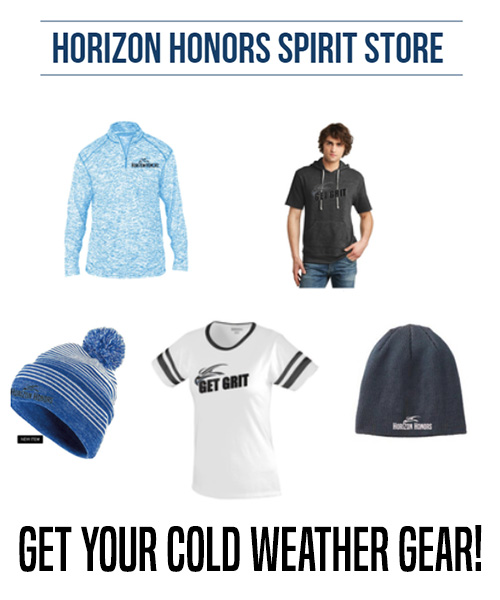 Throughout the month of November, Horizon Honors Secondary School will be participating in Collect for Cures, a national campaign to raise money for the Leukemia & Lymphoma Society (LLS). We are joining over 27,000 schools across the nation to make a difference and raise as much money as we can to help find a cure for blood cancer! 
 
Each 3rd block class will have a Collect for Cures box and will compete to raise the most money through the month of November. You can get involved by putting money, your spare change, directly in the box in your classroom or donate by participating in one of our fundraisers throughout the month. Horizon Honors also has its own online giving page that students, parents and faculty can share with friends and family:   
http://events.lls.org/pages/az/Horizon-Honors-School-2018   
 
At the end of the month, the top fundraising 3rd block class will receive lunch catered by Olive Garden. The competition runs from November 1st through November 30th.
 
Thank you in advance for helping LLS to create a world without blood cancers! For more information on the Collect for Cures program, please visit http://www.studentseries.org/
PRICE INCREASES TOMORROW!Follow the Jostens.com link to order your 2017-18 Horizon Honors Secondary School yearbooks today!  

​
---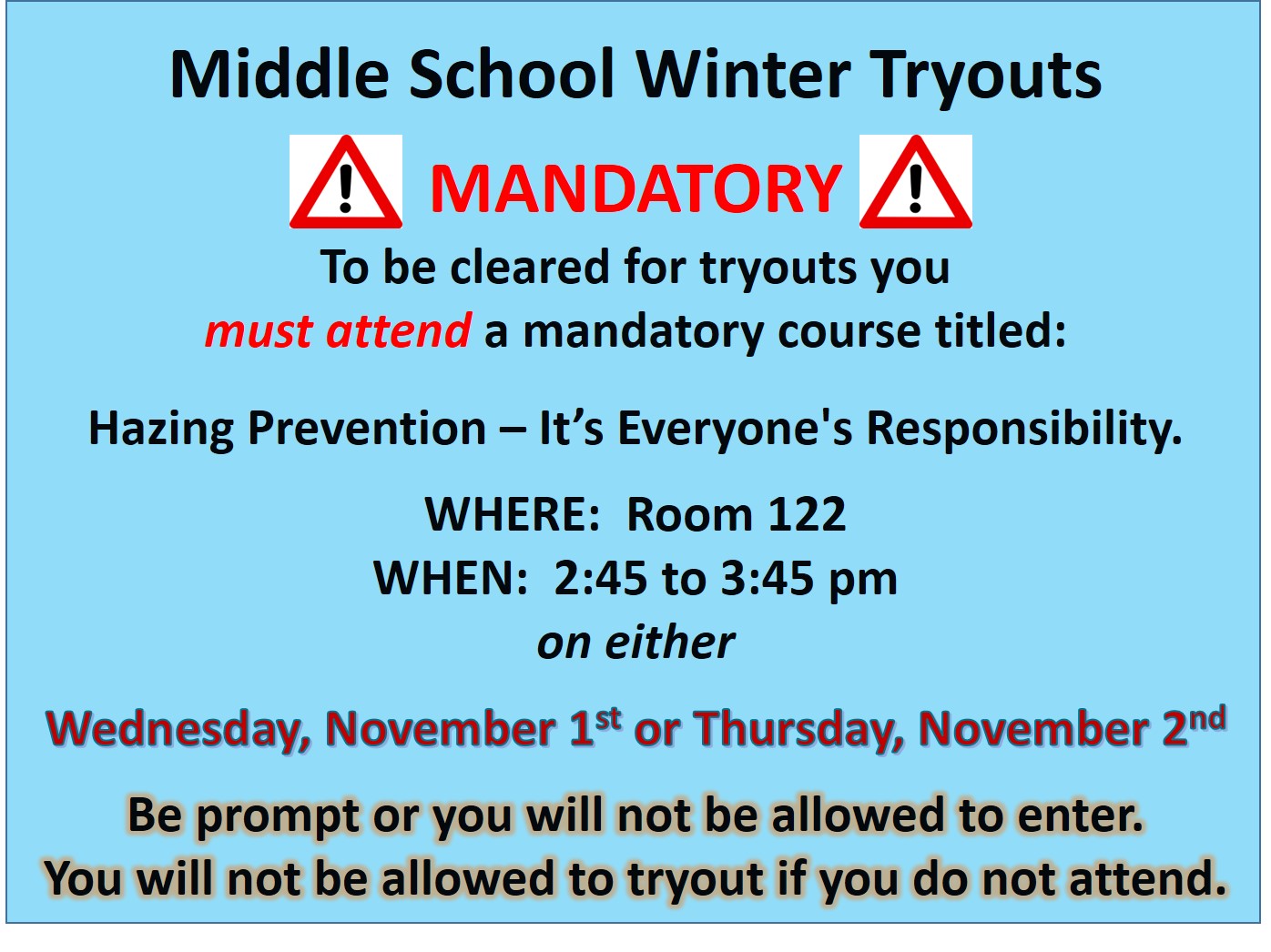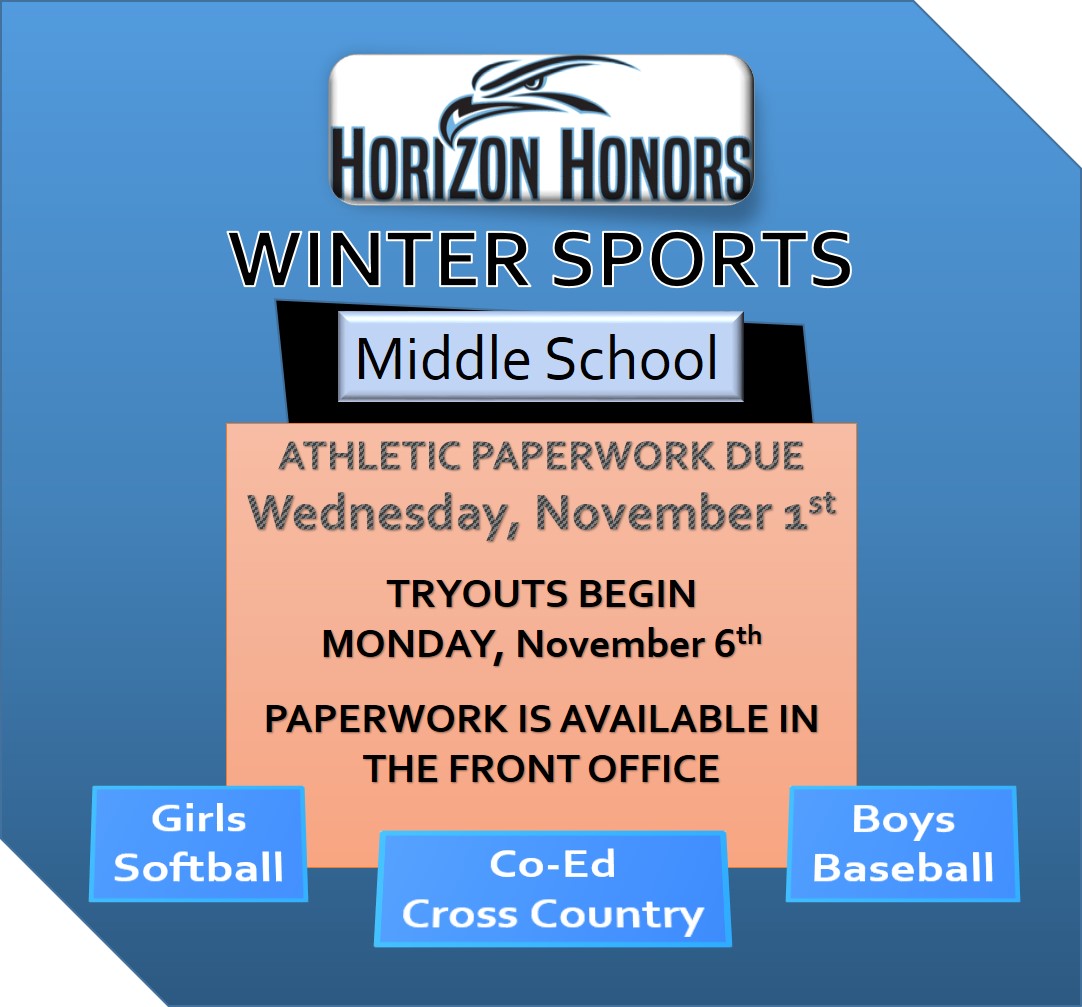 Middle School athletic paperwork is due Wednesday, November 1st.  Tryouts begin on Monday, November 6th.  All paperwork and fees must be turned in before you can be cleared for tryouts.  All paperwork required to try out for a sport is available for pick up in the front office.
GIRLS VOLLEYBALL BLUE TEAM

The MS Blue Volleyball team played their last match of the season at Scottsdale Prep. The girls had a slow start and lost the first set 19-25.  Ryan Cusik and Jade Collins got the team moving with some energy, and they took the second and third set to win the match 25-15 and 15-12. The girls played great together and had a blast this season. They went undefeated for the season! 8-0. Go, Eagles!

 GIRLS VOLLEYBALL SILVER TEAM

The Girls Volleyball Silver Team played their end of the year tournament finishing in third/fourth place.  The Eagles first opponent Gilbert Christian was a hard fought match by but the Eagles were victorious 2-1. Jessica Leake and JoJo Rhodes led Horizon in serving.  Tori Schlarman led the team in assists, Isabella Sinacori led the team in kills and Bella Rao and Tia Macioce led the team in digs.  The girls had to turn around and immediately take on Rancho Solano, but were defeated 0-2.  The girls had a great season and solidified as a team.  The coaches are very proud of them look forward to what next year's season will bring.  Go, Eagles!
Middle School Soccer
Middle School  Co-ed Soccer continue to the championship game by defeating Fountain Hills 2-0.  Dan Stedman and Heath Leonard each scored a goal while Rylan Travis played great defense and received an assist.  
The win advances the team to the league championship game which will be played on 
Monday, Oct 30th
, vs. Gilbert Christian at Gilbert Christian Middle School.  Gilbert Christian Middle School is located at 
1424 S. Promenade Ln
. in Gilbert.
  Go, Eagles! 
---
---
---
LEARN... BELIEVE... DREAM... DARE
---
---
PARENTS: DON'T MISS THIS!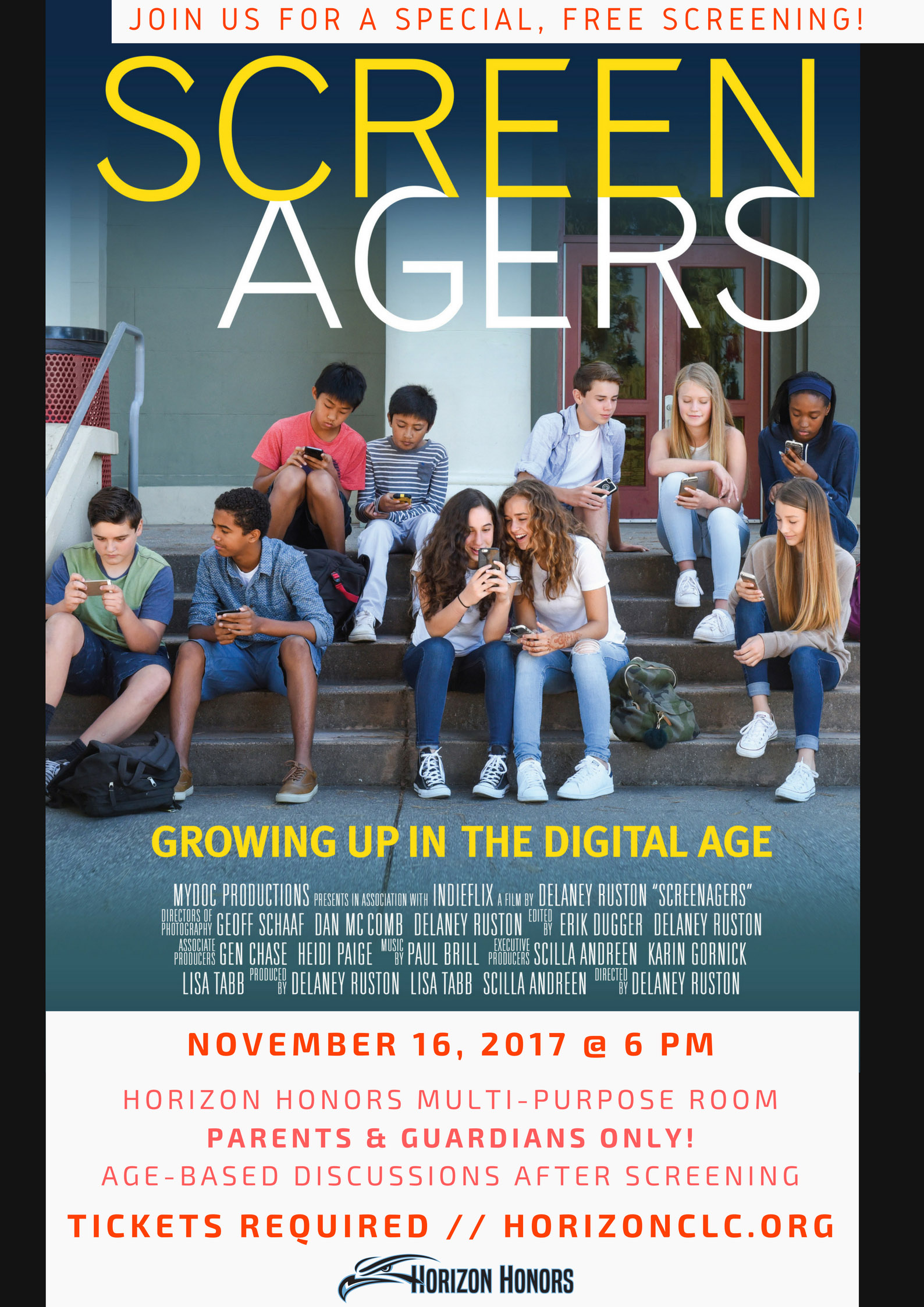 WHEN: November 16th, 2017
TIME: 6 to 8:30 PM
WHERE: Horizon Honors Multi-Purpose Room
PARENTS/GUARDIANS ONLY! 
COST: FREE! Limited space. 
Age-based discussions will be offered immediately after the screening.
Are you watching kids scroll through life, with their rapid-fire thumbs and a six-second attention span? Physician and filmmaker Delaney Ruston saw that happening with her own kids and began a quest to uncover how it might impact their development. As with her other two award-winning documentaries on mental health, Ruston takes a deeply personal approach as she probes into the vulnerable corners of family life, including her own, to explore struggles over social media, video games, academics and internet addiction. Through poignant, and unexpectedly funny stories, along with surprising insights from authors, psychologists, and brain scientists, SCREENAGERS reveals how tech time impacts kids' development and also offers solutions on how adults can empower their kids to best navigate the digital world to find balance.
SCREENAGERS addresses the most pervasive parenting issue of our time head on—depicting teen struggles over social media, video games and internet addiction. The film empowers kids to best navigate the digital world and provides practical resources to help them do it.
FRIENDS INTERESTED IN HORIZON HONORS? 




In addition, an info session will be held for families interested in the 2018-2019 school year on Tuesday, November 14 at 6 p.m. in the Multi-purpose Room. Families will meet administrators and faculty, hear a brief history of the schools, enjoy displays and demonstrations of student projects, and get questions answered. Reservations are required.



---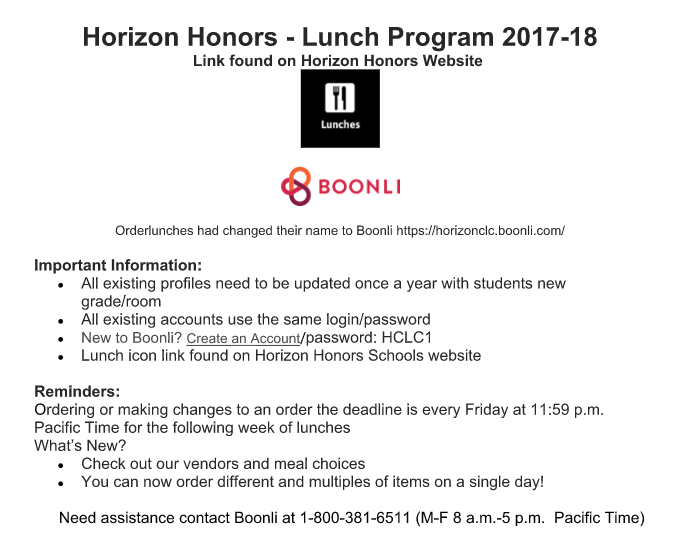 ---
OCTOBER
AT A GLANCE

  

 

October 27


Secondary Spirit Day:  Fancy Friday to Celebrate Theatre Arts 


Band Council meets during lunch in Band Room




Radio Club meets after school in room 202




Cantabile Honors Choir at AMEA Choral Festival 7:30 am to 2:30 pm




Harvey Opening Night 7:00 to 9:00 pm


Lunch Orders Due


 




October 28




Harvey Arts 7:00 to 9:00 pm




 




October 30


Book Club pictures during lunch in gym
Fiber Art Club pictures during lunch in gym
Origami Club pictures during lunch in gym
Book Club meets 2:35 to 3:30 in room 108
Origami Club meets 2:35 to 3:30 in room 206

October 31
Harry Potter Club pictures during in gym
NJHS pictures during lunch in gym
POE Club pictures during lunch in gym
Radio Club pictures during lunch in gym
Harry Potter Club meets 2:35 to 3:30 in room 102

NOVEMBER
AT A GLANCE

   

November 1
Baking Club pictures during lunch in gym
FCA Huddle pictures during lunch in gym
MS Gamers Club pictures during lunch in gym
MS Stuco pictures during lunch in gym
MS Gamers Club meets 2:40 to 3:40 school in room 107
Middle School Winter Athletics Paperwork Due
 
November 2
NPFH pictures during lunch in gym
Project Group 2.0 pictures during lunch in gym
Band Council pictures during lunch in gym
Choir Council pictures during lunch in gym
Project Group 2.0 meets 3:30 – 4:30 PM room 415
 
November 3
Choir Council meets during lunch in Choir Room
MS Baking Club meets 2:30 to 3:45 in room 216
Radio Club meets 2:30 to 3:15 in room 202
Mainstage Production:  Harvey at 3:30 pm and 7:00 pm in the Multipurpose Room
Lunch Orders Due
 
November 4
Mainstage Production:  Harvey at 7:00 pm in the Multipurpose Room
 
November 6
Origami Club meets 2:30 to 3:30 in room 206
Book Club meets 2:35 to 3:35 in room 108
MS Winter Athletics Tryouts
 
November 7
Protecting Our Environment (POE) during lunch in room 111
Harry Potter Club 2:30 to 3:30 in room 102
Performing Arts Exhibition Auditions 2:30 to 4:30 pm in the Multipurpose Room
MS Winter Athletics Tryouts
 
November 8
MS Lunch with Principal in room 101
Fellowship of Christian Athletes (FCA) Huddle meets during lunch in room 208
MS Student Council meets 2:40 to 3:40 in rooms 107/108
Performing Arts Exhibition Auditions 2:30 to 4:30 pm in the Multipurpose Room
Parent University:  College 101 Early Planning 6:00 to 7:00 pm in the Multipurpose Room
MS Winter Athletics Tryouts
 
November 9
Project Group 2.0 meets 3:30 – 4:30 PM room 415
Performing Arts Exhibition Auditions 2:30 to 4:30 pm in the Multipurpose Room
Secondary Spirit Day:  Camo Day to Honor Our Veterans
MS Winter Athletics Tryouts
 
November 10
Veteran's Day No School
Lunch Orders Due
 
November 13
Origami Club meets 2:30 to 3:30 in room 206
Book Club meets 2:35 to 3:35 in room 108
 
November 14
Protecting Our Environment (POE) during lunch in room 111
Harry Potter Club 2:30 to 3:30 in room 102
2018-2019 New Family Info Session 6:00 to 7:30 pm in the Multipurpose Room
 
November 15
Fellowship of Christian Athletes (FCA) Huddle meets during lunch in room 208
MS Student Council meets after school in rooms 107/108
Performing Arts Exhibition 6:00 to 8:00 pm in the Multipurpose Room
Secondary Spirit Day:  Celebrating Music
 
November 16
Project Group 2.0 meets 3:30 – 4:30 PM room 415
Parent Screening of Screenagers 6:00 to 8:00 pm in
 
November 17
NJHS Leadership meets during lunch in room 204
Radio Club meets 2:30 to 3:15 in room 202
MS Baking Club meets 2:30 to 3:45 in room 216
MS Travel Club for Spring Break Florida meets during lunch in room 107
 
November 20
Fiber Arts Club meets during lunch in room 104
Origami Club meets 2:30 to 3:30 in room 206
Book Club meets 2:35 to 3:35 in room 108
Lunch Orders Due
 
November 21
Secondary Spirit Day:  Bands & Musical Instruments
NJHS meets during lunch in room 204
Harry Potter Club meets 2:30 to 3:30 in room 102
Eagles Band Concert 6:00 pm in the Multipurpose Room
Concert & Symphonic Bands Concerts 7:00 pm in the Multipurpose Room
 
November 22
Middle School Pep Rally 1:30 to 2:30 in the MS Courtyard
MS Gamers Club meets 2:40 to 3:40 in room 107
 
November 23-24
Thanksgiving Day Break

November 24
Lunch Orders Due
 
November 27
Origami Club meets 2:30 to 3:30 in room 206
Book Club meets 2:35 to 3:35 in room 108
Middle School Spirit Week
 
November 28
POE meets during lunch in room 111
Harry Potter Club meets 2:30 to 3:30 in room 102
Middle School Spirit Week
 
November 29
FCA Huddle meets during lunch in room 208
MS Student Council meets 2:40 to 3:40 in rooms 107/108
Middle School Spirit Week
 
November 30
Middle School Spirit Week
Project Group 2.0 meets 3:30 – 4:30 PM room 415