HORIZON HONORS
MIDDLE SCHOOL

EBLAST
10.20.2017
RATED AN "A" SCHOOL BY THE AZ DEPARTMENT OF EDUCATION

(2014)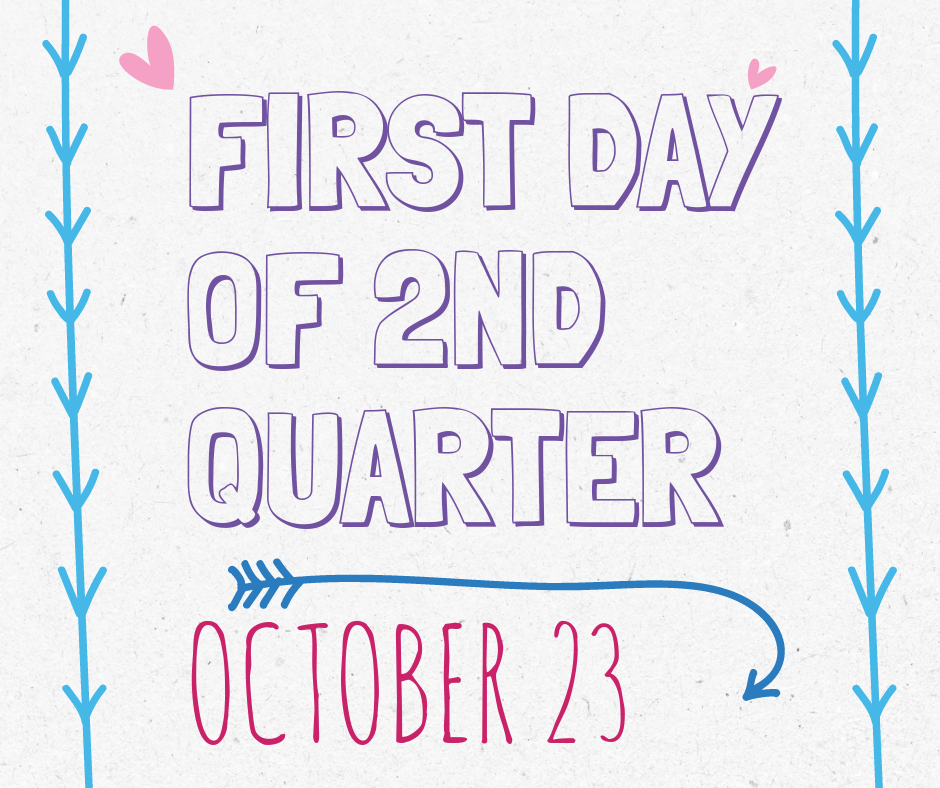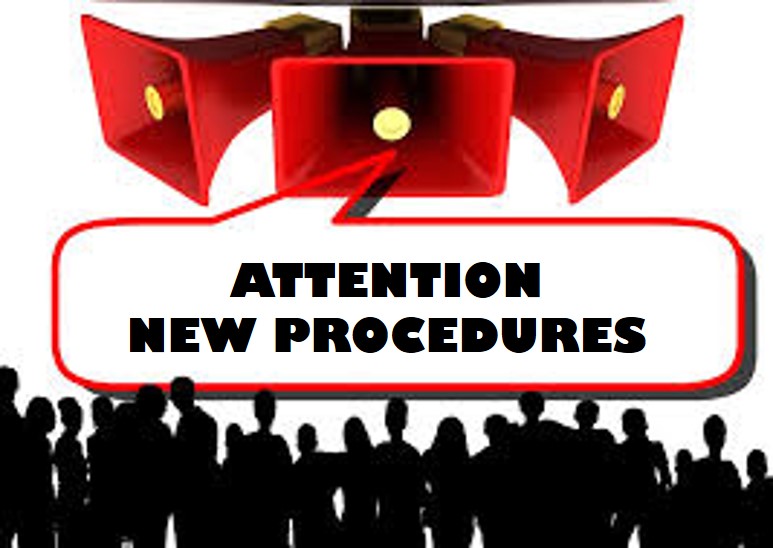 NEW OPTION AT LUNCH
Beginning Monday, MS students will have the option for some open gym time during lunch. Mr. Agostini, our Athletic Director, or Mr. Andrew, PE Teacher & High School Soccer Coach, will blow a whistle after some time to eat lunch and will gather the students interested in going to the gym. A few rules:
 
1.  Once you go to the gym you must stay there until the end of lunch.
2.  If you go to the gym you are there as a participant and not a spectator.
3.  There will only be one opportunity to leave the courtyard and go to the gym. All students must go as a part of the group and not as an individual. So, no one may go to the gym unless Mr. Agostini or Mr. Andrew accompanies them.
NEW DISMISSAL PROCEDURES
We have more students remaining on campus from 2:30 – 3:15 PM than ever before. For student safety and to provide a developmentally appropriate environment, we need to redistribute where our students are located during dismissal. The Middle School courtyard will now be open from 2:30 – 3:15 PM every day.  Students who normally waited after school in the High School Courtyard will now wait in the Middle School Courtyard.   Some new opportunities will be available in the Middle School Courtyard after school, so watch the announcements for details.
 
Beginning Monday, October 23rd Middle School students will have the following options at dismissal each day:
My pick up is between 2:30 and 2:40 PM so I still exit to the front of the school from the nearest location.


 My pick up is after 2:40 PM so I can…
a. wait in the Middle School Courtyard.
b. attend Student Support if it is a Monday, Wednesday, or Friday.
c. sign in and work independently and silently in the Media Center.
d.   buy items from the vending machine or at the Eagle's Nest (M, W, F) and then promptly return to the Middle School Courtyard.
​

My pick up is after 3:15 PM so now what?
a. At 3:15, when signaled by the duty teachers, move from the Middle School Courtyard to the High School Courtyard or sign in at the Media Center.


b. Of course you can continue to attend Student Support until 3:45 PM and then go to the High School Courtyard or Media Center until 4:30 PM.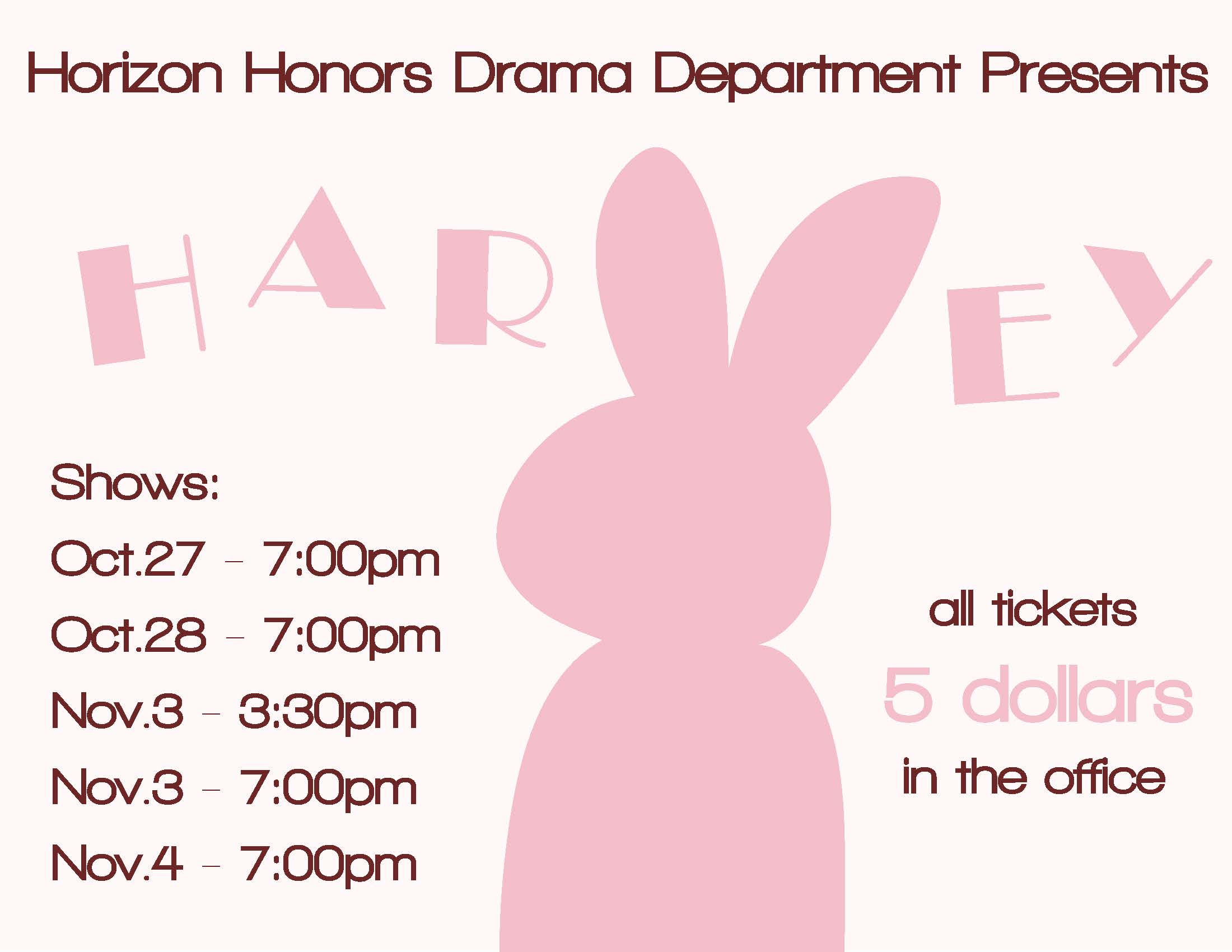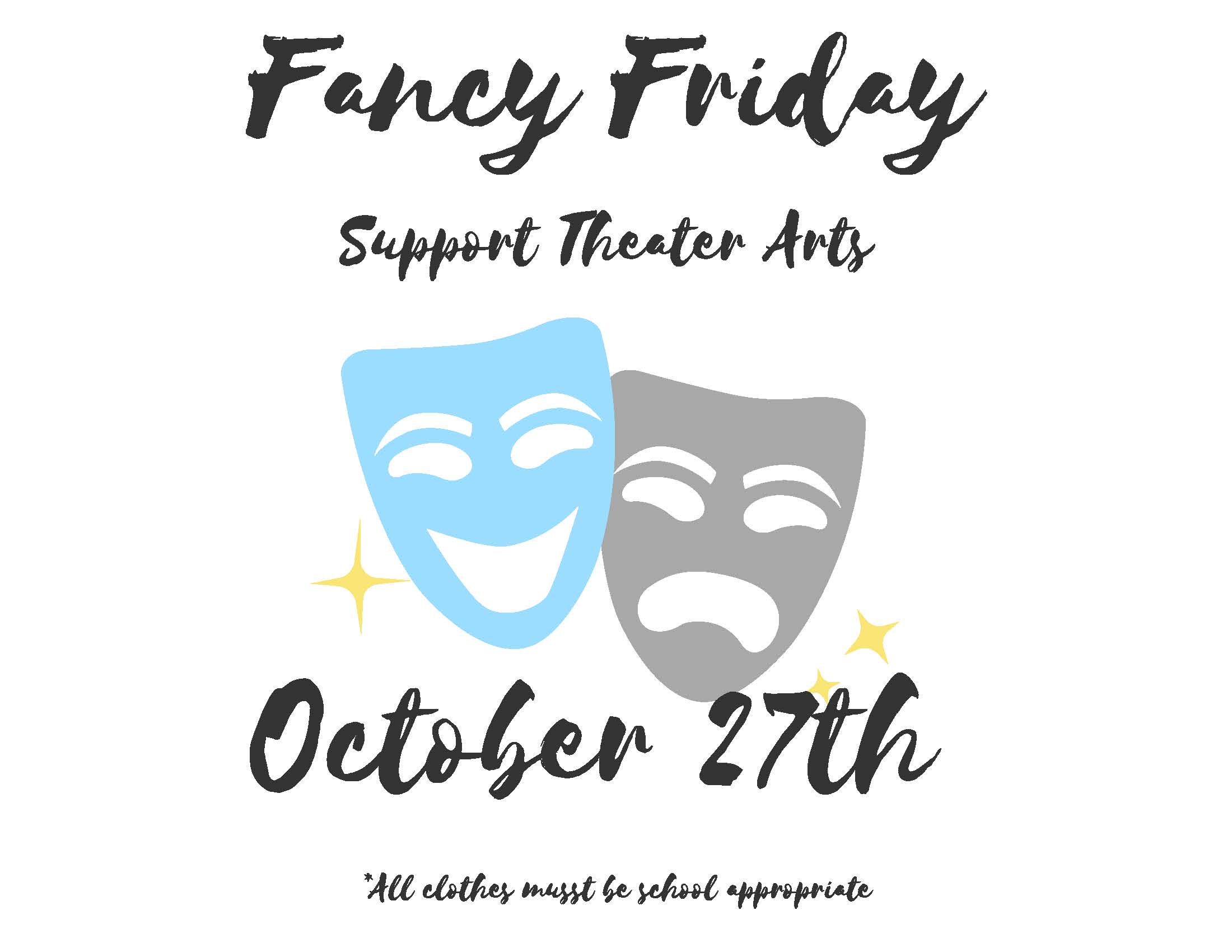 PRICE INCREASES OCTOBER 27TH!Follow the Jostens.com link to order your 2017-18 Horizon Honors Secondary School yearbooks today!  

​
---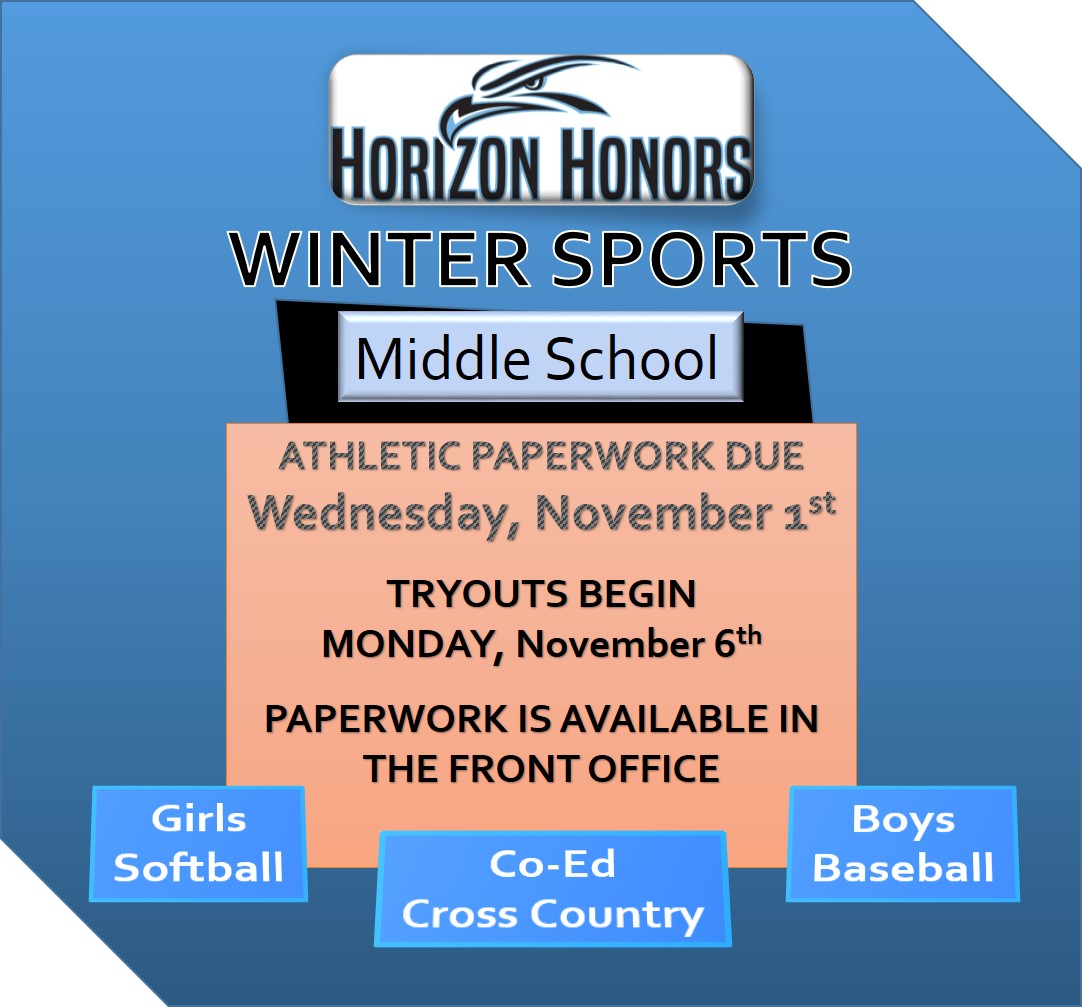 Middle School athletic paperwork is due Wednesday, November 1st.  Tryouts begin on Monday, November 6th.  All paperwork and fees must be turned in before you can be cleared for tryouts.  All paperwork required to try out for a sport is available for pick up in the front office.
| | |
| --- | --- |
| MS Co-ed soccer had a great team effort against Northwest Christian on Monday, October 16th winning 4-1.  Heath Leonard led the offense with two goals, followed by Alex Lombardi and Logan Tinsdale.  Rylan Travis played strong defensively.  Two days later the team ended their season with a 1-1 tie with Christ's Greenfield School.  The team's final regular season is 9-1-1. Go Eagles! | |
---
---
---
LEARN... BELIEVE... DREAM... DARE
---
---
8th Grade Human Growth and Development Parent Information Meeting
Human Growth and Development is part of the 8th grade science curriculum that will be delivered between December 1st and December 18th.  As outlined in the letter, parent permission is required for students to participate in this program. There will be an informational parent meeting to discuss the curriculum on Wednesday, October 25th in room 202 from 6:00 - 7:00 PM. Please join us.
 
Dear Parents,
During the weeks of December 1st through December 18th our 8th​ grade students will have the opportunity to participate in a Human Growth and Development unit as part of their science curriculum. The course of study was created by the Horizon School Improvement Team (S.I.T), which consisted of parents, students, administrators, and staff. It was important to the school leadership that in designing this program we respect the feelings of all the stakeholders represented at Horizon Honors.
 
We will provide an age appropriate character education/human growth and development curriculum, developed and taught by Horizon staff members that recognizes the responsibility of school, student and parent. At the middle school level, an abstinence­-based curriculum will be taught that respects parental attitudes, beliefs, and values while encouraging students to seek support and advice from their parents/guardians and their faith communities. Alternative assignments in science will be provided for those not interested in participating in the program.
 
Human Growth and Development will be offered one time this year. The attached parent permission slip is required for your child to participate. No phone call, e­mail, or facsimile permission will be accepted.  See a brief outline of the topics to be covered in this program on the back of this letter. Please read the listing of topics and join us for a parent information session on October 25th to learn more about the program if you wish.
 
Sincerely,
Cynthia Shaheen
Horizon Honors Secondary Principal
 
Character Education/Human Growth and Development
Middle School Component
(With alternative instruction available for students if parents choose to opt out)*
  ***boys and girls are separated for the curriculum***
 
Program Topics
Application of school values
Social skills/communication
Physical and emotional changes
Reproductive system
Conception, reproduction, and childbirth
Consequences of life choices
Sexual abstinence
Contraception (taught within the context of failure rates)
Sexual harassment
Risky behaviors, influences, and violence education
Who are you and how are you going to make an impact?
FRIENDS INTERESTED IN HORIZON HONORS? 




In addition, an info session will be held for families interested in the 2018-2019 school year on Tuesday, November 14 at 6 p.m. in the Multi-purpose Room.Families will meet administrators and faculty, hear a brief history of the schools, enjoy displays and demonstrations of student projects, and get questions answered. Reservations are required.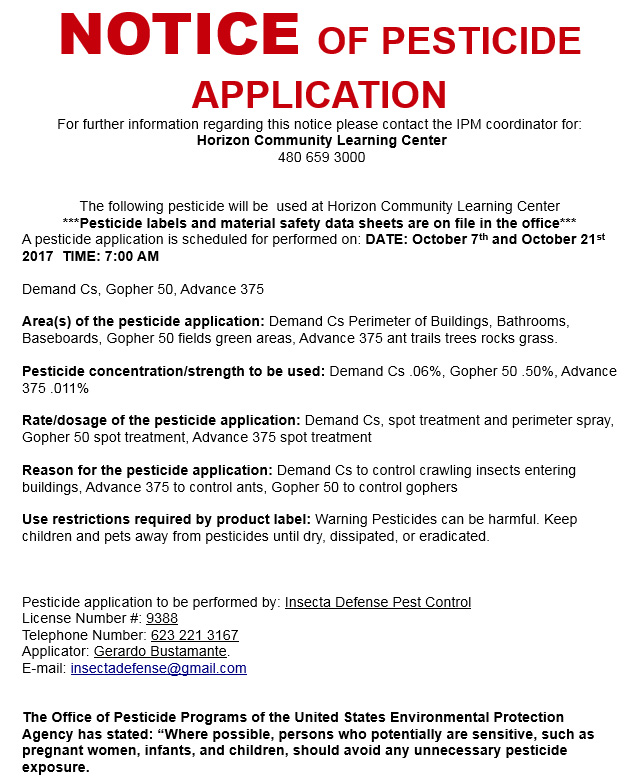 ---

---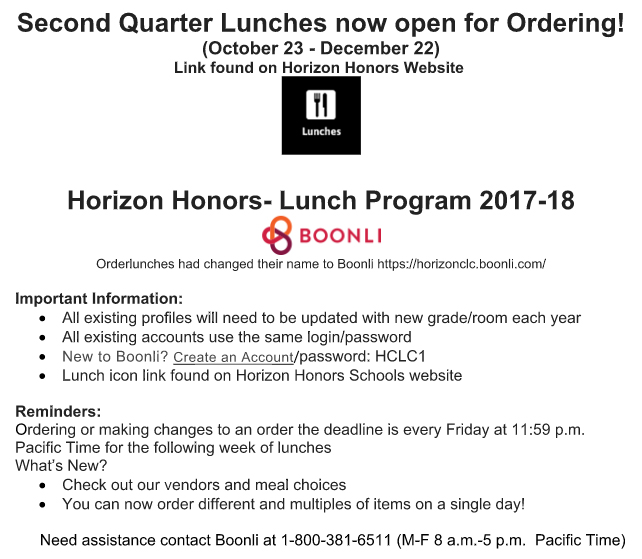 ---
OCTOBER
AT A GLANCE

  

 

October 20

ILP Day 7:45 a.m. – 12:15 p.m.

Main Stage Production Tech Rehearsal


Lunch Orders Due


 




October 23




First Day of Second Quarter




Origami Club after school in room 206




Book Club after school in room 108




 




October 24




Protecting Our Environment (POE) during lunch in room 111




 




October 25




Fellowship of Christian Athletes (FCA) Huddle meets during lunch in room 208




MS Student Council meets after school in rooms 107/108




8th Grade Human Growth & Development Parent Meeting 6:00 to 7:00 pm in room 205




 




October 26




No Place for Hate (NPFH) meets during lunch in room 127




Project Group 2.0 meets 3:30 – 4:30 PM room 415




Mainstage Production Parent Picture Rehearsal at 5:00 pm in the Multipurpose Room




October 27


Secondary Spirit Day:  Fancy Friday to Celebrate Theatre Arts 


Band Council meets during lunch in Band Room




Radio Club meets after school in room 202




Cantabile Honors Choir at AMEA Choral Festival 7:30 am to 2:30 pm




Harvey Opening Night 7:00 to 9:00 pm


Lunch Orders Due


 




October 28




Harvey Arts 7:00 to 9:00 pm




 


October 30
Book Club pictures during lunch in gym
Fiber Art Club pictures during lunch in gym
Origami Club pictures during lunch in gym
Book Club meets 2:35 to 3:30 in room 108
Origami Club meets 2:35 to 3:30 in room 206

October 31
Harry Potter Club pictures during in gym
NJHS pictures during lunch in gym
POE Club pictures during lunch in gym
Radio Club pictures during lunch in gym
Harry Potter Club meets 2:35 to 3:30 in room 102

NOVEMBER
AT A GLANCE

   

November 1
Baking Club pictures during lunch in gym
FCA Huddle pictures during lunch in gym
MS Gamers Club pictures during lunch in gym
MS Stuco pictures during lunch in gym
MS Gamers Club meets 2:40 to 3:40 school in room 107
Middle School Winter Athletics Paperwork Due
 
November 2
NPFH pictures during lunch in gym
Project Group 2.0 pictures during lunch in gym
Band Council pictures during lunch in gym
Choir Council pictures during lunch in gym
Project Group 2.0 meets 3:30 – 4:30 PM room 415
 
November 3
Choir Council meets during lunch in Choir Room
MS Baking Club meets 2:30 to 3:45 in room 216
Radio Club meets 2:30 to 3:15 in room 202
Mainstage Production:  Harvey at 3:30 pm and 7:00 pm in the Multipurpose Room
Lunch Orders Due
 
November 4
Mainstage Production:  Harvey at 7:00 pm in the Multipurpose Room
 
November 6
Origami Club meets 2:30 to 3:30 in room 206
Book Club meets 2:35 to 3:35 in room 108
MS Winter Athletics Tryouts
 
November 7
Protecting Our Environment (POE) during lunch in room 111
Harry Potter Club 2:30 to 3:30 in room 102
Performing Arts Exhibition Auditions 2:30 to 4:30 pm in the Multipurpose Room
MS Winter Athletics Tryouts
 
November 8
MS Lunch with Principal in room 101
Fellowship of Christian Athletes (FCA) Huddle meets during lunch in room 208
MS Student Council meets 2:40 to 3:40 in rooms 107/108
Performing Arts Exhibition Auditions 2:30 to 4:30 pm in the Multipurpose Room
Parent University:  College 101 Early Planning 6:00 to 7:00 pm in the Multipurpose Room
MS Winter Athletics Tryouts
 
November 9
Project Group 2.0 meets 3:30 – 4:30 PM room 415
Performing Arts Exhibition Auditions 2:30 to 4:30 pm in the Multipurpose Room
Secondary Spirit Day:  Camo Day to Honor Our Veterans
MS Winter Athletics Tryouts
 
November 10
Veteran's Day No School
Lunch Orders Due
 
November 13
Origami Club meets 2:30 to 3:30 in room 206
Book Club meets 2:35 to 3:35 in room 108
 
November 14
Protecting Our Environment (POE) during lunch in room 111
Harry Potter Club 2:30 to 3:30 in room 102
2018-2019 New Family Info Session 6:00 to 7:30 pm in the Multipurpose Room
 
November 15
Fellowship of Christian Athletes (FCA) Huddle meets during lunch in room 208
MS Student Council meets after school in rooms 107/108
Performing Arts Exhibition 6:00 to 8:00 pm in the Multipurpose Room
Secondary Spirit Day:  Celebrating Music
 
November 16
Project Group 2.0 meets 3:30 – 4:30 PM room 415
Parent Screening of Screenagers 6:00 to 8:00 pm in
 
November 17
NJHS Leadership meets during lunch in room 204
Radio Club meets 2:30 to 3:15 in room 202
MS Baking Club meets 2:30 to 3:45 in room 216
 
November 20
Fiber Arts Club meets during lunch in room 104
Origami Club meets 2:30 to 3:30 in room 206
Book Club meets 2:35 to 3:35 in room 108
Lunch Orders Due
 
November 21
Secondary Spirit Day:  Bands & Musical Instruments
NJHS meets during lunch in room 204
Harry Potter Club meets 2:30 to 3:30 in room 102
Eagles Band Concert 6:00 pm in the Multipurpose Room
Concert & Symphonic Bands Concerts 7:00 pm in the Multipurpose Room
 
November 22
Middle School Pep Rally 1:30 to 2:30 in the MS Courtyard
MS Gamers Club meets 2:40 to 3:40 in room 107
 
November 23-24
Thanksgiving Day Break

November 24
Lunch Orders Due
 
November 27
Origami Club meets 2:30 to 3:30 in room 206
Book Club meets 2:35 to 3:35 in room 108
Middle School Spirit Week
 
November 28
POE meets during lunch in room 111
Harry Potter Club meets 2:30 to 3:30 in room 102
Middle School Spirit Week
 
November 29
FCA Huddle meets during lunch in room 208
MS Student Council meets 2:40 to 3:40 in rooms 107/108
Middle School Spirit Week
 
November 30
Middle School Spirit Week
Project Group 2.0 meets 3:30 – 4:30 PM room 415