HORIZON HONORS
MIDDLE SCHOOL

EBLAST
8.4.2017
RATED AN "A" SCHOOL BY THE AZ DEPARTMENT OF EDUCATION

(2014)
ARE YOU A MIDDLE SCHOOL STUDENT NEW TO HORIZON!
COME JOIN US WEDNESDAY, AUGUST 9th FOR LUNCH IN ROOM 202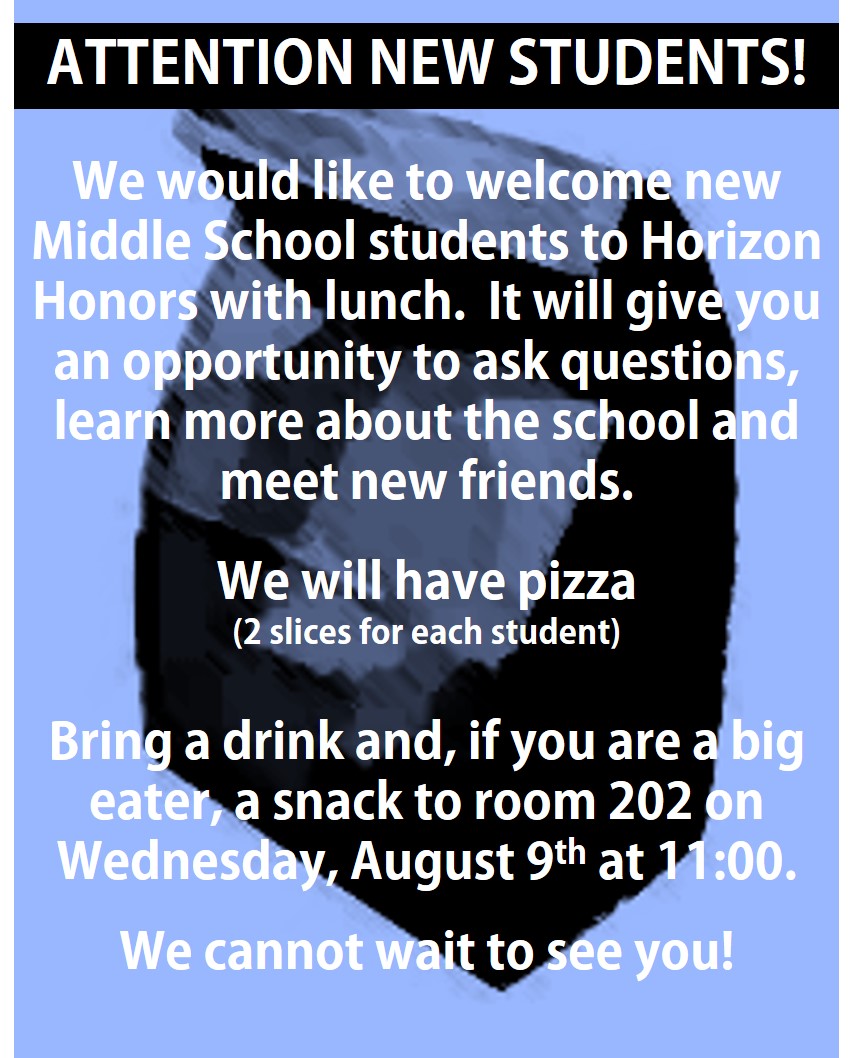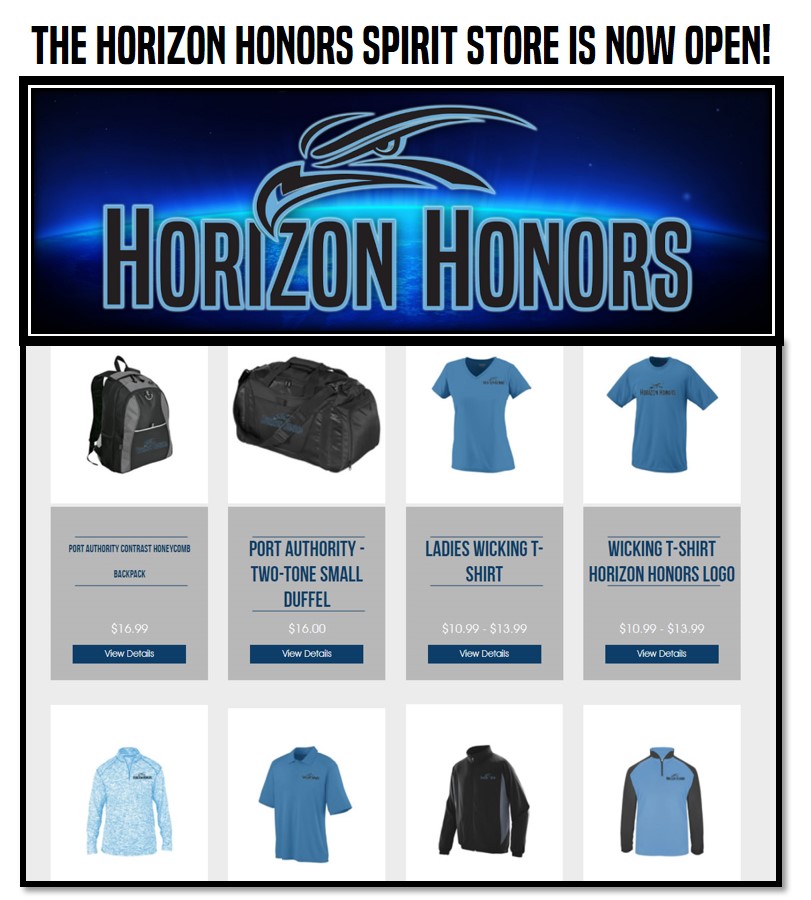 HORIZON HONORS SPIRIT STORE IS OPEN!
We have opened a new on-line store with items for everyone in the family.  So, as we start the new school year and you are looking for some spirit wear – go online as find the newest designs!  Here's how it works:
1. Copy this link to find our on-line store site:
2. Select items you want to purchase and be sure to specify the desired color, size, etc.
3. Use any major credit card for payment.
4. Your purchased items will be distributed at Horizon Honors 2-3 weeks after the store closes.
5. This store opens 8/3/17 and closes 8/18/17.
​
If you have any questions or need assistance, please call Cloud 9 Sports at 602.625.3707 or 602.799.7184.  We hope you will enjoy these new items!  Thank you for your continued support. 
​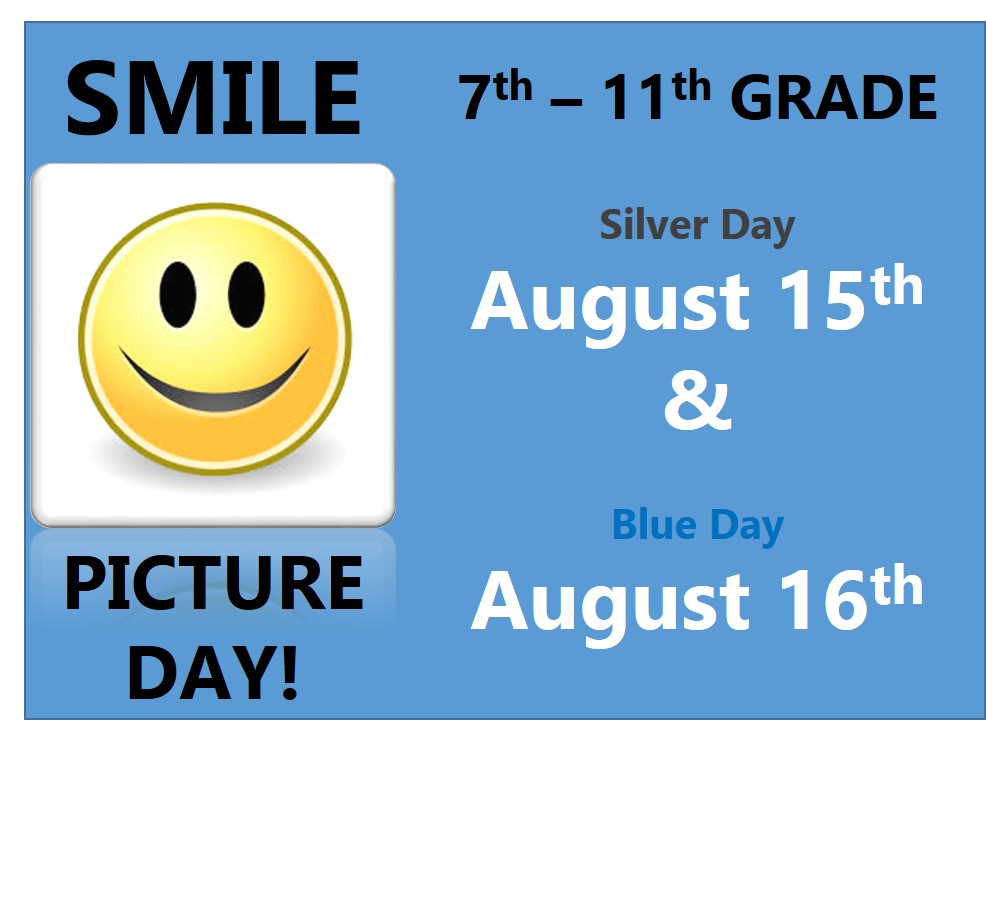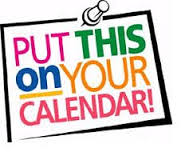 Please check out the many clubs that are available for you to participate in during lunch or after school.  Club meetings will begin next week!  For club details go to  http://horizonhonorssecondary.org/studentinterests/msactivities.

Tuesday, August 8th
Protecting Our Environment (POE) @ in lunch room 111

Wednesday, August 9th
Fellowship of Christian Athletes (FCA) Huddle @ in room 208

Thursday, August 10th
Travel Club meeting for parents and their students at 6:00 pm in the Multipurpose Room

Friday, August 11th 
Band Council @ lunch in the Band Room
Radio Club after school in room 202
Origami Club after school in room 203

Monday, August 14th
Fiber Arts Club @ lunch in room 104

Wednesday, August 16th
Middle School Gamers Club 2:30 to 3:30 in room 107
​
MAP TESTING

Students will finish MAP testing Friday, August 4th and Monday, August 7th.  MAP, Measures of Academic Progress gives teachers the opportunity to see details in individual student's academic progress in Reading, Writing, and Math enabling them to plan instruction to meet individual needs and help students reach their goals.
HORIZON HONORS APP!Brand new for the 2017-2018 school year, we are proud to offer the Horizon Honors Schools mobile app! This is a one stop shop for school information and news when you are on the go! Find the link to order lunches, call in your child's absence, receive important alerts in the event of an emergency, and much more!

One important area in the app is called "Quick Tip." This is allows students and other community members to anonymously report a concern or problem to their school principal. Users can upload files, including photos/screenshots. Quick Tip is another important tool in keeping our community safe.

We strongly suggest that not only parents download the app, but students with smart phones also download it. The app is available for both Apple and Android smartphones by searching for "Horizon Honors" or using the following links:

Apple Store - https://itunes.apple.com/us/app/horizon-honors/id1228842419?mt=8
Google Play - https://play.google.com/store/apps/details?id=com.relianceco.cma.horizonclc&hl=en
ORIENTATION GUIDES NEEDED

We are seeking to expand our group of fun, energetic, knowledgeable, and reliable 7th through 11th grade students to serve as Orientation Guides to new students and families.  An Orientation Guide's primary goal is to introduce prospective students and families to Horizon Honors.  Orientation Guides serve as tour guides, shadow partners, info-session ambassadors, and more.  If you have a desire to help new students meet current students and teachers, answer questions, and facilitate discussions, then this could be a great role for you and a way to TAKE ACTION to support others.  Applications will be in the Main Office starting Monday, August 7th.  The deadline to return applications is Tuesday, August 15th by 4PM in the front office.  A parent signature is required on the application.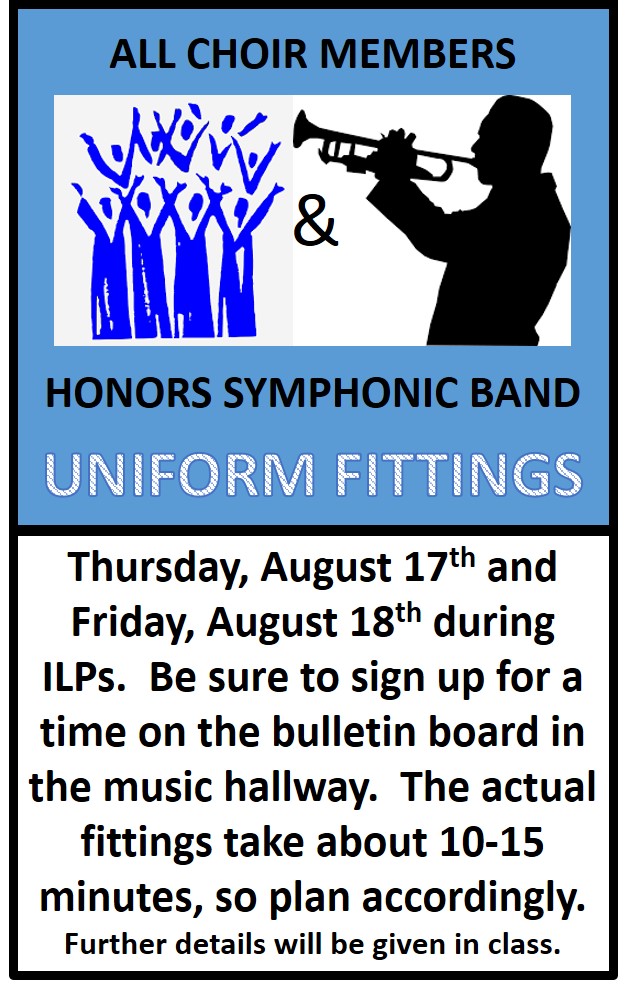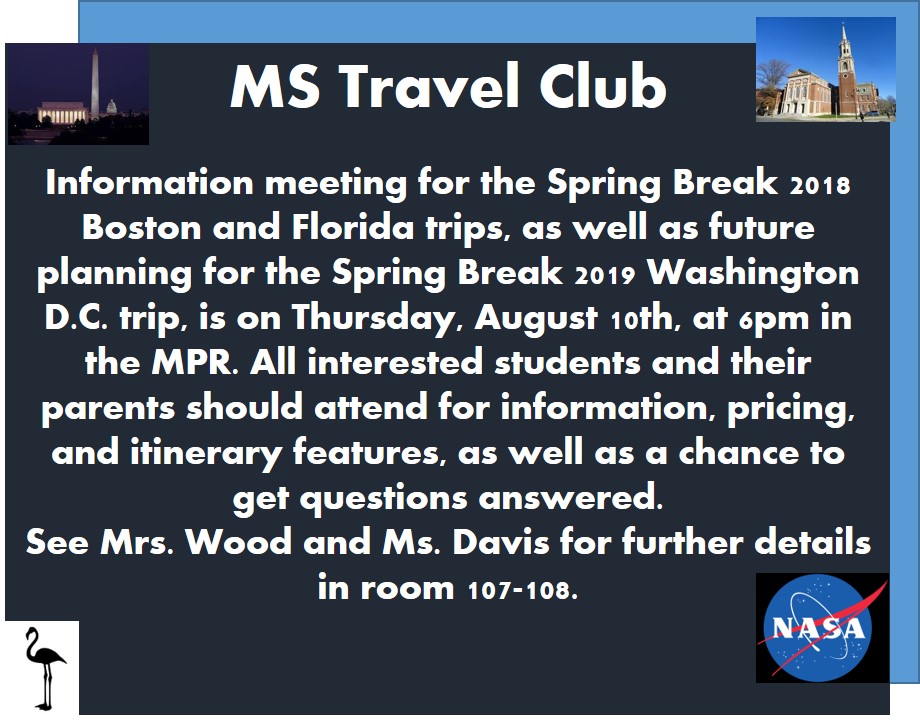 ---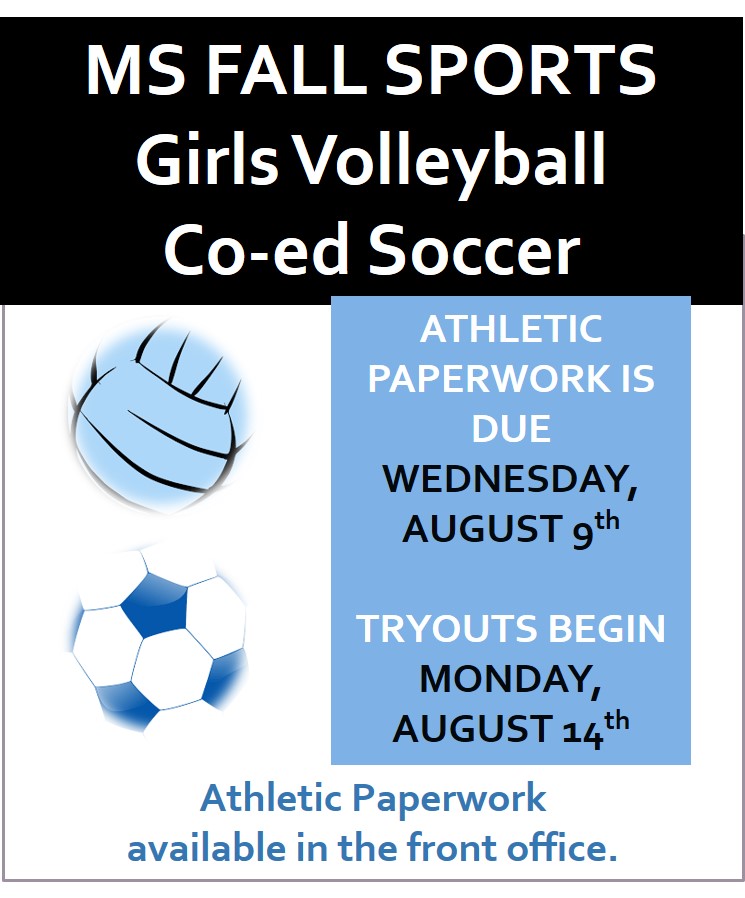 All paperwork and fees must be turned in before you can be cleared for tryouts.
---
---
---
LEARN... BELIEVE... DREAM... DARE
LEADERSHIP OPPORTUNITY FOR AGES 13 to 18!
Are you a teen who loves the arts and would like to further develop your leadership skills?  Then you need to apply for the Chandler Center for the Arts Youth Advisory Council (YAC).
 
Through an application and interview process, up to 15 students will be selected to serve as a YAC member. They will be engaged in experiential 3-hour sessions from October - March that will provide hands-on real world leadership situations of a Performing Arts Center.  Teens will complete the program with increased knowledge of: career opportunities, financial responsibility, leadership skills, small and large group dynamics, public relations and marketing.
 
If interested, more Information and the online application is at: https://chandlercenter.org/connecting-kidz/youth-advisory-council/youth-advisory-council-program
 
Application deadline 5 pm on September 8th and interviews will be held on September 13th.  Students may bring their letters of recommendation to the interview.
---
---
ILP CONFERENCES
At Horizon Honors we value the student-parent-teacher triangle.  This partnership helps our students reach their potential.  Parent involvement is key and can be established during the ILP (Individual Learning Plan) conferences as you review your child's progress and set goals for the quarter. The plan will cover topics, tasks, and learning outcomes your child will be expected to achieve by the end of the quarter. The written list of goals will serve as both a visual indicator of progress and an agenda for the conference.  Students do not attend school on ILP Conference days, but rather are expected to attend the conference.  The first ILP Conferences are August 17th and 18th.  Appointments can be made by calling 480-659-3000 or stopping by the Secondary School Office.
 
If you have not picked up AZ Merit scores they will be available in the front office during ILP Conferences.
 
Thursday, August 17th 10:15 a.m. – 2:30 p.m. & 4:30 – 7:15 p.m.
Friday, August 18th 7:45 a.m. – 12:15 p.m.
Thursday, October 19th 10:15 a.m. – 2:30 p.m. & 4:30 p.m. – 7:15 p.m.
Friday, October 20th 7:45 a.m. – 12:15 p.m.
Thursday, January 11th 10:15 a.m. – 2:30 p.m. & 4:30 p.m. – 7:15 p.m.
Friday, January 12th 7:45 a.m. – 12:15 p.m.
Thursday, March 29th 10:15 a.m. – 2:30 p.m. & 4:30 – 7:15 p.m.
Friday, March 30th 7:45 a.m. – 12:15 p.m.
Friday, June 8th 7:45 a.m. – 12:00 p.m.
COMMUNICATIONS DURING AN EMERGENCY
This week we had our first fire drill of the school year! It's important that everyone in our community understands what to do in case of an emergency.

In the event of an emergency, Horizon Honors will communicate with families the following ways:
Automated phone message

E-mail

Text message

Website update

Mobile App Alert

Social media post
Please do NOT attempt to communicate via phone, text or email with your child or the schools during a school emergency.

To receive text messaging during an emergency, parents and guardians MUST follow the process to opt-in prior to message sending in order to receive notifications.
To opt in to text messaging, send a text message "YES" to 67587. Please note that your cell phone number must already be on file in Powerschool before you opt in to text messages.

To opt out of text messaging, send a text message "STOP" to 67587.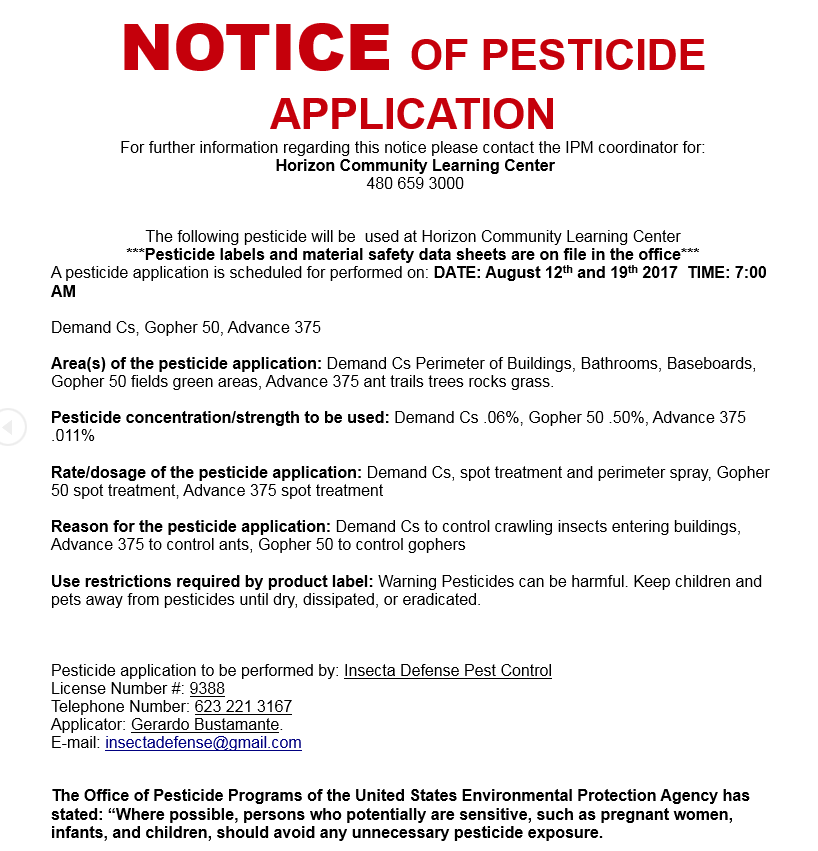 ---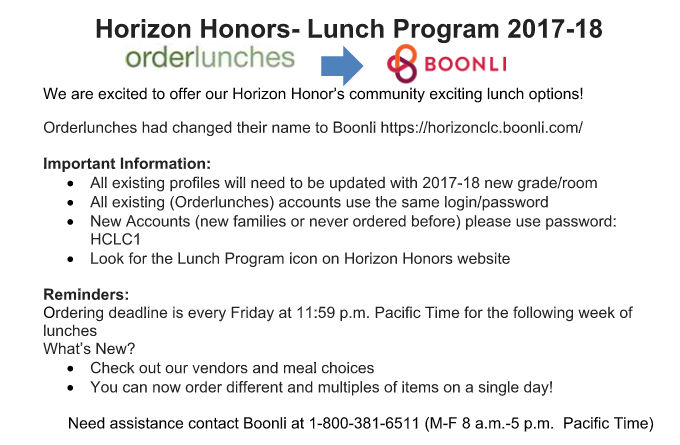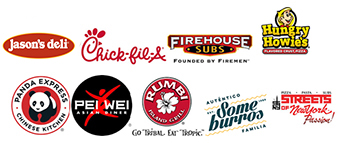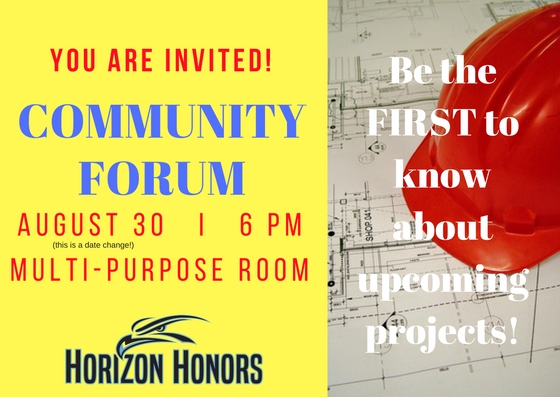 ---
AUGUST
AT A GLANCE

  

August 4

Middle School Student Council Applications Due
Lunch Orders Due

August 7
Auditions for Fall Drama Productions 2:45 to 6:00 PM in rooms 101 & 102
Orientation Guide Applications Available in the Front Office

August 8
Auditions for Fall Drama Productions 4:00 to 6:00 PM in rooms 101 & 102
Protecting Our Environment (POE) during lunch in room 111

August 9
Fellowship of Christian Athletes (FCA) Huddle meets during lunch in room 208
Auditions for Fall Drama Productions 2:45 to 6:00 PM in rooms 101 & 102
Middle School Fall Athletic Paperwork Due
Lunch for Middle School students new to Horizon 11:00 to 11:30 in room 202

August 11
Band Council meets during lunch in Band Room
Radio Club meets after school in room 202
Theatre Arts Fall Production Teams Parent meeting 5:30 – 6:15 pm in room 101/102
Cantabile Honors Chorale Choir Retreat 6:00 – 9:00 pm in the Choir and Multipurpose RoomsLunch Orders Due
Family Directory Form Due
Carpool Directory Form Due

August 14
Fiber Arts Club meets during lunch in room 104
Middle School Fall Athletics Tryouts
School Improvement Team Parent Applications Available

August 15
Middle School Fall Athletics Tryouts
Orientation Guide Applications due by 4:00 PM
School Picture Day for 7th through 11th grades




AUGUST
AT A GLANCE

  

August 16
Middle School Gamers Club after school in room 107
Middle School Fall Athletics Tryouts
Middle School Student Council Elections

August 17
No School ILP Conferences
Middle School Fall Athletics Tryouts
ILP Conferences 10:15 AM to 2:30 PM & 4:30 to 7:15 PM
Band and Choir Uniform Fittings in Band Choir Rooms

August 18

No School ILP Conferences

ILP Conferences 7:45 AM to 12:15 PM

Band and Choir Uniform Fittings in Band Choir Rooms

Fall Dr

ama Productions Retreat 2:00 to 8:00 PM in the Multipurpose Room


Lunch Orders Due



August 22




Orientation Guide Training #1 during lunch





August 23




Orientation Guide Training #2 during lunch




Fellowship of Christian Athletes (FCA) Huddle meets during lunch in room 208


Middle School Travel Club meeting for Spring Break trips at 6:00 pm in the Multipurpose Room



August 24




Orientation Guide Training #3 during lunch




No Place for Hate meets during lunch in room 127


Project Group 2.0 meets 3:30 – 4:30 PM room 415

August 25

Band Council meets during lunch in Band Room

Ra

dio Club meets after school in room 202




School Improvement Team Parent Applications Due


Lunch Orders Due

August 28

Middle School Spirit Day

Fiber Arts Club meets during lunch in room 104

August 29

Middle School Spirit Day

August 30

Middle School Spirit Day

Middle School Gamers Club after school in room 107
​Community Forum 6:00 to 7:00 PM in the Multipurpose Room

August 31

Middle School Spirit Day