HORIZON HONORS
HIGH SCHOOL

EBLAST
4.21.2017
RATED AN "A" SCHOOL BY THE AZ DEPARTMENT OF EDUCATION

(2014)
TESTING THIS WEEK

Monday

, April 24th - No Homework 9th – 11th grades – Prepare for Testing: Sleep Well




 




Tuesday

, April 25th - No Homework 9th – 11th grades - Prepare for Testing: Sleep Well and Eat a Good Breakfast




 




Wednesday

, April 26th - AZMerit English 9th, 10th, & 11th Grades 8 AM – 10:30 AM BRING YOUR EARBUDS - No Homework High School - Prepare for Testing: Sleep Well and Eat a Good Breakfast


 




Pre-administration Session AP Exams Rooms 2:30 – 3:30 PM Rooms 111 & 112




 




Thursday

, April 27th - AZMerit Math Algebra 1-2, Algebra 1-2 Honors, Geometry, Geometry Honors, Algebra 3-4, & College Algebra Honors 8 AM – 10:30 AM BRING YOUR EARBUDS - No Homework 9th – 11th grades


Pre-administration Session AP Exams Rooms 2:30 – 3:30 PM Rooms 103 & 104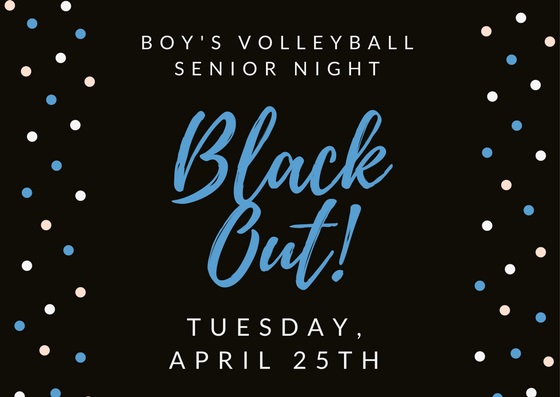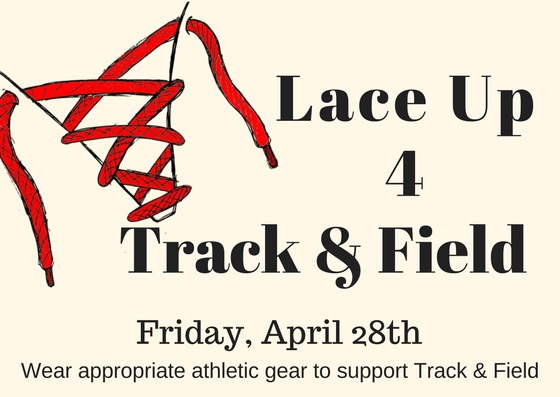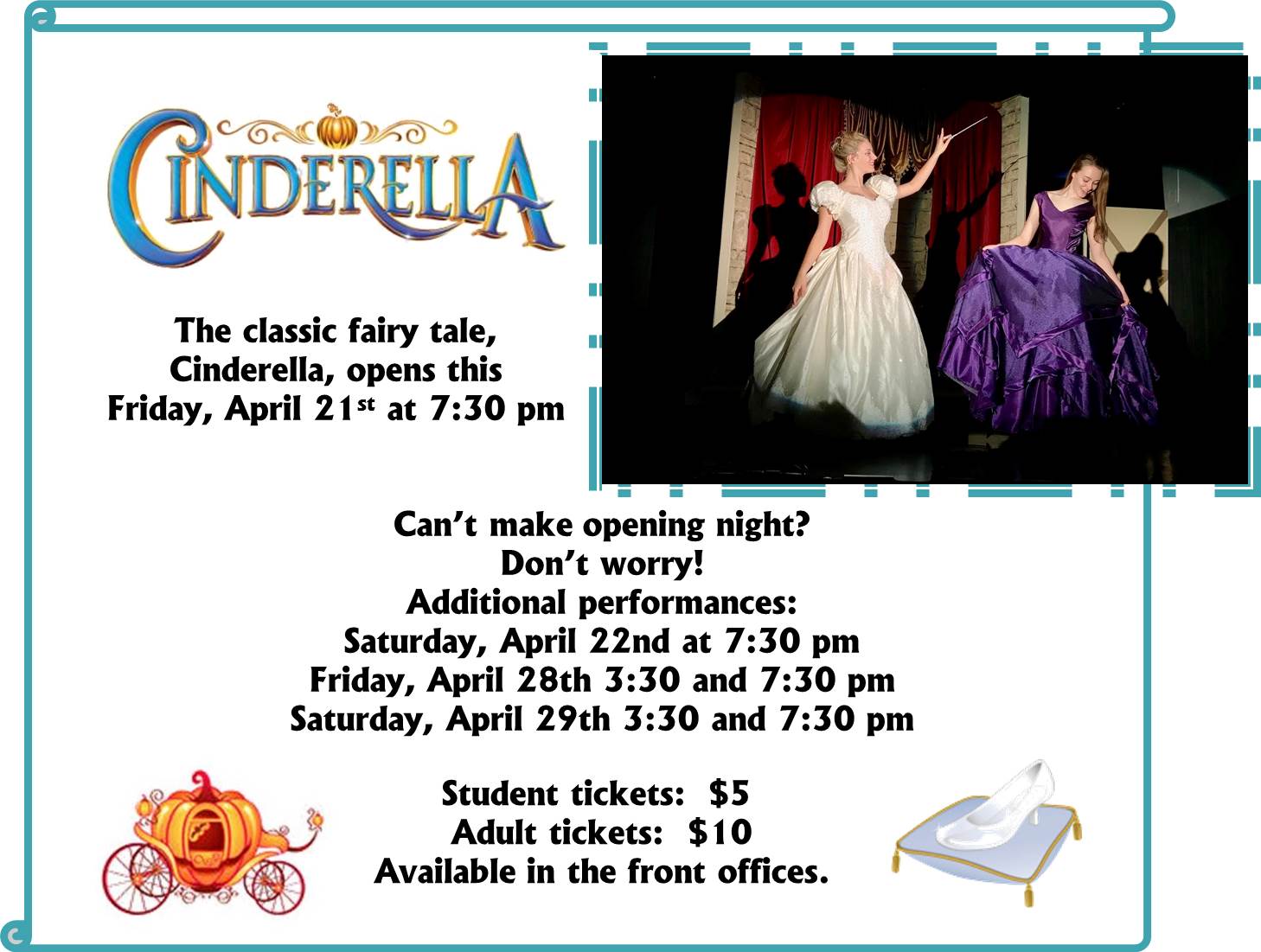 Discounted Diamondbacks Tickets!The D-backs, along with Horizon Honors, invite you to bring your family and friends to the game on Saturday, May 13th vs. the Pittsburgh Pirates.
 
Come see the Cantabile Honors Chorale perform the National Anthem on the field prior to the game!  Tickets are specially discounted and a portion of the proceeds from every ticket sold will benefit the choir.  Purchase your tickets at D-backs Tickets for your fun family night.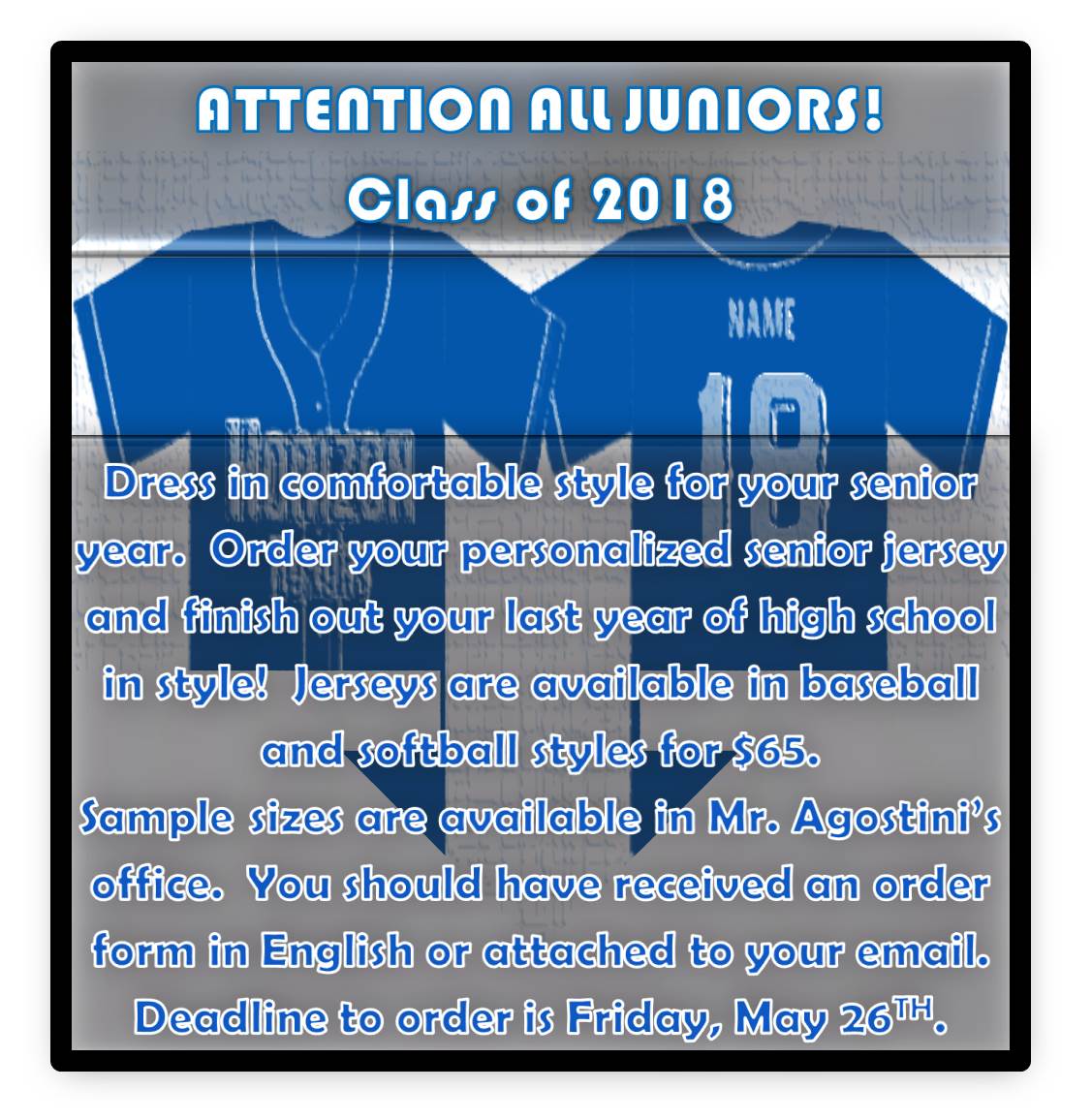 SENIORS - SHARE YOUR STORY!
The National Alliance for Public Charter Schools will kick off its #30DaysofGrad series during National Charter Schools Week and will highlight graduation success stories throughout the month. The National Alliance will accept student-written essays of approximately 500 words, along with a photo. Share your story here.

---
NEXT WEEK IN HIGH SCHOOL ATHLETICS
It's a great day to be an eagle! Please support our teams!
Tuesday, April 25: 
Boys Baseball Away vs Chandler Prep @ Tempe Diablo Complex – Double Header 3:45pm & 6:00pm

Boys Volleyball Home vs AZ College Prep JV – 4:30pm / Varsity – 5:30pm

Girls Softball Away vs Chandler Prep @ Shawnee Park 6:00pm
Wednesday, April 26:
Girls Softball Home vs Gilbert Christian 3:45pm
Thursday, April 27:
GIRLS SAND VOLLEYBALL

Congratulations to the Girls Beach Volleyball team for a successful season.  The team finished their regular season record of 10-3 and ranking them #3 in Division II for the state playoffs. The Eagles defeated #6 Scottsdale Prep in the quarterfinals 3-2 on Tuesday, April 18th and have earned their way into the semifinal.  The Eagles are set to face #2 Trivium Prep on Tuesday, April 25th at Mesquite High School in Gilbert. Matches begin at 6:30 pm. Admission to the semifinals is $10 for adults and $5 for students with ID. Thank you to all our fans for the support this inaugural season and we hope to see you on Tuesday!
HIGH SCHOOL SPIRITLINE TRYOUTS FOR STUDENTS ENTERING GRADES 10-12
Tryouts will be held from 4 to 6 p.m.
(Please note different locations below)
 
MULTIPURPOSE ROOM
Monday, April 24TH
Tuesday, April 25TH
Thursday, April 27TH
 
COMMUNITY ROOM
Wednesday, April 26th
 
Students who will be in grades 10-12 next year and who participated in a sport at Horizon Honors this year please stop by the Secondary Office to sign up for tryouts.
 
**If you did not play a sport at Horizon Honors this year, please pick up the necessary AIA paperwork that must be turned in prior to tryouts.**
VARSITY BOYS VOLLEYBALL
On Wednesday, April 12th the boys volleyball team defeated Mesquite High School 3-0.  Trevor Weary had another double-double with 27 kills and 10 digs with two blocks.  The Eagles are now 21-4.
 
The following day the team brought home another victory defeating Seton Catholic 3-0.  Trevor Weary had 20 kills and 6 digs.  Jeremy Kollman had 5 kills, 3 blocks and 1 ace.  The Eagles are now 22-4.
 
On Tuesday, April 18th the boys defeated American Leadership Academy 3-0.  Trevor Weary had 12 kills, 9 digs, 2 blocks and 2 aces.
 
The Eagles are now 23-4!
JV BOYS VOLLEYBALL
On Wednesday, April 12th, the junior varsity boys defeated Mesquite High School 2-1.  The next day the boys continued defeating Seton Catholic 2-0.  Another great game on Tuesday, April18th lead to another 2-0 victory against American Leadership Academy.
CO-ED GOLF
Golf traveled to Ken McDonald Golf Course in Tempe on Thursday, April 13th and shot a season-low team score of 196, placing them in 3rd place.  Anna Cochrane shot a 46, Erik Gunderson 47, and Emily Harry 50.
 
The following Monday the team had their second chance at Camelback Golf Club and showed tremendous improvement in their game compared to the previous week.  Anna Cochrane was lowest for Horizon shooting a 45. Eric Gunderson was next with a 50, including chipping in for a par on hole 9! Hannah Browning shot a personal best 58! 

---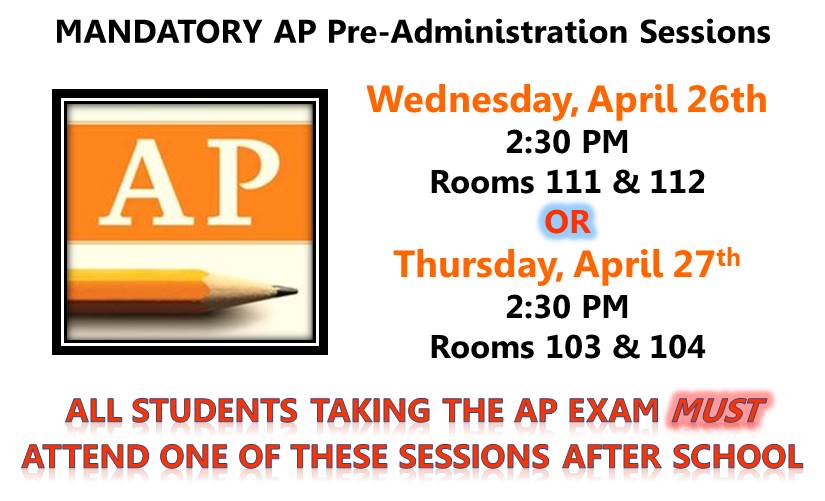 SENIORS!
Check your student email for the Senior Post High School Survey.  You are responsible for completing the SENIOR POST HIGH SCHOOL SURVEY by Wednesday, May 3rd. We use your answers to celebrate your achievements at the graduation ceremony.
 
Any updates/changes that need to be made after this deadline, please see Mrs. Elkins in the front office. GET STARTED NOW!
| | |
| --- | --- |
| GRADUATING SENIORSAre you a senior that has plans to continue your education beyond high school?  Do you plan to attend a technical school, community college, or college/university?  HCLC is announcing the Larry Pieratt Scholarship to help you meet your financial needs.  This scholarship is given by the school to honor HCLC founder, Larry Pieratt.  There will be four $1,000 scholarships given this spring.  The scholarship is based on academic merit, leadership, and community service.  The Larry Pieratt Scholarship applications have been emailed to all seniors.  Applications are due April 28th and scholarship recipients are announced May 12th. | |
---
COMMUNITY SERVICE OPPORTUNITY
Tuesday, April 25th from 8:30 pm to 10 pm
Feed My Starving Children
1345 S Alma School Rd,
Mesa, AZ 85210
 
Students are responsible to transport themselves to and from this event.
---
LEARN... BELIEVE... DREAM... DARE
Students Noe Ramirez and Lauren Ospina have qualified for the 

National Hispanic Recognition Program

! To qualify, students must take the PSAT/NMSQT in October of their junior year, are at least one-quarter Hispanic/Latino, achieve the minimum required PSAT/NMSQT Selection Index score, and earn a cumulative GPA of 3.5 or higher by the middle of their junior year. Way to go!
---
---
SENIOR PARENTS

--

IMPORTANT REMINDER

Students with outstanding fees or materials may not participate in the commencement exercises.  Please take care of any outstanding matters promptly so there will not be any problems and all can enjoy the commencement festivities.
ALTERNATIVE SCHOOL DAY SCHEDULE NEXT WEEK!
In an effort to support our students to perform at their best, Horizon Honors is implementing some changes to our test taking procedures.  More will be shared as we get closer to the testing window, but one change that will impact all students is an alternative schedule we will be following for four days.  This schedule will allow us to test our students only in the morning blocks when they are most ready to perform, minimize the impact on instructional days, and allow for technology to be available for both testing and classroom use.  Please read each day carefully to understand how your schedule will be affected.  Accommodations will be made for students who, because of carpools or other circumstances, need to be on campus prior to 10:30 a.m. and are not testing.  A study location will be available to them.
Non-testing seniors do not report to school until 10:30 AM
8:00 – 10:30 AM - End Of Course Testing – Language Arts 9th gr, 10th gr, 11th gr
10:33 – 11:24 AM - Block 5 & Brief Announcements
11:57 – 12:46 PM - Block 6
12:49 – 1:38 PM - Block 7
Non-testing students do not report to school until 10:30 AM 
(students in math courses not listed below)
8:00 – 10:30 AM - End Of Course Testing – Mathematics All Students in Algebra 1-2,     
                                Algebra 1-2 Honors, Geometry, Geometry Honors, Algebra 3 – 4, 
                                and College Algebra Honors    
10:33 – 11:24 AM - Block 1 & Brief Announcements
11:57 – 12:46 PM - Block 2
12:49 – 1:38 PM - Block 3
---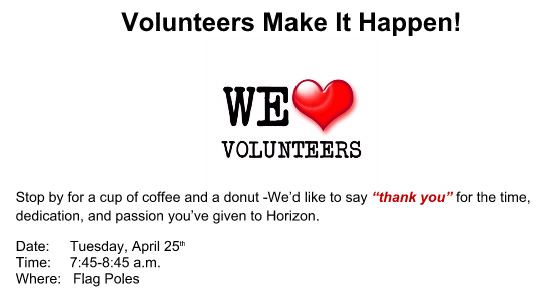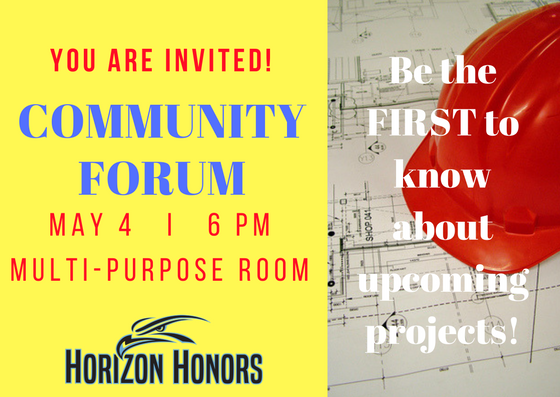 SCHOOL LUNCH ORDERS DUE TODAY!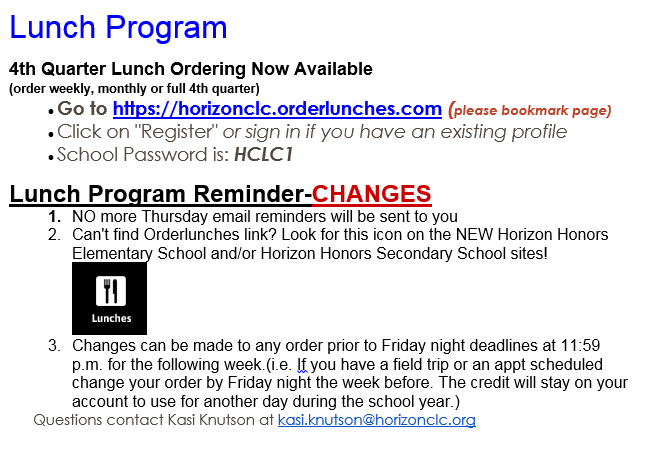 ---
APRIL
AT A GLANCE

   

  

​

 

April 22




Cinderella performance at 7:30 PM in the Multipurpose Room


AP World History practice exam 10:00 AM – 2:00 PM in rooms 111/112
AP Human Geography practice exam 10:00 AM – 2:00 PM in rooms 103/104



April 24




Gamers Club meets at lunch room 112




Key Club Leadership Team meets at lunch room 103




Wilderness Club meets at lunch room 109




Fiber Arts Club meets at lunch room 104


Spiritline tryouts 4 to 6 pm in the Multipurpose Room



April 25




National Honor Society meets at lunch room 209




FCA – Fellowship of Christian Athletes Club meets at lunch room 208


Spiritline tryouts 4 to 6 pm in the Multipurpose Room
High School Spirit Day:  Black Out to support volleyball
Volunteer Thank You
Key Club Feed My Starving Children 8:30 pm to 10:00 pm in Mesa

April 26




Alternative School Day Schedule




National Honor Society meets at lunch room 209




Student Council meets after school room 105


Spiritline tryouts 4 to 6 pm in the Multipurpose Room

April 27
Alternative School Day Schedule
No Place for Hate during lunch in room 127
Art Club meets at lunch in the Art Room
Film Club meets at lunch room 115
Spiritline tryouts 4 to 6 pm in the Multipurpose Room
High School Spirit Day:  Music Day to Celebrate State/Regional PerformersApril 28
Pre-Med Club meets at lunch room 211Choir Council meets at lunch in the Choir Room
Ping Pong Club 2:30 pm to 3:30 pm in MS Courtyard
Cinderella performance at 3:30 PM in the Multipurpose Room
Cinderella performance at 7:30 PM in the Multipurpose Room
Lunch Orders Due
High School Spirit Day:  Lace Up 4 Track & Field

April 29
Cinderella performance at 3:30 PM in the Multipurpose Room
Cinderella performance at 7:30 PM in the Multipurpose Room

April 30
Set Strike 1:00 – 4:00 PM​​For a full list of Secondary School activities, check out the Events Calendar.

MAY
AT A GLANCE

   

  

​

May 1
Key Club Leadership Team meets at lunch room 103
AP Chemistry Exam 8 am to 12 pm

May 2
POE – Protecting Our Environment Club meets at lunch room
Personal Fitness Fieldtrip Focus Climbing Gym 8:30 am to 2:15 pm

May 3
AP Literature Exam 8 am to 12 pm
Student Council meets after school room 105
Personal Fitness Fieldtrip Focus Climbing Gym 8:30 am to 2:15 pm

May 4
He For She Club meets at lunch room 101
GSA – Gay-Straight Alliance meets at lunch room 109
AP Government Exam 8 am to 12 pmMay 5
Band Council meets at lunch in the Band Room
reSEARCHing The Cure Club meets at lunch room 209
Ping Pong Club 2:30 pm to 3:30 pm in MS Courtyard
AP U.S. History Exam 8 am to 12 pm
Lunch Orders Due

May 8
AP Biology Exam 8 am to 12 pm
Gamers Club meets at lunch room 112
Key Club Leadership Team meets at lunch room 103
Wilderness Club meets at lunch room 109
Fiber Arts Club meets at lunch room 104
Graduation Ticket Distribution

May 9
AP Calculus AB & BC Exam 8 am to 12 pm
National Honor Society (NHS) meets at lunch room 209
BOGO Book Fair in the Media Center

May 10
MUN – Model United Nations meets at lunch room 112
Student Council meets after school room 105
BOGO Book Fair in the Media Center
Southwest Portraits presentation to juniors 9:45 in gym

May 11
AP World History Exam 8 am to 12 pm
AP Statistics Exam 12 to 4 pm
Art Club meets at lunch in the Art Room
Film Club meets at lunch room 115
National Honor Society (NHS) Induction 6 to 7 pm
BOGO Book Fair in the Media Center

May 12
Choir Council meets at lunch in the Choir Room
Pre-Med Club meets at lunch room 211
Ping Pong Club 2:30 pm to 3:30 pm in MS Courtyard
Key Club Phoenix Rescue Mission Sack Lunch 2:45 to 5 pm multipurpose room/kitchen
Lunch Orders Due

May 13
Cantabile Honors Chorale Chase Field 3:15 to 10 pmMay 15
Key Club Leadership Team meets at lunch room 103
Cap and Gown Distribution in the secondary office

May 16
POE – Protecting Our Environment Club meets at lunch room
The Masque Rehearsal 2:30 to 6 pm in the multipurpose room

May 17
FCA – Fellowship of Christian Athletes Club meets at lunch room 208
Student Council meets after school room 105
The Masque:  An Evening of Theater 7 to 9 pm in the multipurpose roomMay 18
He For She Club meets at lunch room 101
GSA – Gay-Straight Alliance meets at lunch room 109
High school lunch with principal room 101
Band Concerts 6 to 7:30 pm in multipurpose room

May 19
Band Council Meeting at lunch in Band Room
Ping Pong Club 2:30 pm to 3:30 pm in MS Courtyard
Art and Guitar Showcase 6 to 8 pm
Secondary yearbook distribution
Seniors check graduation status
Lunch Orders Due

May 22
Class of 2017 Spirit Week:  Career Day (Seniors only) – Dress as you would for your future career choice
Gamers Club meets at lunch room 112
Key Club Leadership Team meets at lunch room 103
Wilderness Club meets at lunch room 109
Fiber Arts Club meets at lunch room 104
Bella Voce, Dolce Voce & Magnum Chordum Concert 6:30 pm
Cantabile Honors Chorale Concert 7:30

May 23
Class of 2017 Spirit Week:  Senioritis Day (Seniors only) – Dress comfy in your PJs
National Honor Society (NHS) meets at lunch room 209
High School Student Council Executive Board Elections

May 24
Class of 2017 Spirit Week: (Seniors only) "What did you say, eh?" Day – Dress as your future senior citizen self
MUN – Model United Nations meets at lunch room 112
National Honor Society meets at lunch room 209
Seniors vs Faculty Dodgeball at lunch
Student Council meets after school room 105

May 25
Class of 2017 Spirit Week:  College Day (Seniors only) -- Dress in your college gear
Senior Final Exams
Art Club meets at lunch in the Art Room
Film Club meets at lunch room 115
No Place for Hate during lunch in room 127

May 26
Class of 2017 Spirit Week:  Aloha Day (Seniors only) – to say Aloha, goodbye
Senior Final Exams
Seniors materials and uniforms due
Seniors last day of school
Choir Council meets at lunch in the Choir Room
Pre-Med Club meets at lunch room 211
Ping Pong Club 2:30 pm to 3:30 pm in MS Courtyard
Lunch Orders Due

May 29
Memorial Day no school

May 30
National Honor Society meets at lunch room 209
Senior Brunch 10 to 12 pm in the multipurpose room
Commencement Rehearsal 1 to 2:30 pm
Choir commencement rehearsal 4 pm
Band commencement rehearsal 4:30 pm

May 31
FCA – Fellowship of Christian Athletes Club meets at lunch room 208
MUN – Model United Nations meets at lunch room 112
Student Council meets after school room 105