HORIZON HONORS
MIDDLE SCHOOL

EBLAST
2.3.2017
RATED AN "A" SCHOOL BY THE AZ DEPARTMENT OF EDUCATION

(2014)
---
8TH GRADE PROMOTION PHOTOS

Eighth Grade Promotion Pictures are coming soon.  They will be taken first thing Wednesday morning, February 15th.  Clothing can be of your choice, but we recommend a more formal versus casual look.  Students must be in dress code.  Mark your calendar.
LET'S MAKE A DIFFERENCE TOGETHER
Last year Horizon Honors was proud to join American Cancer Society and host our first-ever Relay For Life.  This school year, we hope to build on last year's success, and show our commitment to our community by fighting back against cancer. 

​Join us in this fight Friday, March 3rd from 5 pm-midnight.  Help us remember those we have lost to the disease, raise funds to aid cancer research and those who are diagnosed, and celebrate those who have emerged victorious in their battle with cancer.
WHAT HAPPENS AT RELAY FOR LIFE?  
Relay For Life is a community event where we are able to come together and recognize how cancer has touched each of our lives.  Participants form teams or register individually to show our committed efforts to fighting back against cancer.  Each participant fundraises through an online fundraising page, with all the proceeds going to American Cancer Society.
Throughout the event, each team needs to have a representative walking the track, symbolizing the cancer does not stop and neither will we.  Some of the highlights of the event include a lap for survivors and caregivers, a luminaria ceremony, where we recognize those we have lost or why we are walking to help the  fundraising efforts, live music, entertainment, and games that will allow us to continue to bond as a community.
​
Participants who are younger than high school will be invited to join in the fun until 9 p.m. After 9 p.m. those who are in high school or older and have raised at least $25 will be able to stay at the event until midnight.
HOW CAN YOU GET INVOLVED?
Join or start a team and fundraise through the online fundraising page.  Registration is simple at 

relayforlife.org/horizonhonorsaz

.  If you raise at least $100 you will earn a fantastic Relay For Life t-shirt to commemorate your efforts and fighting back against cancer.

Serve as a chaperone for a student team.  Serving as a chaperone does not stop you from joining another team, but does give a little extra responsibility to your role that night as a go to person for the students you are chaperoning.  Every student team needs a chaperone who is at least 21 years of age.

Give to the cause.  Support a team or individual through giving at a fundraising page, which can be accessed at 

relayforlife.org/horizonhonorsaz

.  If you would rather donate through goods, we are in need of the following items, which can be dropped off in the front office with Mrs. Shaheen:

White paper lunch bags for luminarias

Gift cards to Fry's, Amazon, or Costco
TAKE ACTION AND MAKE AN IMPACT!
Respectfully,
The Horizon Honors High School Student Council
Relay For Life Student Executive Committee
---
SPRING ATHLETICS PAPERWORK & TRYOUTS
Spring Sports tryouts begin Monday, February 13th. Only athletes with all their paperwork in and fees paid will be cleared for tryouts.

Middle School Spring Sports
Boys Basketball
Girls Basketball
Co-ed Spiritline

CO-ED CROSS COUNTRY
Horizon Honors' Co-Ed Cross Country team raced hard to their last finish line of the season with the girls clinching the 3rd place title out of 10 schools.  The girls crushed this 2.12 mile course nailing a third place victory for the team.  Lia Rao (13th, 15:37) Delaney Wolf (20th, 16:00), and Sydney Wolf (29th, 16:42) finished the season in stellar form placing in the top 30 out of 95 runners.

The boys pushed themselves to the limit pacing beautifully to the end.  Out of 120 runners, Justin Boyd crossed the finish line 21st with a 14:16 time.  His fellow teammates raced their personal best:  Luke Lemme (15:43), Jon Briones (16:00), Logan Whitehead (17:47) and Noah Dinardo (18:41).

SOFTBALL

The MS girls' softball advanced to the semi-finals after winning 13-6 over Phoenix Christian on Tuesday. The girls battled all game coming from behind to take the lead in the 4th inning.  Several key several key hits to clear the bases secured the victory.  Wish them luck as they take on Gilbert Christian!
BASEBALL

Congratulations to the Middle School Baseball team on their successful season and their overall 5th place finish in our league!  The boys worked extremely hard and made their school proud.  Go Eagles!
---
---
---
LEARN... BELIEVE... DREAM... DARE
Congratulations to the following students who were selected to be a member of the Junior High All-State choirs in March!
Hasley McDaniel
Ella Miller
Kate Cochrane
Sadie Rich
Lauren Taylor
Raj Bhakta
Tristen Lovely
John Ryan Patterson
Ben Brady
Lillian Wilson
Nicole Clayton
Madison Ortiz
Grace Withrow
Alexa Monsalvo
Megan Eiferle
Kiley Bizzack  

---
REQUIRED READING MATERIAL

If you need to purchase required reading books for any of your classes, Changing Hands Bookstore has a list of all of the required material for the entire school year and offers a 10% discount.  Just let them know at the checkout desk.  Barnes & Noble also has a copy of the list and will order the books into the store for your convenience.
---
8TH GRADE PROMOTION PHOTOS

Eighth Grade Promotion Pictures are coming soon.  They will be taken first thing Wednesday morning, February 15th.  Clothing can be of your choice, but we recommend a more formal versus casual look.  Students must be in dress code.  Mark your calendar.
BOOK FAIR VOLUNTEERS NEEDED
Our next Scholastic Book Fair is March 3rd through March th.  If you are interested in helping out, please visit SignUp.com link to reserve your volunteer spot.  We would love to have you come and help students find great books, count pennies, and find prices.  Please contact Mindy Duet if you have any questions.

LOOKING FOR CANCER SURVIVORS AND CAREGIVERS

Horizon Honors will be hosting our first ever Relay For Life Event on Friday, March 3, 2017. Relay For Life is a way for our whole Horizon Honors community to come together to bring hope to cancer survivors and their loved ones, honor cancer victims who have passed, and raise money to fight the disease.  Our school has been affected by this diseases numerous times, so it hits right at home. That is why we are eager to make this event the best it can be. In order for that to happen, we need cancer survivors to participate in the Survivor's Lap at the event and caregivers for loved ones who have battled or are currently battling cancer to take their lap too! To sign up as an individual or to join a team, go to 

www.relayforlife.org/horizonhonorsaz

.


If you or someone you know has or has had cancer, and would like to join us on this evening of hope, please contact our People Lead, Burke Wood at burke.wood@student.horizonclc.org. If you have any questions don't hesitate to ask!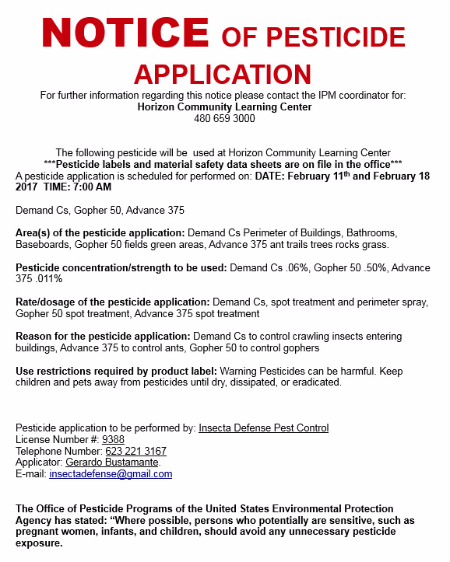 ---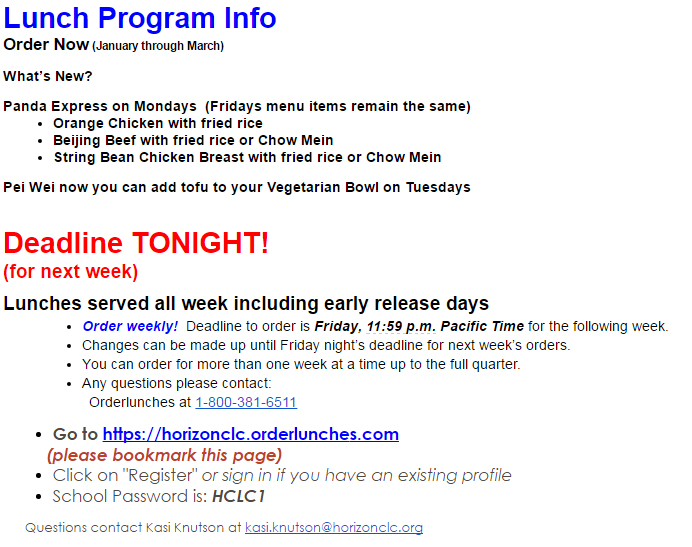 ---
FEBRUARY
AT A GLANCE

  

February 3
Band Council meets at lunch in the Band Room
Origami Club meets 2:30 PM – 3:15 PM room 203
Lunch Orders Due
NJHS Leadership Team meets at lunch room 204
MS Travel Club during lunch room 110 
 
February 4
NJHS decorates Brookdale Assisted Living 9:45 AM – 11:30 AM
 
February 6
Fiber Arts Club meets at lunch room 104
 
February 7
MS National Junior Honor Society Meeting room 204
 
February 8
Gamers Club meets 2:40 – 3:40 PM room 107
NJHS Daycare Buddies 2:30 – 3:30

​February 9
Project Group 2.0 meets 3:30 – 4:30 PM roo

m 415

 

February 10
Choir Council meets at lunch in the Choir Room
Radio Club meets 2:30 – 3:15 PM room 202Origami Club meets 2:30 PM – 3:15 PM room 203
Lunch Orders Due

February 11
Set & Costume Construction for Cinderella 8:00 AM to 4:00 PM
 
February 13
Middle School Spring Athletics Tryouts Begin

Relay for Life "Crush Cancer" Crush Soda fundraiser

February 14


POE – Protecting Our Environment Club meets at lunch room 109

Relay for Life "Kiss Cancer Goodbye" Hershey's Kisses fundraiser

 
February 15
FCA – Fellowship of Christian Athletes Club meets at lunch room 208
Student Council meets after school rooms 107/108


8th Grade Promotion Pictures

Relay for Life "Cancer Sucks" Tootsie Pop fundraiser​


 
February 16
Project Group 2.0 meets 3:30 – 4:30 PM room 415
Cantabile Honors Chorale In-House Field Trip in Choir Room 8:30 – 9:30 AM

February 17
Band Council meets at lunch in the Band Room
Radio Club meets 2:30 – 3:15 PM room 202
Origami Club meets 2:30 PM – 3:15 PM room 203
Lunch Orders Due
NJHS Leadership Team meets at lunch room 204
MS Travel Club during lunch room 110 
 
February 20
Presidents Day (NO SCHOOL)

February 21
NJHS Candidate meeting during lunch room 204
POE – Protecting Our Environment Club meets at lunch room 109

February 22
FCA – Fellowship of Christian Athletes Club meets at lunch room 208
Student Council meets after school rooms 107/108
 
February 23
Project Group 2.0 meets 3:30 – 4:30 PM room 415
No Place for Hate during lunch in room 127February 24
MS Travel Club during lunch rooms 105/107Band Council meets at lunch in the Band Room
Radio Club meets 2:30 – 3:15 PM room 202
Origami Club meets 2:30 PM – 3:15 PM room 203
Middle School Social Multi-Purpose Room 6:00 pm to 8:00 pm
Lunch Orders Due
NJHS Leadership Team meets at lunch room 204
MS Travel Club during lunch room 110 (room change)
NJHS Daycare Buddies 2:30 – 3:30


 




February 25


Set & Costume Construction for Cinderella 8:00 AM to 4:00 PM
 
February 27
Fiber Arts Club meets at lunch room 104
Secondary School Improvement Team meeting 4:00 – 5:00
Secondary School Relay for Life Spirit Week
Dolce Voce & Magnum Chordum Concert in the Multipurpose Room 6:00 pm to 7:30 pm
Bella Voce & Cantabile Honors Chorale Concert in the Multipurpose Room 7:30 pm to 8:30 pm
 
February 28
Intermediate Band & Symphonic Honors Band Concert in the Multipurpose Room 6:00 pm to 7:00 pm
Concert Band & Wind Ensemble Concert in the Multipurpose Room 7:30 pm to 8:30 pm
MS National Junior Honor Society Meeting room 204​​For a full list of Secondary School activities, check out the Events Calendar.

MARCH
AT A GLANCE  
March 1
Secondary School Relay for Life Spirit Week
Gamers Club meets 2:40 – 3:40 PM room 107

March 2
Secondary School Relay for Life Spirit Week
Project Group 2.0 meets 3:30 – 4:30 PM room 415

March 3
Secondary School Relay for Life Spirit Week
Choir Council meets at lunch in the Choir Room
Radio Club meets 2:30 – 3:15 PM room 202
Origami Club meets 2:30 PM – 3:15 PM room 203
Book Fair setup
Relay for Life 5:00 pm to midnight
Lunch Orders Due

March 6
NJHS Daycare Buddies 2:30 – 3:30
Honors Symphonic Band Performing at Area Concert Festival 8:00 am to 2:45 pm
Book Fair

March 7
POE – Protecting Our Environment Club meets at lunch room 109
Book Fair

March 8
FCA – Fellowship of Christian Athletes Club meets at lunch room 208
Book Fair

March 9
Project Group 2.0 meets 3:30 – 4:30 PM room 415
Book Fair

March 10
NJHS Leadership Team meets at lunch room 204
Band Council meets at lunch in the Band RoomMS Travel Club during lunch room 110
Radio Club meets 2:30 – 3:15 PM room 202
Origami Club meets 2:30 PM – 3:15 PM room 203
Book Fair cleanup

March 13
Spring Break

March 14
Spring Break

March 15
Spring Break

March 16
Spring Break

March 17
Spring Break

March 20
Spring Break

March 21
Spring Break

March 22
Spring Break
March 23
Secondary ILP Conferences

March 24
Secondary ILP Conferences
Junior High All-State Choir Festival at Show Low High School
Lunch Orders Due

March 25
Junior High All-State Choir Festival at Show Low High School
Set Construction 8:00 am to 4:00 pm

March 27
Fiber Arts Club meets at lunch room 104

March 28
Performing Arts Exhibition 2:30 to 3:30 in the Multipurpose Room

March 29
Gamers Club meets 2:40 – 3:40 PM room 107
Performing Arts Exhibition 2:30 to 3:30 in the Multipurpose Room

March 30
Performing Arts Exhibition 2:30 to 3:30 in the Multipurpose Room
Project Group 2.0 meets 3:30 – 4:30 PM room 415

March 31
Choir Council meets at lunch in the Choir Room
Radio Club meets 2:30 – 3:15 PM room 202
Origami Club meets 2:30 PM – 3:15 PM room 203
Spring Fling 5:00 pm to 9:00 pm
Lunch Orders Due