St. Bonaventure Catholic School
Huntington Beach, CA 92647
Make sure to click view entire message at the bottom so you view ALL the information included in this issue of Saints Connect!

Principal's Message 9/20/2017:
What a wonderful Mass and kickoff for Annual Giving we had this last Sunday! Our church and school communities came together to enjoy delicious food, fun and excitement about the new school year. Many thanks go out to all who attended the event as well as to those who planned, organized and worked it!

As always, it was a great day to be a Saint!
St. Bonaventure Catholic School supports our students through the Annual Giving Fund, "A Legacy of Excellence."  Tuition alone does not cover the cost of providing the high quality education that our children receive.  The Annual Giving Fund helps to enhance all programs, thus enriching the academic, creative and spiritual development of each student. 
Please welcome our

Outreach Concern intern, Mrs. Lisa Follmer
Leaving School Grounds

Written permission is necessary if a student needs to leave school for any reason. Send a note to your child's teacher indicating the time and reason for leaving school. Please schedule dental or medical appointments after school or during vacation periods whenever possible to avoid disrupting your child's learning. Parents must sign out their students through the Health Room. Your child is to be signed in at the Health Room upon returning to school. Parents are not to go to the classroom to pick up the child who is leaving school early. Sick or injured students will be signed out in the Health Room. At the time of departure, the Health Technician will summon the student to the Health Room.
Animals are NOT permitted on St. Bonaventure School Grounds. Please leave your pets at home when bringing or picking up your children.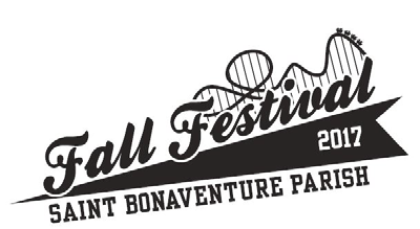 Our Fall Festival is around the corner!
Save yourself some time and money by pre-ordering tickets and wrist bands! Click on the button below for more information.

Pre-order your child's lunch for Festival Friday! It will save you time and help support the festival booths. More information about Festival Lunch can be found below.
PLEASE click below for festival guidelines regarding drop off, pick up, student dress as well as to print out the MANDATORY festival release form for you child!
Great news....
Now students can wear their festival t-shirts on Friday, Sept. 22nd, Friday, Sept. 29th and Friday,

Oct. 6th!

Drama Club is our newest club for after school enrichment. Drama Club will be offered on Tuesdays, 3:00-4:00 for 2nd - 8th graders. The club will be capped at 24 so sign your student up early so they don't miss out!
St. Bonaventure Children's Choir
Children in grades 1 - 6 are eligible to join the children's choir and sing at our 9:00 Mass throughout the year! The children's choir rehearses on Thursdays 3:00-4:15. For more information including how to register and the schedule for the year, click the button below.
Don't forget!
If you are interested in your K - 8th grade student participating in the after school STRINGS PROGRAM, the first meeting is on Friday, Sept. 22nd at 2:50 in the school library. New and returning students must attend to register and get measured for their instruments.
The first class with instruments will be Friday, Sept. 29th.
IT'S NOT TOO LATE!
There are still a few openings for the after school instrumental music program for 3rd-8th graders.
Register by Monday 9/25 by clicking on the button below.
Earn money for SBS by using your Ralphs Reward Card!
You must register or re-register your card!
Box Tops for Education is Back!
Our goal for the 2017-2018 school year is to raise $1000 or more for our school! Click on the button below to find out how you can help us reach our goal!
LIKE A GOOD DEAL?!
Order the 2017-2018 yearbook by

Sept. 30th and get 15% off!