Apparently, 72 holes and 7-under par, just wasn't enough! It took Krystal Quihuis, University of Arizona, one extra hole to win the coveted 87th Annual Women's Trans National Championship over Sarah Burnham, Michigan State University, at the classic and historical Donald Ross design,
Mid Pines Inn and Golf Club
 in Southern Pines, North Carolina.
Top 3-10 Finishers
 - 
L - R
3.  Hira Naveed - Malibu, CA
4.  Katie Sharp - Kendallville, IN
5.  Nadine White - Buies Creek, NC
6.  Brooke Riley - Manteca, CA
(not in photo)
7.  Anita Uwadia - Windermere, FL
8.  Megan Stasi - Oakland Park, FL
9.  Courtney McKim - Raleigh, NC
10. Grace Yatawara - Salisbury, NC
Sarah Burnham, Maple Grove, MN, was tied for the lead after 72 holes on the tough 6285 yard Mid-Pines layout. She put up a good fight on a very hot and humid day, but it all came down to the the final putt on the first playoff hole.
​The Women's Trans National Board of Directors wishes to thank all of the wonderful people  who volunteered to make the 2017 Championship a huge success.  From the on course volunteers, Mid Pines members, housing families, grounds and maintenance crew (the course was amazing), to the club management team, chefs, bartenders, servers and of course the golf shop outside service and professionals!!! What an amazing week you all provided for our participants, their families and Trans Directors.
The Complete Golf Destination
Some interesting Facts about the 87th Annual TRANS Championship

​
35 Plus Handicaps (+5.0. -  7.0)

5 Juniors

51 Collegiate players from the top women's golf programs in the United States

10 Countries represented

Youngest player:  Nicole Adam 15 years old from Pinehurst, NC
​A very strong international field of women amateur golfers competed in this year's 72-hole stroke play event at Mid Pines.  Ten countries including USA, Australia, Philippines, Japan, China, India, Mexico, Indonesia, Canada, and Nigeria played for team and individual titles.  In addition, many of the top US women's collegiate golf programs were represented. There were also 14 players representing their home state of North Carolina in the TRANS this year.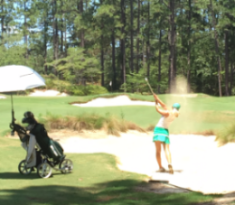 Sarah Burnham,

​
runner-up,  blasts from the fairway bunker on Mid Pines scenic hole #14 during the final round.
​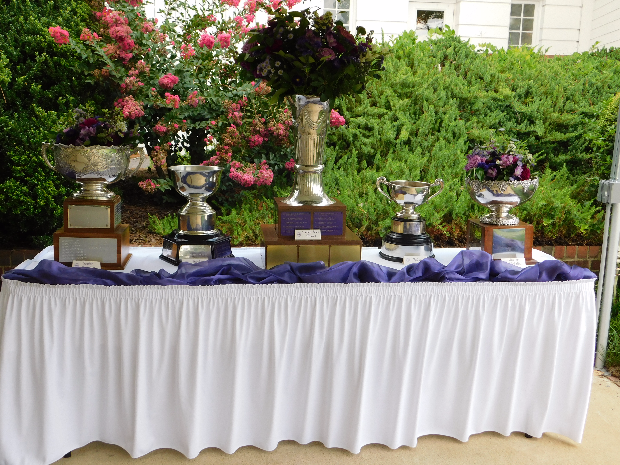 List of all the trophies awarded below.
TRANS Results posted to WAGR 
The Women's WORLD AMATEUR GOLF RANKING™ system ranks the top female amateur golfers in the world on the basis of their average performance in Counting Events over a rolling cycle of the previous 104 weeks.
TRANS National Championship Awards
George III Champion Trophy 

(Amateur TRANS National Champion)

Nancy Orr Medalist Trophy & Agnes Herndon Medalist Pin 

(Medalist has the honor of wearing this pin for one year.) 

Iva May McDonald Champion Runner-Up Trophy
Grace Palmer Woodruff Senior Medalist Trophy  

(50 years & older)

TRANS Mid-Am Trophy 

(25 years & older) 

Dorothy Pease Junior Medalist Trophy (17 & un

​

der)
Howell Team Trophy

(Two person team from a Golf Association, Club or University | College Team, whose two members have the lowest combined scores.) 
Meet Medalists from L - R above.
​Junior Medalist Nicole Adams with Gail Smothers-Smith & Carol Fromuth 
Senior Medalist MK Kordani with Carolyn Gigac & Fay Ann Kitka
Amateur Medalist Krystal Quihuis with Sally Tomlinson
Team Medalist Katie Sharp & Sarah 
Burnham - 
Michigan State University
Mid-Am Medalist 
Megan Stasi
(below right)
The Women's TRANS National Amateur Championship Committee
kindly asks you to help spread the word about this great Championship, please forward our newsletter to all your friends, team-mates, coaches and up and coming junior golfers.   
We would like to hear from
our past participants and past Champions
so we may share your successes and TRANS memories!  Please email at:
womenstransnational@gmail.com
2016 
TRANS Champion - Beth Wu
Beth Wu won the 2016 TRANS National Championship by 8 shots at the beautiful and challenging Lake Forest Country Club in St. Louis, Missouri. Beth is ranked 29th in the World and will be entering her junior year at UCLA. 
Wu represented the United States in the 2016 Curtis Cup in Ireland.  The Women's Golf Coaching Association named her an Honorable Mention All-American for 2015/16. 
Britney Choy -
'04 Participant
Now Associate Head Women's Golf Coach - University of New Mexico
"This is a great event for all female amateurs. It is part of the WAGR and showcases some of the best amateurs and college golfers in the country. I played the Trans Am at Mid Pines back in 2004 and it was a blast. I remember being the lowest stroke play junior golfer in the field and that helped boost my recruiting for universities. I highly recommend any collegiate and junior golfers to sign up for this event!"
Join us in 2018
2018 Trans Amateur Championship
Marysville, California

​​

 ​
Pictured with TRANS President Joanne Walker & Director Maggie Bowgren
Please follow us on Facebook and Twitter