A Hawai'i where all youth are connected to the support they need to walk a pono path towards health, happiness, and abundance.
Resources
August is already here! Have you prepared for back to school?
Here's a couple activities from Understood for parents, teachers, and service providers:
Good for the first day of school, or as a preparation for the end of summer!
Are you registered to vote?
Encourage the eligible youth in your life to register and vote! Register to vote online, or find your polling place at the State's Office of Elections.
Spotlight
Here we shine the light on a notable program!
Youth Talk Back is a new program offered by Ceeds of Peace, designed to expose youth (grades 6-12) to the opportunity to be part of a youth-led cohort, so that they may understand the power of their opinions and voices, and their leadership potential. 
Over four in-person half day sessions and check-in over a zoom meeting which will take place between September 2018 and January 2019, youth participants would have the opportunity to work with other young people from across Hawaii on issues that matter to them.   Please apply online - http://goo.gl/bLCrnd . 
Contact Younghee Overly at yoverly@gmail.com if you have any questions.
Save the Date! Children and Youth Day (CYD) and Children and Youth Summit (CYS) is coming up soon on Oahu in October!
Neighbor island participation highly encouraged for CYS- scholarships available.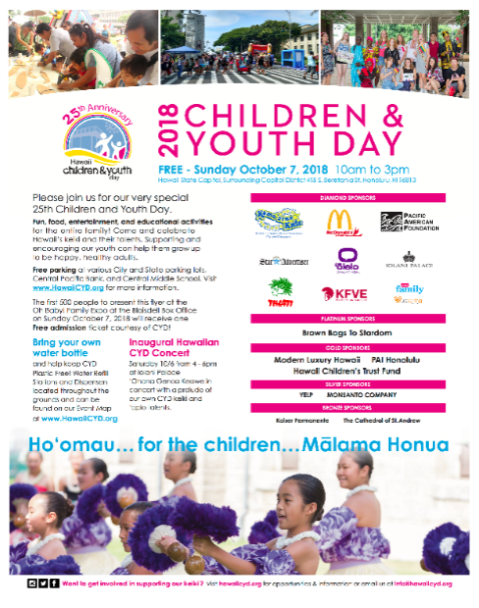 OʻAHU -

25th Annual Children and Youth Day

Sunday, October 7, 2018
10:00am-3:00pm
Block Party around the State Captol
Free. Children & Youth Day (CYD) happens on the first Sunday of October, each year.
CYD is a time to recognize the potential and special gifts of our keiki (children) and 'opio (youth). It is a time for them to shine and share their bountiful energy with their community.
The entire month is a celebration! Checkout the calendar of events here.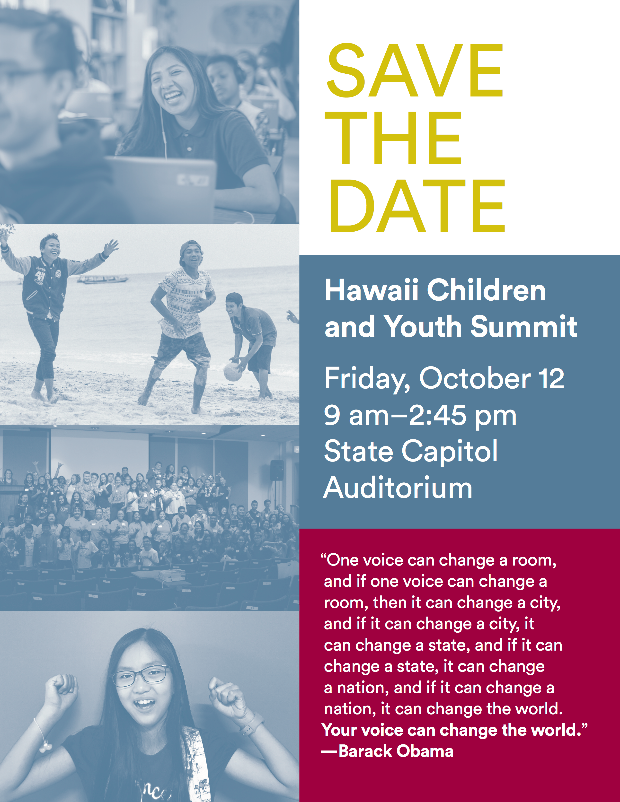 OʻAHU -

25th Annual Children and Youth Summit

8am Registration, exhibits & breakfast
9am – 3 pm Summit Program
State Capitol
Free. Youth are welcome to participate and help identify important issues that contribute to the well-being of children and youth in Hawaii and propose possible solutions to support Hawaii's young people reach their full potential. For more information, please contact Judith Clark from Hawaii Youth Services Network at 489-9549 or
jclark@hysn.org
.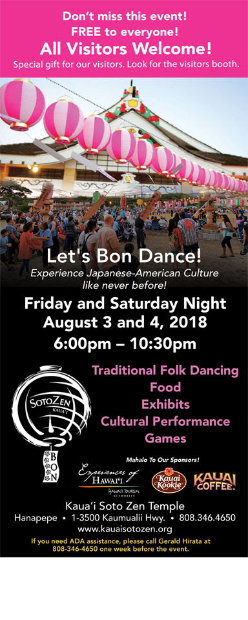 KAUAʻI - Soto Zen Bon Festival
August 3-4, Friday-Saturday,
6:00 p.m.- 10:30 p.m.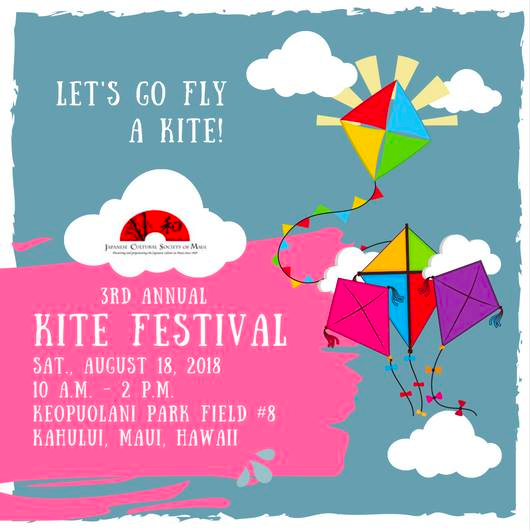 MAUI- 3rd Annual Kite Festival
Saturday, August 18
10am - 2pm
Keopuolani Park Field #8, Kahului
Free. Come fly a kite!
Kite kits to decorate with colored markers will be available for a $5 donation to JCSM. Prizes will be given to the best decorated kites and best kite fliers at 12 noon. Anyone may bring their own kites - big or small, traditional or modern.
Water will be provided. Attendees may also bring their own materials, chairs and snacks.
Anyone may bring their own kites - big or small, traditional or modern.
For questions about the event, call Deron at (808) 298-3352 or email jcsmhawaii@gmail.com.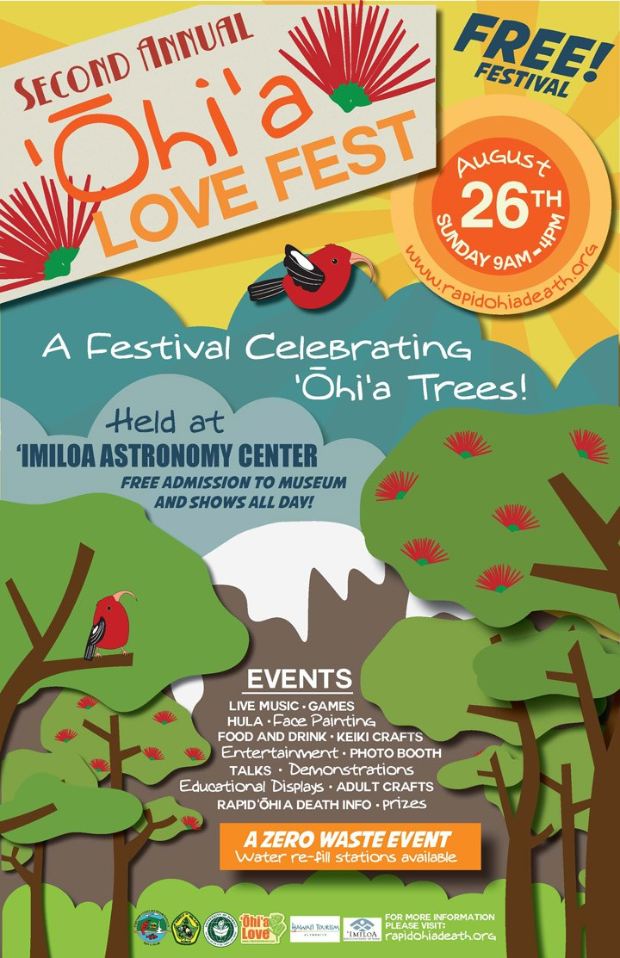 HAWAIʻI ISLAND -

2nd Annual Ohia Love Fest

Imiloa Astronomy Center of Hawaiʻi
FREE festival celebrating 'ohi'a trees! There will be Rapid 'Ohi'a Death (ROD) information, live music, entertainment, talks, games, prizes, face painting, a photo booth, educational booths and displays, crafts, demonstrations on how to reduce the spread of Rapid 'Ohi'a Death, free admission into
'Imiloa
, food, and so much more!
This will be a zero-waste event, so donʻt forget your reusable water bottle! Free refill-stations with ice-cold water!

For more information about Rapid 'Ohi'a Death please visit: rapidohiadeath.org.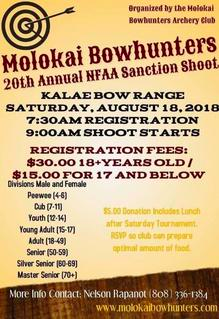 MOLOKAʻI -

20th Annual State Bowhunt Tournament

Divisions include: Freestyle, Barebow Bow hunter, Barebow Freestyle or Traditional (Recurved or LongBow).
Age groups include: Cubs (11 & Under), Youth (12-14), Young Adults (15-17), Adults, (18 & above), Guests and Olympic Class.

Entry forms and event details:
Save or Share your searches!
Found a program or service on the directory you'd like to save and/or share?
It's easy! At the bottom of the program's page you can simply click to download or share!
Want to be featured in our next newsletter?
HYSD is always looking to assist child- and youth- serving organizations to better promote their programs and events. If you or your organization have a specific event you would like to have featured in our newsletter, please
contact us
.
As always, if you are experiencing any technical difficulties on the youth directory with adding, updating, or searching for youth programs, please email us. We appreciate your feedback and engagement in our website.