---
April General Meeting at District Office
Our next General Meeting will be held  on
Tuesday, April 11th 9:00-10:30
at the LGUSD Office
(located at the end of the drive way past the docent office)
​Please join us to hear guest speaker, Arcia Dorosti,
​

Director of Curriculum, Instruction and Assessment

for LGUSD.
He will talk about curriculum, STEAM and art collaboration in our district.

Sign-ups will be available for the following...

Kindergarten Foil Workshops
Spanish Art History 
French Art History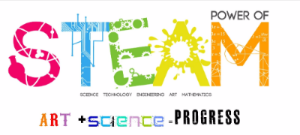 ---
---
Letter from our President
​
Spring has sprung, and the Art Docents of Los Gatos gear up for March Madness, or as we say, Mulch Madness. This Spring Fundraiser will help fund digital technology workshops and training. Check out how you can order Mulch, Compost and Planters mix to be delivered to your doorstep. While beautifying your home with organic material, support the docents. Also, please go to Amazon Smile: when you sign up to support the Art Docents of Los Gatos, we get a percentage of purchases, free to you. 

Up and coming is also our extraordinary Annual Student Art Show, from May 1-5, in the Fisher Multi Purpose Room/ Cafeteria. Also coming is our Chocolate Dessert Night sponsored by the Art Docents and LGEF on April 28, in the Fisher MRP, Friday evening from 6-7:30. Do you like chocolate, art and music? If so, sign ups are here…….

2016-17 LGEF Donor Night of Art, Chocolate and Music.


​
Finally, we hope to see you at the Mothers Day Italian Jewelry Party on May 11, and our next Movie/ Book Club evening. 
​
It has been my honor and privilege serving the Art Docents of Los Gatos as President. Thank you for your kind generosity, enthusiasm and support.
Best,
Michelle Abene
President Art Docents of Los Gatos

---
VOLUNTEER SECRETARY POSITION for 2017-18
Become part of the Executive Board! 

Duties - attend and take minutes of monthly executive committee and general meetings, also quarterly board meetings

Fun and easy way to get involved in the organization
Contact Julia Moss or Judith Fishwick if interested, thanks!
​
---
---

​Upcoming Events 2016-2017
Click on links above for each event at artdocents.com 
Please 

contact Sue W.

 to let her know if you would like to help out in any way.
​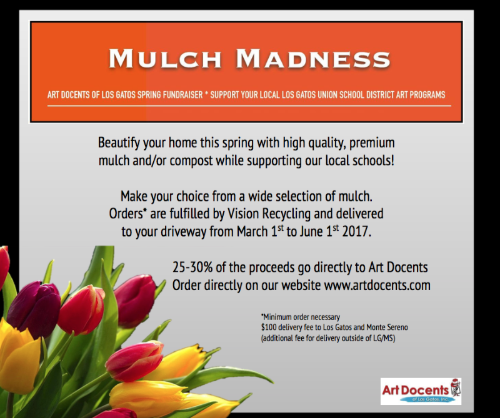 ---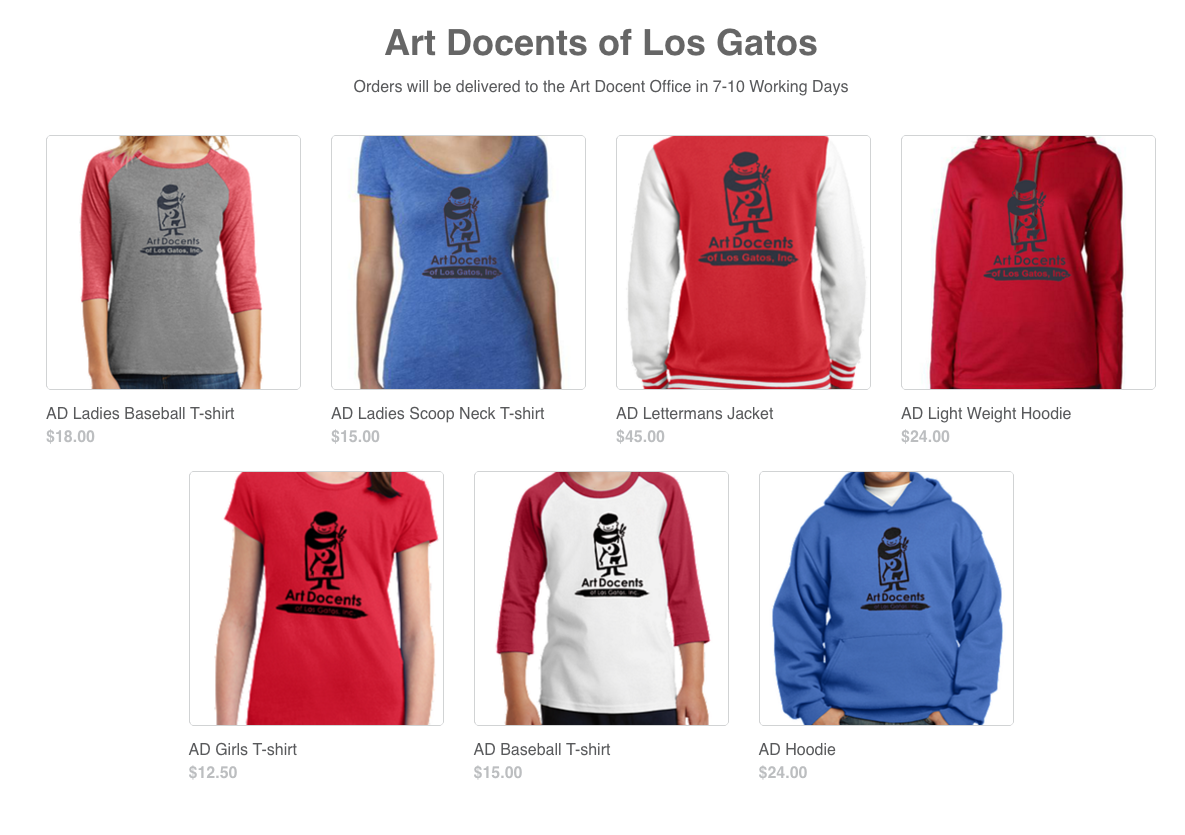 Now is your chance to purchase Art Docent Logo Clothing!
Former Art Docent and Los Gatos business owner, Heidi Rehbock has created a flirty and fashionable line of clothing that can be customized for the Art Docents and children. The clothing line comes in all sizes. Even your little ones will look wonderful in their Art Docents of Los Gatos Clothing!  A portion of each sale will be donated to the Art Docents.
​
Heidi specializes in youth sports providing teams, leagues, schools and youth organizations with uniforms, equipment, custom apparel and fan gear. She also provides apparel and other promotional marketing items to organizations outside of the sports arena.
So, to get your apparel today, please click here:

Shop AD CLOTHING

. The clothing is perfect to wear around town, or when volunteering for an Art Docent Event. Thank you for your support!
---
---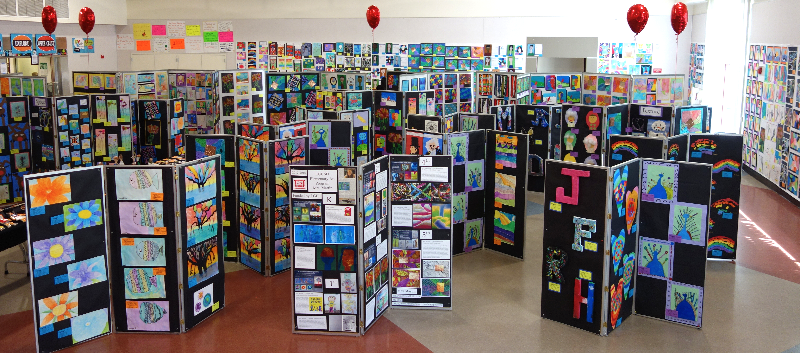 Art Show Prep is Underway
​
This year's Art Show committee has been getting things done behind the scenes and after March 14th it will be time for all docents to chip in and help by mounting student art in the Art Docent office. If everyone gives a bit of time here and there we will easily make our deadline of April 26th. More information will be shared at our General Meeting on Tuesday, April 11th. Be sure to set some time aside for this fun activity whether it is by mounting art, or acting as a docent at the show, or both.
Some dates to remember:
Friday, April 28

(Docents save this date and participate)

: Install the art in the multi-purpose room at Fisher

Friday, April 28 evening: 2016-17 LGEF Donor Night of Art Chocolate and Music 

May 1 - 5: Show is open for classroom visits during school hours and after school from 2:00-4:00 for outside visitors (except Friday, May 5th when we close at 1:00)

Friday, May 5

(Docents save this date and participate)

: Tear down the show and package up the art in preparation for returning to classrooms the following week.

The effort we put in is greatly appreciated by the district, parents, and community and is a good indicator of how our students respond to art. Not to be missed; stay tuned!
​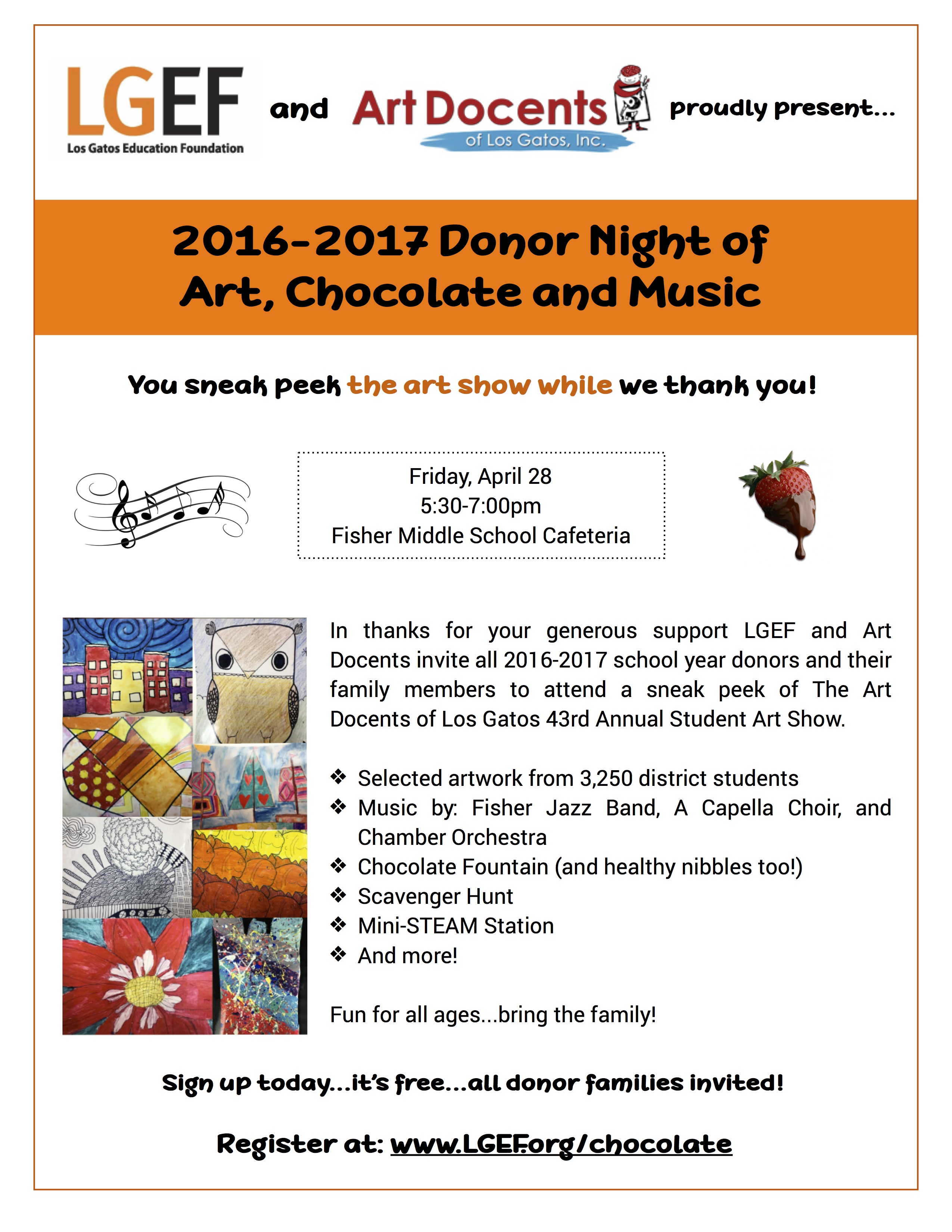 ---
Scape Martinez at Fisher Middle School 
On Monday, March 27th Scape Martinez visited the art classes at Fisher Middle School. He spoke to students about his journey as an artist, different types of paint and the potential each one has to fulfill their dreams. His demonstrations allowed students to participate in creating three unique, colorful abstract paintings which are currently in the Art Docents office. Come by to take a look at the finished product. 
---
Monet: The Early Years at The Legion of Honor, San Francisco
Thursday, April 13, 9:00am

We will meet at the Art Docent Office at 9:00am to carpool to San Francisco.

Please sign up on the Art Docent website and also pre-purchase tickets at the Legion of Honor website for the 10:30 showing.

Lunch at the Museum Cafe for those who are interested. 
Silk Painting with our very own Tanya Kurland
Thursday, April 27, 6:00pm at Tanya's home

Tanya will talk about silk painting and its practical implementations in areas of fashion, home decor and art. She will demonstrate different techniques and then students will get to try them out for themselves at this hands on workshop by painting a design on a silk loop. Students can draw their own design freehand or trace an image that will be provided. The painted  loop can be hung in a window and looks similar to stained glass. Participants will also learn how to easily embellish a silk garment or scarf using silk paints. Students will make a hands on project with this technique, a silk handkerchief with floral design.

The cost is $30 per person which covers supplies, drinks and a light snack. Participants need to wear old clothing or bring an apron. Students are also encouraged to bring their own hair dryer to class, we will need at least one for 2 people to share.

We hope you can join us for this educational, artistic and fun event.

.
---
IT  - Information and Technology
Let us know:

 If a link doesn't work

 or if you see something on the website that needs an edit ....LET US KNOW!   Send Stefanie and email at

artdocents@me.com


​We appreciate your help in keeping our website up to date.

Online Signups:

  We will be going online with our classroom presentation sign ups this year.  Please come to the General Meeting to get more information.  

Sign ups will be available first at the General Meeting (as we have always done).  

Once the meeting is over, we will post them live on the website.





Calendar Online

:  You can see our Art Docents Calendar online now.  

This includes meetings & events. Only docents will be able to see classroom presentation times and schedules,which are available under the "docent login" page from the website.​
Google Calendar:  
If you have a Google account you can easily add this calendar to your own by adding 
artdocentsoflg 
(all one word) in the "add a friend's calendar" box from your own calendar.

---
---
​
Friday, April 28, 2017 – Annual Chocolate, Art and Music Evening 
May 1-4, 2017 – Annual Student Art Show
Opportunities for High School Students -  Form a club:  

The Art Docents of Los Gatos will assist you with material for Club Day at LGHS, including table set up materials, sign up sheets, marketing material, balloons, etc.
---
---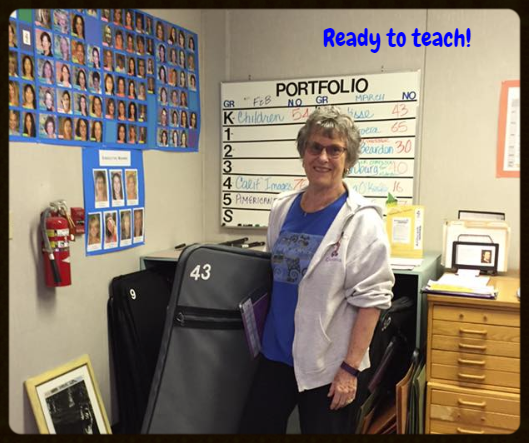 Kathie Gaylord...an active Art Docent for 31 years!
"I have loved being an Art Docent and going into the classroom.
I really get a kick out of the kids.
And of course in kindergarten 
you are never sure what they are going to come up with!"


​
1986
 was Kathie's first year with the Art Docents of Los Gatos!
Wow were we lucky to have such a dedicated volunteer
and really nice person join our organization.
Currently she is serving on the Library committee.
Please take a minute to read below
a few questions she answered for our Spotlight!
Why did you become an art docent?
I had an art history minor in college.   Love sharing art with the kids.


What event has been your favorite?
Probably the art show.   Amazing to see all the artwork we gather.  Our kids are great!