---
What Can Art Docents Sign Up for Right Now?
(click the Online Signups button below to login)
4th Grade Drawing Workshop 2016-17
​
2017.01 Van Meter, Lesson 3
2017.01 Blossom Hill, Lesson 3
2017.01 Daves Avenue, Lesson 3
2017.01 Lexington, Lesson 3
​
2016 General Meeting Refreshments
Coming Soon...Classroom Signups for next month
will be available at the General Meeting​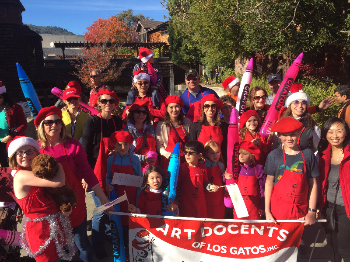 ​
​
Los Gatos Children's Christmas/Holiday Parade 
​
More than 20 people–including docents, family and friends–walked behind the Art Docent banner in the Los Gatos Children's Parade on Dec. 3, 2016. Waving inflated crayons and hand-made flags, participants were greeted by thousands of onlookers as they walked through Los Gatos. The chilly morning was tempered by hot chocolate and warm company. In all, it was a great opportunity to come together and showcase the Art Docent's commitment to our community.
.
---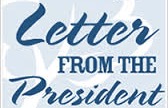 Time flew in 2016 and the new year is here. My wish for you this year: may you never stop your curiosities. May you relish the liberty of dabbling in what excites you, what fascinates you, and what you love. And through 2016, and onto 2017 may the Art Docents continue to unravel the possibilities and endless opportunities for the children of Los Gatos to reach their full artistic potential.
In the classroom, time flies fast where the children get the thrill of developing a sense and appreciation for great works of art. They acquire knowledge in a joyful way of reaching beyond their comfort zone. May we all keep on learning, stretching our minds and challenging our imagination! Here are our awe inspiring community December events:
Art Docent Holiday Luncheon on December 13
Lights of Vasona Holiday bus ride on December 8
Los Gatos Children's Holiday Parade on December 3
Wishing you all the best for 2017!  Thank YOU!
Happy Holidays!
Michelle Abene
President
Art Docents of Los Gatos

---
12/13: Annual Holiday Party 

AD Office Closed: Dec 22-Jan 6 Winter Break

AD Office Closed: Jan 16 Observance of MLK

1/17: General Meeting 
---
---
---
​Upcoming Events 2016-2017
Click on links above for each event at artdocents.com 
Please contact Sue W. to let her know if you would like to help out in any way.
---
---
Tour JCO's Warehouse Gallery Space


Tuesday, January 24, 2017 


​

​Art Docent Julie Jenkins has invited us to JCO's new warehouse gallery space on University Avenue, across from Vasona Park.

 What will be on exhibit is TBD.  The visit will be announced at the General Meeting on 1/17.  There will not be a visitor limit or a fee.  



Click here to rsvp for the tour!
---
---
---
 All 18 trainees are on point to graduate.  They have been working hard.  
This class has observed more print presentations
and helped with more workshops than any other class.  
This may also be the first class that has stayed together from start to finish.
Week Seven 
The Trainees came to class prepared with questions regarding
their homework assignment that introduced them to the
Committee Description & Selection form.  
Executive board members visited expressing the organization's needs,
and provided in depth descriptions of specific jobs.
They also shared the fulfillment received from volunteering
and being a part of an exciting, every growing organization.  
After break docent Stacey C. taught the California Architecture - 4th grade, January lesson, digital format. Her presentation inspired a trainee to learn the digital format for their final full print presentation.
Week Eight, Nine and Ten 
Every minute of class time during the last three weeks are filled with K - 5th grade full print presentation.  This year a Full Print Evaluation Form was created. Each trainee receives a thorough critique from all three trainers. This will not only make them aware of their strengths but also areas that may need improvement.  
Celebrations - The graduation class of 2016 will attend a Thank You Luncheon after their last class.  The luncheon is hosted by the trainers to show their appreciation to the trainees for their commitment, drive and desire. They have truly been a remarkable class.  
The entire docent organization will have the opportunity to
congratulate our newest members at the
Graduation/Holiday Luncheon on Tuesday, December 13th.
 
They are very excited to meet all of you.
Special Thanks!
---------
The trainers want to thank
all the docents who helped us this year
with the training class.  
We could not have done it without you.  
Not once were we denied a request for help.  
Our success, the trainees success would not have been possible
without our many hands working together.  
Thank you so very much.  
Your kindness was greatly appreciated.
​Mary, Sue and Traci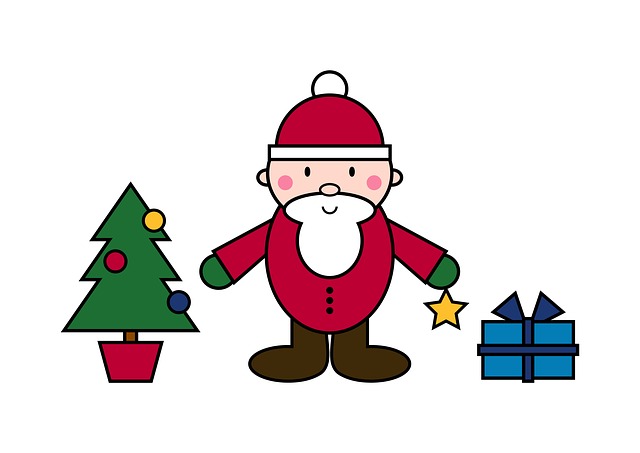 ---
IT  - Information and Technology
 Thanks to our donations and fundraising
we were able to update our office technology....both at our

Art Docent Kiosk
where docents may sign up online
for the many presentations we give

and our

Art Docent Projector
where we train, have better visuals during
all of our general and board meetings

​Look for our new additions to our Art Docent Office. 

​Let us know:

 If a link doesn't work

 or if you see something on the website that needs an edit ....LET US KNOW!   Send Stefanie and email at

artdocents@me.com


​We appreciate your help in keeping our website up to date.

Online Signups:

  We will be going online with our classroom presentation sign ups this year.  Please come to the General Meeting to get more information.  

Sign ups will be available first at the General Meeting (as we have always done).  

Once the meeting is over, we will post them live on the website.





Calendar Online

:  You can see our Art Docents Calendar online now.  

This includes meetings & events. Only docents will be able to see classroom presentation times and schedules,which are available under the "docent login" page from the website.​
Google Calendar:  
If you have a Google account you can easily add this calendar to your own by adding 
artdocentsoflg 
(all one word) in the "add a friend's calendar" box from your own calendar.

---
---

​
Friday, April 28, 2017 – Annual Chocolate, Art and Music Evening 
May 1-4, 2017 – Annual Student Art Show
Opportunities for High School Students -  Form a club:  

The Art Docents of Los Gatos will assist you with material for Club Day at LGHS, including table set up materials, sign up sheets, marketing material, balloons, etc.