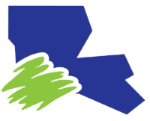 Southwest Louisiana Area Health Education Center
September 28, 2017
---
SWLAHEC's CEO Retiring
SWLAHEC's CEO for the past nine years, Margaret "Bootsie" Durand, MS, has announced her plans to retire at the end of 2017. A search has recently begun for her successor.
 
The CEO is responsible for overall leadership and management of SWLAHEC, a non-profit organization primarily serving 13 parishes, with offices in Lafayette and Lake Charles. The successful candidate will work closely with a board of directors and staff to develop and implement strategies that support the agency's mission and goals. The CEO represents the organization on the regional, state and national level to address the challenges unique to recruitment of the healthcare workforce and wellness status of southwest Louisiana populations.The position is based in Lafayette.
 
For more information on this opportunity, visit the SWLAHEC web site at www.swlahec.com and click on Employment Opportunities.
---
Well-Ahead Louisiana Receives
Wellness Frontiers Award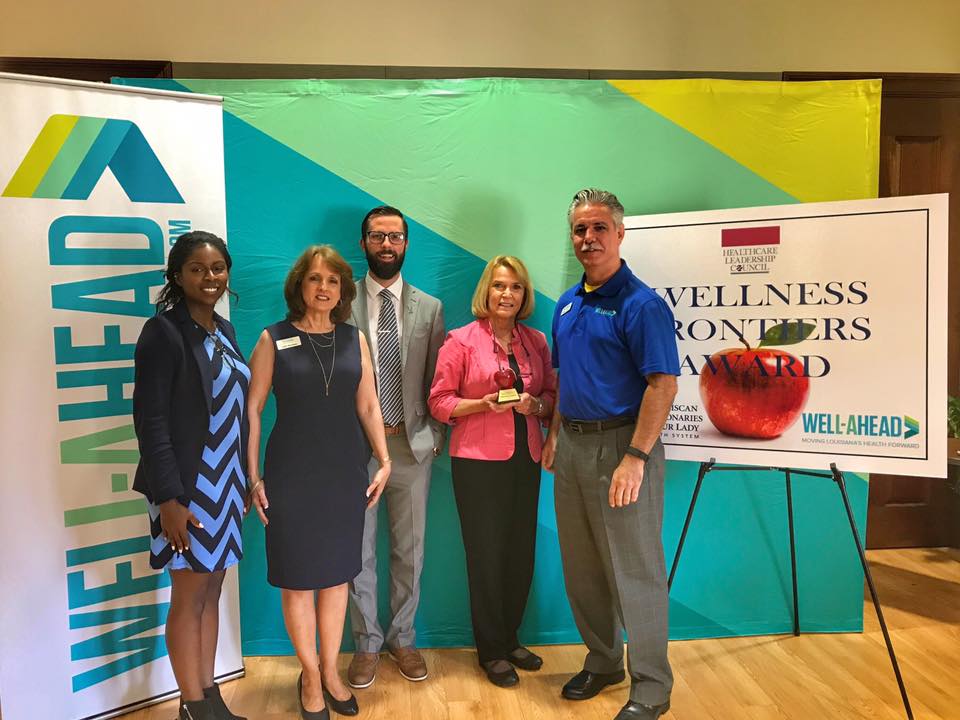 Members of SWLAHEC's Well Ahead crew attending the Wellness Frontiers Award  ceremony on August 22 were
(l to r) Cassie Dixon, Taffy Morrison, John O'Donnell, CEO Bootsie Durand and Bradley Cruice.

This summer, Well-Ahead Louisiana was selected as the recipient of the Wellness Frontiers Award by the Healthcare Leadership Council (HLC). This prestigious national award was created by HLC to promote best practices and draw attention to existing wellness initiatives that demonstrate excellence and quality. Well-Ahead Louisiana earned this award for making the healthy choice the easy choice in spaces and places across Louisiana with its WellSpot Designation Program.

Eligible recipients of the Wellness Frontiers Award are organizations of any size from the governmental, public, or private sectors (or a partnership that combines multiple sectors) that are implementing an evidenced-based wellness program that prevents chronic disease and improves the well‐being of a population.  SWLAHEC has been a proud partner of Well-Ahead Louisiana since 2015 and hosted a site visit during the judging phase of the competition.

The award was presented on August 22, 2017, at the Franciscan Missionaries of Our Lady Health System Corcoran Conference Center in Baton Rouge. Speaking at the event were: U.S. Senator Bill Cassidy, MD, Congressman Garrett Graves and the Louisiana Department of Health Secretary, Rebekah Gee, MD.  Additionally, SWLAHEC staff member John O'Donnell addressed the success of Well-Ahead's WellSpot Designation Program in the Lake Charles area and several WellSpots spoke to the benefits of their organizations being designated as WellSpots. Presenting the award was Mary Greely of HLC and accepting the award on behalf of Well-Ahead Louisiana was Director Melissa Martin.

---
SWLAHEC Health Insurance Navigator Program Cut Severely
LA AHEC Navigators were prepared for the next grant year which was to begin on September 2nd, 2017. SWLAHEC had been notified in June by the US Centers for Medicare & Medicaid Services that the organization would receive the same $1.07 million in funding for 2017/2018 as in 2016/2017. However, the day before the 2018 grant cycle was to start, CMS sent out a press release announcing two dramatic cuts to the Affordable Care Act. The first announcement was that CMS was cutting funding for advertising for the ACA from $110M in 2016 to $10M in 2017. The second announcement was that grants for the 100 Navigator groups would be reduced from $63M to $32M. Since no award letter or funding announcement had been received by September 5, SWLAHEC and the other two AHECs in Louisiana had to furlough 19 AHEC staff members for seven days until the new award amount was announced.

On September 13th, SWLAHEC was notified that it would receive a 72% reduction in funding, making the new award $297,349. Since most of the Navigator funds cover salaries and benefits, SWLAHEC and its partners, Central LA AHEC and Southeast LA AHEC, had to lay off 13 Navigators effective immediately. This left the Navigators for a Healthy Louisiana Project with only five Navigators to cover the areas of Lake Charles, Alexandria, Lafayette, Baton Rouge, and New Orleans. The only other Navigator entity in LA, which covered Baton Rouge area, received a 98% reduction going from $500K to only $10K. That organization declined the $10K grant and has ceased Navigator services for the Capitol Area. Because of the cuts, no Navigator services will be offered for North LA, the I-12 corridor and all areas east of Baton Rouge (with the exception of the New Orleans area). 

SWLAHEC's Navigator Program Director Brian Burton stated, "Unfortunately, the only practical path forward was to downsize dramatically. The large cut was unexpected, as the Navigators for a Healthy Louisiana Project was seen as a model of excellence by CMS and they were even referred to as 'Uber Navigators'. Louisiana is now ranks 3rd in the nation when it comes to insured citizens." He concluded by stating "We will continue to work with the resources we have to make sure that as many consumers as possible have access to in-person assistance for the next open enrollment period, which begins November 1st and ends December 15th, 2017."

---
Project LAUNCH LA Issues $30,000 in Mini Grants
Pictured (l to r): Greg Cart, SWLAHEC, Sebreana Domingue, Project LAUNCH, Patti Endsley, UL Child Development Center, Marie Collins, The Family Tree/Healthy Start, Susan Arceneaux, UL Child Development Center, and Anthony Luczak, Iberia Comprehensive/Surrey Street Clinic. Not pictured is Lafayette General Foundation of Lafayette General Health, the Vermilion Parish School Board and the UL Lafayette Picard Center for Child Development.
SWLAHEC & Project LAUNCH LA provided six mini-grants to community agencies in the Acadiana area to help foster programs that promote social/emotional health and the well-being of children and families. The 2007-18 recipients and their programs included:
 
Lafayette General Foundation of Lafayette General Health - Comprehensive Pediatric Care Coordination for Better Outcome is designed to supplement the current efforts towards screening and diagnosis of developmental, behavioral, and mental health conditions for children from birth to age eight at the UHC Pediatric Clinic.
 
UL Lafayette Child Development Center - Attachment Vitamins: A Parent's Guide to the Young Child's Emotional Life is an evidence-informed parenting education program developed by UCSF's Child Trauma Research Program, and provides caregivers with knowledge about early emotional development and the effects of stress and trauma so that parents can understand better their children's needs, respond sensitively to challenging behaviors, and strengthen the parent-child relationship.
 
Iberia Comprehensive Community Health Center/Surrey St Community Health Center Extension Site - Education and Literacy outreach in the Primary Care setting: Primary Care Reading Initiative PCRI Phase II: Barbershops is designed to help these trusted community leaders provide positive to facilitate relationships that can build literacy and resiliency in the children that participate. Barbers will get an understanding of the importance of literacy in promoting positive outcomes, and discussion and awareness of ACES as well as the need to encourage positive coping in the community.
 
Vermilion Parish School System - Ready, Set, Grow!, provides social, emotional and behavioral health services to children through a research based curriculum program.

UL Lafayette Child Development Center - What is it and how do we avoid Adverse Childhood Experiences?, it will allow the student childcare center to provide training and materials to educate staff and parents on the social and emotional well-being of children and give them tools to support children in their development
 
The Family Tree/Health Start - Community Lunch-n-Learn Training Series is designed as a series of trainings that relates to the average adult community member.