NOVEMBER 2018 E-NEWSLETTER
This has been an amazing month filled with all the things that makes USL such a special place to learn: Exit Polling, our annual family potluck at the Holiday Festival of Lights, Trident United Way's Day of Caring, guest speakers galore, and so much more. We hope you enjoy reading some of the highlights below.
Another thing that makes USL unique is that
we have PE every morning
! Before our students dive into academics or even their weekly field trip, we make time to exercise. Why? Dr. John Ratey's research proves that there is a direct correlation between vigorous exercise and the brain's ability to retain information. Need more evidence?
USA Today recently published a story
highlighting that only 1 in 5 teens meet the new federal guidelines for physical fitness. We believe in creating well-rounded students who will become tomorrow's engaged citizens, and that includes instilling life-long, healthy habits now!
2018 EXIT POLLING LOTC TEACHES MANY LESSONS
Exit polling is an annual tradition for University School students, providing opportunities to learn about civics, candidate platforms, elections, voter turnout, probabilities and statistics.
On November 6th we collected approximately 2,000 exit polls from voters at 28 precincts in Charleston and Berkeley counties. Students commented most about the long lines they saw this year and the friendly voters they encountered. Once they finished polling, students returned to USL to tabulate their results and make predictions about each race.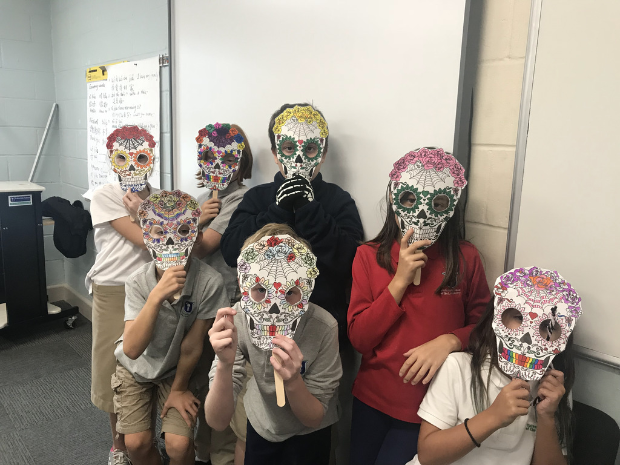 SUBJECT SPOTLIGHT:
Intermediate School Spanish
At USL, every 3rd-5th grader takes Spanish. Mrs. Goldberg, a native Spanish speaker from Toledo, Spain, uses a fun, hands-on approach to help our students learn vocabulary and conversation skills. She also integrates lessons about Spanish-speaking cultures and traditions into each class.
On October 31 & November 1, students explored Dia de los Muertos (Day of the Dead). Killian, a 4th grader, shares, "We learned about customs like sugar skulls and discovered that each color has a different meaning." 
Holiday, also a 4th grader, enjoyed the art project that accompanied the lesson--making her own mask (pictured above)!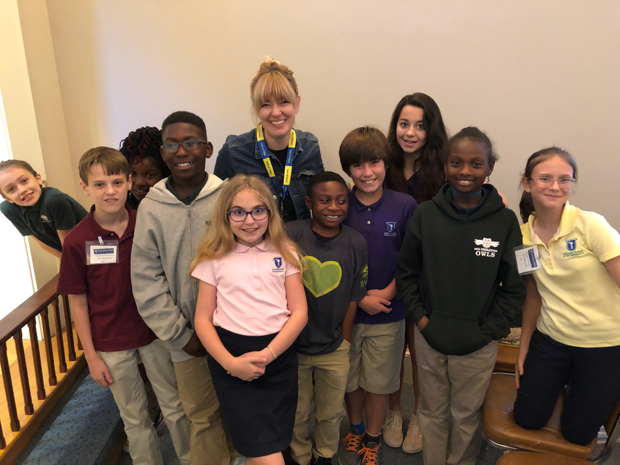 DID YOU KNOW?
Our Learning Outside the Classroom program incorporates weekly off-campus field trips, but it also includes guest speakers and cultural performances that we host right on our campus. 
In the past 30 days we've heard from The League of Women Voters, Rabbi Adam Rosenbaum of Synagogue Emanu-El, Fred Timmons from The American Legion Post 136, and two YALLFest authors--Adib Khorram and Corrie Wang!
We also hosted an amazing drum and dance troupe from Senegal, and we shared this experience with our friends from Hibben Preschool, Meeting Street Academy, The Palms Senior Living Center, Charleston's homeschooling families, and several other school groups.
Join us in January for our next performance!
L
​WHY UNIVERSITY SCHOOL OF THE LOWCOUNTRY?
​
"It's not just the education that makes this school special. It's the way they teach you to become a better human and help with whatever problem the world throws at you. This is my 2nd year here and the amount of support I have been provided has not changed since I walked in the school last year. I'm very happy to be at University School!"
- Riley White, USL 6th grader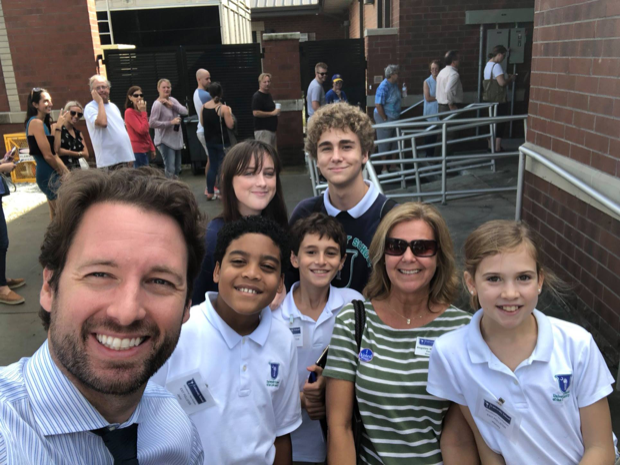 JUST PICTURE A SCHOOL WHERE YOUR CHILD...
Explores the world through hands-on learning in the classroom & 30+ field trips each year

Contributes 50+ hours of service to the greater community

Earns high school credits as a middle school student, if desired

Develops meaningful and long-lasting relationships with faculty
Receives financial aid for up to 90% of tuition, based on need
​6:00-7:15 p.m.
RSVP to (843) 884-0902 or jhubbard@uslowcountry.org
​
Share this with a friend whose high-achieving, kind, and curious child might thrive at University School.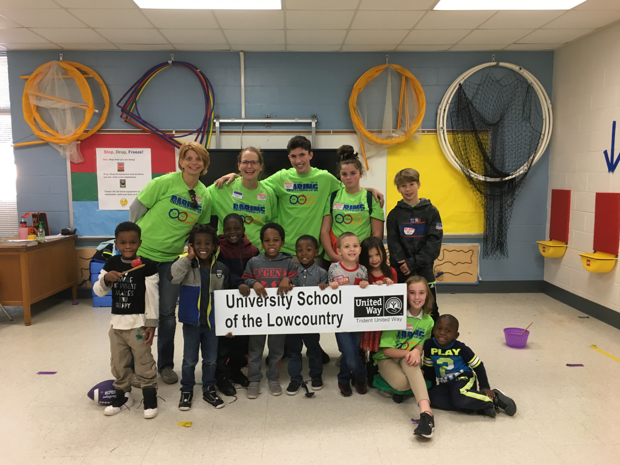 LOTC Reflection: Trident United Way's Day of Caring
Every year USL sends teams of students, faculty, parents, alumni, and mentors to help with projects across the Lowcountry as part of Trident United Way's annual Day of Caring. This year we supported activities at 13 sites--everything from painting to landscaping and reading with students to sharing lunch with senior citizens. Henry Gilmore, a 6th grader who helped at South Santee Senior Center shared this about his experience:
"Mrs. Norris, Mrs. Zollars, Will, Carter, and Nate were in my group. We cleaned the center's buses, put up holiday decorations, and raked leaves. I learned that helping people is a valuable skill in life, especially when you can make someone feel better. Day of Caring was fun, and it was nice to see how grateful the people were."

UNIVERSITY SCHOOL OF THE LOWCOUNTRY ADMISSIONS 
If you or your child think a different learning environment might be beneficial, don't wait until next year to make a change. We are always willing to accept transfer applications for this school year.
If your student has not participated in a Shadow Day, please reach out to us about scheduling this important step of the admissions process. There are several additional steps to be completed, including securing teacher recommendations, testing, and submitting an application. We operate on a rolling admissions basis, and you can find all the details about applying on our website.
You are encouraged to call us at (843) 884-0902 or email info@uslowcountry.org with questions.
University School of the Lowcountry (USL) is a non-profit, 501 (c)(3) tax-exempt independent school serving students from third through 12th grade. USL is a non-sectarian school for high-achieving, nice, curious students emphasizing individualized academics, experiential learning, and a strong sense of community. USL is accredited by the South Carolina Independent School Association and is celebrating its 12th year of serving children and families throughout the greater Charleston area.