Today marks the final day of our 11th academic year, and we have so much to celebrate.
Readers from Lowcountry Parent Magazine voted us the Best Private School in the area, and we also earned runner-up status for Best Elementary School. It's our dedicated students, creative faculty, and engaged families & alumni that make USL so special, and without whom these awards would not be possible. 
Our 2nd class of high school seniors graduated yesterday, and they are prepared to take on their next adventures at Appalachian State University, College of Charleston Honors, Flagler College, Furman University, and Ohio Wesleyan University Honors. We wish them well!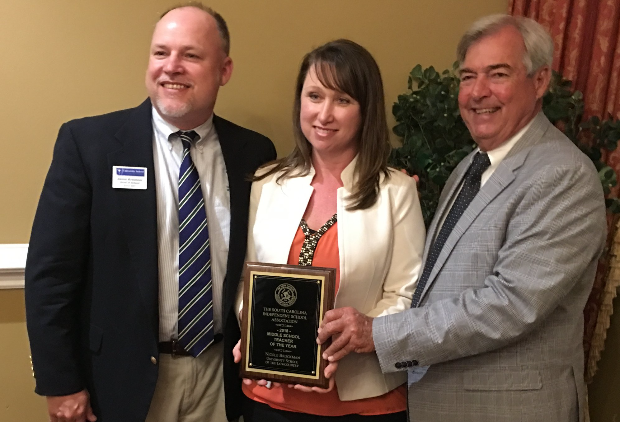 SCISA MIDDLE SCHOOL TEACHER OF THE YEAR: NICOLE BROCKMAN
There's even more for us to celebrate this month! Our very own Mrs. Brockman, whom the students affectionately call "The Brockmonster" was recently named the South Carolina Independent School Association's Middle School Teacher of the Year. 
Mrs. Brockman is our Math Department Chair, and she does an amazing job customizing her approach to teaching so that every student can reach his or her full potential. She helped us start our chess club and has led us to 4 SCISA Math Meet championships. We are so glad to have her as part of the USL family.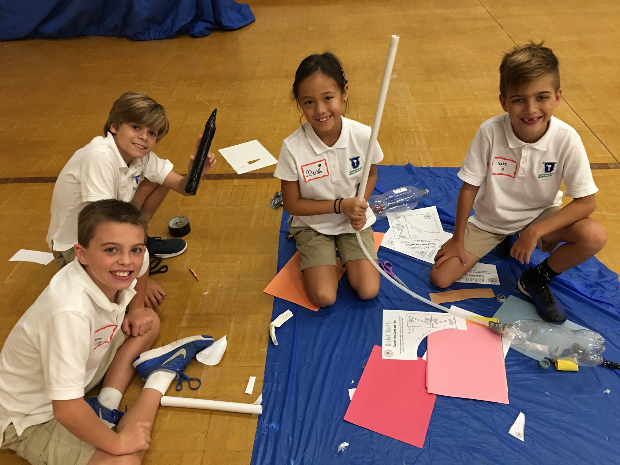 DID YOU KNOW?
We have some fun activities planned throughout the summer to help us stay connected--current students, incoming students, and prospective students are all encouraged to join us! All activities are 10 a.m. to noon, except where noted. 
More details will be shared soon, but please save the date for:
June 13: Art with Ms. Zollars
June 20: Challenge Island (9-10 a.m.)
June 23: Charleston Battery Soccer Game (7 p.m.)
July 25: Art with Ms. Zollars
August 8: The Art Place Studio Pottery Painting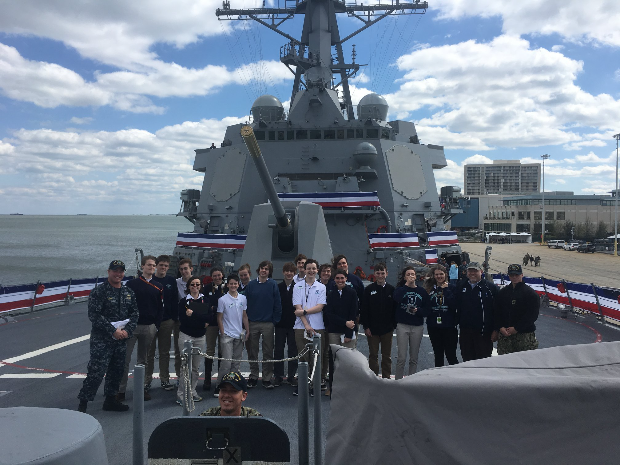 Final Open House before Summer Break is Thursday, May 24
If you have a student in 3rd-12th grade who is smart, curious, and kind, University School of the Lowcountry could be an ideal place for them to learn and grow. We hope you'll join us on Thursday, May 24, for refreshments, conversation, and a chance to learn more about University School of the Lowcountry. 

The event will begin at 6 p.m. at USL's campus (690 Coleman Blvd. in Mount Pleasant), and interested families are welcome to drop by and learn more. There will be a formal presentation from 6:15-7 p.m., and there will be time beforehand and afterward for you to ask questions about our experience-based learning, individualized academics, leadership & life skills focus, or anything else you might want to know more about. There will even be time for a quick tour if you'd like to see more of our learning environment. We look forward to meeting you and showcasing how at USL, the world is our classroom! 

If you have a moment, though it is not required, we appreciate your RSVP to
Judy Hubbard
 or 843-884-0902 if you plan to attend.

​​
*Note: The unprecedented traffic related to the closure of I-526 resulted in many people not being able to attend our May 14th Open House, so we've scheduled this event as an additional opportunity to come explore our award-winning school!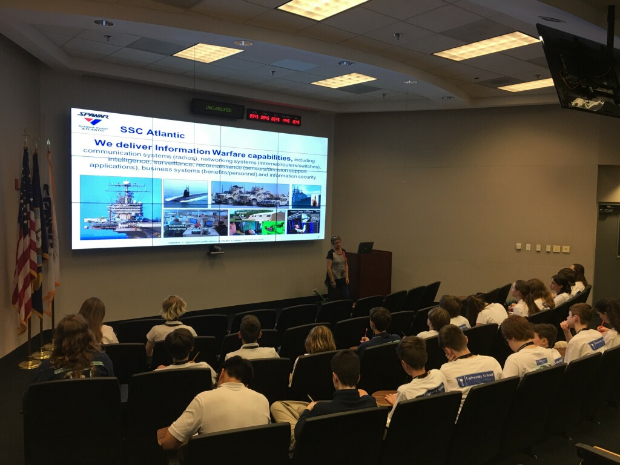 STUDENT REFLECTION:
SPAWAR LOTC
On one of the final LOTCs of the school year, a small group of our Middle and Upper School students had the chance to explore SPAWAR, the Space and Naval Warfare Systems Command. Students were able to explore four different projects that employees were working on, 
including monitoring Twitter for bots generating negative info about NATO, using augmented reality to find a small transmitter, using electrodes to monitor brain activity, and testing a satellite. The students were also able to explore Air Traffic Control.
Charlotte Adragna shared the following reflection about her experience: 
"I found my first room the most interesting. They were working on a small satellite that was faster and cheaper to make. It surprised me that since it was cheaper, they don't spend as much time running tests. It was cool to see the way they decided to have the satellite move. They used small tubes that would spin quickly in order to turn the satellite.
Most of the air traffic control equipment looked outdated, which it was, but it was surprising to me when it was explained that there is always new equipment being made and by the time they install it to every place, there is new equipment to be installed. They showed us a new tracking system, that can track planes up to thirty miles out. We then looked at the weather tracking, including a machine that checked how foggy it was, a machine that could tell if it was raining or snowing, and a pole that could tell wind speed and direction. What was surprising to me was that it is all computed in what looked like a small box for all of the information."
L
​WHY UNIVERSITY SCHOOL OF THE LOWCOUNTRY?
​
"At USL, the teachers will stay after school to help you and get to know you, and their caring and attention has been instrumental in making me feel like I'm in the right place."
- Stella Childress, spoken during her 8th grade graduation speech
USL IN ACTION: OUR MONTH IN PHOTOS
UNIVERSITY SCHOOL OF THE LOWCOUNTRY ADMISSIONS 
If you're considering USL as a possibility for your child beginning in Fall 2018, we encourage you to start the admissions process now.

If your student has not participated in a Shadow Day, please reach out to us about alternative options for completing this step during the summer months. There are several additional steps to be completed, including securing teacher recommendations, testing, and submitting an application. We operate on a rolling admissions basis, and you can find all the details about applying on our
website
.
You are encouraged to call us at (843) 884-0902 or email info@uslowcountry.org with questions.
University School of the Lowcountry (USL) is a non-profit, 501 (c)(3) tax-exempt independent school serving students from third through 12th grade. USL is a non-sectarian school for high-achieving, nice, curious students emphasizing individualized academics, experiential learning, and a strong sense of community. USL is accredited by the South Carolina Independent School Association and is celebrating its 10th year of serving children and families throughout the greater Charleston area.