This has been a year filled with so many adventures, and we're not done yet! Our Upper School students will embark next month on their annual trip, this year to Toronto, Canada. We still have many exciting LOTC (Learning Outside the Classroom) experiences to come as well, including our annual Spring Service Day. On April 10 we're hosting the African Dance and Drum Troupe at 10 a.m., and you are welcome to join us for this special cultural performance. We continue to focus on "learning by doing," because we believe that experiential learning significantly impacts the success of our students once they leave USL!
Please take note of the following dates in the life of our school community and know that you are invited to participate in any or all of them:
April 10: African Dance and Drum Troupe from Senegal at 10 a.m.
April 27: World Languages Day starting at 10 a.m.
May 5: USL's Annual Auction
May 9: 8th Grade Graduation
May 21: High School Commencement Ceremony
WE HAD A VERY HAPPY PI DAY!
Pi Day is celebrated annually around the world on March 14. The Greek letter Pi is used in mathematics to represent a constant, the ratio of the circumference of a circle to its diameter. It's approximately 3.14, thus the March celebration, but it has actually been calculated to over 1 trillion digits beyond its decimal point!

At USL, our math teacher Mrs. Brockman organizes a favorite annual tradition to celebrate the day: the Pi(e) Eating Contest. Congrats to Conor Seng for eating the most pie and earning a place on the coveted Pi Day Pie Eating Champion's Belt!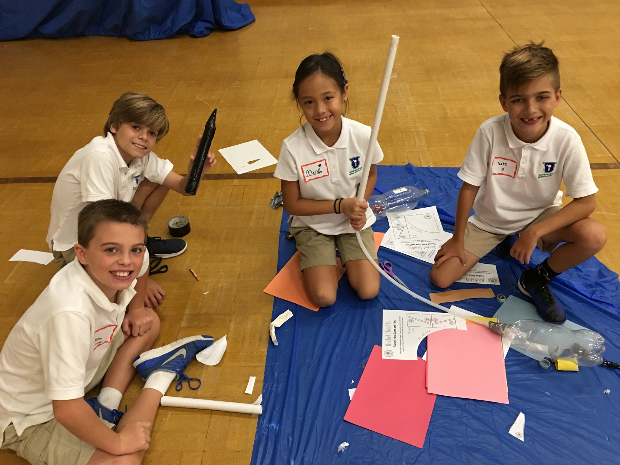 YOUNG EXPLORERS CAMP REGISTRATION IS OPEN!
This summer we are looking forward to offering our very first Young Explorers Camp here at USL.
For current students, it will be like the USL they all know and love with even more FUN added in! 
For incoming students or students considering attending USL, it will be a great way to get to know some future classmates and teachers. 
Many of our teachers will join us during the week to lead fun activities, giving students a chance to get to know them in a relaxed summer setting. Camp will also include hallmark aspects of University School like exercise to start our day, as well as fun and compelling field trips. 
Camp Details
June 4-9, 9 a.m. to 4 p.m.
Cost: $200
Rising 3rd-5th graders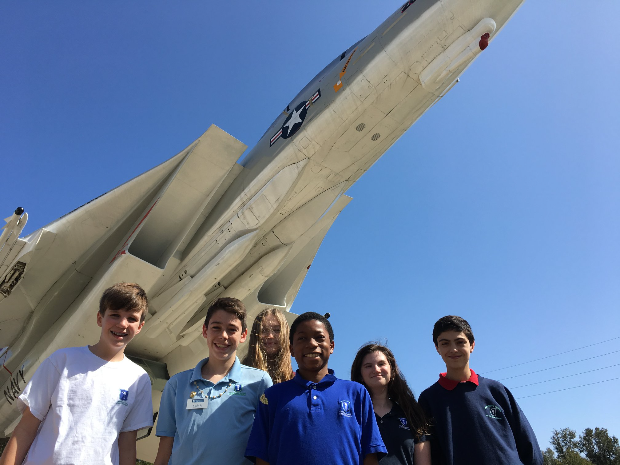 LOTC STUDENT RECAP:
Middle School Trip
​This year's middle school trip took students to the following locations in Alabama and Florida: Poarch Band of Creek Indians Museum, USS Alabama Battleship Memorial Park, Basilica of the Immaculate Conception, Gulfquest Museum of the gulf of Mexico, National Naval Aviation Museum and Naval Air Station Pensacola, Mission San Luis, Florida State University & the National High Magnetic Field Laboratory, Tampa Bay Times, Pinecraft (Amish vacation spot), Kennedy Space Center, and Castillo de San Marcos.
Each student had a favorite stop, including Evan Williams, who
 enjoyed spending time at the National Naval Aviation Museum and Naval Air Station Pensacola. He was able to see aircraft from WWII, including some Japanese and German planes, but his favorite part of the experience was learning about the Blue Angels.
"I absolutely love the Blue Angels, and it was so interesting to learn more about them in this museum. They had multiple simulations that reenacted fighting, flying, landing, takeoff, and what they have to go through when they're are reaching a higher altitude," said Williams.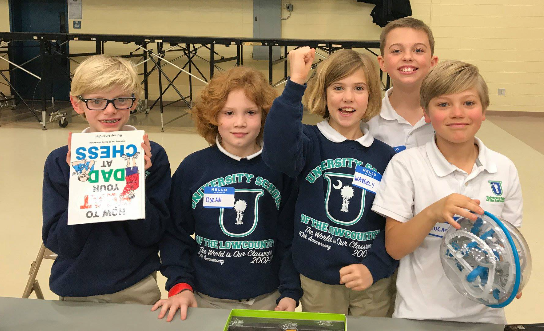 ↵BBBbbB
Open House: Thursday, April 12
If you have a student in 3rd-12th grade who is smart, curious, and kind, University School of the Lowcountry could be an ideal place for them to learn and grow. We hope you'll join us on Thursday, April 12 for refreshments, conversation, and a chance to learn more about University School of the Lowcountry. 
The event will begin at 6 p.m. at USL's campus (690 Coleman Blvd. in Mount Pleasant), and interested families are welcome to drop by and learn more. There will be a formal presentation from 6:15-7 p.m., and there will be time beforehand and afterward for you to ask questions about our experience-based learning, individualized academics, leadership & life skills focus, or anything else you might want to know more about. There will even be time for a quick tour if you'd like to see more of our learning environment. We look forward to meeting you and showcasing how at USL, the world is our classroom! 
If you have a moment, though it is not required, we appreciate your RSVP to Judy Hubbard
 or 843-884-0902 if you plan to attend.
​​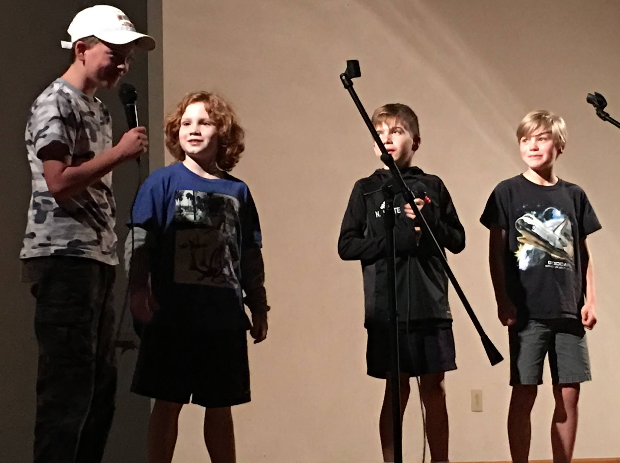 DID YOU KNOW?
We host a variety of events throughout the year that bring students, faculty, alumni, mentors, and families together. As a small school, these gatherings play an important role in our culture. We value the opportunity to get know people, learn from one another, and have fun together. Fostering a true sense of family amongst our student body and the entire USL community is very important to us.
This month, 
we hosted our annual Potluck Dinner and Talent Show. We all enjoyed the conversations and wide array of foods during the meal portion. Afterwards, the student-produced show included skits, songs, dancing, poetry recitations, musical performances, improv, two talented MCs overseeing the evening, and a great support crew.
Performing in public doesn't come naturally to everyone, and we are so proud of our students for working to build their confidence through opportunities like participating in the Talent Show!
L
​WHY UNIVERSITY SCHOOL OF THE LOWCOUNTRY?
​
"Today, I am still using the skills I learned at USL. My public speaking and speech-writing skills allowed me to earn a position on Student Government that I have loved! This is also due to my intrinsic desire to study politics, one that originated in morning Life and Leadership classes. A love of mentoring found me a spot as a University 101 Peer Leader, and a dedication to service led me to join GIVE, a student volunteer organization on campus. I attribute all of this to the skills, lessons, values, and morals I learned at USL. I cannot thank you enough for what USL has taught me."
- Lily Frain, '12 MS graduate, Sophomore at the University of South Carolina
USL IN ACTION: OUR MONTH IN PHOTOS
UNIVERSITY SCHOOL OF THE LOWCOUNTRY ADMISSIONS 
If you're considering USL as a possibility for your child beginning in Fall 2018, now is a great time to start the admissions process. There are several steps to be completed, including participation in a Shadow Day, securing teacher recommendations, testing, and submitting an application. We operate on a rolling admissions basis, and you can find all the details about applying on our website.
In addition, we always welcome mid-year transfers to University School of the Lowcountry. If your child is not thriving in his or her current education environment, don't wait until next year to make a change. You are encouraged to call us at (843) 884-0902 or email info@uslowcountry.org with questions.
University School of the Lowcountry (USL) is a non-profit, 501 (c)(3) tax-exempt independent school serving students from third through 12th grade. USL is a non-sectarian school for high-achieving, nice, curious students emphasizing individualized academics, experiential learning, and a strong sense of community. USL is accredited by the South Carolina Independent School Association and is celebrating its 10th year of serving children and families throughout the greater Charleston area.