FEBRUARY 2018 E-NEWSLETTER
Our Middle School students have just returned from their annual trip, which took them to Alabama and Florida over 6 days. More than just a "vacation" from school, this trip, like all of our Learning Outside the Classroom experiences, was designed to help the students make connections between what they've studied in textbooks and what's happening in the world around them. From visiting the Kennedy Space Center and important military sites, to touring Florida State University and visiting with a Tampa Bay Times reporter, our students had many unique experiences and learned so much! Stay tuned to our social media channels and next month's E-news for more reflections on their travels.
Looking ahead, please Save the Date for our 11th Annual Auction on Saturday, May 5th! We've planned a fun night of food, music, and auction items to help support our one-of-a-kind school. Get preliminary details and purchase tickets here!
You can also help us kick-off the auction preparations on Thursday, March 8 from 6-8 p.m. at Crushed Fine Wine (716 S. Shelmore Blvd. #101, Mount Pleasant, 29464) with a USL Ladies Wine Night. The tasting is $20, and it includes a $5 credit toward your purchase of wine that night. Come support our school, buy some wines for you or the auction, and have some fun!
USL STUDENTS PERFORM AT LOWCOUNTRY CHINESE NEW YEAR CELEBRATION
All of our Intermediate School students take Mandarin Chinese classes with Ms. Wei Ma as part of our Global Languages curriculum. In addition to learning the written and spoken language in class, several of the students also participated in The Chinese Association in Greater Charleston's Spring Festival and Chinese New Year celebration. The students performed a ribbon dance and enjoyed learning more about the Chinese culture and traditions.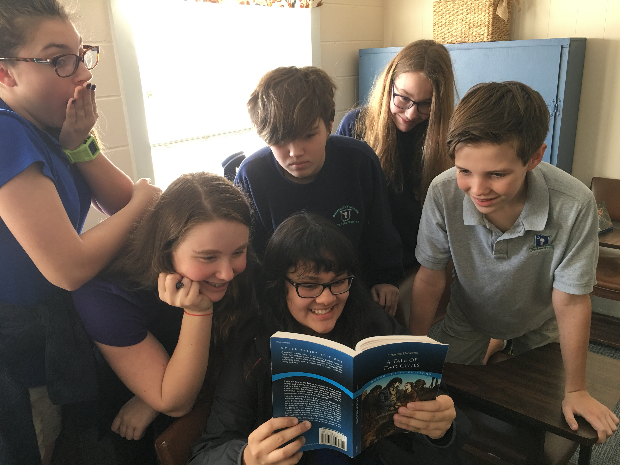 SUBJECT SPOTLIGHT: 

​MS Humanities
At University School of the Lowcountry, our Humanities classes combine history and language arts to teach students writing, reading, speaking, and listening skills.
In our Middle School, topics are taught on a three-year cycle: Pre-Civil War US History, Post-Civil War US History, and Modern European History/Ancient Greece, Rome & civilizations of the Mediterranean.
These topics are introduced by our MS Humanities teacher, Ms. Mandy Norris in an interactive environment.
She shares, "

During a typical class, we view video clips from the current historical period, review current events, read from the textbook, take notes on the text, work with our peers to analyze the reading of the novel, journal, and engage in many class discussions."
In recent months, our MS students have read Frankenstein and studied Absolute Monarchs of Europe, as well as learned about the French Revolution and read A Tale of Two Cities.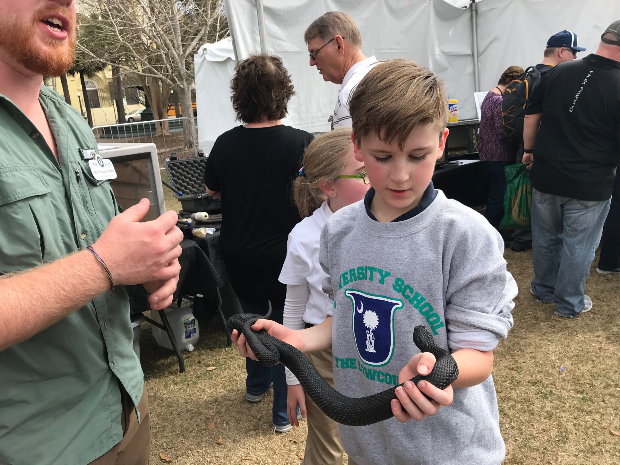 LOTC STUDENT RECAP:
SOUTHEASTERN WILDLIFE EXPOSITION
​Experiencing SEWE is an annual USL tradition, and below, a few students share their favorite parts of the day:
"Throughout my years attending SEWE, I have learned so much about ecological preservation. I really love going through the tents and visiting the exhibitions, especially the Mining Association of South Carolina and the Charleston Water Keeper."
-- Kennon Saad, 12th grade  
"At SEWE there is a food tent, my favorite. At the food tent you get to try out new foods; some might even be from different countries. If you like the food, you can buy some."      --Lucas Helferich, 4th grade
"I love seeing the Birds of Prey exhibit. It's interesting to see how many different species of birds live in South Carolina, and how turkey vultures keep our state clean. I'm always interested in learning more about what the Birds of Prey staff and volunteers to do keep birds alive in South Carolina."      -- Miko Crowley, 11th grade​​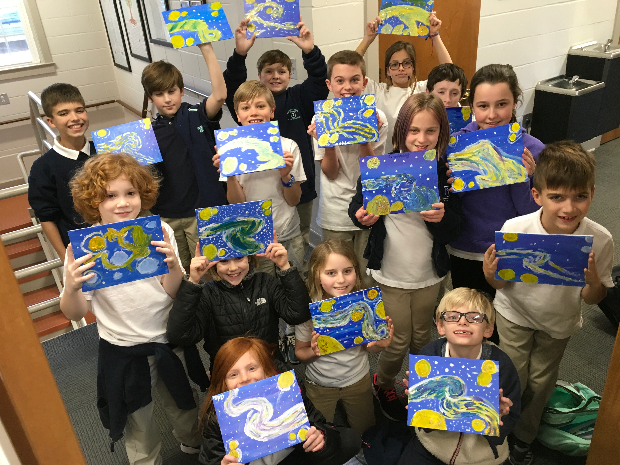 ↵BBBbbB
Open House: Monday, March 5
If you have a student in 3rd-12th grade who is smart, curious, and kind, University School of the Lowcountry could be an ideal place for them to learn and grow. We hope you'll join us on Monday, March 5 for refreshments, conversation, and a chance to learn more about University School of the Lowcountry. 
The event will begin at 6 p.m. at USL's campus (690 Coleman Blvd. in Mount Pleasant), and interested families are welcome to drop by and learn more. There will be a formal presentation from 6:15-7 p.m., and there will be time beforehand and afterward for you to ask questions about our experience-based learning, individualized academics, leadership & life skills focus, or anything else you might want to know more about. There will even be time for a quick tour if you'd like to see more of our learning environment. We look forward to meeting you and showcasing how at USL, the world is our classroom! 
If you have a moment, though it is not required, we appreciate your RSVP to Judy Hubbard
 or 843-884-0902 if you plan to attend.
​​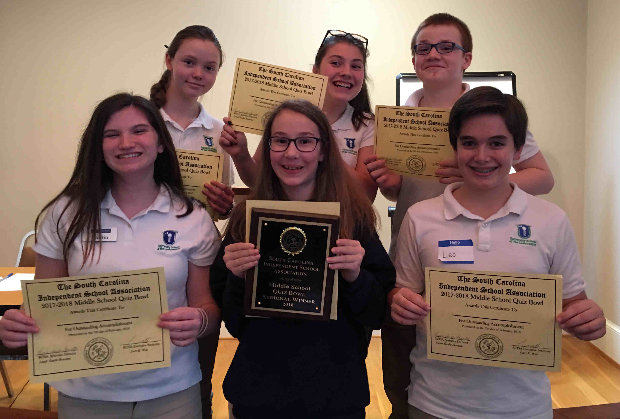 DID YOU KNOW?
​​We offer a variety of clubs for our students participate in after school. They provide great opportunities for them to engage in a different style of learning and to continue building positive relationships with one another.
Our Quiz Bowl Club meets every Tuesday after school and is open to all grade levels. Participants enjoy increasing their general knowledge and competing against their classmates of all ages.
Quiz Bowl Club also presents us with an opportunity to prepare for SCISA (SC Independent School Association) Regional Quiz Bowl Competitions. Earlier this month, our Middle School Quiz Bowl team won their region for the 4th time in 5 years and earned the chance to compete at the state level as well.
Congrats to team members Charlotte Adragna, Bailey Chave, Kessler Kreutner-Eady, Caitlin Parkman, Conor Seng, and Leo Vaglienti, and thanks to fellow USL students Emma Bluestein and Mikhael Douglass for serving as team mentors.
L
​WHY UNIVERSITY SCHOOL OF THE LOWCOUNTRY?
​
"USL has prepared me for college in ways that I honestly never expected. The hands-on experiences taught me how to approach learning from a different perspective. It showed me the value of viewing subjects and lessons not as independent of one another, relevant only to that field, but intersectional and applicable to many situations. I have also found (much to my surprise) that I am one of the most outspoken students in most of my classes. I engage in discussions regularly, something that would have seemed impossible to my 7th grade self, and while I am perhaps not the most effective teacher, I have found that I am able to articulate my thought process enough to help my classmates on occasion. I am immensely grateful for everything that USL has done and continues to do." 
- Allison Horan, 2017 USL Upper School Graduate, USC Honors College Freshman
USL IN ACTION: OUR MONTH IN PHOTOS
UNIVERSITY SCHOOL OF THE LOWCOUNTRY ADMISSIONS 
If you're considering USL as a possibility for your child beginning in Fall 2018, now is a great time to start the admissions process. There are several steps to be completed, including participation in a Shadow Day, securing teacher recommendations, testing, and submitting an application. We operate on a rolling admissions basis, and you can find all the details about applying on our website.
In addition, we always welcome mid-year transfers to University School of the Lowcountry. If your child is not thriving in his or her current education environment, don't wait until next year to make a change. You are encouraged to call us at (843) 884-0902 or email info@uslowcountry.org with questions.
University School of the Lowcountry (USL) is a non-profit, 501 (c)(3) tax-exempt independent school serving students from third through 12th grade. USL is a non-sectarian school for high-achieving, nice, curious students emphasizing individualized academics, experiential learning, and a strong sense of community. USL is accredited by the South Carolina Independent School Association and is celebrating its 10th year of serving children and families throughout the greater Charleston area.