JANUARY 2018 E-NEWSLETTER
After a snowy and icy start, we're finally starting to find our rhythm here in 2018. We're looking forward to a rescheduled Middle School trip to Alabama and Florida at the end of February, weekly LOTCs that will inspire our students to think beyond their textbooks, and sustaining a culture focused on kindness toward and encouragement of one another.
We're also excited to say, "Save the Date" for our Young Explorers Day Camp, coming up June 4th - 8th. We'll be enjoying activities centered on USL's signature "learning by doing" educational philosophy--field trips, leadership & life skills, and games, as well as experiencing the arts, global languages, and science. The cost is $200 for the week, and camp hours will be 9 a.m. to 4 p.m. We will cap participation at 12 students who are rising 3rd through 5th graders, and priority will be given to those who are enrolled or prospective students for Fall 2018. Look for registration details next month!
Last, but not least, we would be honored to have your vote in Lowcountry Parent's 2018 Mom's Choice Awards for Best Private School. Click here, then click the "School & Education" category, scroll down and click "Private School," and then click VOTE next to University School of the Lowcountry! Thank you!
UPPER SCHOOL EXPLORES HEALTHY RELATIONSHIPS DURING SPECIAL LOTC
Reconnecting with our alumni always provides an opportunity for us to reflect on how we can better prepare our current students for life after high school. Many of them expressed a desire to better know how to handle all the new experiences that occur in college, so we've made this a priority moving forward.

Our Upper School students recently participated in prevention training with Darkness to Light, which helped them learn about setting boundaries. They also had some additional hands-on personal safety training with Charleston Krav Maga, which reinforced the skills they learned at the beginning of the school year.
We're confident that this experience will benefit them in the future, and we know it will have an impact as we maintain a positive school culture here at USL, too.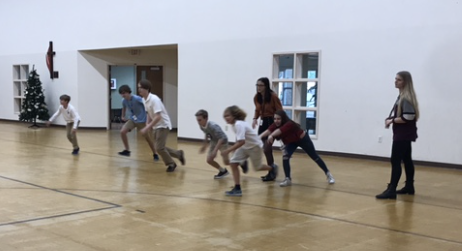 SUBJECT SPOTLIGHT:
What the book showcases is the amazing connection between exercise and the brain's performance. Dr. Ratey proves that "even moderate exercise will supercharge mental circuits to beat stress, sharpen thinking, enhance memory, and much more."
We want our students to be in the best shape for learning, so they participate in stretching, organized sports like basketball and dodgeball, and fun games that keep them moving for 30 minutes. Research has also shown that students need breaks during the day to move, and we support this through recess, lunch outside when weather permits, and our off-campus field trips.
Beyond the physical and mental benefits that come from participating in PE daily, this class affords our students the opportunity to practice some of their leadership and life skills--team work, learning to identify and celebrate each other's strengths, and communicating.
We're grateful to our PE teachers, Ms. Thompson and Mr. Thomas, for organizing creative and fun ways to be active, so that each student starts the day with a body and mind that is ready to learn!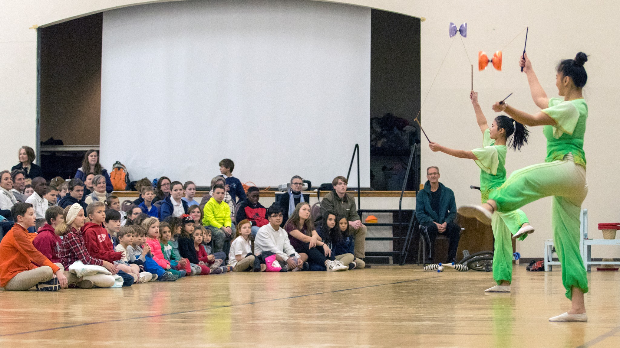 LOTC STUDENT RECAP:
The Fabulous Chinese Acrobats
Each year USL hosts several performances at the school as part of our Learning Outside the Classroom program. Becca Perlman, a 12th grade student, shared her reflection about a recent performance by the Fabulous Chinese Acrobats.
January 18th was an exciting day at USL. Several schools, community groups, and homeschool families from Mt. Pleasant and beyond joined us for the spectacular show featuring the Chinese Acrobats!
Four young acrobats traveled all the way from China and performed for us. There were two boys and two girls and their ages ranged from 13 to 25. Their performances included juggling while on a unicycle, doing gymnastics on a stack of chairs that just kept getting taller and taller, extreme Chinese yoyo, and tossing around ceramic pots (and balancing them on the head!) as if they weighed nothing at all.
What made it all the more special were the groups that got to join us, especially Dana Bowen Edwards' TMD class from Moultrie Middle School. I had the pleasure of being in the group that escorted them hand-in-hand to and from their school, and though it may have been a cold walk, seeing the smiles on the kids' faces and seeing their excited applause during the show made the chilly walk well worth it! It also ties into what the IS have been learning in their Mandarin class.
Experiencing something from another culture was a wonderful experience, and some of the kids even talked to the performers using the Chinese they've been learning. Overall, the Chinese Acrobats' performance was one for the books, and I hope they come back every year!
​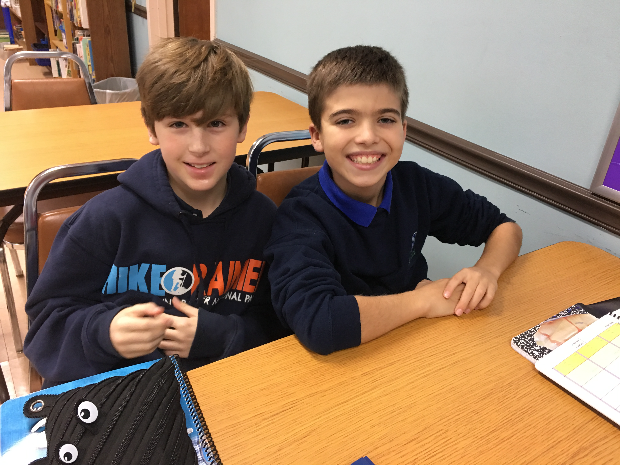 ↵BBBbbB
Frequently Asked Questions:
What happens during a Shadow Day?
The first step in our admissions process is for your student to participate in a Shadow Day. This allows your student to spend an entire day at USL experiencing our students, faculty, academics, and culture.
Your child will arrive at USL by 7:40 a.m. to participate in our daily traditions--Morning Meeting and PE. They'll be given a schedule for the day, and a student from his or her division will serve as your student's host for the day. Your child will attend a full day of academic classes such as Writing, Math, Humanities, Science, and one or more World Languages (we teach Mandarin, Spanish, and Latin). All throughout the day your child will have the opportunity to participate fully in all activities, ask questions of students and faculty, and get to know our campus.
Our Head of School will also meet with your child at some point during the day to get to know him or her better and reflect on their experience at USL thus far.
Once a Shadow Day is completed, the USL community will share insights about their interactions with your child. We will call you to summarize this feedback and 
discern if attending USL is an opportunity that brings about excitement and intrigue for your student and your family!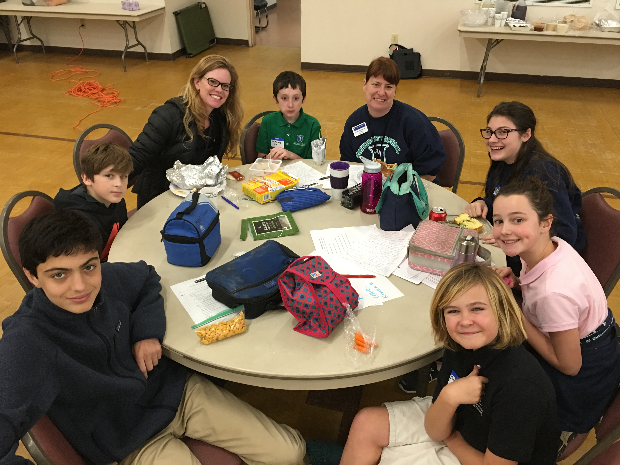 DID YOU KNOW?
​We're a school that values strong relationships between our faculty and students. Our teachers take the time to get to know each student's learning style, and they adjust their instruction to help each student achieve his or her full potential. 
Building these bonds is so important to us that we spent a few hours last week in small groups to refocus ourselves at the midpoint of our academic year.
Our faculty members were divided amongst 12 tables, along with a few students from each division. They engaged in games to get to know each other better, talked about things important to our school culture -- shaking hands, mentoring, and behavior expectations for LOTCs to name a few -- and they reflected on the strengths and weaknesses that they have identified through our Skill Wheel evaluation process.
We are lucky to have faculty members that care so deeply about each of our students, and we are grateful for the ways they help our students grow, both academically and personally. 
L
​WHY UNIVERSITY SCHOOL OF THE LOWCOUNTRY?
​
"USL is such a unique place. As an educator, I feel valued and heard -- by parents, colleagues, and my students. One of the aspects I value the most, though, is how we explicitly craft our school culture. The thoughtfulness of what is good for students, our community, and ultimately our world, is reflected in our school culture. Recognizing the importance of purposefully teaching what we want to see was one of the first things that struck me about USL. This is the kind of school I wish I could have attended. It's a rewarding opportunity for me to teach students who are kind, smart, empathetic, hard working, and curious."
- Alauria Corbin, USL's Intermediate School Director
USL IN ACTION: OUR MONTH IN PHOTOS
UNIVERSITY SCHOOL OF THE LOWCOUNTRY ADMISSIONS 
If you're considering USL as a possibility for your child beginning in Fall 2018, now is a great time to start the admissions process. There are several steps to be completed, including participation in a Shadow Day, securing teacher recommendations, testing, and submitting an application. We operate on a rolling admissions basis, and you can find all the details about applying on our website.
In addition, we always welcome mid-year transfers to University School of the Lowcountry. If your child is not thriving in his or her current education environment, don't wait until next year to make a change. You are encouraged to call us at (843) 884-0902 or email info@uslowcountry.org with questions.
University School of the Lowcountry (USL) is a non-profit, 501 (c)(3) tax-exempt independent school serving students from third through 12th grade. USL is a non-sectarian school for high-achieving, nice, curious students emphasizing individualized academics, experiential learning, and a strong sense of community. USL is accredited by the South Carolina Independent School Association and is celebrating its 10th year of serving children and families throughout the greater Charleston area.