NOVEMBER 2017 E-NEWSLETTER
There's no doubt that this month you've been overwhelmed with messages about gratitude, thankfulness, and family. As November comes to a close, please allow us to turn your attention just once more to why University School of the Lowcountry makes these three things a priority all year long.
USL exists because we believe in helping each student grow and learn as a whole person. We're focused on academics, but equally important in our daily routine is helping your children develop skills that will set them apart from their peers for the rest of their lives.
We embody a sense of community that is like family, where we can trust and learn from one another. We encourage students and faculty to get to know each other so that instruction can be customized for each student's unique needs. We teach our students to shake hands and say thank you to our guest speakers and Learning Outside the Classroom field trip hosts. We help our students learn to recognize their strengths, as well a those of their classmates, so they can appreciate and capitalize upon each person's talents.
We're grateful for this small, unique community that believes learning can happen anywhere and anytime, and we're especially thankful that you're part of the USL family!
OUR 2017 EXIT POLLING RECAP
On November 7, we spent the morning at 22 different polling sites in Charleston County and Berkeley County to gather data about mayoral elections, council elections, and referendums. In the afternoon, we returned to the school to tabulate our results and determine our predictions. Once again, we accurately predicted the top vote receiver for every race we polled. This annual tradition provides great lessons in civics, government, social interaction and math! Media coverage of our efforts can be seen at :
If you want to see all of our exit polling results, please visit our
website
 and scroll down to the 2017 Preparation and "Sharing Our Results" sections.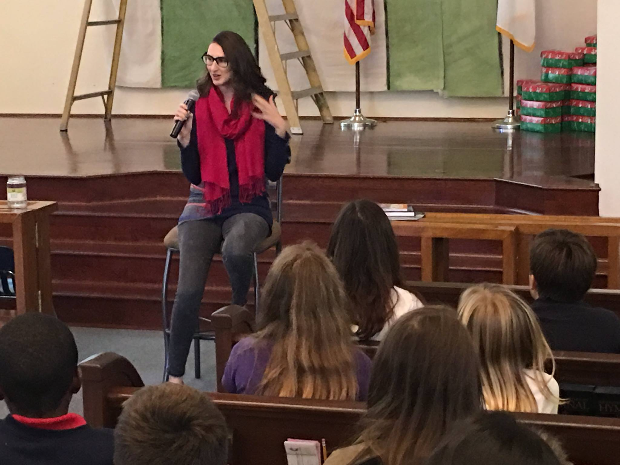 SUBJECT SPOTLIGHT:
Middle School Writing 
When Sara Peck isn't managing Blue Bicycle Books, an independent bookstore in downtown Charleston, or serving as a guiding force for the annual production of YALLFest, a young adult book festival, she's helping our Middle School students become better writers. She shares:
"We are in the most writing-intensive parts of the year. Because we look at writing as a practice, we've been doing just that. Students have written multiple drafts of poems, short stories, flash fiction, and personal essays. As much as they're writing, they're also revising. We work together on each assignment to come up with an annoyingly comprehensive check list for things we look for during peer-review. This includes anything from using proper nouns, to eliminating dead words, to incorporating specific instances of figurative language, to describing a character's hands while they speak."

Recently, our students were visited by YALLFest participants author Soman Chainini (The School for Good and Evil) and publisher Erin Stein to hear about both the composing and business side of writing a novel.

Ms. Peck also guides our students through their participation in the annual Scholastic Writing Competition, giving them the opportunity to earn regional and national recognition.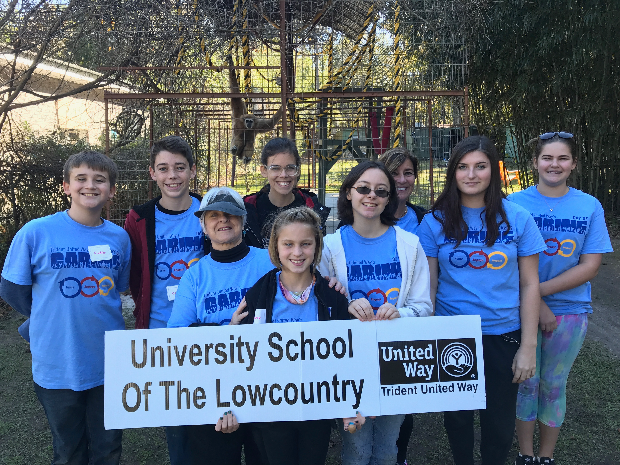 LOTC STUDENT RECAP:
Trident United Way's
​Day of Caring
Participating in Trident United Way's Day of Caring is an annual tradition at USL, through which students, parents, faculty, and alumni all come together to make a difference in our community. This year we supported projects at 11 different sites like Windwood Farms, Fresh Future Farm, four Charleston County elementary schools, the International Primate Protection League, and the South Santee Senior & Community Center. In total, our teams contributed over 300 hours of service to our community in just one day!
Dylan Seng, a 4th grader at USL, wrote the reflection below about his experience at Sweetgrass Village, an assisted living community in Mount Pleasant. In support of Trident United Way's "365 days of caring emphasis," we find ways to connect with them at other times of the year through activities like our annual cookie delivery and an Easter egg hunt with the residents.
"When we got to Sweetgrass Village we met all of the seniors. We waited in the dining room and discussed what we had planned for the day. The director told us we could do Bingo with the seniors, but before we did that we organized a fitness club. That was a Day of Caring to remember!"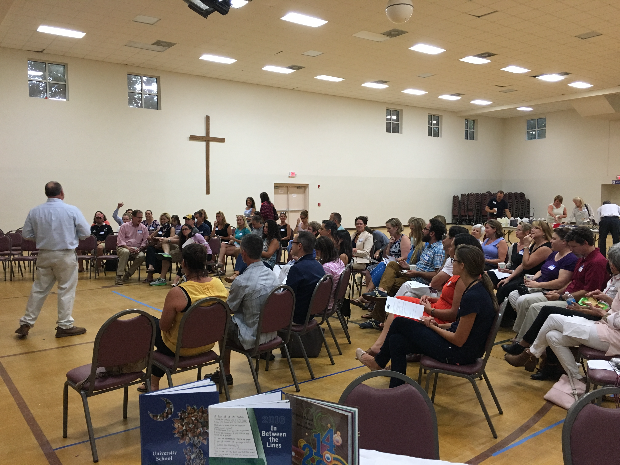 ↵BBBbbBa
Open House: Monday, Dec. 4
If you have a student in 3rd-12th grade who is smart, curious, and kind, University School of the Lowcountry could be an ideal place for them to learn and grow. We hope you'll join us on Monday, November 6 for refreshments, conversation, and a chance to learn more about University School of the Lowcountry.
The event will begin at 6 p.m. at USL's campus (690 Coleman Blvd. in Mount Pleasant). There will be a formal p
resentation from 6:15-7 p.m., and there will be time beforehand and afterward for you to ask questions about our experience-based learning, individualized academics, leadership & life skills focus, or anything else you might want to know more about. There will even be time for a quick tour if you'd like to see more of our learning environment.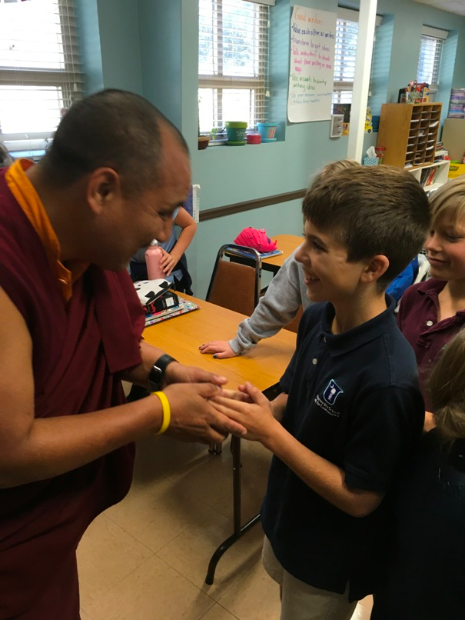 DID YOU KNOW?
Every year we host variety of guest speakers, each with his or her own unique story to tell. We've heard from political candidates, a Peace Corps volunteer, employees of the State Department, and so many others. This helps our students see the world through the eyes and experiences of others, and it develops their curiosity as well.
This month, our Intermediate School students had the chance to hear from Lama Tenzin, a Buddhist monk from Nepal and friend of Mrs. Corbin. He shared with our students how seeing neglected children in a village of the Upper Dolpo region in the year 2000 inspired him to leave his monastery, build an orphanage, and focus on providing each child with an education--he's now sent 11 children to college.
We hope you'll
watch the trailer
for the award-winning documentary, Walking The Waking Journey, that features his story!
WHY UNIVERSITY SCHOOL OF THE LOWCOUNTRY?
​
"Thanks again for another awesome parenting moment. My political leanings are not so secret, and Allison (USL '17) and I love debating from opposite sides of the issues. I snapped this photo of Matthew (8th grade) reading in the back seat when I picked him up from YALL Fest. I burst out laughing when I saw it. I am so proud that I am raising kids who can think for themselves and so grateful to USL for providing them with so many opportunities to see many sides of the issues. I would not have bought this book for him in a million years, but I am THRILLED that he chose to spend his own money seeing another side of the story. Thanks for all you have done for my kids."
--Mike Horan, USL parent
USL IN ACTION: OUR MONTH IN PHOTOS
DON'T FORGET: ADMISSIONS REMINDERS
We always welcome mid-year transfers to University School of the Lowcountry, so if your child is not thriving in his or her current education environment, don't wait until next year to make a change. Our website has detailed information about our Admissions Process, but you can also call us at (843) 884-0902 or email info@uslowcountry.org with questions.
2018-2019 Priority Enrollment Deadline for New Students: January 31, 2018
University School of the Lowcountry (USL) is a non-profit, 501 (c)(3) tax-exempt independent school serving students from third through 12th grade. USL is a non-sectarian school for high-achieving, nice, curious students emphasizing individualized academics, experiential learning, and a strong sense of community. USL is accredited by the South Carolina Independent School Association and is celebrating its 10th year of serving children and families throughout the greater Charleston area.