OCTOBER 2017 E-NEWSLETTER
The first quarter of our academic year has come to a close, and it's been great to watch our students learn as they explored the world around us through guest speakers, cultural performances, and a variety of Learning Outside the Classroom (LOTC) experiences. In the next few weeks, each of them will have the opportunity to assess their first quarter Skill Wheel rankings and make a plan for how they'd like to grow their capacity for success in areas such as Time Management, Organization, and Listening.
As we launch into the second quarter, we're excited to announce that we now have an
Instagram account
. We hope you'll follow us and use this opportunity to share USL photos with your own followers, too.
Finally, we have quite a few events coming up that are highlighted in this newsletter, but we'd especially like you to "Save the Date" for our
Annual Potluck Dinner at James Island County Park
. We'll gather at the Stono Shelter at 5:45 p.m. to eat and then enjoy the Holiday Festival of Lights. It's a wonderful celebration for our entire USL community, and we hope to see you there!
MEET THE CANDIDATES: USL STUDENTS ENGAGE IN ELECTION PREPARATIONS
"Democracy needs people to be in the habit of thinking about the merits of the other view, and it's truly a habit," said University of Michigan Constitutional Law professor Richard Primus, in an article published by The Atlantic. University School explores elections and the democratic process annually, and this year is no exception. We've attended the Mount Pleasant Mayoral Candidate Forum (thank you to the League of Women Voters for welcoming us), as well as invited Mayor Linda Page & councilman Will Haynie to speak to our entire student body. We're also researching and discussing other local elections, and
we'll be conducting exit polls on November 7
!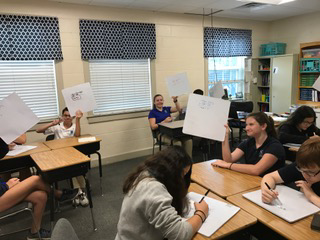 SUBJECT SPOTLIGHT:
MS Mathematics 
In Middle School, math instruction is individualized. Students may progress through courses at an accelerated pace based on their proficiency, and our MS students earn high school credits upon completing Algebra, Geometry, and Algebra II. In all of our MS math classes, we follow the standards set by the National Council of Teachers of Mathematics.
Middle School Math is taught by Nicole Brockman, Chelisa Elmore-Williams, and Tiffany Thompson.
Mrs. Brockman uses a variety of creative and fun learning tools to help her students remember math rules. In Pre-Algebra, she recently used a mnemonic device to teach subtracting integers: "SAME-ADD-KEEP, DIFFERENT-SUBTRACT-CHOOSE".
In Algebra, multi-step equations were taught with hands-on practice using "Brockman Boards," shown in the picture above.
Perhaps the most memorable lesson so far this year was the introduction of the proof in Geometry. The discussion on Deductive Reasoning began with viewing the witch scene in Monty Python's Holy Grail. She is dressed like a witch, has a wart like a witch, and is lighter than a duck; therefore she must be a witch.  We learn how deductive reasoning is incorrectly used in the movie with an absolutely hilarious result. Mrs. Brockman says, "This is one of my favorite lessons of the year.  I love introducing students to Monty Python and geometric reasoning."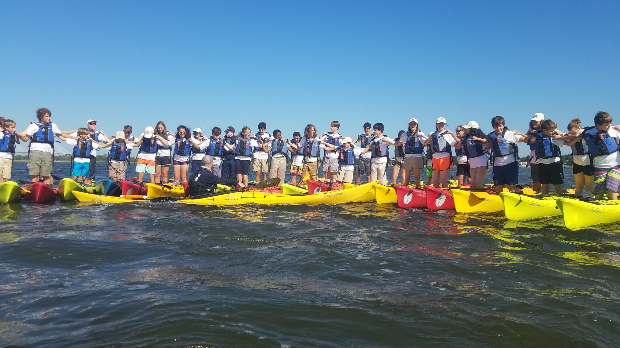 LOTC STUDENT RECAP:
Shem Creek Exploration
​At the end of September, our students had the opportunity to explore Shem Creek "by land and sea" as part of the
South Carolina Outdoor Education Program
. While our IS students went on a walking adventure through Shem Creek Park to explore the wildlife and the marsh, our MS and US students enjoyed a kayaking excursion along the creek and out to Crab Bank Island. The students even used some team work to make a "Human Sail" (pictured above)! 
USL 4th grader Matthew Wright shared:
"At Shem Creek we saw egrets, fish, and marsh grass. We had a lot of fun. We also saw shrimp boats and kayakers. Shem Creek was a little dirty, too. There were also fishermen and dolphins." 
USL 9th grader Will Courtney shared:
"Recently, grades 6-12 of The University School of the Lowcountry went on a field trip. The field trip of kayaking Shem Creek was with a local business called Coastal Expeditions. For me, this field trip was very educational. Since I have been going to USL for six years, I was able to compare this field trip to the same field trip a couple years back. I was able to see the impact of erosion on Crab Bank Island. I think I can speak for the whole school when I say that it opened up our eyes to an ever changing ecosystem that needs our attention."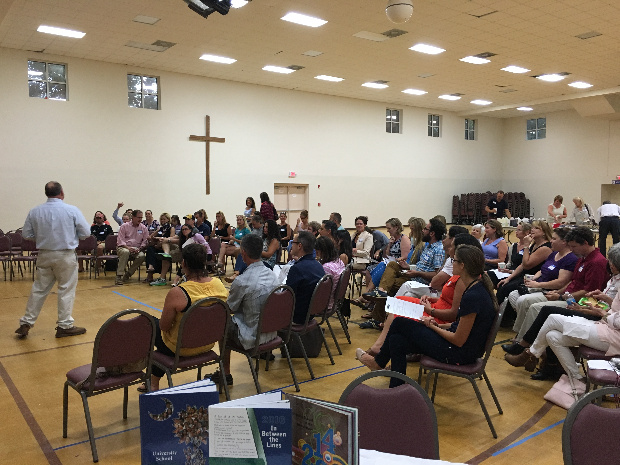 ↵BBBbbBa
Open House: Monday, Nov. 6
If you have a student in 3rd-12th grade who is smart, curious, and kind, University School of the Lowcountry could be an ideal place for them to learn and grow. We hope you'll join us on Monday, November 6 for refreshments, conversation, and a chance to learn more about University School of the Lowcountry.
The event will begin at 6 p.m. at USL's campus (690 Coleman Blvd. in Mount Pleasant). There will be a formal p
resentation from 6:15-7 p.m., and there will be time beforehand and afterward for you to ask questions about our experience-based learning, individualized academics, leadership & life skills focus, or anything else you might want to know more about. There will even be time for a quick tour if you'd like to see more of our learning environment.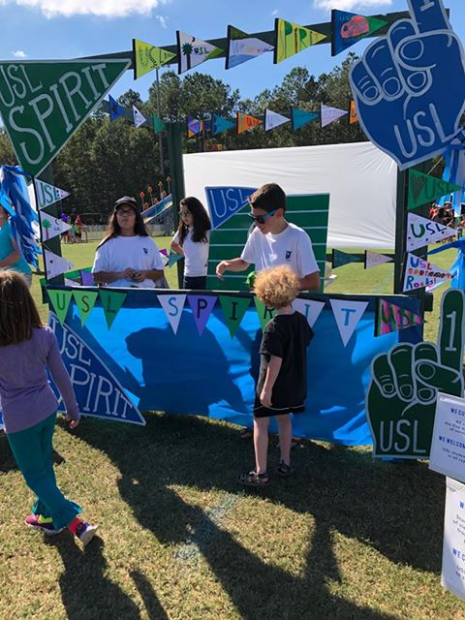 DID YOU KNOW?
Every year, our students participate in 50+ hours of community service. It's an important aspect of our focus on helping students become more empathetic and engaged with needs throughout the Lowcountry.
We're proud of the impact our students make each year as they learn!
L
​WHY UNIVERSITY SCHOOL OF THE LOWCOUNTRY?
"In most of the poems I heard [at the Mayhem Poets performance; part of our Learning Outside the Classroom program], the poets had talked about being young, shy, and insecure, just like me. And yet, here they were, important people with families, children, and whole auditoriums of people waiting patiently to hear what they had to say. This performance showed me that no matter how small I feel right now, I can grow to achieve my goals one day." ​
- Charlie Dunlevy, USL 7th grader
USL IN ACTION: OUR MONTH IN PHOTOS
DON'T FORGET: ADMISSIONS REMINDERS
We always welcome mid-year transfers to University School of the Lowcountry, so if your child is not thriving in his or her current education environment, don't wait until next year to make a change. Our website has detailed information about our Admissions Process, but you can also call us at (843) 884-0902 or email info@uslowcountry.org with questions.
2018-2019 Priority Enrollment Deadline for New Students: January 31, 2018
University School of the Lowcountry (USL) is a non-profit, 501 (c)(3) tax-exempt independent school serving students from third through 12th grade. USL is a non-sectarian school for high-achieving, nice, curious students emphasizing individualized academics, experiential learning, and a strong sense of community. USL is accredited by the South Carolina Independent School Association and is celebrating its 10th year of serving children and families throughout the greater Charleston area.