SEPTEMBER 2017 E-NEWSLETTER
Learning outside of the classroom is a hallmark of a University School education, and this month has found us beginning our weekly adventures for activities such as cookie baking & delivery, Shem Creek kayaking (tomorrow), and others you'll read about below!
In addition, we're excited about all the opportunities for our students to stay engaged after the school day is done. Our first meeting of Novel Club happened last week, our weekly Chess Club begins tomorrow (9/27), and our twice-monthly photography club will hold its second meeting this Friday (9/29). These groups offer our students the chance to build relationships and learn while having fun!
This month, we also extend a warm welcome to Nannette Williams, our new school counselor, and Patrick Thomas, who will be assisting with MS/US PE every morning. We're glad to have you as part of the USL family!
Barrier Island Environmental Education Program: Our first-ever Intermediate School Trip
We believe in learning by experience, and for the first time ever we sent our 3rd-5th graders on a multi-night trip to St. Christopher Camp & Conference Center for a hands-on experience with nature. They discovered the scientific world with all of their senses through lessons in botany, ecology, biology, conservation, astronomy, and much more. From wading through the marsh creeks to learning about wildlife, everyone had an amazing, unforgettable experience.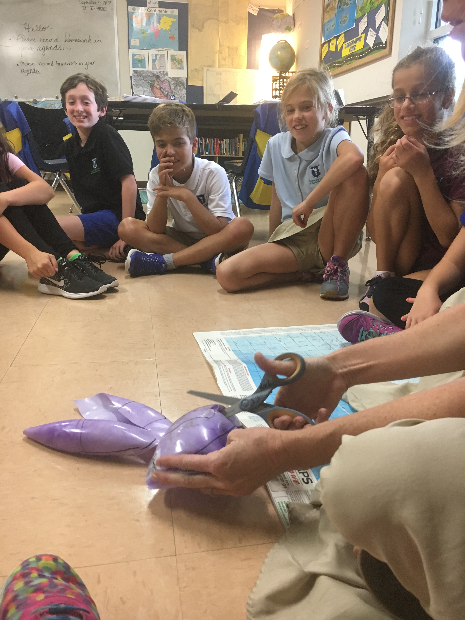 SUBJECT SPOTLIGHT:
Intermediate School Humanities 
At USL, our students benefit from learning in Humanities classes--an approach that combines history, literature, and art in one setting.
Mrs. Paige Koches, a National Board Certified teacher, has been teaching IS Humanities at USL since 2012. More often than not, you'll find her students gathered around her on the floor in a circle exploring and learning together through a fun, hands-on activity.
During the first month of school, the students have been learning all about geography. From naming and explaining the purpose of the four tools that geographers use, to being able to plot a hurricane's path using latitude and longitude, they're gaining perspective on how understanding maps is so important to every day life. They've learned about the Equator, the Prime Meridian, cardinal and intermediate directions, and so much more.
Recently, they discovered that maps are actually distorted images when they cut apart a 3D globe and tried to create a 2D map with the pieces. It was a great visual to show the students how the size of Earth's land and water actually has to be stretched in order to make a flat map.​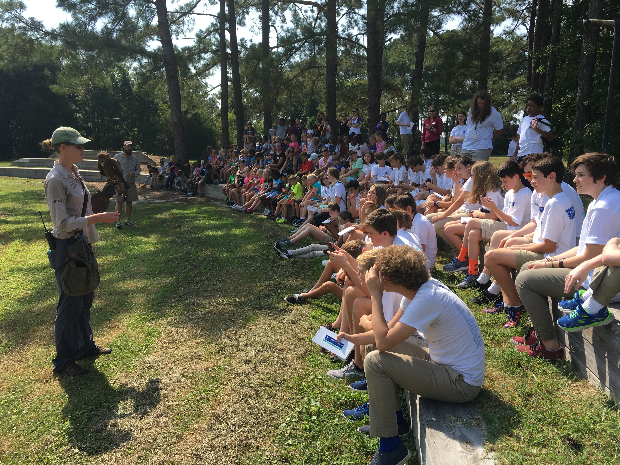 LOTC STUDENT RECAP:
The Center for Birds of Prey
Thanks to USL 12th grader Bridget Conway for sharing this reflection!
As a new student at University School of the Lowcountry, I was eager to go on my first Learning Outside the Classroom (LOTC) trip, and even more so because we would be visiting The Center for Birds of Prey.  I had never been to a bird sanctuary, and was pleasantly surprised by the knowledge our guide possessed, the genuinely excited and interested way he presented it, and the very real examples of what he was teaching us – all just a few feet away.  We made eye contact with bald eagles, ogled at hooded vultures (which are commonly mistaken to be buzzards), admired the markings of kestrels, witnessed kites' amazing maneuverability in the air, and discovered how simultaneously adorable and majestic owls can be.  In three hours, we learned facts about birds of prey, saw their varying flight techniques in action, and were made aware of the many actions taken by humans, such as the use of pesticides and construction of above-ground power lines, that affect, often fatally, these increasingly rare animals.  I am glad that USL took us on this trip, as I discovered a truly special place only a half-hour drive away where wild animals usually unobserved by humans can live happily and be appreciated by visitors; I enjoyed the Center so much, in fact, that I plan on sharing the experience with my family by bringing them for a visit, soon.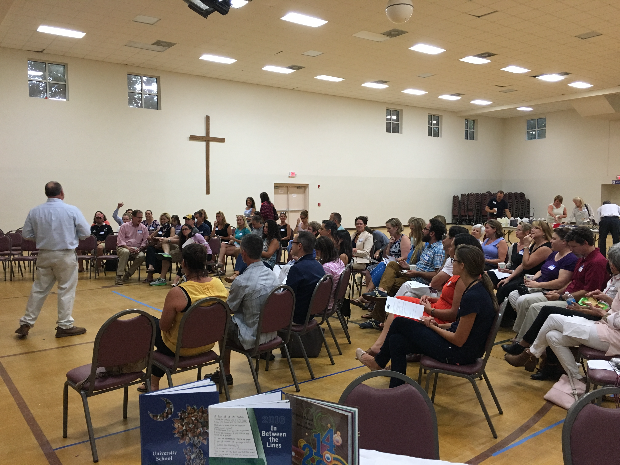 ↵BBBbbBa
Open House: Monday, October 9
If you have a student in 3rd-12th grade who is smart, curious, and kind, University School of the Lowcountry could be an ideal place for them to learn and grow. We hope you'll join us on Monday, October 9 for refreshments, conversation, and a chance to learn more about University School of the Lowcountry.
The event will begin at 6 p.m. at USL's campus (690 Coleman Blvd. in Mount Pleasant). There will be a formal p
resentation from 6:15-7 p.m., and there will be time beforehand and afterward for you to ask questions about our experience-based learning, individualized academics, leadership & life skills focus, or anything else you might want to know more about. There will even be time for a quick tour if you'd like to see more of our learning environment.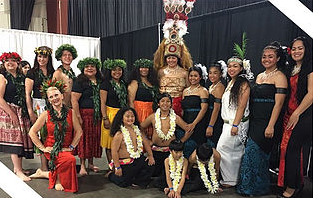 DID YOU KNOW?
Attending various cultural activities is one of the ways we strive to learn outside of the classroom. From learning about faith traditions at various houses of worship to seeing performances of theatre, music, and dance, we introduce our students to many forms of expression through a variety of off-campus experiences at venues such as the Gaillard Center and the historic Dock Street Theatre.
We also host a number of performance groups at the school throughout the year, ranging from acrobats to vocal ensembles. We share these performances at no charge as a service to our community, and this entails inviting other schools, community groups, assisted living centers, home school families, and more. You are always welcome to join us, too. Students are assigned to host a different group each time, and they learn more about them as they chat, spend time with each other, and enjoy the show together.

Our first hosted performance
this year will be: 
Wednesday, October 4
10 a.m. in the Gym
L
​WHY UNIVERSITY SCHOOL OF THE LOWCOUNTRY?
"Bailey is so happy at USL. The environment and culture you've grown is boosting her confidence, and we can foresee a very well-rounded and mature teenager entering high school. The middle school years can be so difficult, and yet they are so important. We feel so fortunate that she has USL to help ease her transition from girl to young lady." 
​
--Julie Chave, mother of USL 8th grader, Bailey
USL IN ACTION: OUR MONTH IN PHOTOS
DON'T FORGET: ADMISSIONS REMINDERS
We always welcome mid-year transfers to University School of the Lowcountry, so if your child is not thriving in his or her current education environment, don't wait until next year to make a change. Our website has detailed information about our Admissions Process, but you can also call us at (843) 884-0902 or email info@uslowcountry.org with questions.
2018-2019 Priority Enrollment Deadline for New Students: January 31, 2018
University School of the Lowcountry (USL) is a non-profit, 501 (c)(3) tax-exempt independent school serving students from third through 12th grade. USL is a non-sectarian school for high-achieving, nice, curious students emphasizing individualized academics, experiential learning, and a strong sense of community. USL is accredited by the South Carolina Independent School Association and is celebrating its 10th year of serving children and families throughout the greater Charleston area.