​We're off to a great start for our 11th academic year at University School of the Lowcountry. Our first two days of Orientation were filled with fun opportunities to build upon our sense of community: ice breaker games, face-time with faculty outside of the classroom, lessons about our school's culture, Morning Meeting, lunch, PE, and so much more! It was a wonderful chance to catch up with old friends and welcome 20+ new students to the USL family. With students saying, "Everyone has been so kind and nice," and "This is the first time I've felt noticed in years," we know it's going to be a great year!
Walking the Loop: A Back to School Tradition at University School
It wouldn't be the first day of school at USL without our traditional walk around the Vincent Drive loop. We walk in pairs, allowing students some quality time to get to know one another better. The walk is symbolic, too, as it represents our first Learning Outside the Classroom experience of the year. By the end of the year, we'll have explored the world on 30+ field trips locally and, for our older students, around the country.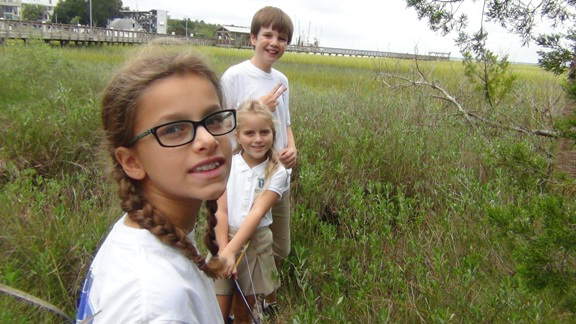 SUBJECT SPOTLIGHT:
Learning Outside the Classroom
Learning Outside the Classroom is a hallmark of the University School experience. We believe that the world is our classroom, and students in every grade spend one day a week away from campus having experiences that challenge and inspire them.
We'll go on over 30 field trips this year to experience everything from live theatre to landfills and plantations to museums. 
We incorporate faith exploration into these learning experiences by visiting several different houses of worship each year, and we intentionally engage with representatives from a variety of political parties to broaden our own perspectives and increase our understanding of the world around us.
In preparation for these outings, every student works with Charleston Krav Maga to learn self-defense skills, and our MS & US students, along with faculty, are trained in Red Cross First Aid and CPR.
We can't wait to see what we learn this year on our adventures!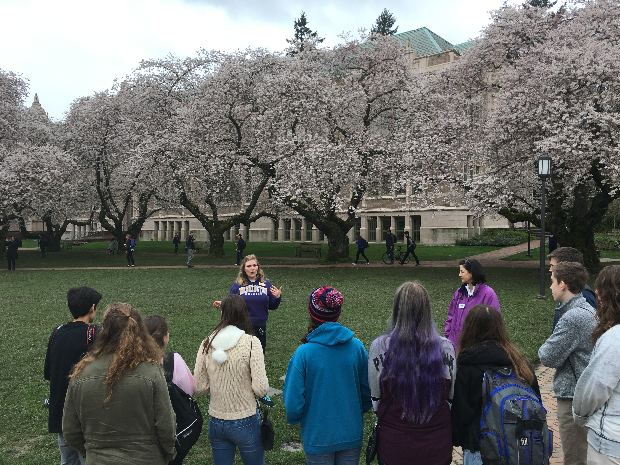 DID YOU KNOW?
University School of the Lowcountry offers an incredible value compared to our peer, national caliber schools. Comparable to the cost of some daycares, our tuition rates for the 2017-2018 academic year are:
Intermediate School: $11,250
Middle School: $11,850
High School: $12,500
We also offer tuition reduction to help families manage the costs associated with an independent school education. Around 25% of our families receive assistance in amounts ranging from $1,000 up to 90% of the total tuition for the year.
This is not a loan, but a grant which our families are voluntarily evaluated for based on their prior year's tax return and a narrative statement that identifies other circumstances influencing their ability to afford the full cost of tuition. Applications are independently and objectively evaluated by FAST (Financial Aid for School Tuition).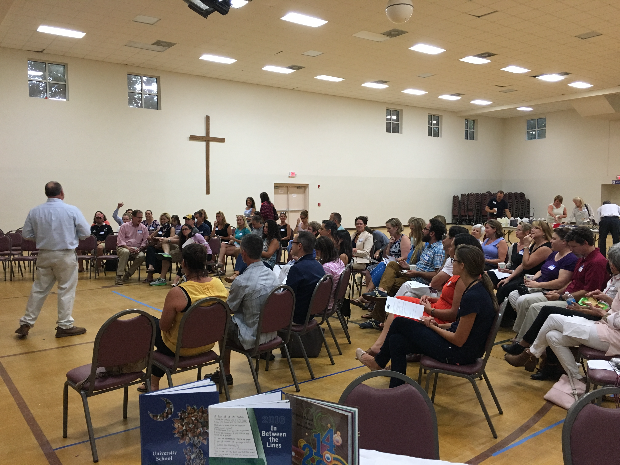 ↵BBBbbBa
 Back to School Night: August 29th
Parents of current students are invited to join us at 6 p.m. for an informative evening to launch our 2017-2018 academic year. You'll have the opportunity to get to know other USL families, hear about our plans for the year, and meet with faculty members in your child's division. We'll start the evening as a group in the sanctuary of Hibben United Methodist Church, and then we'll break out into smaller groups for the Intermediate School, Middle School, and Upper School. We will have refreshments, and you'll also have the opportunity to explore our parent committees and identify one or more that you would like to be part of in support of our school.
Free babysitting, provided by older USL students and mentors, will be available. Please
RSVP to Judy Hubbard
with the number of children who will attend so we can recruit enough volunteers.

USL Welcomes New Faculty & Staff
We are excited to welcome some new faces to the University School family for our 2017-2018 academic year. You can read their full bios on our
website!
Mandy Norris will be teaching our Middle School Humanities class. She graduated with a B.A. and M. Ed. degree in Secondary Education & English from Clemson, and has many years of experience in private and public schools around the Lowcountry.
Tiffany Thompson is a Mount Pleasant native with B.A. degree in Pure Mathematics from Erskine College. She will be teaching Math and PE, as well as helping with LOTCs.
Nancy Amis will be leading our Extended Day program.
L
​WHY UNIVERSITY SCHOOL OF THE LOWCOUNTRY?
"The most important thing I learned at USL was how to be self sufficient. To be able to develop original thoughts and act independently is very important to me, and that's what I'm doing with my business now."
​
--Carter Falk, USL alumni, sophomore at Sewanee, Owner: Morgan Shepherd Media
USL IN ACTION: OUR MONTH IN PHOTOS
TAKE NOTE: ADMISSIONS REMINDERS
We always welcome mid-year transfers to University School of the Lowcountry, so if your child is not thriving in his or her current education environment, don't wait until next year to make a change. Our website has detailed information about our Admissions Process, but you can also call us at (843) 884-0902 or email info@uslowcountry.org with questions.
2018-2019 Priority Enrollment Deadline for New Students: January 31, 2018
University School of the Lowcountry (USL) is a non-profit, 501 (c)(3) tax-exempt independent school serving students from third through 12th grade. USL is a non-sectarian school for high-achieving, nice, curious students emphasizing individualized academics, experiential learning, and a strong sense of community. USL is accredited by the South Carolina Independent School Association and is celebrating its 10th year of serving children and families throughout the greater Charleston area.