2016 FINAL RECAP E-NEWSLETTER
​
It's 2017 and we're still celebrating our 10th academic year, but we'd be remiss if we didn't take a moment to share some of our final highlights from 2016. Our students, faculty, parents, and alumni enjoyed participating in some wonderful USL traditions to finish out the calendar year.                                          --Jason Kreutner, Founder & Head of School
FAITH EXPLORATION IS AN ANNUAL USL TRADITION
University School of the Lowcountry is a non-sectarian school, but we have always believed that there is much to learn by exploring various faiths and their traditions. With that in mind, we've made it an annual USL tradition to spend our final day before winter break learning outside the classroom. 
This year we learned more about Kwanzaa with Talim Lessane from College of Charleston, visited the Greek Orthodox Church of the Holy Trinity, and toured the Central Mosque of Charleston.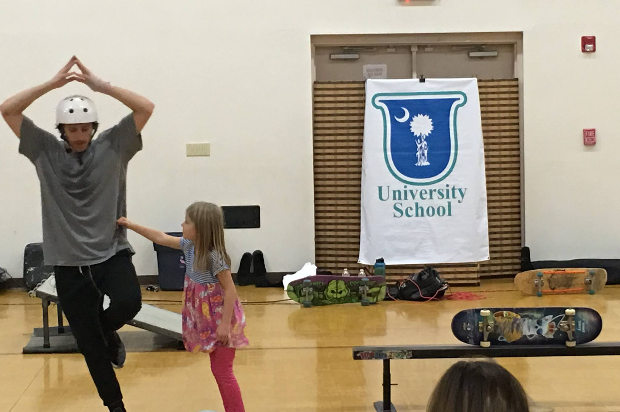 STUDENT REFLECTION:
SKATE BOARD SCIENCE DEMO
USL recently hosted a live action physics lesson in the form of Skate Board Science with Evan and Tom. As has become customary, we invited several schools, retirement communities, and our local homeschool group to join us. It gives them an opportunity to learn, too, and it gives our students the chance to learn about being good hosts. This reflection was written by 6th grader Emma Bluestein.
"Evan and Tom are these amazing skateboarders who base their tricks off science. They think about Isaac Newton's laws, friction, and gravity. They are also really kind, happy people. Example: They can give any crying child a skate board and the child will stop immediately.
I personally really enjoyed "Skateboard Science" because of Evan and Tom, because they gave the show life, enjoying the presence of children eager to listen and  learn. My favorite part of the show was when they asked for students to volunteer teachers to help one of the hosts, Tom, do a trick. So, when our math teacher the Brock Monster (Mrs. Brockman) was volunteered, she went up, layed down right next to a ramp, and Tom goes off the ramp and does an ollie over her. It was amazing!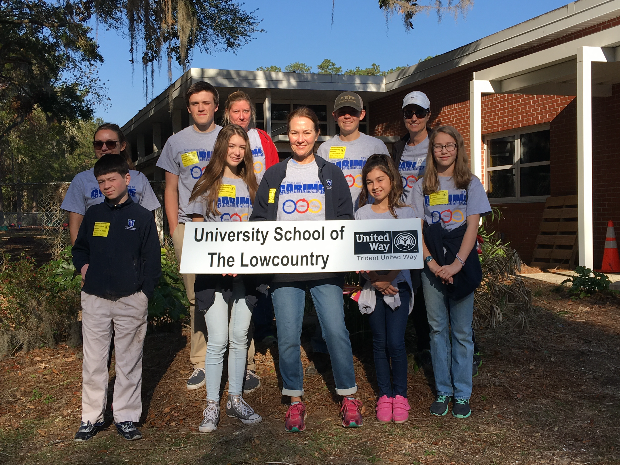 DAY OF CARING TEACHES THE IMPORTANCE OF SERVING OTHERS
At USL, we believe that preparing our students for a successful future requires more than just mastering academic knowledge. That's why we've made it an annual tradition to participate in Trident United Way's Day of Caring.
This year, faculty, students, alumni, and parents, spent the day contributing 500+ hours of service at 12 different nonprofits and schools. We accomplished everything from pressure washing at the Dorchester County Library and gardening at Jane Edwards Elementary on Edisto Island to planting trees at Fresh Future Farm and reading to students at Chicora School of Communications in North Charleston. 
We're proud to be instilling the importance of community service through experiences like Day of Caring that both challenge and inspire our students.
​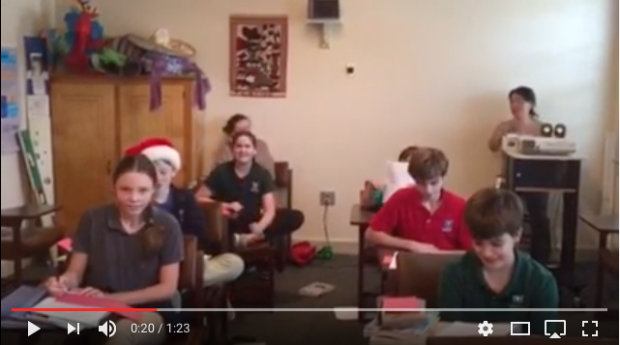 SUBJECT SPOTLIGHT: GLOBAL LANGUAGES - MANDARIN
All students in grades 3-8 at USL study three languages, including Mandarin, the largest of the Chinese dialects.
While our IS students learn through an immersion-style program focused on verbal skills, our MS students begin to focus on writing characters and mastering other language fundamentals. 
Our MS Mandarin teachers, Ms. Hong Lee and Ms. Christine Li recently recorded their students singing some festive songs, including "We Wish You a Merry Christmas." It was a fun way for the students to learn the language and celebrate the season!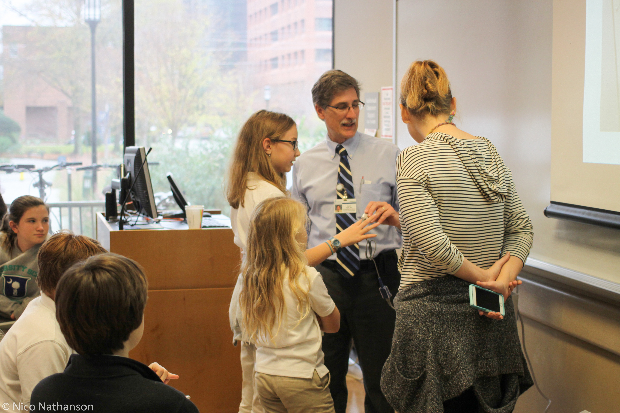 STUDENTS GET HANDS-ON DURING OUR ANNUAL MUSC TOUR
We're lucky to have a world-class hospital right in our own backyard, so each year we include MUSC in our LOTC (Learning Outside the Classroom) schedule. With so many different specialties, no two trips have been the same. 
This year we took a campus tour, discovered the Simulation Center, explored the Dental School with a current student, and learned about the latest biomedical equipment. We concluded the day through service, with a visit to the Hollings Cancer Institute to deliver holiday cards.
L
​WHY UNIVERSITY SCHOOL OF THE LOWCOUNTRY?
"USL has provided things for our children that no other school could--the idea of LINKS, the real world exposure, the self confidence to interact with anyone, and the strength to be independent."
-Mike Horan, father of a USL 7th & 12th grader 
USL IN ACTION: OUR MONTH IN PHOTOS
University School of the Lowcountry (USL) is a non-profit, 501 (c)(3) tax-exempt independent school serving students from third through 12th grade. USL is a non-sectarian school for high-achieving, nice, curious students emphasizing individualized academics, experiential learning, and a strong sense of community. USL is accredited by the South Carolina Independent School Association and is celebrating its 10th year of serving children and families throughout the greater Charleston area.