To invest in sustainable initiatives that promote the health and wellness of Salem County, New Jersey residents by investing in programs and services that improve the health, well-being & access to quality health care for all.
The Foundation's vision is to be a financial resource for organizations specializing
in servicing the health needs that are deemed to be unmet or underserved.
The Foundation opened its offices in August 2003. The first grant was awarded in January 2004 and since that time the Foundation has awarded 135 grants to 83 organizations for a total in excess of $12 million dollars.
CONNECTIONS
VALUE BEYOND FINANCIAL SUPPORT
In addition to providing financial support, connections help the Foundation to bring valuable resources to our county that otherwise would not be available; resources in education and information sharing using our philanthropic connections from across the country.
Foundation Friendships
Benefit Salem County Non-Profits

People outside the world of philanthropy may be surprised to learn that there is opportunity for
information sharing and networking that happens among foundations across the country and
the world.
Organizations such as Grants Managers Network, Grantmakers in Health, Philanthropy
Network Philadelphia and Council on Foundations, provide a space for foundation staff to
network. It's an opportunity to connect with grantmakers who can share their experiences of
success and equally important, failure. In addition these organizations provide valuable
training from experts in a variety of non-profit arenas. 
Through membership in these organizations Salem Health & Wellness Foundation staff has
connected with some of the largest foundations in the country, such as the Bill Gates Foundation, the Pew Foundation and Robert Wood Johnson Foundation. There is also the opportunity to interact with smaller foundations similar to ours such as the North Penn Community Health Foundation. 
A wonderful outcome of this networking has been our relationship with The Burd Group and
Kim Glassman Consulting. They bring a vast storehouse of knowledge and experience from
across the country on program evaluation, board development and capacity building.
Working with Ms. Burd, the Foundation reached out to nine of Salem County's non-profit
organizations to offer the opportunity to complete the Core Capacity Assessment Tool
(CCAT). This tool helps to identify a nonprofit's strengths and areas for improvement. After
analyzing the results, Ms. Burd assisted each organization with understanding the results of
their CCAT and in turn guiding them to the areas needing to be addressed. 
In 2015, Ms. Burd provided workshops on topics such as:  The Art of the Ask; Re-balancing
the Balance Sheet – Finance 101; Business/Strategic Planning; Evaluation with Intention to
name a few. Board members and executive leadership from each organization were invited to
attend the workshops.  At the conclusion of the workshops, organizations were able to apply
for funding to work on a capacity building project.
The following organizations were the recipients of Capacity Building Grants in 2015:
The YMCA of Salem County
One Village Alliance
Cathedral CDC
The Arc of Salem County
Ranch Hope, Inc.
Meals on Wheels of Salem County
Appel Farm Arts and Music Center
FamCare Inc.
Programs like these, using connections, experience and education offered through our
philanthropic partnerships across the country are just another value the Foundation brings to
the non-profit community in Salem County.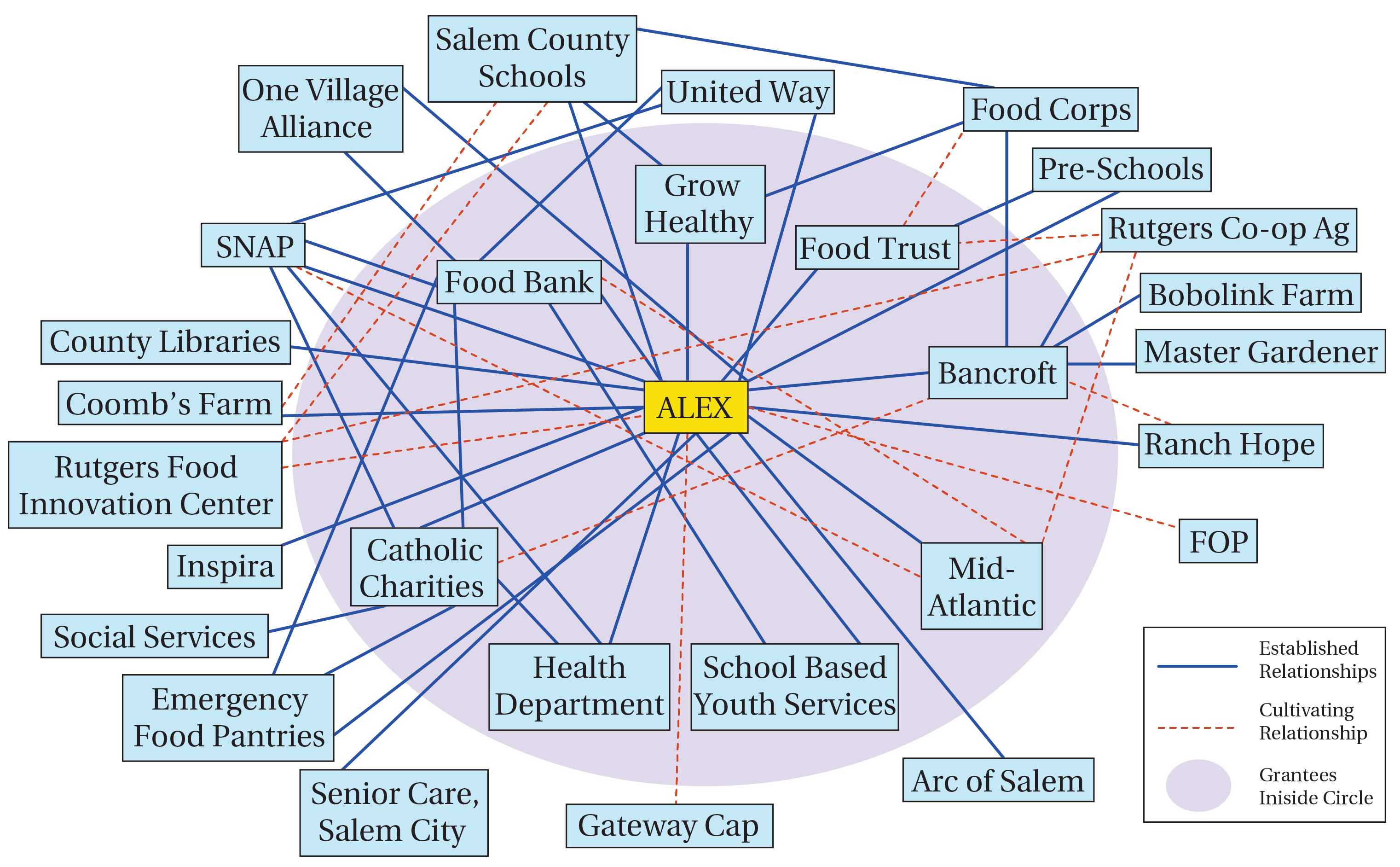 Senior Program Coordinator in Salem County

  In 2014, the Foundation partnered with Rutgers University to provide a Senior Program Coordinator in Salem County, who would work with both organizations to promote health and wellness through education, research and collaboration with outreach in food, nutrition, and healthy lifestyles. Alexandra DelCollo began working with both organizations in 2015.
    Through this partnership Alex has formed a web of connections not only for the foundation, but also for the grantees. It is through this interconnectedness that Salem County residents will truly get the most out of programs offered.
Salem Health & Wellness Fund at the Community
Foundation of New Jersey– GRANTS AWARDED

 The Foundation had a busy 2015. We currently have 31 active grant programs.
 The following is the breakdown of our 2015 grant activity.
 Teen Pregnancy                                $ 125,451.00
 Childhood Obesity                             $ 665,566.00
 General Screenings/Prevention                 $  66,000.00
 Senior Care                                   $ 100,000.00
 Disabled care                                 $ 219,248.00
 Mental Health                                 $ 148,824.00
 Medical transportation                        $ 166,000.00
 Substance Abuse                               $  30,000.00
 Capacity Building                             $ 456,030.00
 
 Total                                        $1,977,119.00
 The Foundation board and staff and our partners at The Community Foundation
 are dedicated to funding programs and services that improve the health of Salem
 County residents!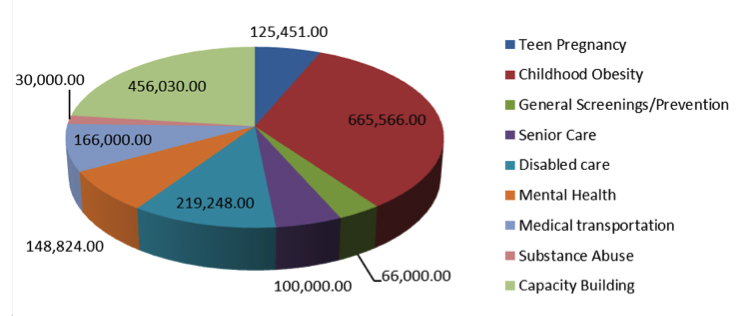 ---
BOARD MEMBERS AS A VALUABLE RESOURCE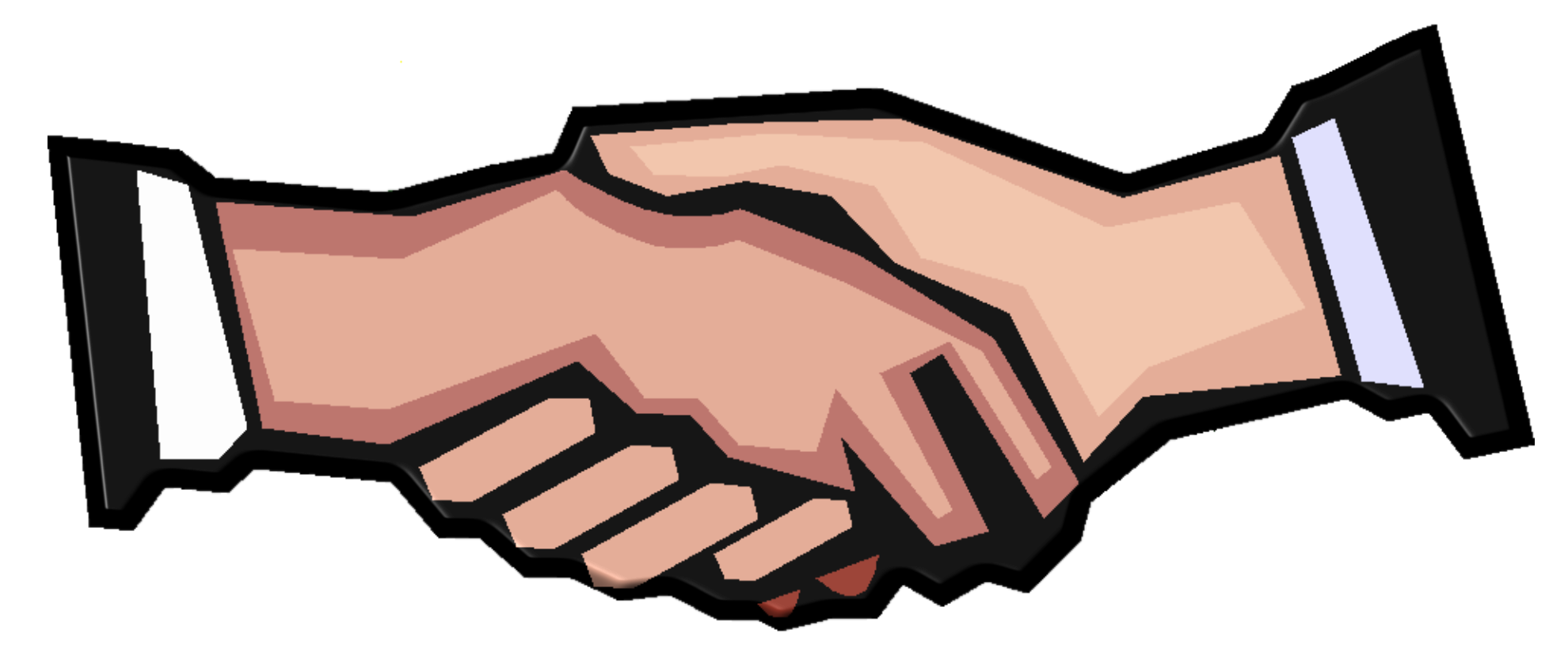 As anyone knows, having a diverse group of individuals working toward a shared goal can be incredibly powerful. Different perspectives and experiences come together to guide an organization to its full potential. The Foundation board is no exception.

When the Salem Health & Wellness Foundation was formed in 2002, members of the Memorial Hospital of Salem County board chose the initial members of the Foundation board.

That inaugural board was an impressive group, including: a retired educator and community advocate, a CEO, a PhD in healthcare, a mental health professional, a registered nurse and an advocate for the disabled community, all residents of Salem County.

The good news is that diversity of experience and background still exists with our current board today. Over the past 14 years, our board has expanded its talent to include those with experience in nursing, hospital administration, firefighting and EMT, small business ownership, the nonprofit landscape, bank leadership, municipal financing, personal finance, accounting, medicine, education, chemistry at a major corporation, and farming.
 
That rich diversity has helped form the dynamic organization we are today. We are grateful for these individuals who all share a passion for Salem County and a commitment to the mission of our Foundation.
FCHS works in your neighborhood to promote healthy families, schools, and communities. Through leadership, collaborative efforts, and science-based education, we foster a culture of wellness for New Jersey residents of all ages. Key program areas are:

Nutrition, Physical Activity and Health

School Wellness and Early Childhood Education

Chronic Disease Prevention

Food Safety

Food Security

For more information in FREE program offerings in your area or to set up a presentation or workshop contact your local FCHS Educator, Alex DelCollo.

Alex DelCollo, MS
Rutgers FCHS
51 Cheney Rd,
Woodstown, NJ
Phone: 856-769-0090
Email: delcollo@njaes.rutgers.edu
---
Bancroft grant will establish Health and Wellness center in Pittsgrove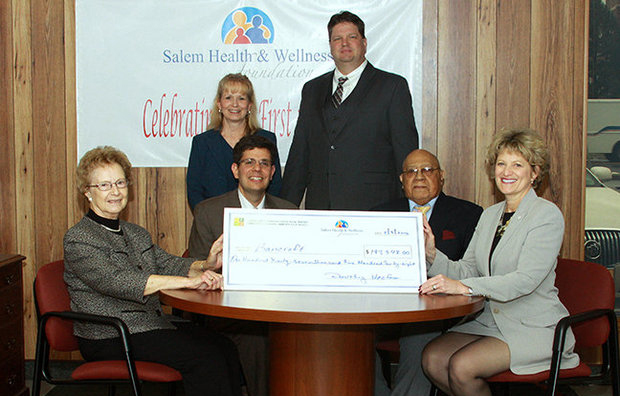 Pictured, standing, from left, Dorothy B. Haefner, Grantmaking Chair, Salem Health & Wellness Foundation; Dr. Kurt Miceli, Senior Vice President/Medical Director, Bancroft; Ernest Henderson, Board member SHWF and Toni Pergolin, President/CEO Bancroft. Standing, Brenda L. Goins, Executive Director SHWF and Bill McAllister, Board member SHWF. (Picasa)
The Salem Health and Wellness Foundation and the Community Foundation of New Jersey announced a grant to Bancroft for $197,548 to establish a Health and Wellness center at its Lakeside campus in Pittsgrove.

Bancroft, a leading nonprofit provider of specialized services for children and adults with autism, intellectual, or developmental disabilities, and those in need of neurological rehabilitation, received the grant to enhance access to quality medical care for adult residents by bringing medical specialists together under one roof.

In addition, Bancroft will explore the feasibility of expanding these medical services to Salem County families seeking support for their loved ones with disabilities.  Using an integrated health and wellness model will better meet the complex needs and challenges of serving this population.

"The foundation is pleased to partner with Bancroft to bring health services directly to clients, increasing their access to care," stated Brenda Goins, executive director of the foundation.

"Providing medical services for children and adults with special needs can be challenging due to complexities in their needs, behaviors and sensory capabilities," said Toni Pergolin, president and CEO at Bancroft. "We are so thankful to Salem Health and Wellness Foundation for allowing us the ability to provide extended care to those we serve and support as well as increasing our opportunity to help others in the Salem County community."

The Health and Wellness Center at Lakeside will provide space to bring medical specialists such as primary care, neurology, psychiatry, phlebotomy, podiatry, dentistry and others, all under one roof for comprehensive and interdisciplinary care.

Having a medical facility on site also allows for teaching opportunities for those with various disabilities including autism to provide desensitization by mimicking real life experiences before they have an appointment with a medical professional outside of Bancroft.

Renovations are currently underway and the new site is expected to be operational by spring 2016. To learn more about Bancroft visit Bancroft.org or call 1-800-774-5116.

Healthy Fruit and Nut Bars

Ingredients

cup dates, pitted
cup prunes, pitted
cup dried apricots, pitted
cup pumpkin seeds
cup toasted salted sunflower seeds
1 tablespoon coconut oil

Preparation

In a large bow, heat coconut oil so it liquid (about 20 seconds in the microwave). Mix in dried fruit.
In a food processor, slow add fruit and pulse. Continue to pulse until fruit is a paste with small bits. Continue to pulse and slowly add seeds. Pulse until combined.
On a piece of plastic wrap pour out mixture. Roll tightly into a log.
Wrap in plastic paper and with a rolling pin roll until flattened. Keep ends formed so it becomes a rectangle.
Cut into 8 pieces.
Wrap individually in plastic wrap.


Notes

These bars keep for up to a week an a sealed container. They can be refrigerated.
6 Great Apps to Teach Kids about Nutrition
By Marisa Moore, MBA, RDN, LD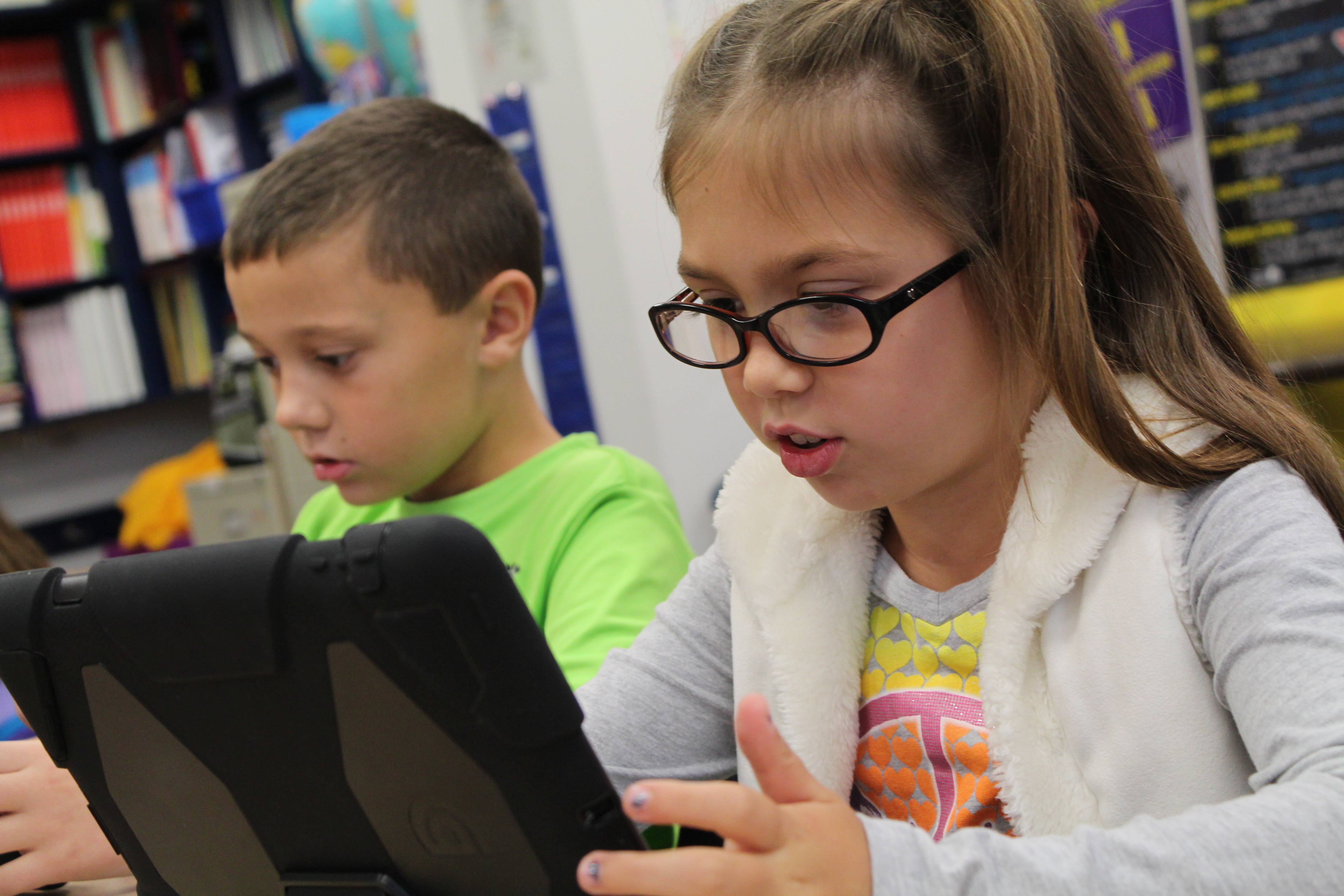 Want your tech-savvy kids to be more interested in nutrition? There's an app for that!  Using a variety of app formats, from games to basic learning tools, kids can learn about food groups, nutrition facts, the digestive system and cooking skills.
Because many families already have access to mobile devices and kids are excited to use them, it's an ideal platform for learning. Plus, many schools use tablets in the classroom, explains app developer Catherine Federico, RDN. "Kids expect that technology," she says.
With a plethora of apps on the market, finding the best ones can be daunting. Here are a few to start.
Easy Eater 2
In Easy Eater, kids are responsible for naming and keeping a pet healthy and happy by feeding it the same foods they eat. Set in a magical forest, Easy Eater boasts a motley cast of characters that teach food groups and encourage food recognition. Kids learn that shrimp, tofu and nuts are proteins and that avocados are fruits, for example. Healthy choices earn "grub bucks" to buy app accessories and real world prizes.
Eat and Move-O-Matic
This app helps kids to understand the relationship between food and exercise. The app compares the calories they eat with the time it takes to burn them off with activities that range from doing homework to dancing. With a colorful and engaging design that feels like a video game, Eat and Move-O-Matic offers ideas and tips for healthy alternatives to high-calorie foods like burgers and fries.
Healthy Heroes 1 & 2: Nutrition for Kids
As the Healthy Heroes in this game, kids are charged with saving the city of Yogopolis from Hungry Monsters. Through 36 levels of game play, kids fend off the Hungry Monsters with healthy foods like fruits and vegetables. Junk foods anger the monsters and prevent advancement. Kids learn to recognize healthy foods and eating habits throughout the game.
Perfect Picnic
Perfect Picnic teaches food safety skills with a goal to create the safest picnic operation in the park. The game encourages players to wash hands, use a food thermometer to measure internal food temperatures, keep perishable foods at safe temperatures and keep preparation surfaces clean.
Smash Your Food
This popular app let's you smash food to see its actual sugar, salt and oil content by the numbers compared to what's recommended. Kids will enjoy smashing real images of a burger, imploding a can of cola and pounding a pizza to greasy smithereens. App masters can unlock or buy new food fridges to keep the learning going.
Veggie Circus Farm
Veggie Circus Farm helps children as young as two years old recognize vegetables. Led by Brianna the butterfly or Brian the bee, the app provides animated vegetable performances that teach kids how to pronounce the names of vegetables and basic nutrition benefits without the need to read.
There's a world of options available. Before sharing an app with your child, test it. Is the content accurate? Are there advertisements? If so, are they acceptable? In little or no time you'll find apps that not only entertain but also educate your child on health and nutrition.
Salem County Department of Health & Human Services

Free Health Screening Events
Spring/Summer 2016


Penns Grove Post Office – 56 West Main Street – 1:00pm to 3:00pm
    April 11    June 12    Aug 8

Elmer Post Office – 625 N. Main Street – 9:30am to 12:00 pm
    March 9    April 13    May 11    
    June 8    July 13    Aug 10
 
Pennsville Post Office – 220 S. Broadway – 9:00am to 11:00am
    March 7    April 4    May 2      
    June 6    July 11    Aug 1

Cedar Lane Auction – 21 Cedar Lane, Elmer – 10:00am to 2:00pm
    March 15    May 17    June 21      
    July 19    Aug 15

Haven United Methodist Church – 354 Marlboro Pike, Quinton – 1:30pm to 3:30pm
    March 15    May 17    June 21     
    July 19    Aug 16

Sharptown United Methodist Church – 24 Church Street – 10:30am to 1:00pm
    March 23    April 27    May 25    June 29

All dates subject to change
Salem County Family Support Services
Family Support Services
Family Success Center
Salem Family Success Center
14 New Market Street
Salem, NJ 08079
(856) 935-0944
Riverview Family Success Center
157 West Main Street
Penns Grove, NJ 08069
856-517-0029
Kinship Navigator Program
Family Service Association
English Creek Avenue, Suite 3
Egg Harbor Township, NJ 08234
(877) 569-0350
Early Childhood Services
Parents Anonymous of NJ Inc.
South Jersey Father Time
St. Matthews Masonic Lodge #20
Penns Grove, NJ 08079
(856) 293-7301
Fatherhood program to assist dads with deepening their concerns with their children.
Serving fathers in Salem County.
Health Dept
http://www.salemcountynj.gov/health/move-yourself-salem-county-walk-n-talk-schedule/
DFCP Directory
http://www.state.nj.us/dcf/families/dfcp/DFCPdirectorySalem.pdf
Home Visitation
Robin's Nest, Inc.
Healthy Families - TIP
Nurse Family Partnership
42 South Delsea Drive
Glassboro, NJ 08028
(856) 881-8689
Strengthening Families
Quality Care Resource &
Referral Services, Inc.
5 Route 45, Suite 200
Salem, NJ 08079
(856) 469-6100 ext. 2411
(856) 463-6100 ext. 2407
Domestic Violence Services
Salem County Women's Services
PO Box 125
Salem, NJ 08079
(856) 935-6655 (24 hour hotline)
(856) 935-8012 (office)
Social Services
Salem County Board of
Social Services
147 South Virginia Avenue
PO Box 111
Penns Grove, NJ 08069
(856) 299-7200
School–Linked Services
School Based Youth Services Programs
Salem City High School
219 Walnut Street
Salem, NJ 08079
(856) 935-3900 ext. 270
Salem County School Based Youth Services
Box 350
890 Route 45
Woodstown, NJ 08098
(856) 935-7365
Family Friendly Center
John Fenwick School
183 Smith Street
Salem, NJ 08079
(856) 935-4100 ext. 229
Child Assault Prevention
NJ Child Assault Prevention Network
Education Information &
Resource Center
900 Hollydell Court
Sewell, NJ 08080
(856) 241-4395
Salem County Parks
http://www.visitsalemcountynj.com/things-to-do/parks/