♥
Courses and Seminars   
♥
♥  
Starting in February   
♥
Click on a course to go to the complete description or to register online.
Boot camp leader Bethany Jett says:We are so pleased and excited that TCCTC is hosting the Tallahassee Tour Stop. It's a privilege to share our knowledge of the writing and publishing industry. We will focus on writing, completing, and pitching your manuscript, as well as how to make money freelancing and marketing and social media strategies that get the attention of publishers. 
Our speakers include bestselling author of over 80 books Michelle Medlock Adams, award-winning author and literary agent Cyle Young, and me, award-winning author and marketing and public relations graduate school student Bethany Jett. 
We cannot wait to help you plan your next steps for your books and writing careers. Make sure to sign up at

seriouswriter.com/tallahassee

. 

​Ashley Jones

, TCCTC Graduate and former Board Member, is a co-host of the event. Click

HERE

to listen to her

interview

about the event on WAVE 94. And while you're at it, check out her blog,

Big Sister Knows

. Or better still, sign up now to take her course this summer,

Begin with Blogging

.

​Click

HERE

to check out who's interested and who's attending on the

Event's Facebook Page

.
---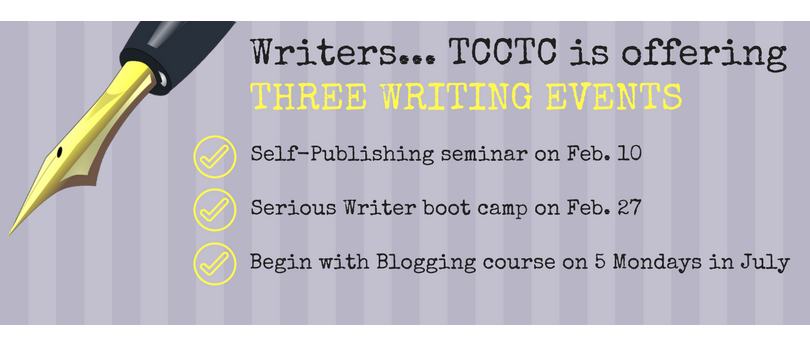 ♥

Katrina Black

♥

Tells Her
TCCTC Story


"First of all, I have to thank God for His goodness and for the family He blessed me with.  I am the second oldest of five daughters.  I have a wonderful, supportive husband, a great son, and an awesome grandson.
I received my Bachelor's Degree in Public Management from Florida A&M University.  When I decided to return to school to get a Master's Degree, I knew I had to take a different route.  I could feel the nudging of the Holy Spirit in this decision.  It was my intention to visit the Center for Biblical Studies to check it out, but I put it off. 
Several years later, I knew I had to just do it.  I had to make a commitment and stick to it.  In 2015, I started taking classes toward a Master's Degree with a concentration in Christian Counseling.  This was one of the best decisions I have ever made.
I attend New Mt. Zion AME Church.  I have served as an usher, choir member, a stewardess, and am currently privileged to serve as a member of the Trustee Board and as an Intercessor.
 When I became a supervisor on my job with the State of Florida, I understood I was in a position to influence a lot of people and I wanted to influence as well as counsel others in a way that would be pleasing to God.  God has allowed me to make a positive difference in the lives of others, and it is very humbling.
I like to tell others who struggle with doubts about accomplishing goals, 'You can do it!  You can accomplish whatever you put your mind to.  Don't give up!'

  I remind myself constantly that Philippians 4:13 says, "I can do all things through Christ who strengthens me." 

I firmly believe it was the will of God for me to attend Tallahassee Christian College and Training Center.  Proverbs 18:16 says "A man's gift makes room for him, and brings him before great men."  This has taken place for me at TCCTC.  I have met some great men and women of God - I have become a part of another great family.  The staff and instructors have been very influential in my life.  They earnestly pray for each student's success in school and in life.
Not only have I developed a closer relationship with God because of what I've learned and received from TCCTC, I also have a better understanding of God's will for my life. I didn't just receive an education, I got transformed as well."
.

.