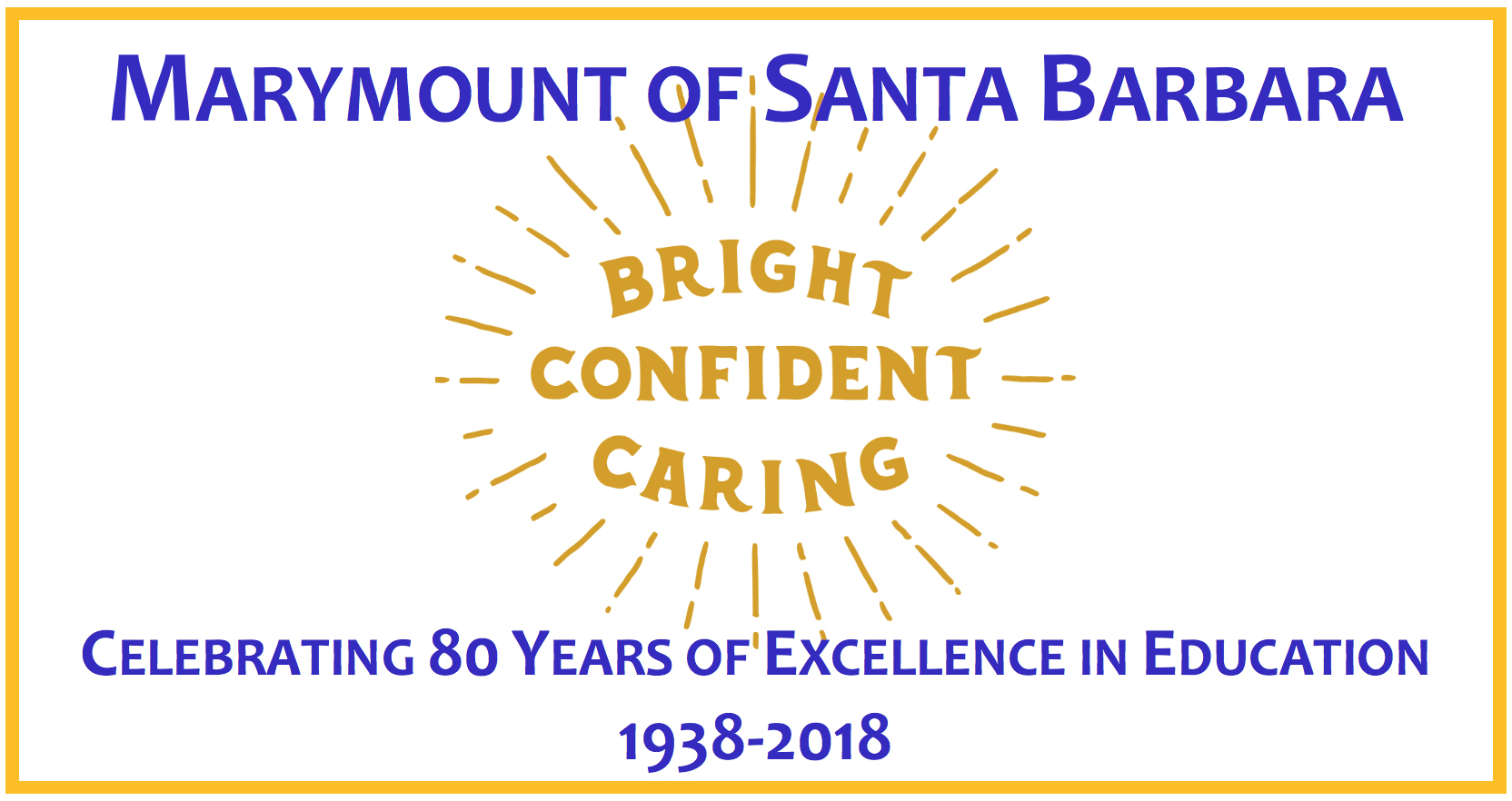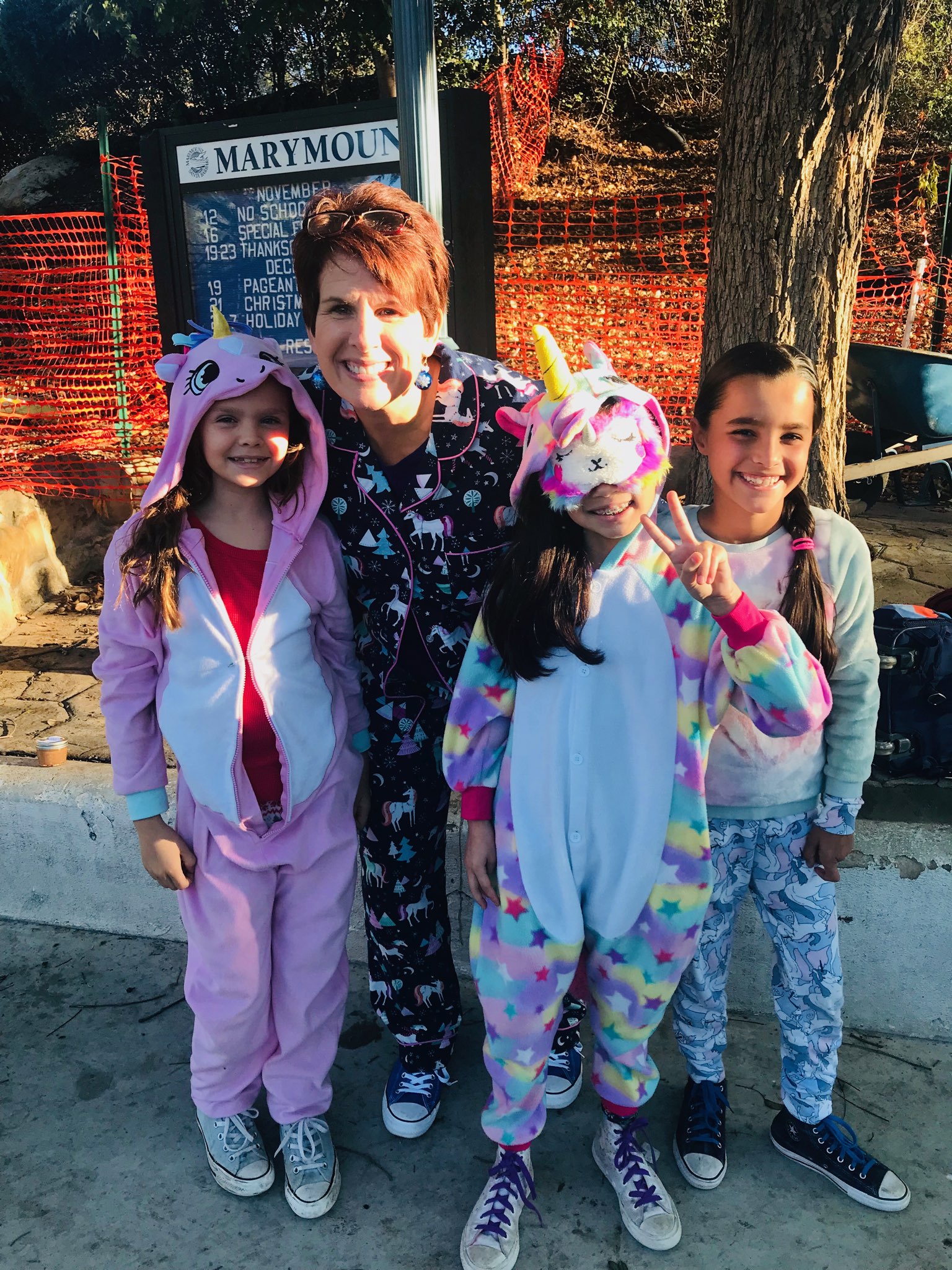 Holiday Message From Mrs. Broderick
​
"People grow through experience if they meet life honestly and courageously. This is how character is built." Eleanor Roosevelt
2018 has definitely been a year full of courageous choices, and yet positive changes and growth for my family, and I know for many others.  The joy of "coming back home" to California and joining the Marymount community has truly been the highlight of our year. 
As I reflect over the first half of the school year, I am so grateful and proud of the many wonderful moments to cherish this year. Celebrating Marymount's 80th Birthday, sharing in the patience and excitement of our students as we complete the renovation of our Lower School field, seeing the Middle School Musical come to life at the New Vic Theater, and concluding this week as our students sing and perform with true joy in the Annual Christmas Pageant this week has been delightful! 
In addition, our phenomenal faculty and staff worked tirelessly to complete our CAIS Accreditation report and diligently prepared for our campus accreditation visit coming up in January. This year, one of the most important activities I enjoyed as Marymount's new Head of School was hosting the grade level parent coffees and initiating both the faculty and parent satisfaction surveys earlier this fall.   Receiving this important feedback along with the honest, thoughtful dialogue has been so impactful as we plan and prepare for the 2019-20 school year and beyond. 
Believe it or not, we begin planning for the next school year in mid-October and each year the Board of Trustees votes in December to approve the tuition for the following school year.  In January, invitations for re-enrollment are then sent to all current families, and the Admissions office revs up with our Open House and lots of tours for prospective Marymount families.  As we leave for our holiday break and prepare to welcome 2019, I thought it would be appropriate to share some of the things both our current and prospective Marymount families can look forward to in the coming year.
We remain committed to providing some of the best opportunities for the professional development for our Faculty and Staff and we are proud to announce a majority of faculty and staff will be attending the National Association of Independent Schools Annual Conference in Long Beach on Friday, March 1  http://annualconference.nais.org/. It is very rare that an entire school community can attend this annual event and we are proud Marymount will be strongly represented at this prestigious conference.
In March we will begin the long-term Strategic Planning process for our school. I am very excited to share that that Marymount has hired nationally recognized Independent School consultant, Ian Symmonds and Associates, to guide us through this process http://iansymmonds.org/about.  Once our CAIS accreditation visit concludes in January and we return from our winter break in February, I will be hosting parent coffees in the spring to share the next steps for Strategic Planning along with the results of our CAIS visit and the feedback from the parent and faculty surveys.
In late February/early March, we will also be announcing new Summer Arts and Athletics programming coming to Marymount this summer!  We have amazing faculty and coaches who are excited to welcome students on campus for some terrific new camps.
Lastly, I am excited to announce that we will hiring a new professionally licensed JK-8th grade counselor to join the Marymount faculty and staff for the 2019-20 school year.  As final candidates are selected to visit Marymount in the Spring, opportunities to meet the candidates and give feedback in selecting the right counselor for our community will be made available.
Celebrating the holidays at Marymount this year has been very special. From learning to serve those in need and supporting the Santa Barbara community with extra volunteerism, to wearing our jammies and ugly holiday sweaters to school for some extra fun and community spirit, our students have been joyful reminders of generosity, kindness and love.  On behalf of the Marymount Board of Trustees, Faculty and Staff, I truly wish you the happiest of holidays, a very Merry Christmas and the sincere hope and celebration for a healthy and happy New Year.  I hope that all of our Marymount students, families, faculty and staff can enjoy a restful break and a renewal of spirits as we welcome 2019. Thank you for your continued support and care of Marymount of Santa Barbara.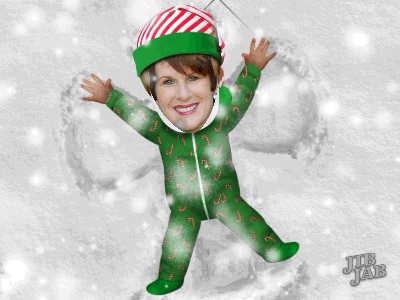 ---
​Tomorrow's Christmas Mass


Friday, December 21 
To celebrate a Marymount tradition, a Christmas Mass will be held tomorrow (12/21) from 8:45 to 9:45 am. Fr. Patrick will be presiding with student readers and the 4th and 5th grade choir will sing. Students in 2nd through 8th grade who will be attending the mass should wear formal dress (See the Marymount Handbook for details). JK, K and 1st graders may attend the mass with a family member. Accommodations with another class will be available for students whose parents do not wish their child to attend. Please communicate with your homeroom teacher, or advisor if your child will not be attending the mass. 
All are welcome!
Click here for the photos from yesterday's
​Lower School Christmas Pageant.
---

​Father/VIP/Daughter Dance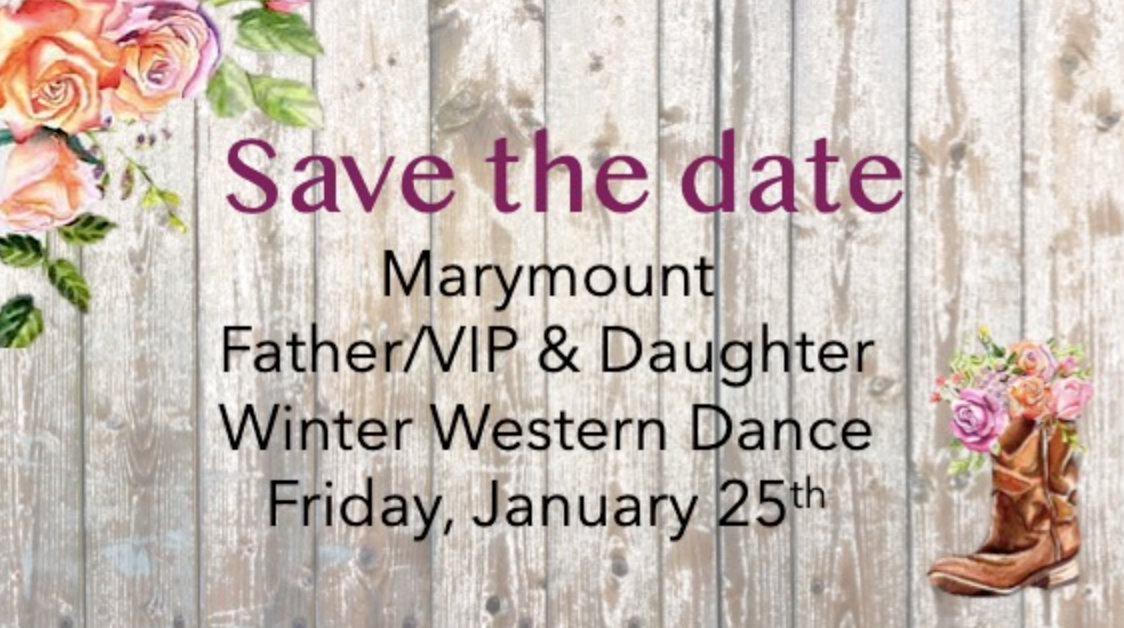 ---

Development's Corner
​
Annual Fund
Want your Annual Fund contribution to count for the 2018 tax year?
We know many of you are looking to make sure your donation qualifies for a 2018 tax donation. Here's how you ensure you get your tax write-off...To qualify for a 2018 tax deduction for your contribution to Marymount of Santa Barbara, your donation must be made before December 31. Credit card donations can be made online by going to the Marymount website. Checks can be mailed to the school. Checks dated on or before Dec. 31 will qualify as a 2018 donation even though they will not be processed until after the new year. For stock donations, contact your broker and follow these stock gift instructions.
Marymount will be closed from December 22 through January 6. If you have questions regarding a donation, please email Andrea McFarling at amcfarling@marymountsb.org.  She will get back to you before the December 31 deadline. Due to the large number of donations made over the last two weeks in December, gift acknowledgements for gifts made during this time will require a few weeks to process. You can expect to receive a letter for your taxes by mid-January. Thank you for your support!
Don't forget...your pledge is as good as your gift. Pledge today to be counted in the community and pay before June 30, 2019. Contact Andrea McFarling at amcfarling@marymountsb.org with your pledge amount. Help us get to 100% parent participation.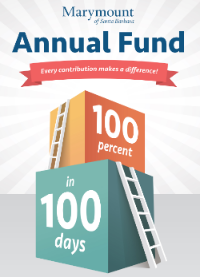 ---

​Important Links to Bookmark
---
​Winter Enrichment in Performing Arts with Ms. Dance



Broadway Baby! Gr. JK - 2
Mondays and Wednesdays 3:15 - 4:15 pm Jan. 9 – Mar. 21
(No Class on Jan. 16, Jan. 21, Feb. 11, Feb. 13, Feb. 18, Mar. 13)
There's no business, like show business...! Sing! Dance! Act! Explore the world of Broadway and Musical Theater.  Learn the basics of stage confidence and performance. Students will learn songs, choreography/movement and short scenes from existing Broadway musicals. There will be a showcase for an invited audience on Thursday, March 21. Come and dazzle in the spotlight! Cost: 16 classes for $256
Tuesdays and Thursdays 3:00 - 4:30 pm Jan. 10 – Mar. 21
(No Class on Feb. 12, Feb. 14, Feb. 21, Mar. 14)
Students will learn different facets of theater including acting, character development & improvisation. Students will also expand their monologue repertoire. The structure of this class promotes self- expression, critical thinking, creativity and teamwork. Together, the students will produce and perform a short one act play that will display all of the techniques learned. This performance will be for an invited audience on Thursday, March 21. Cost: 18 classes for $288
Click here to register!
​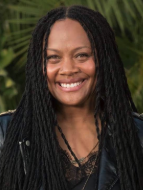 About Ms. Dance
This is Ms. Dance's second year as Director of Theatre at Marymount of Santa Barbara. Other recent credits include: To Kill and Mockingbird (Repertory Theatre of St. Louis), Rent (Arête Productions), Bare (Out the Box Theatre Co.) Smokey Joe's Café, Swing, and Ain't Misbehavin' (Saville Theatre). Miriam holds a BA in Theatre with concentrations in both Directing and Playwriting from the University of California, Santa Barbara. Miriam was a featured playwright in UCSB's New Works Lab in the Spring of 2017, which featured her one act play: "In His Hands." Miriam is Co-Founder of Re-imagining and Elevating: Artistic Concepts and Talent (RE:ACT) a nonprofit, making the arts available in underserved communities.​
PEAK2PACIFIC
2019 Winter Adventures & Camp Programs!
 Enjoy winter sports and outdoor adventures such as ice skating, hiking, rock climbing, ropes courses, beach obstacle courses, beach volleyball, sailing and kayaking and stand-up paddle boarding with Coach Keltner and Coach Austin.
New Years Camp - Wednesday 1/2 + Thursday 1/3 + Friday 1/4
Winter Adventure Days - 1/7, 1/21, 2/18 (NO SCHOOL) 
Winter Break Adventure Camp - Monday 2/11 - Friday 2/15 
Times
9:00 a.m. to 3:00 p.m. Early Drop off option at 8:30 a.m. Late Pick up option at 4:00 p.m.
Pick-up/ Drop off: Stevens Park, 258 Canon Drive
Camper Packing List
Lunch, snacks, reusable water bottle, hat, sunscreen, layered clothing, sneakers, bathing Suit, towel, wetsuit, backpack for gear.


Schedule
Our program schedules are personally tailored to best serve our registered campers abilities, and our outdoor environments/weather during our Peak2Pacific programs.


Click Here to Register Today!
​

We look forward to adventuring with you soon!
After School Math Clubs for Winter/Spring
​Be sure to check out the various math clubs offered on Marymount's campus after school.  This is a terrific way for your child to get extra math support at no cost.
Click here for the Math Club Schedule.
Last Call for Lost and Found
Come take a look at Lost and Found all next week OR stop by before or after the Christmas Pageant in front of the Lower School office to see if your child(ren) have left any belongings on campus. After December 21st, we'll be donating items to the uniform exchange and goodwill. 



Alumni News


Maymount alumn and Santa Barbara High Volleyball standout, Will Rottman signed with Stanford this week. Rottman on Wednesday made Stanford his choice on where to continue his education and volleyball career.  He signed his National Letter of Intent during a ceremony in the SBHS Alumni Room.
Click here for the full article.
---
​​The Weeks Ahead
Friday, December 21
Christmas Mass in Battistone Hall at 8:45 a.m.
​MS Holiday Brunch
Early dismissal
No lunch program and no extended day

Holiday Break


School will be closed for the holiday break from December 24th through January 7th




School will resume on Tuesday, January 8th


​
Get Social
Don't miss a beat by joining our social media platforms!
It's fun. It's informative. It's connectedness!