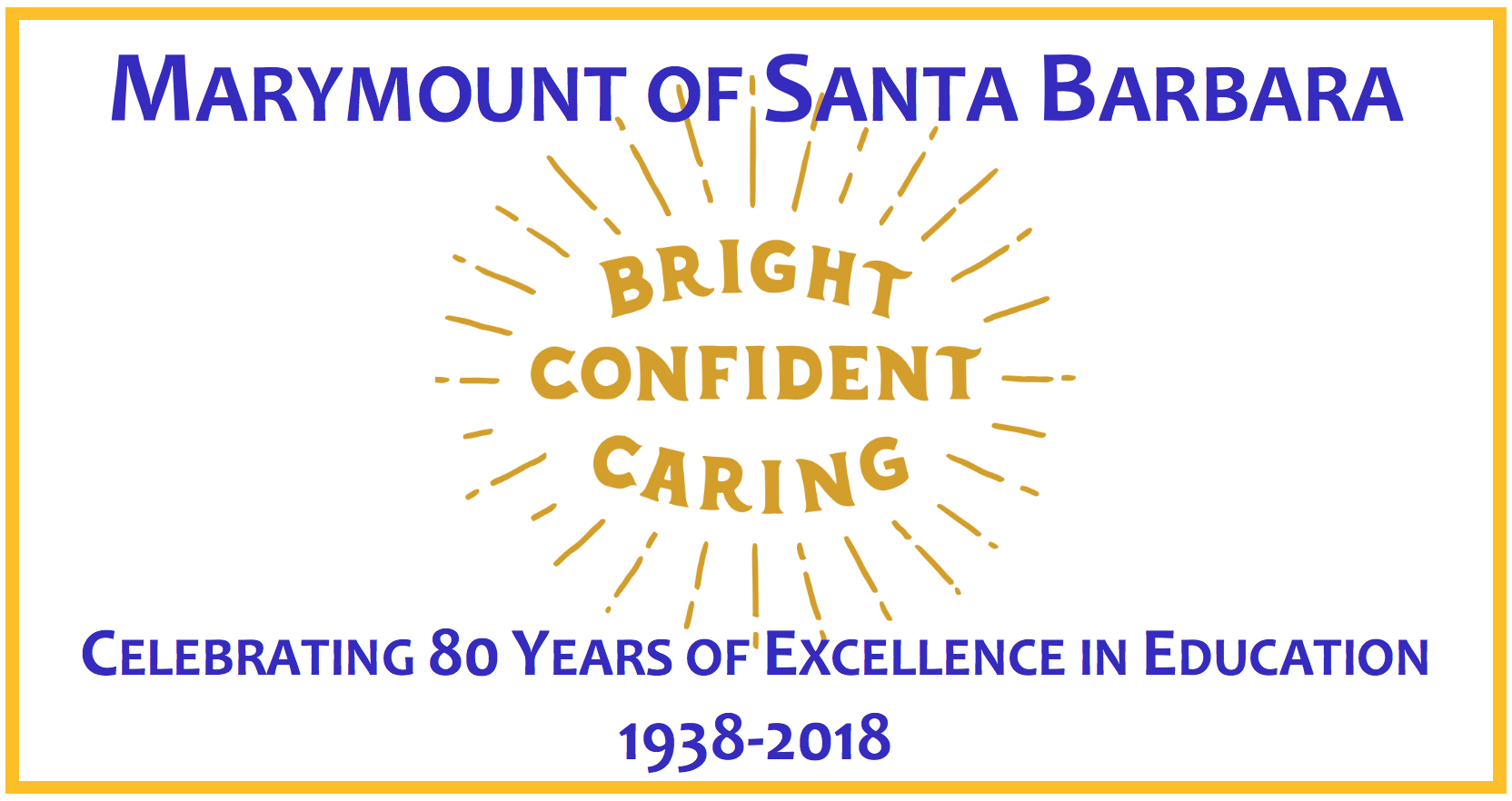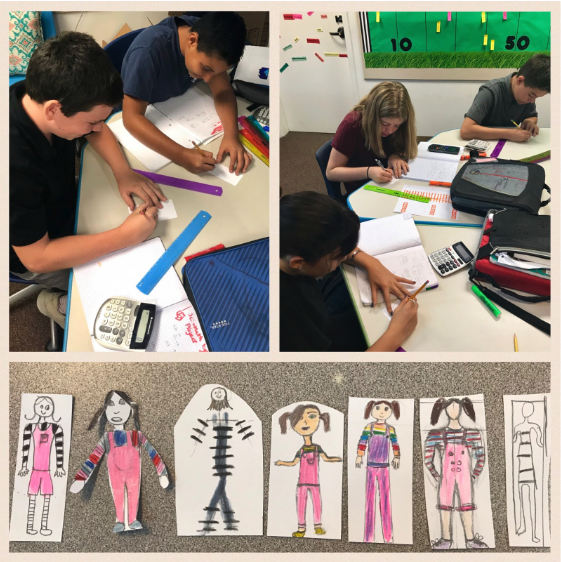 ​Checking in with Ms. Tannous
​
Have you ever heard your child grumble while working through homework, "When am I ever going to need this in life?" Perhaps you remember that thought crossing your mind a time or two during your middle and secondary education. Helping students understand the value in what they are learning and its ties to the real world are guiding principles in our Middle School curriculum. One way we achieve this is through interdisciplinary units and projects. An interdisciplinary approach allows students to break down the walls that separate subject areas and make real world connections. We call this creating learning opportunities with real-world purpose; it is a core strength of our Middle School, and our faculty are constantly striving to keep their curriculums current and connected. 
One example of an interdisciplinary unit underway is the 7th grade "Oh the Things You Can See" project. This clever assignment seamlessly weds science, math, and the Middle School musical to help students apply their classroom learning to their own lives.  
Through their math classes led by Alexa Hughes and Rebecca Ryser, students measured the height and depth of the stage in Battistone, then applied their knowledge of ratios to create a scale model of the stage. What stage isn't complete without a performer?  Next, the students measured the character JoJo, played by Cassidy Broderick, and created a scale model of her to add to the mini-stage. 
Then Hannah Sener introduced students to the characteristics of light and color through her science class. Students learned that each color has a specific wavelength, and when wavelengths are mixed, new colors are created. Contrary to what they learned in art class, students discovered that light has three primary colors: red, green, and blue. When two colors are combined, secondary colors are created, and when all three primary wavelengths are combined, white light is produced.  
Enter Tyler Koontz, the Movement and Sound Coordinator arm of our Middle School Drama team. Mr. T, as the students affectionately call him, selected one scene from Seussical the Musical for students to design a light show. The scene selected was JoJo's solo of "It's Possible." Mr. T broke the scene into five parts for students to study, analyze, and creatively use light to dramatize.          
Working in groups, students were given the challenge to use their scale models of Battistone's stage, with their mini-version of JoJo, to create a light show that utilized the three different kinds of lights: primary, secondary, and white. Students were asked to film their light shows on the scale model, and create voice-overs to explain how they created each light color, and why they felt the color they chose was appropriate to that moment in the song.  
Seventh grade students are presenting their final products to their peers in class today, and they are very anxious to know which one Mr. T will pick to use in the actual production of the musical next Wednesday and Thursday, November 14th and 15th, at the New Vic Theater.  
This creative and open-ended project has allowed students to demonstrate mastery of subject material, to build their communication and collaboration skills with their peers, and possibly most importantly, it has allowed students to see that science and math are embedded in the real world and their lives. When asked why she valued this project, Ms. Sener remarked, "This project allowed each student to highlight their individual strengths while building appreciation for the hard work carried out by their peers on Stage Crew. They were excited about this project because it was about them."  
The "Oh the Things You Can See" project is just one example of many of the innovative and collaborative approaches that go into designing our Middle School program. We hope you make it to the musical next Wednesday and Thursday, and we hope you pay special attention to the lights during JoJo's solo of "It's Possible."  
Kate Tannous
​Middle School Division Head 


Click here to see a video to demonstrate the light show in progress!
​​
Coming Soon!
Seussical Jr., The Musical!
​
​Show Dates:
November 14 & November 15
Show Times:
12:30 p.m. & 6:30 p.m. both days
Location:
The New Vic Theater - 33 W. Victoria 


Day Performances:
$10/adults, $7/seniors & free/students

Night Performances:
$10/general & $25/VIP seating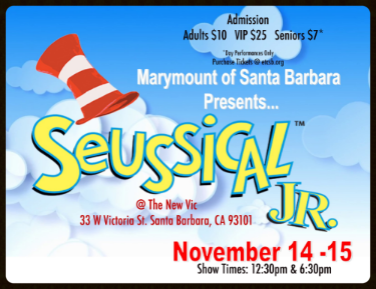 ---
Annual Fund​ 2018-2019
Thank you to all those who have committed to this year's Annual Fund. We greatly appreciate your support and participation. Overall, parent participation to the Annual Fund is 58%. Below is the participation for each grade.
Help us reach 100% in 100 Days! Click here to make your gift today or email Andrea McFarling with your pledge amount to be paid before June 30, 2019.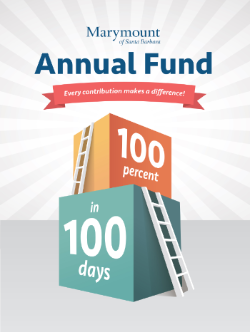 ​


In celebration of Marymount's 80th birthday, Marymount's 80s Glam Gala auction is set for Saturday, April 27, 2019 at 5:30 p.m.
Are you interested in helping with the auction? Join us for the Auction Committee Kick-off Meeting on Friday, December 7th at 8:30 a.m. in the Tea House. RSVP to Andrea McFarling at 805-569-1811 ext. 234 or amcfarling@marymountsb.org. Please let us know if you will be joining the fun.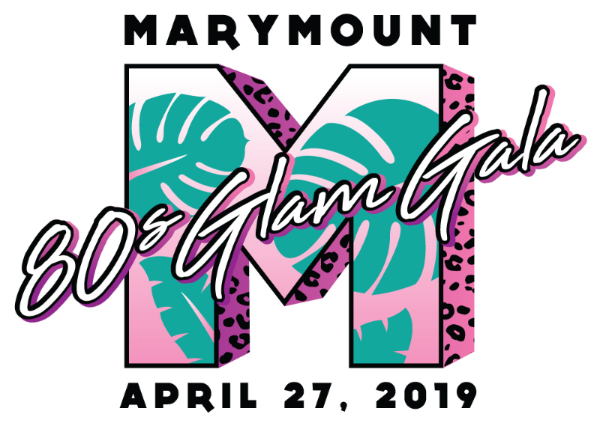 ---

​Important Links to Bookmark
---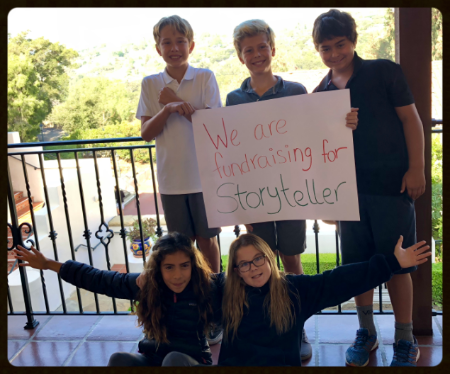 6th Grade Religion and Service Non-Profit Announcement


​

For the last two weeks we have spent class time debating, going over our notes and videos, writing down reasons, voting, and really taking the time to think about why we should pick one or the other candidates. CALM, Storyteller, and St. Vincent's do such an amazing job helping the SB community- it was really tough for the students to commit to only one (and for me to be completely honest). 
We voted, and voted, and voted- until almost all of them agreed on one....
STORYTELLER!!!!! 
I think the students realized that we have a big population of homeless children, or at risk, who need SO much, and they are not even in Kindergarten! They agreed that Storyteller embodies a little bit of CALM and St. Vincent's (both of them help children with trauma and therapy and have a preschool). This is an extraordinary class, and I am confident that they are going to do incredible things to help Storyteller. Students are already thinking about making their lemonade stands this weekend!
After School Math Clubs
​Be sure to check out the various math clubs offered on Marymount's campus after school.  This is a terrific way for your child to get extra math support at no cost.
Click here for the Math Club Schedule.
PEAK2PACIFIC Outdoor Adventures &
Environmental Education Programs 
Join PEAK2PACIFIC for our:
  Veterans Day Holiday Adventure - Monday 11/12 - 9:00 a.m. to 3:00 p.m. 
Thanksgiving Adventure Camp - Monday 11/19 - Wednesday 11/21: 9:00 a.m. to 3:00 p.m. 
Join Karen + Austin (and all your friends that you are grateful for) on our Mountain, Creek and Ocean adventures - Hiking, Climbing, Surfing, Boogie Boarding, Kayaking, Stand-Up Paddle Boarding, Team Building, Sports Games, Holiday Games, Scavenger Hunts, Cooking and more. Click the registration button below for descriptions and dates! We look forward to adventuring with you soon! www.peak2pacific.com 805.689.8326.


Click here

to register today!
Check Out Marymount on Social Media
Follow us on all of our social media platforms by clicking the icons below. Have a great picture of something your child did at school? Tag Marymount in your social media!
​
​Recap on Dr. Kelly Jameson


Thank you for welcoming Dr. Kelly Jameson to Marymount this week. She was able to speak to the issue of being worried, stress and the developing brain with our 5th through 8th graders, then faculty and staff and end 
The teen brain is more sensitive to stress that the adult brain. 

A teen brain is like a kitchen remodel until the age of 25 

Levels of stress look like this - stress, distress and then overload 

Perfectionism is an illusion and the strive for perfectionism can lead to paralysis

Teens between grades 7-12 rate stress as their number 1 health concern

Students said their main source of stresses are parents, homework/school and friends
If you were not able to attend the speaker event and would like a video of the session emailed to you, please email me at jnelson@marymountsb.org with the subject line: "Kelly Jameson."
---

​Info Night at San Marcos High School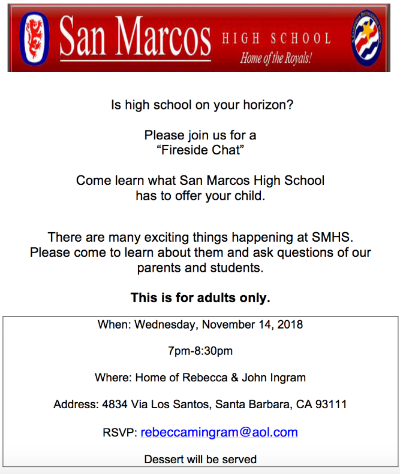 ​​The Week Ahead



Monday, November 12
No School in Observance of Veterans Day

Tuesday, November 13
MS Special Lunch - Kyle's Kitchen

Wednesday, November 14
Seussical the Musical at 12:30 p.m. and 6:30 p.m. at the New Vic Theater
JK, K, 5th, 6th, 7th and 8th grade to see MS Musical

Thursday, November 15
​MS Blenders
Kindergarten Thanksgiving Feast at 11:30 a.m.
Seussical the Musical at 12:30 p.m. and 6:30 p.m. at the New Vic Theater
5th grade field trip to MOXI
1st, 2nd, 3rd and 4th grades to see MS Musical
JK World Family Celebration at 1:45 p.m.

Friday, November 16
​Grandparents' and Special Friends' Day
11:30 a.m. dismissal. No Lunch Program. No Extended Day.
Special Mentions
Congratulations to Ashley Overton and her husband Caleb, on the birth of their daughter,  Harper Kae who arrived on Monday, November 5th. Everyone is enjoying the new baby and all are happy and healthy!