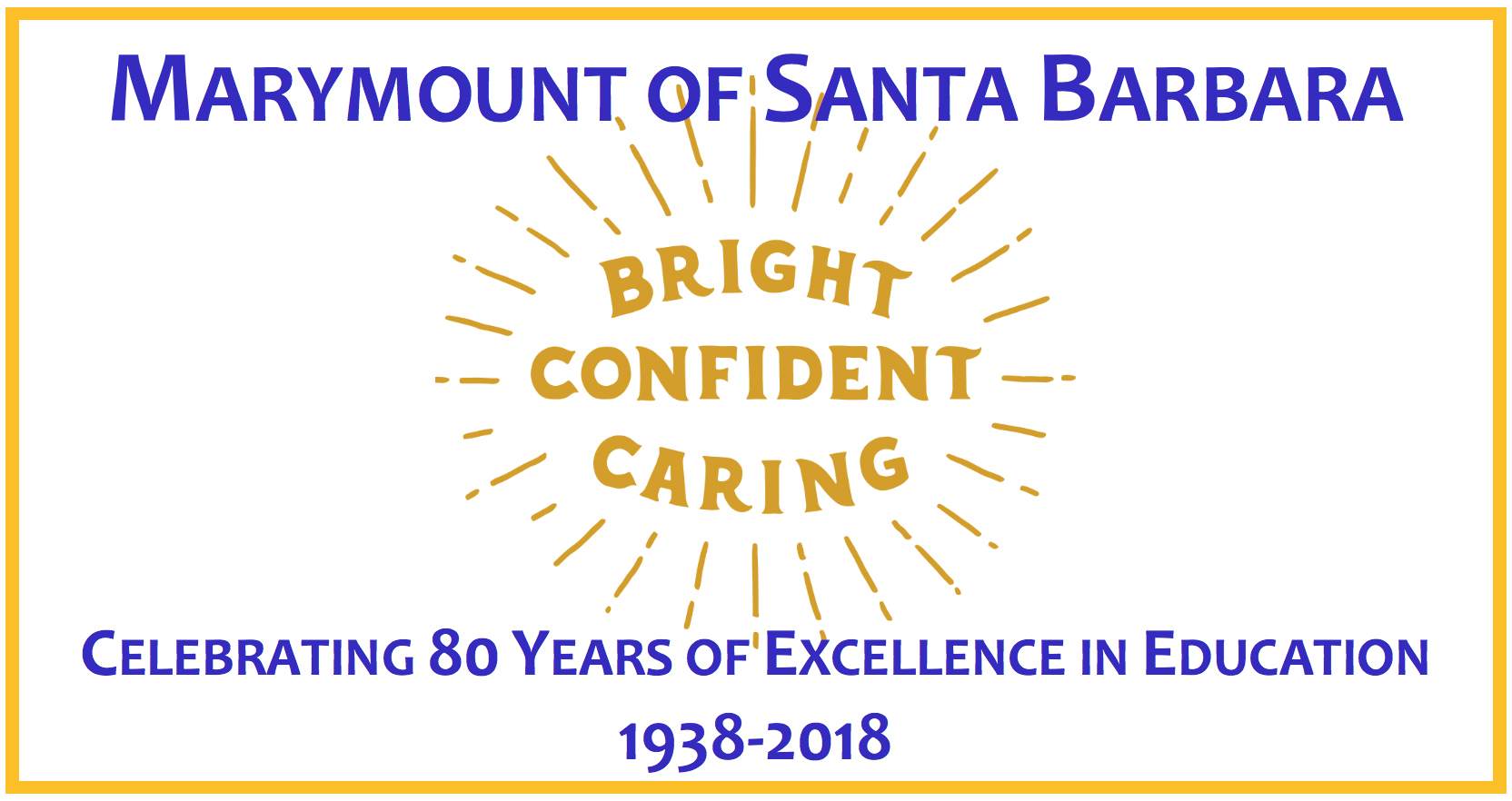 ​Spotlight on Creativity
​Marymount Middle School Presents
Seussical Jr., The Musical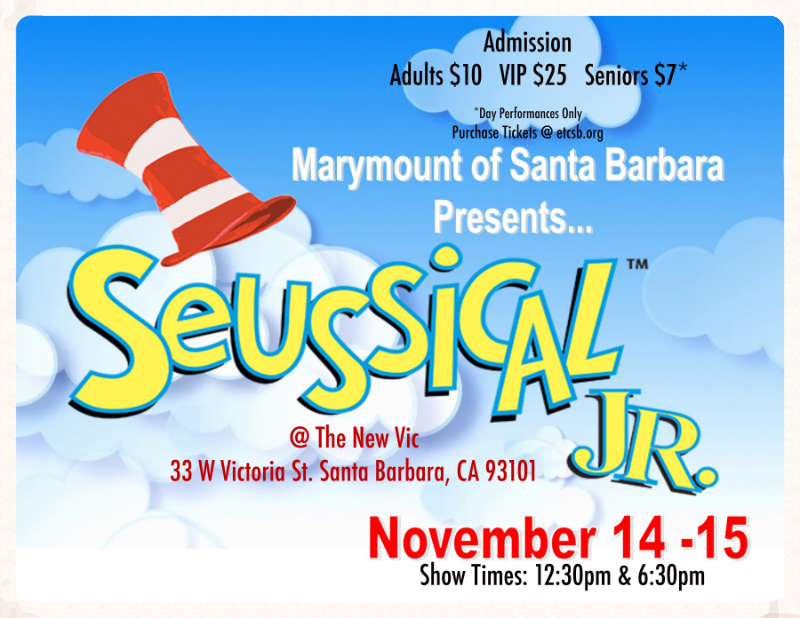 ​
Dates: November 14th and November 15th
Show Times: 12:30 p.m. and 6:30 p.m. for both performances.
Location: The New Vic Theater located at 33 W. Victoria Street
Ticket Sales: To buy tickets, please click here.
Daytime Performances: $10 for adults, $7 for seniors and free for students.
(Tickets available at the door.)
Nighttime Performances: $10 for general admission and $25 for VIP seating.
(Tickets available online and at the door.)
Description of Show
The Cat in the Hat tells the story of Horton, an elephant who discovers a speck of dust that contains the Whos, including Jojo, a Who child sent off to military school for thinking too many "thinks." Horton faces a double challenge: not only must he protect the Whos from a world of naysayers and dangers, but he must guard an abandoned egg, left in his care by the irresponsible Mayzie La Bird. Although Horton faces ridicule, danger, kidnapping and a trial, the intrepid Gertrude McFuzz never loses faith in him. Ultimately, the powers of friendship, loyalty, family and community are challenged and emerge triumphant. 
Seussical is fun for the whole family! Performers of all ages will be excited to portray the characters from the familiar Dr. Seuss fables.
Theater Team
We are incredibly lucky to have such an amazing theater team guiding our students through this production.


Miriam Dance, Drama Director
Tyler Koontz, Movement and Sound Director
Dauri Kennedy, Music Director
Terrell Sledge, Assistant Drama Director
Not pictured: Sian Harden, Stage Manager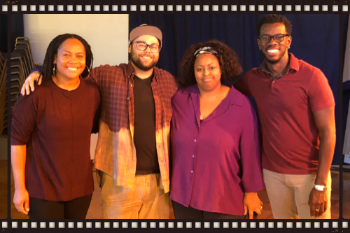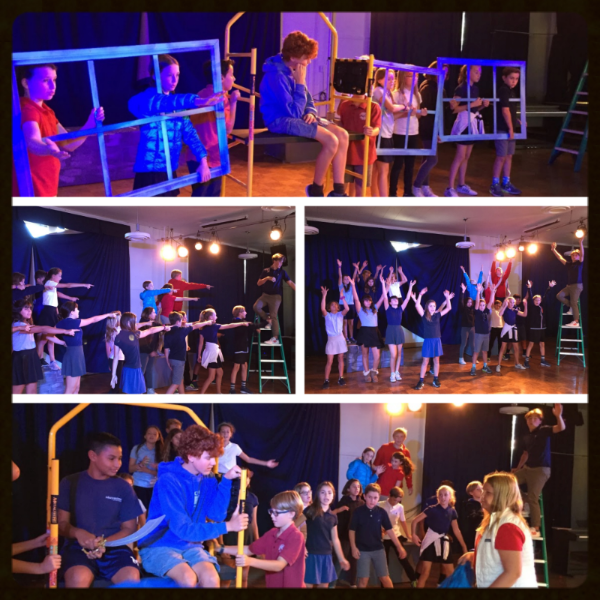 Our Actors in Rehearsal!
Enjoy some recent quotes taken from some of our actors this week.
​
Q: Why do you like doing the musical?
A: "I love acting so that I can express myself. I don't feel judged when I play a character. It's just FUN!" ~Carly M.

Q: What is your favorite part of this particular musical?
A: "I like being part of the stage crew. I feel like helping out is really important to me. Without the stage crew, we couldn't run the play efficiently and I like being part of the team." ~Jed G.

Q: What makes this musical so special seeing that this is your 8th grade year?
A: "This play is very funny, and I am very funny, so I feel that my character in the play defines my personality. It's a great experience for me." ~Duke N.

Q: What makes this musical different from other musicals you have starred in before?
A: "This play is going to be in a major theater (The New Vic) and my past experience has been in smaller theaters. I am excited that a bigger audience will be able to see our amazing play!" ~Catherine I.
​
---
​Recap on Marymount's Canned Food Drive
Our amazing students JK through 8th grade, collected over 2,000 cans for this year's canned food drive. 3rd grade students were the winners of the Lower school, collecting 247 cans. Our Middle School winners were the 7th class with 436 cans! Go Mustangs! 
​
Click here to see an amazing time lapse of the morning as each grade gathered cans and strategically made a certain letter of the alphabet. The Marymount M!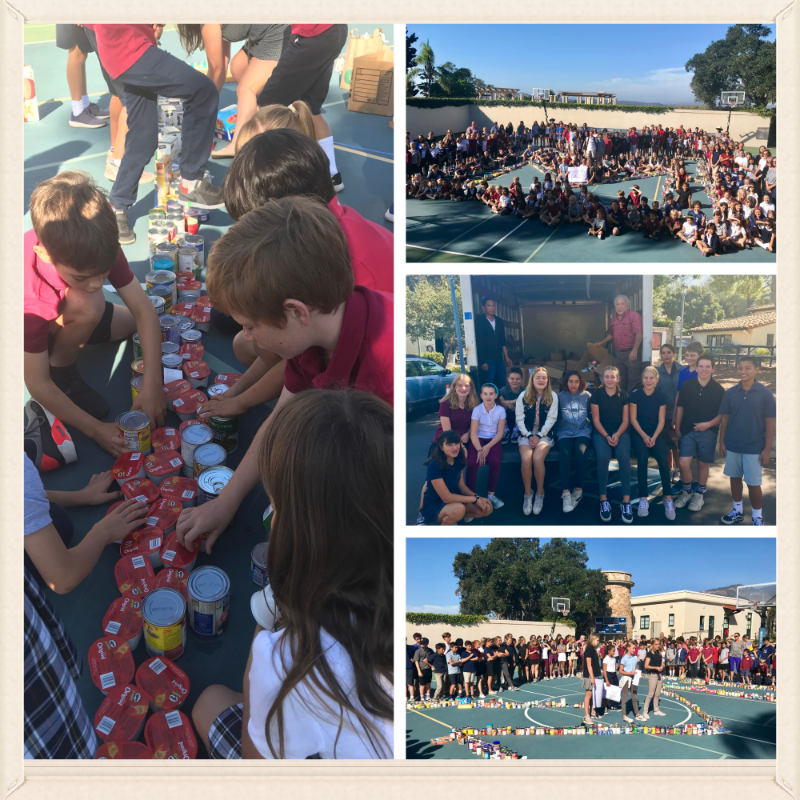 ---
​Don't Forget to Send Us Your Grandparent & Special Friend's Info
Last call to provide your loved ones' contact information. Click here to complete the survey with information on your grandparent or special friend for their invitation to our November 16 gathering. Thank you to all those who completed the survey. Invitations will be mailed soon to the grandparent or special friend whose name and information you provided.
​
Annual Fund​
Marymount Board of Trustees joins Faculty & Staff with 100% Participation - Thank You!
We are most grateful to the 53% of parents who have committed their support to the Annual Fund. We are more than half way to our goal of $340,000 and more than half way through our 100 days. Below are the current parent participation rates for each grade.
8- 50%

Click here

 to make your gift online or send an email to Andrea McFarling at amcfarling@marymountsb.org with your pledge amount and payment cycle, and we will count your commitment towards our efforts.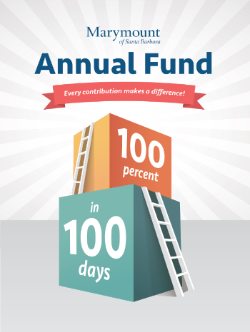 ---

​Important Links to Bookmark
---
Marymount's 2nd Annual VIP/Father Son Campout
Saturday, November 3 to Sunday, November 4
Enjoy hikes, games, smores, campfire songs or just relax and enjoy the outdoors with friends! Invites were sent to all VIP's/father's email addresses. However, if you haven't seen the evite or would like more information, please click here!
RSVP's and payments are requested no later than Thursday, November 1. 
We hope to see you there!
~MPC Campout Committee

Parent Satisfaction Survey
We are very pleased to have your family as part of our Marymount community and want you to know that we continually strive to make that community as strong as possible. Periodically, we like to solicit feedback from parents on what you seek for your child educationally and how well we are delivering. We have customized the online parent satisfaction survey created by the National Association of Independent Schools (NAIS) and if you haven't already, we are asking you to take 15-20 minutes out of your busy schedule to complete this survey by 10/29/18. You can access the survey by clicking on the following link: 
Click here to complete survey.

​After School Math Clubs
​Be sure to check out the various math clubs offered on Marymount's campus after school.  This is a terrific way for your child to get extra math support at no cost.
Click here for the Math Club Schedule.
PEAK2PACIFIC Adventure Half Days, Holidays + Family Weekend Adventures 
Join PEAK2PACIFIC for our Outdoor Adventures! Why stay at home when there is nature to explore and roam! Join Karen + Austin for Hiking, Climbing, Surfing, Boogie Boarding, Kayaking, Stand-Up Paddle Boarding, Sports Games and more. Click the registration button below for descriptions and dates! We look forward to adventuring with you soon! www.peak2pacific.com 805.689.8326. Click here to register today!
​
---
​Speaker Series with
​Dr. Kelly Jameson
So Worried: The Developing Brain & Stress

Monday, November 5 at 6:00-7:00 p.m. in the MPR.

Dr. Kelly Jameson, PhD, LPC-S is a licensed therapist and public speaker based in Dallas, Texas. She works with adolescents and adults on life's tough issues, both big and small. On the road, she excites audiences with educational and engaging presentations about the intersection of mental health and real life. More information can be found at www.drkellyjameson.com
---
​The Week Ahead



Monday, October 29
Lower School Morning Circle at 8:30 a.m.

Tuesday, October 30
3rd grade to Wood Glen Hall at 10:45 a.m.

Wednesday, October 31


Halloween Sing


JK, K and 1st grade performance at 9:00 a.m. in the MPR
2nd through 5th grade performance at 11:00 a.m. in the MPR
Early dismissal. No lunch program but extended day is available.

Thursday, November 1
Late Start for all students.
Playground supervision begins at 8:00 a.m. and classes start at 9:00 a.m.
MS Blenders

Friday, November 2


No School for Students


Professional Development for Staff and Faculty

Saturday, November 3
VIP/Father-Son Campout

Check Out Marymount on Social Media
If you haven't already, take a moment to follow us on all of our social media platforms by clicking the icons below. Have a great picture of something your child did at school? Tag Marymount in your social media!