Checking in with
​Mrs. Torchin

​

Dear Marymount Families,




The Lower School is buzzing with energy this month as we prepare for one of our favorite events of the year, the Halloween Sing! Across the courtyard, students can be heard preparing for this wonderful yearly event. During lunch, groups of students vividly describe the costumes that they will be wearing on this special day. As I listen to, and reflect on what it takes to put this show together, I am reminded of the confidence that is necessary to be able to perform in front of an audience. Supporting our bright, confident and caring learners in the Lower School to develop this sense of confidence is something that we do well on a daily basis and focus on during the entire school year.
| | |
| --- | --- |
| Learning can be challenging and building students' confidence happens in a variety of ways. Starting in JK, students are encouraged to take steps to becoming more independent by closing their own lunch boxes, putting away their nap rolls, and cleaning up after themselves. Academically, learning to write your name and acquiring letter names and sounds requires a huge amount of risk-taking for our 4 year olds. Confidence allows our children to take these risks. In Kindergarten, students participate in Sharing Time. Kindergarteners bring special items from home and share them in front of their peers. They learn the importance of eye contact, listening, voice projection, thanking the audience and being respectful. For a Kindergartener, these experiences allow them to present in a safe environment building their confidence for longer, more in depth presentations in the future. | |
| | |
| --- | --- |
| Through the writing workshop program, students at all levels are encouraged to share their writing with others. As students develop their writing skills, this can look very different for the variety of learners in each class. Being confident to share your writing and receive feedback from your peers is a skill that is developed across the grade levels and supports students as they move to Middle School and beyond. Publishing parties allow students to share their writing with their families and peers in other grade levels encouraging them to develop confidence in an academic area. This past week, I observed our 4th and 5th graders confidently giving presentations to their classmates in Media Literacy. Our 5th graders shared book recommendations and 4th graders gave California wildlife presentations in preparation for their overnight trip to the Santa Barbara Zoo. | |
| | |
| --- | --- |
| Our overnight school trips also encourage students' growth both emotionally and socially as they gain confidence in spending the night away from home. In 4th grade, our one night overnight trip to the zoo is an introduction to school trips that allows students to gain independence away from home. In February, our 5th graders look forward to a two night, three day trip to AstroCamp. | |
This year, our 5th graders are taking more of a leadership role in our Morning Circle agenda. It is our hope that by the end of the school year, 5th graders have gained confidence in speaking in front of all the members of the Lower School community and gain the skills in planning for a presentation and practicing speaking in front of others.

Lastly, as a parent myself I have always struggled with when to support and guide my own children and when to let them move independently forward at the risk of them making their own mistakes. Too much support can leave them feeling like they are unable to do things on their own. Watching your own children struggle with learning new things and making mistakes can be difficult. But Dr. Jessica Lahey reminds us in her book, The Gift of Failure, that "Over-parenting has the potential to ruin a child's confidence and undermine their education." We are excited to host Dr. Lahey this coming January through our Speaker Series here at Marymount and hope you will be able to join us.
Looking forward to seeing our Lower School families on October 31 for the Halloween Sing! 
---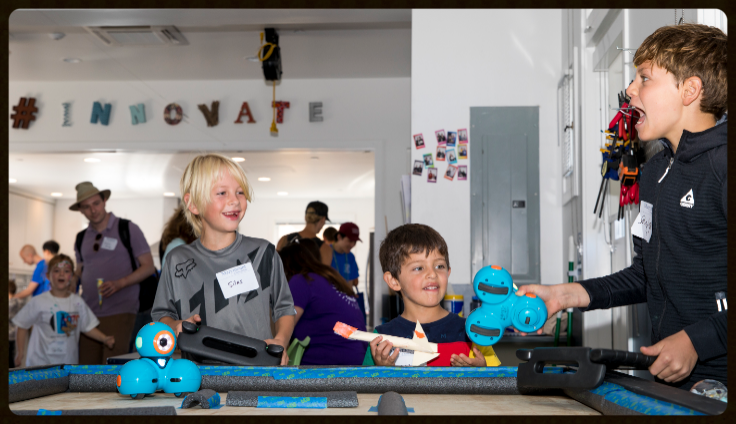 ​Maker Fair Photos 
Thank you to everyone who attended our annual Maker Fair this past weekend. We were thrilled with the turnout and saw kids of all ages having fun at every station. Click here to relive the day through the wonderful photos captured by Clint Weisman.
Coffees with Chris
Coffees with Chris are a great opportunity for parents to have casual conversations with the Head of School, Chris Broderick. Please see the remaining schedule below.
Kindergarten - Tuesday, October 23 from 8:30 to 9:30 a.m. in the MPR
JK - Thursday, October 25 from 8:30 to 9:30 a.m. in the MPR
Annual Fund​
Surpasses $175,000
Thank you to all those who contributed as part of the Annual Fund Phone-a-thon. To date, more than 48% of parents have supported the Annual Fund.  
Help us reach 100% in 100 Days! Click here to make your gift online or send an email to Andrea McFarling at amcfarling@marymountsb.org with your pledge amount and payment cycle, and we will count your commitment towards our efforts.
Thank you for supporting our community!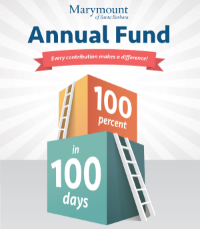 ​The Gary Messineo Classic
Thank you to all those who supported the golf tournament and helped to raise more than $40,000 for Marymount Athletics. Click here to see a special thank you from Golf Committee Co-chairs Marc Medina and Rich Schuette.

Party Book
We have a few spots open for the Holiday Movie Party set for Friday, December 7 from 3:00 - 5:30. This is your JK, K, or 1st graders chance to spend some special time with Mrs. Broderick while getting in the holiday spirit.



Grandparents' & Special Friends' Day
Invitations will be mailed next week. Please click here to enter the mailing information for your guests to ensure they receive an invitation for this special day. If you have questions, please don't hesitate to contact Andrea McFarling at 805-569-1811, ext 234.
---

​Important Links to Bookmark
---
Marymount Art at Here's the Scoop - All October!
Marymount artwork will be on display during the month of October at Here's the Scoop in Montecito (1187 Coast Village Road). Come see our Marymount student artwork and enjoy a refreshing gelato. 

Congratulations to the students that were chosen for the exhibit: 
(Chloe -K, Deckard - K, Carrington -1st, Keaton -1st, Rad - 2nd, Lana - 2nd, LeAnne - 4th, Aliza - 4th, Dylan - 4th and Leighton - 4th)

​After School Math Clubs
​Be sure to check out the various math clubs offered on Marymount's campus after school.  This is a terrific way for your child to get extra math support at no cost.
Click here for the Math Club Schedule.
PEAK2PACIFIC Adventure Half Days, Holidays + Family Weekend Adventures 
Join PEAK2PACIFIC for our Outdoor Adventures! Why stay at home when there is nature to explore and roam! Join Karen + Austin for Hiking, Climbing, Surfing, Boogie Boarding, Kayaking, Stand-Up Paddle Boarding, Sports Games and more. Click the registration button below for descriptions and dates! We look forward to adventuring with you soon! www.peak2pacific.com 805.689.8326


Dos Pueblos Engineering Academy at Dos Pueblos High School
Dos Pueblos Engineering Academy at Dos Pueblos High School is a four-year integrated course of study in physics, computer science, art, and engineering design. Students interested in the DPEA are eligible to apply in 8th grade and can learn more by visiting www.dpengineering.org. Any interested community members, students (of any age), and/or parents can learn more about the Engineering Academy by attending one of these upcoming events: 
Saturday, October 20 from 1:00-3:00 p.m. at the DPEA facility on DPHS campus. 
Santa Barbara Unified School District Program Showcase will be held on Wednesday, November 28 from 5:00-7:00 p.m. at Earl Warren Showgrounds. 
​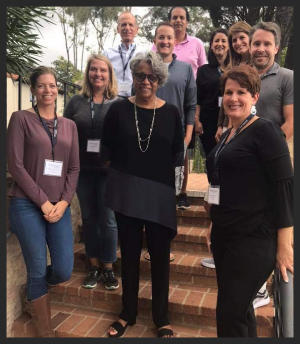 Did You Know?
Did you know ...Marymount's Board of Trustees had a full 

day of discussion and learning with Independent School Governance Pro, former Head of School, and extraordinary educator, Reveta Bowers, at their Board Retreat last weekend.
Did you know...that attendance at this year's Maker Fair was up 33% from last year.
Did you know...our canned food drive starts this coming Monday? Don't forget to bring your cans!
Did you know...this was the first year our 4th graders got to spend the night at the Santa Barbara Zoo to learn about California Wildlife!
Did you know...we had 85 golfers at the Gary Messineo Classic. 15 players were alum parents, and 2 were alumni, raising more than $40,000 for Marymount Athletics.
---
​The Week Ahead



Monday, October 22
Lower School Morning Circle at 8:30 a.m.
The 2018 Canned Food Drive Kick-Off! - The 7th grade Ethics class wants to remind everyone to bring in their cans and non-perishable food items starting today.
8th grade pizza lunch

Tuesday, October 23
Kindergarten Coffee with Chris in the MPR at 8:30 a.m.
Middle School Chick-fil-A lunch

Wednesday, October 24
Canned Food Drive
7th grade pizza lunch

Thursday, October 25
JK Coffee with Chris in the MPR at 8:30 a.m.
MS Blenders
​6th grade pizza lunch

Friday, October 26
1st grade field trip to Trinity Garden


Save the Dates



Mark your calendars for the LS Halloween Sing on October 31


9:00 a.m. - JK, K and 1st grade performance in the MPR
11:00 a.m. - 2nd through 5th grade performance in the MPR

The 2nd Annual VIP/Father-Son Campout is scheduled for Saturday, November 3. 
Invite and details coming soon!

Speaker Series
Dr. Kelly Jameson comes to Marymount Monday, November 5 at 6:00 p.m.
So Worried: The Developing Brain and Stress
Dr. Kelly Jameson, PhD, LPC-S is a licensed therapist and public speaker based in Dallas, Texas. She works with both adolescents and adults on life's tough issues, both big and small. On the road, she excites audiences with educational and engaging presentations about the intersection of mental health and real life. More information can be found at www.drkellyjameson.com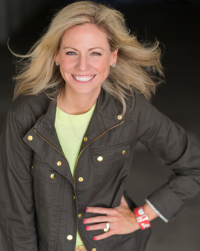 Join Marymount's Social Media Community
If you haven't already, take a moment to follow us on all of our social media platforms by clicking the icons below. Have a great picture of something your child did at school? Tag Marymount in your social media!