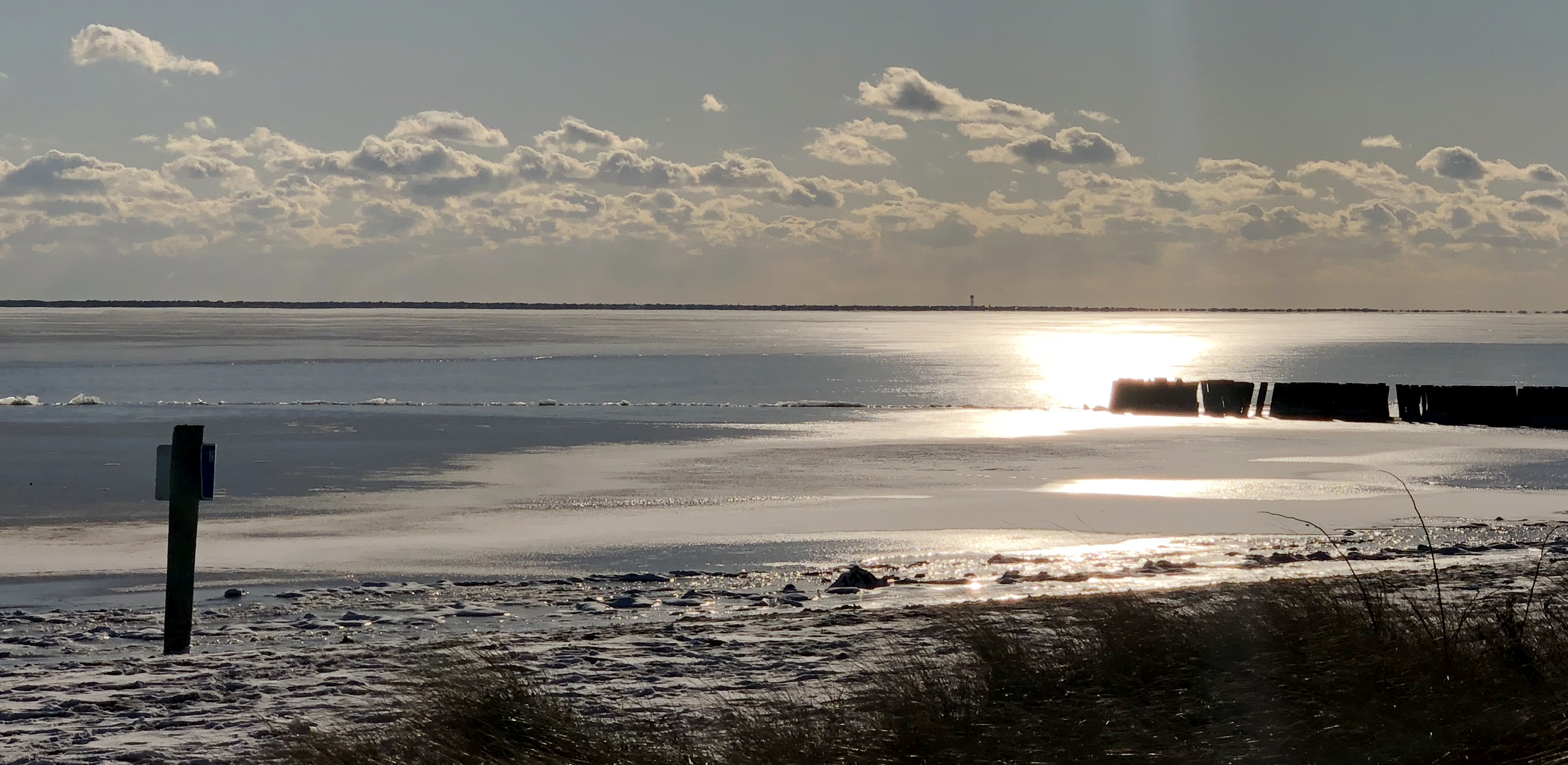 The Great "Thawing" South Bay​Pease submit any pictures you might like posted!​
​​Sayville Congregational United Church of Christ
131 Middle Road, Sayville, NY 11782-3158
631-589-1519; 
www.sayvilleucc.org
​Ray Bagnuolo, Pastor; 631-827-8611; 
ray@sayvilleucc.org
Do you have an announcement for us to add?
Email Heather Corcoran, Editor
Office Hours

 - 
Monday - Thursday for 9:00 AM - 1:00 PM
---
​
Dear Friends, 
I am happy to be writing on an evening when the temperature is actually several degrees above freezing! Thanks to everyone who helped with the mounds of snow and clearing the church property so that it is accessible, safe and welcoming. Thanks, especially, to Mark Conrad and to Laura Weyant, who brought in her crew to get the massive amount of snow cleared from the sidewalks!
Open House!
​There is a good chance that you have not had a chance to visit the apartment in our office building. As you know, we trade the use of the apartment for maintenance services. Laura, our new maintenance  person will be moving in shortly, so there is an opportunity for you to take a look. Since there will be some updates and repairs required before Laura moves in, our leadership would like as many people as possible to see the unit and what needs to be done. So, you can visit the apartment any time the office is open, Heather will let you in. Can't get there during the day? Just give me a call, and I will meet you there so you can take a look. Thanks for taking the time to become informed on this aspect of our property and the care it needs to be maintained.
eChimestv.com!
Have you watched our worship online? Karl has! And so have many others. Because of the generosity of many, including Priscilla Knapp and a grant in honor of her brother Kim Swezey, we have been broadcasting our worship since September 10, 2017. You can watch live or afterwards by following this link:
www.echimestv.com
You do not need to subscribe, but if you do, you will get notices each week of the telecasts by email. It's a great way not to miss a telecast and have it to watch at a later time. Otherwise, just follow the link and explore! And send you ideas and suggestions on how we can improve the station! Spread the word!
Can you help?
You are invited to share in the ministry and mission of our church by:
signing up for leadership responsibilities on Sunday
continuing to provide food in support of Sayville Food Pantry
volunteering to run our slides and video each Sunday
joining the choir
leading a children's message
volunteering for Sharing a Meal
participate in our Prayer Shawl Group
attend Bible Jam...
And there are more ways your help would be welcome. Looking for a chance to become involved and serve? Just let me know! I'm happy to help! :)
This month's leadership meeting schedule reminders:
Trustees Meeting on Monday, January 15 at 7 PM in the Vestry

Elders Meeting on Monday, January 22 at 6:30 PM in the Vestry, followed by

Full Board Meeting on Monday, January 22 at 7:30 PM in the Vestry.
Please be sure to stay in touch and share any news you would like us to highlight in our eChimes each week.

Thanks for staying in touch and caring for each other in all the ways you do! 

Peace,
Ray
---
eChimes Podcast for January 09, 2018

Living in the shadows of suicide
Thoughts following Sunday's Joys & Concerns
​ and reports of another person lost to suicide.
Click here for podcast

​
Prayers for Karen Engelman who is hospitalized in Florida.

Healing prayers for Scott Lent, Sam's uncle.

Prayers of condolences for the family of Dr. Frank Verdone.

Prayers for Jonah who is being evaluated for seizures.

Prayers for Laura, Hank Maust's granddaughter who suffered head trauma, as a result of a machinery accident on the farm where she works. Laura underwent emergency surgery on Tuesday evening and your prayers are requested for Laura, RB, and the the Maust family.
Prayers for Steven Maust who underwent valve replacement surgery on Tuesday. All indications are that the surgery went well. 
Prayers for Karen Maust's sister, Marilyn, as she continues chemotherapy treatment.
Prayers for Janie Spahr, recovering from surgery in San Francisco, CA
Prayers that in the new year, the mission of our troops serving in Southwest Asia is successful. Prayers for their safety.
Prayers for Paul Lanchantin whose treatments for cancer continue.
Prayers for Susan Ryan's sister-in-law, Celia and her brother, Steven and their children, Christopher and Stephanie as Celia undergoes surgeries this week.
Prayers for Ann B. Walker, who will be back with us soon.
​Prayers for warmth for those who lack shelter for the cold nights.
---
January 11
Don Gray

January 12
Ann Kelly

January 13
Ron Bergmann
Thank you all for the prayers and love. Yes, it has been a great joy seeing everyone say hello to me via streaming on YouTube Sunday mornings. But I really want to thank everyone for helping support me through what is becoming a very long and difficult recovery from my hospitalization. Rest assured I'll be back with everyone just as soon as I can.

Karl Hasselriis

Soup Kitchen Volunteers Needed: Sharing a Meal is in need of volunteers willing to serve as cooks. The most urgent need is for the 3rd Wednesday Team; an occasional substitute cook for the 4th Tuesday Team; and after the new year, a cook for the 2nd Tuesday Team. We are also looking for local people willing to serve as last minute "substitutes" when scheduled volunteers need to cancel.

For more information please contact our volunteer coordinator, Donna Keller, at 631-833-1957. Or Jerry or Gini at 631-363-6696.


---
---
Calendar
Wednesday, January 10th at 6:00 PM  Choir Practice
Thursday, January 11 at 10:00 AM – 12:00 PM Prayer Shawl Ministry
Thursday, January 11at 12:15 PM – 1:15 PM Seniors Exercise
Monday, January 15th at 11:45 AM - Bible Talk in the Vestry
Monday, January 15th at 7:00 PM - Trustees Meeting
Tuesday, January 16th at 7:00 PM - Bible Talk in the Vestry
Wednesday, January 17th at 6:00 PM  Choir Practice
​
Thursday, January 18th at 10:00 AM – 12:00 PM Prayer Shawl Ministry
Thursday, January 18th at 12:15 PM – 1:15 PM Seniors Exercise
e the last two days to consider purchasing the works of Michael that have be
Weekly Events:
-        Bible Talks! in the Vestry - Mondays at 11:45 AM & Tuesdays at 7:00 PM.
-        Having Friends Inn in Fellowship Hall – Mon. through Thurs. at 5:30 PM
-        NA Meetings in Fellowship Hall – Mon. at 7:30 PM; Sat. at 11:00 – 1:00 PM
-        SCA Meetings in Fellowship Hall – Wed. at 7:30 PM
-        Nar-Anon Meetings in Fellowship Hall – Thurs. at 6:45 PM
-        Prayer Shawl Ministry in the Vestry – Thurs. at 10:00 AM
-        Senior Exercise in the Vestry – Tues. at 9:00 AM & Thurs. at 12:15 PM
​
---
Sunday, January 14 Stewards
Liturgist ~
Mike Jayne
 Music Director ~
James Higgins
Greeter/Ushers ~
Sue Lanchantin and Kathy Leis
Projectionist ~
Casey Cunningham
Projection Slides ~
Kimberley Reiser
Hospitality ~
Peter and Carolyn Maust
Building Close ~
Please Click

Here

to Sign Up for this weekend and future dates!
​http://http://signup.com/go/JKtNybz
Sunday Stewards Needed!!
Please call Heather in the office if you need help
with the new online Sign Up tool 
here
631-589-1519  
Everyone can sign up. We will help you know what to do!
---

January 14th Worship Readings

Meditation: From Christian Mystics by Matthew Fox
 
 God showed me in my palm a little thing round as a ball about the size of a hazelnut I looked at it with the eye of my understanding and asked myself: "What is this thing?" And I was answered: "It is everything that is created." I wondered how it could survive since it seems so little it could suddenly disintegrate into nothing. The answer came: "It endures and ever will endure, because God loves it." And so everything has being because of God's love. – Julian of Norwich
 
Call to Worship:
 
God calls us.
 
God called long before we invented the devices.
We listened long before we knew what we were hearing.
 
God calls us now.
We are listening now. May we hear, as well.
 
Let it be so.
 
Unison Prayer:
 
To know, to really know a God in our lives we need to believe. We need to let that linger, without more than "believe." It is that which is deep in us all; like "heart", "love", "kindness", "compassion." It's not a "thing." Different than "belief." It is a profound spiritual response, a resonance, that is and is always in poverty, waiting for the distractions to be set aside, as if to be heard, "Here I Am…heart, love, kindness, compassion, believe…here I am."
 
In listening to that call from the echoes of all creation in each of us, "Here I Am, Loved One" … we know God and who we are: Loved Ones.
 
Everything has being because of this love.
 
Believe.
 
First Reading:  1 Samuel 3:1-10
 
The boy Samuel was serving God under Eli's direction. This was at a time when the revelation of God was rarely heard or seen. One night Eli was sound asleep (his eyesight was very bad—he could hardly see). It was well before dawn; the sanctuary lamp was still burning. Samuel was still in bed in the Temple of God, where the Chest of God rested.
 
Then God called out, "Samuel, Samuel!"
 
Samuel answered, "Yes? I'm here." Then he ran to Eli saying, "I heard you call. Here I am."
 
Eli said, "I didn't call you. Go back to bed." And so he did.
 
God called again, "Samuel, Samuel!"
 
Samuel got up and went to Eli, "I heard you call. Here I am."
 
Again Eli said, "Son, I didn't call you. Go back to bed." (This all happened before Samuel knew God for himself. It was before the revelation of God had been given to him personally.)
 
God called again, "Samuel!"—the third time! Yet again Samuel got up and went to Eli, "Yes? I heard you call me. Here I am."
 
That's when it dawned on Eli that God was calling the boy. So Eli directed Samuel, "Go back and lie down. If the voice calls again, say, 'Speak, God. I'm your servant, ready to listen.'" Samuel returned to his bed.
 
Then God came and stood before him exactly as before, calling out, "Samuel! Samuel!"
 
Samuel answered, "Speak. I'm your servant, ready to listen."
 
 
Second Reading:         1 Samuel 3:11-20
 
God said to Samuel, "Listen carefully. I'm getting ready to do something in Israel that is going to shake everyone up and get their attention. The time has come for me to bring down on Eli's family everything I warned him of, every last word of it. I'm letting him know that the time's up. I'm bringing judgment on his family for good. He knew what was going on, that his sons were desecrating God's name and God's place, and he did nothing to stop them. This is my sentence on the family of Eli: The evil of Eli's family can never be wiped out by sacrifice or offering."
 
Samuel stayed in bed until morning, then rose early and went about his duties, opening the doors of the sanctuary, but he dreaded having to tell the vision to Eli.
 
But then Eli summoned Samuel: "Samuel, my son!"
 
Samuel came running: "Yes? What can I do for you?"
 
"What did God say? Tell it to me, all of it. Don't suppress or soften one word, as God is your judge! I want it all, word for word as God said it to you."
 
So Samuel told him, word for word. He held back nothing.
 
Eli said, "God is God. Let God do whatever God thinks best."
 
Samuel grew up. God was with him, and Samuel's prophetic record was flawless. Everyone in Israel, from Dan in the north to Beersheba in the south, recognized that Samuel was the real thing—a true prophet of God. God continued to show up at Shiloh, revealed through his word to Samuel at Shiloh.

 



Stop & Shop Cards are available at coffee hour each week.
They make great gifts and are great way to purchase your groceries
while supporting Sayville Congregational United Church of Christ.

---
Giving:
United Church of Christ congregations pays its own bills, hires its own staff, and maintains its own facilities from the voluntary gifts of members and friends. Donations are accepted in the basket on Sundays, as well as through our online giving program or through direct payments. Please call Heather in the office to answer any questions you may have about how we can best to accommodate your gifts.  And, please consider buying Stop & Shop Gift Cards to support the church. Available at coffee hour each week, a portion of their cost goes to Sayville Congregational United Church of Christ.
Newsletters:
Are you receiving our weekly newsletters:  eChimes and Justice Chimes Newsletters? Let us know: ray@sayvilleucc.org. Visit our website for more information. at www.sayvilleucc.org. Do you need these in print? 
Please let us know if anything is incorrect or needs to be edited. Thanks!
---
Sayville Congregational United Church of Christ
131 Middle Road, Sayville, NY 11782-3101
631-589-1519; churchadmin@sayvilleucc.org
 www.sayvilleucc.org; www.facebook.com/sayvilleucc
         Heather Corcoran, Church Administrator; eChimes Editor
Ray Bagnuolo, Pastor, 631-827-8611; ray@sayvilleucc.org