November 7, 2017
Still time to vote! Polls are open until 9 PM
​​Sayville Congregational United Church of Christ
131 Middle Road, Sayville, NY 11782-3158
631-589-1519; 
www.sayvilleucc.org
​Ray Bagnuolo, Pastor; 631-827-8611; 
ray@sayvilleucc.org
Do you have an announcement for us to add?
Email Heather Corcoran, Editor
Office Hours

 - 
Monday - Thursday for 9:00 AM - 1:00 PM
​
​For Sunday's readings and prayers, scroll to the end of eChimes.
We continue to pray...


​
For the victims of the attack in New York City on October 31 and the most recent attack on the First Baptist Church in Sutherland, Texas.

Transgender 101:
Everything You Ever Wanter to Know About Transgender
But Were Afraid to Ask
On Thursday, November 9th, we will host LITAC: Long Island Transgender Advisory Council who will conduct a regional workshop for the Nassau/Suffolk Communities
and we are invited to attend. Please spread the word to friends and schools:
7 PM in our vestry. All are welcome!
All Church Fall Clean-up -- Saturday, November 18th
Many hands make light work!  Bring your garden tools and help get the grounds and church ready for the holiday season! Call Kathy Leis or Mark Conrad for information or to volunteer.
---
Transgender Day of Remembrance (TDOR) 
On Sunday evening, November 19th, LITAC will host their annual Transgender Day of Remembrance at 7PM in our sanctuary. See more about this in Ray's comments and please plan on attending this powerful and moving evening that will bring guests from all of Long Island and beyond to our church and into our community.
---
Saturday, November 25th: Cocoa and Carols 5 - 8 PM
This year we will have this festive gathering in our Vestry and 
Sanctuary, providing those enjoying 
​Miracle on Main
​ and the tree lighting in Sayville a warming and welcoming station! Cookies, coca, crafts and community and James' trains!!! More to come? 
​Able to volunteer? Please let Ray know!
Calling All Bakers!!
We need finger goodies for the Cocoa and Carols event!
Please contact Sue Lanchantin if you can help!
---
Victorian Tea is Just Weeks Away!
Please see raffle information and other news on The Tea later in this newsletter! 
---
Christmas Worship - Sunday, December 24, 2017
Our worship times on that day will be:
10:00 AM Regular Worship
5:00 PM Family/Early Evening Worship
11:00 PM Midnight Worship
​
Tuesday, November 7, 2017
Dear Friends,
We do many things here. Many folks pass through our church and premises. We are a vibrant and critical part of this community. We touch the world from here. And, when tragedy occurs or someone is treated unjustly we respond first in our heart with sharp anguish, "How could this be?!" Next, we ask the second most painful questions, "Are we doing enough? What can we do to stop this; to change this?"
I don't know why these things occur. I don't know if anyone in all of history has known, although there have been plenty of stories shared and passed on about "cause and effect." 
The only thing that makes sense to me is that we do not let ourselves be dissuaded from believing that we have in us, incarnationally, the Divine Presence of God. That means that we move in directions we feel led. If we seek to find answers together, if we take actions in caring for those in our lives and then move into the community - if we do those things and more from a place of "God's Center in Us" - then we are living faithfully into the same challenges that have always been before us. When Jesus said, "The poor will always be with you," I have often though that he was referring to the world in general, the world that would always need us
to be
the Good News.
We are the change. How we get that word out, how we inspire others to see that in themselves is our work. It is the same thing as saying, "How do we help others to find the power of God in their lives?" We do that by amazing others with the power of God in our own lives. Simple. One step in front of the other; doing what needs to be done; with a smile, whenever we can.
So, it should not surprise you that I am going to refer you back to Sunday's worship and the music program. When you have time, give this a listen. This is us and this is, in part, how we amaze others: 
https://vimeo.com/241422130
  (You can watch out entire service from Sunday
here
, if you like.)
Another way that we invite others to express the spirit in themselves is by opening our spirit to them! We do that over time as we invite others to be part of our life here - by celebrating part of their life 
here!
 Recently, the "Hearts of Long Island Chorus" performed in our sanctuary to a packed house and rave reviews. I offer this, too, for your reflection on how 
we are the change that creates the change
. Enjoy this all at one or over time. Either way, what an evening here. An evening in which the change we foster grew in others, on display for all to see.
https://vimeo.com/240119920
And, there are times we "step out." Kris Minschke is leading us in organizing a presence in the march on Peter King's office to insist on a fair and clean Federal DACA Bill. Several of us will be attending. If you are able, please contact Kris or me of the organizers directly. Here is information on that event, this Sunday:
Kris Minschke writes:
"Please let others know that 
I am organizing and inviting all our members and friends to join in the  Interfaith Pilgrimage on Sunday November 12th. It consists of an approximately 1 mile walk from Grace Episcopal Church in Massapequa to Peter King's office also in Massapequa. There will be a vigil at King's office calling for an end to deportations and the passage of the federal DREAM Act that protects young immigrants and their families. 
I suggest congregating at Sayville UCC at 1pm and carpooling to Massapequa. Anyone with questions is free to contact me at (516) 353-1538 or the sponsors at (631) 348-1179 ext. 304."

​However we reach out to others, whoever the others are, let's remember that we are the change and let's remind others of that, too, especially our youth. Maybe you could give someone a call now or in a little while and let them know that and more...
​Love to you,
Ray
​
We begin with asking for your prayers....

​
Continued prayers for Peter Ryan's father-in-law, Brendon Chiappino, for a full recovery from his neck surgery and subsequent complications.
Prayers for Marjorie Taylor-Thomas' daughter, Jennifer, who is hospitalized with a very serious case of pneumonia, and also for our family and especially for her children.
Continued prayers for Rose Marie Torre who is now beginning immunotherapy for a very aggressive and incurable cancer. Prayers for her and her family.
Continued prayers for release from pain for Linda Lane.
Continued Prayers for Susan Ryan's sister-in-law, Celia Muller, facing aggressive cancer treatments.
Prayers for Jane MacGowan as she continues to recover from a recent hospital visit.
Prayers for Sue Lanchantin's son, Paul, who continues with treatment for recently diagnosed cancer.
Prayers for Don Ketcham who is now home! Prayers for Donna, too, as she cares for her dad.
Prayers for Karen Maust's sister, Marilyn, as she continues chemotherapy treatment and Karen's brother Steve, as he faces several serious medical procedures.​
Prayers for Ray's friend Juan, continuing to recover from double valve and aorta replacement.

Prayers for Jenna Lund Murphy.

Prayers of thanksgiving - Doreen Anderson's surgery has been successful.
Continuing prayers for Anthony, the great grandson of Mike and Judie Jayne
Prayers for those in uniform serving in Southwest Asia come home safely.
Prayers for Sue Lanchantin's friend, Peter DiMento who is recovering from surgery for melanoma..

Prayers for Brendon Chiappino, Peter Ryan's father-in-law. During an elective surgical procedure on his neck recently and continues on the long road to recovery.

Kris Minschke asks for prayers for future son-in-law Mike's mom, Rosemarie.

Please pray for my husband and I and for our children. Please pray for my patience.

Please pray for my husband's clarity and strength. Please pray for my children's comfort and feeling of security.
Prayers for the safe return of our troops serving in Southwest Asia.  Thanks to everyone for the prayers and get well wishes for Fran and me. We truly appreciate it. ~ Ron and Fran Bergmann
---



Happy Birthday!



​

Gini McLaughlin on November 12th

Soup Kitchen Volunteers Needed: Sharing a Meal is in need of volunteers willing to serve as cooks. The most urgent need is for the 3rd Wednesday Team; an occasional substitute cook for the 4th Tuesday Team; and after the new year, a cook for the 2nd Tuesday Team. We are also looking for local people willing to serve as last minute "substitutes" when scheduled volunteers need to cancel.

For more information please contact our volunteer coordinator, Donna Keller, at 631-833-1957. Or Jerry or Gini at 631-363-6696.


Our church's 26th now-famous Victorian Tea will be presented this December 1, 2 and 3. (There are two tables and a few single seats left, so call Connie!) Our legendary raffle baskets are traditionally donated by church members, for which we are very grateful, and upon which we rely each year. We hereby appeal to your generosity again. If you are able to donate a basket, or items we can put into one, there is a form for you to fill out and attach to it, which you can find in the vestry on Sunday, November 5. There is a preview below, for your information. There are many ideas for themes, but you can also create your own, and we welcome gift certificates as well. We even have empty baskets if you need one. Just holler!
Completed baskets are due on Sunday, November 19. Please call Connie if you have questions, 631-567-9411. Thank you in advance!!!
PS
There are a few tables left for the Childrens' Tea on Sunday, Dec. 3, at 1:00.
(Please include form here.)
Thanks!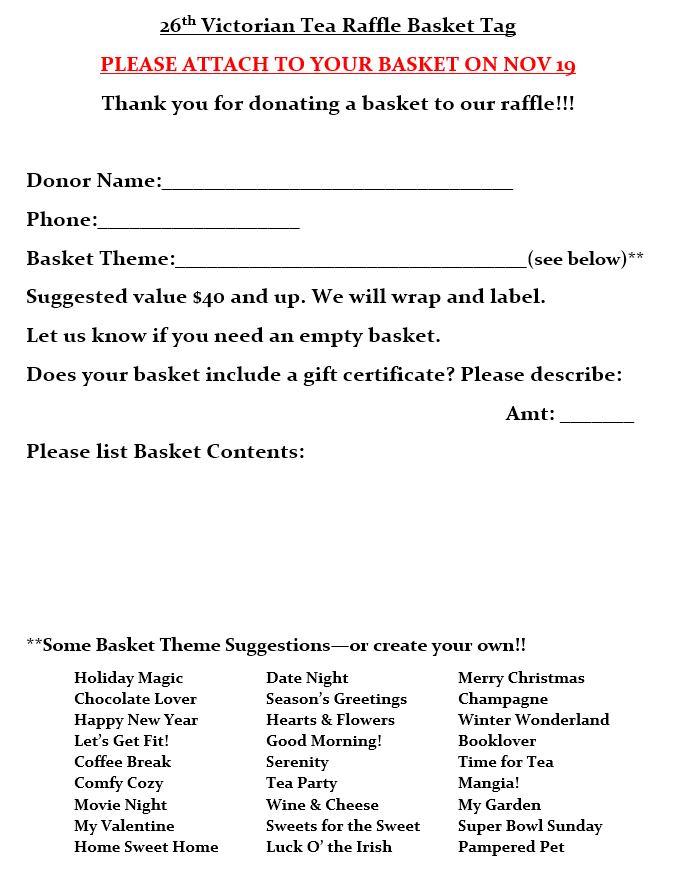 ---
---

Calendar

Thursday, November 9th: Presented by LITAC
Long Island Transgender Advocacy Council
Everything you every wanted to know about Transgender
and were afraid to ask. In our Vestry/Sanctuary.
​All are invited. More to come.

Monday, November 13: Elders Meeting 7 PM
Monday, November 20: Trustees Meeting 7 PM

Saturday, November 18th
All Church Cleanup
Contact Kathy Leis or Mark Conrad for more information
All are invited. Save the date.

Sunday, November 19th: TDOR
Transgender Day of Remembrance
Hosted by LITAC. 7:00 PM. In our Vestry/Sanctuary.
All are invited. Save the date.

Saturday, November 25th: Carols and Cocoa 5 - 8 PM
This year, we will have this festive celebration in our Vestry and Sanctuary, providing those enjoying Miracle on Main and the tree lighting with a warming and welcoming place for cookies, cocoa, crafts and community. More to come. Able to volunteer? Please let Ray know.
NOTE:  Finger goodies needed for treats! Contact Sue Lanchantin to help.


December 1st through 3rd: Our 26th Victorian Tea 
Reserve your tickets today!  See below for details!
Monday, December 4:  Full Board Meeting 7 PM
Sunday, December 10: Annual Meeting of the Congregation
Monday, December 11, 2017: The HIMS at Carnegie Hall
Save the date for our group trip to NYC and Carnegie Hall for a
Christmas Celebration Benefit for Hope House Ministries
​
---
Sunday, November 12th Stewards
Liturgist
~
Christa Dowling

Music Director ~ Sean Cameron
Greeters & Ushers ~ Sue Lanchantin and Lorraine Severin
Projectionist & Livestreaming ~
Projection Slides ~  Kimberley Reiser
Hospitality ~ Help Needed
Building Closing ~ Help Needed
Please Click

Here

to Sign Up for this weekend and future dates!
Sunday Stewards Needed!!
Please call Heather in the office if you need help
with the new online Sign Up tool 
here
631-589-1519  
Everyone can sign up. We will help you know what to do!
---
Readings and prayers for Sunday, November 12, 2017

 
Book of Wisdom (Solomon): 6:12-16
 
The real beginning of wisdom is to desire instruction with all your heart. 
Love for instruction expresses itself in careful reflection.
If you love Wisdom, you will keep her laws.
If you are attentive to her laws, you can be assured that you will live forever. 
If you live forever, you will be near to God. 
If you desire wisdom with all your heart,
you will know what good leadership is.
 
 
New Testament Reading: 1 Thessalonians 4:13-18
 
And regarding the question, friends, that has come up about what happens to those already have died and been laid to rest, we don't want you in the dark any longer. First off, you must not carry on over them like people who have nothing to look forward to, as if the grave were the last word. Since Jesus died and broke loose from the grave, God will most certainly bring back to life those who died in Jesus.
And then this: We can tell you with complete confidence—we have the Jesus' word on it—that when the Jesus comes again to get us, those of us who are still alive will not get a jump on the dead and leave them behind. In actual fact, they'll be ahead of us. The Risen Jesus will give the command. Archangel thunder! God's trumpet blast! The dead in Christ will rise—they'll go first. Then the rest of us who are still alive at the time will be caught up with them into the clouds to meet our Creator. Oh, we'll be walking on air! And then there will be one huge family reunion. So reassure one another with these words.
 
 
Call to Worship:
 
Longing brings us here.
Longing for friendship, companionship, justice, peace.
Let us blend our longing for all we hold dear and for all we hope to find
And let us worship this God that knows our longings better that we do ourselves.
It is good to be together! Let us lift our voices in prayer and song and praise.
Amen.
 
 
Unison Prayer: (Ref. to Psalm 70)
 
"Let all who seek you rejoice and be glad in you!' So the psalmist said long ago.
 
Today, perhaps, we add the line,
            "Let all who don't seek you rejoice
                        and find themselves glad in you."
 
We know you in many ways, God; sometimes more present; sometimes less.
            Still, that's just us, not you. You are always present, here, now, always.
                        We are never alone, even when we think we are.
 
We are together, connected, seeking and longing for all that means,
            Believing with all our hearts that love is the answer.
                        We just wonder why it is sometimes so elusive.
 
And then we remember the psalmists' words:
            "Let all who seek you rejoice and be glad in you!"
                        And, the love and seeking becomes a joy in your name.

Stop & Shop Cards are available at coffee hour each week.
They make great gifts and are great way to purchase your groceries
while supporting Sayville Congregational United Church of Christ.

---
Giving:
United Church of Christ congregations pays its own bills, hires its own staff, and maintains its own facilities from the voluntary gifts of members and friends. Donations are accepted in the basket on Sundays, as well as through our online giving program or through direct payments. Please call Heather in the office to answer any questions you may have about how we can best to accommodate your gifts.  And, please consider buying Stop & Shop Gift Cards to support the church. Available at coffee hour each week, a portion of their cost goes to Sayville Congregational United Church of Christ.
Newsletters:
Are you receiving our weekly newsletters:  eChimes and Justice Chimes Newsletters? Let us know: ray@sayvilleucc.org. Visit our website for more information. at www.sayvilleucc.org. Do you need these in print? 


Please let us know if anything is incorrect or needs to be edited. Thanks!
---
Sayville Congregational United Church of Christ
131 Middle Road, Sayville, NY 11782-3101
631-589-1519; churchadmin@sayvilleucc.org
 www.sayvilleucc.org; www.facebook.com/sayvilleucc
         Heather Corcoran, Church Administrator; eChimes Editor
Ray Bagnuolo, Pastor, 631-827-8611; ray@sayvilleucc.org