Office Hours

- 
Monday - Thursday for 9:00 AM - 1:00 PM
​
Bible Talk on Mondays and Tuesdays
 - All are welcome!
Mondays at 11:45 AM and Tuesdays at 7:00 PM
Upcoming Leadership Meetings:  
Elders - Mon., Sept. 11; Trustees - Mon., Sept. 18; 7 PM
​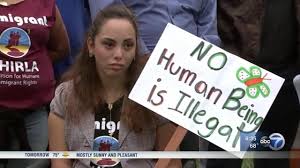 No human being is ever "illegal"...

Dear Friends,

Have you cringed with me when folks refer to immigrants as "illegals"? One of my education instructors admonished students to always "put the person first," otherwise you are naming the person by the adjective or other descriptors you use.

That's stuck with me all these years; it's helped me in maintaining respect for others in the way I speak and the language I use. So, saying that someone is "an illegal immigrant" says nothing about their personhood. Rather, it categorizes a "them" as the "other" and an "illegal."

It's a small difference and takes a few extra words to say, but "She or he is an immigrant who has illegal status" reminds us first and foremost that we are talking about a person and family member of ours in the Body of Christ we all share.

This is surely a time when remembering "person first" is critical. Often, what is not spoken about in in the attempts to reform immigration statutes is how people have been allowed to remain here over decades by a lack of leadership and courage reforms. In effect, we have created precedents for families to establish themselves through different processes. Now, we impose consequences on people, in many ways caused by our inaction.

Immigration reform is more than taking a position that every person must stay or every person must go. Somewhere in the midst of the struggle is a place that allows people to live their lives, being treated always with dignity and respect and never as an "illegal" or other misnomer. Honestly, we have put immigration reform off for so long that the work ahead is enormous. Our responsibility in treating the individuals affected by DACA and other policies with love and kindness is even greater, during the debates ahead.

And, to be fair, we are seeing the results of many administrations' practices of the past in dealing with difficult and - what appear to be - intractable situations. Most often, though, the politics has gotten in the way, just as it did in FDR's time. Remember how he traded off "anti-lyching" legislation so that he could get the votes he needed for the New Deal? We cannot trade peoples' lives for any cause - ever. 

So, here we are in a maze of immigration reform, tax reform and most notably the escalating rhetoric-near-brinkmanship surrounding North Korea. We did not get to any of these places overnight. As much as we might like to to find fault with a particular administration or regional government for the problems we are facing - these are all decades in the making. Now, it's our decade to decide what we will be making.

In all this, the our conversations about "framing" are helpful to me. In Twelve Step recovery programs, we talk about "placing principles above personalities." That is not always easy, but it is that expression of restraint in our debates and our responses that can help us in our personal lives and in the way we influence our representatives, our nation and our global community. If we can frame all these things as part of our communities we are making considerable progress.

There is no escape from the reality that we are living in a times of "intersectionality." There are growing requirements for new thinking and renewed expression of our faith in the ways in which we "intersect" with one another. Whether being engaged with those recovering from massive natural occurrences or those seeking sanctuary, as a Christian faith community it is incumbent upon us to always respond with a blend of love, respect, dignity, honest, hospitality, joy and compassion - regardless of the situation. Anger, too, has its place - rage, not really. Being upset has its place - being vengeful, no. Stepping back when needed is important - vilifying the other, not. Coming together with it all - life-giving.

Friends, we all know these things, so this is just a reminder. A reminder that we must first take care of those in the full lives we live, reflecting as best we can the faith we hold central in all we do - from home care to prayer; from protecting to welcoming and more.

I've said before that the students I taught were always most concerned about "fairness" in my responses to them. That doesn't mean, though, that fairness is the same for all. As another professor once told, 'Fair is getting what you need."

We need a lot of fair right now... 

Prayers, too...

Who were you going to call?

Love,
Ray
---
| | |
| --- | --- |
| Worth repeating, from The Book of Joy:​"Taking a 'God's-eye perspective'…allows us to transcend our limited identity and limited self-interest. One does not have to believe in God to experience this mind-altering shift in perspective. The famous Overview Effect is perhaps the most profound example. Many astronauts have reported that once they glimpsed the Earth from space—a small blue ball floating in the vast expanse, lacking our human-made borders—they never looked at their personal or national interests in quite the same way again. They saw the oneness of terrestrial life and the preciousness of our planetary home." | |

​Welcome to the World!
Celebrating the birth of Tessa Barthes, great-grandaughter of Sue Lanchantin
Prayer Requests... 
We remember the life and service of Rev. Malcom Bertram, who went to his eternal reward on August 30, 2017. Our prayers are with Barbara and Malcom's family. For more information, please follow this link. 
Thank you for prayers for our daughter, Elaine Mimbs, who has recovered well from out patient surgery after several months of healing.  Walter and Linda David 
Prayers of thanksgiving for Brenda Jayne Young whose surgery last week was cancelled. The tumor had disappeared. Yes. Gone. Thank God and you for all your prayers.
Prayers for Don Ketcham who is at Southside Hospital.
Continued prayers for Linda Lane as she battles cancer.
Prayers that the mission of our troops is successful in Southwest Asia.
Prayers of thanksgiving for Judy and Mike Jayne's great-grandson Anthony (4 1/2 month old) who is feeling much better.
Continued prayers for Karl Hasselriis' healing
Prayers for the safety of our troops serving in Southwest Asia during this prolonged conflict and for cool heads in dealing with conflicts around the world.
Prayers for Bea Buxton's friend, Linda Lane, as she continues to struggle with cancer.
Prayers for Susan Ryan's sister-in-law, Celia Muller, receiving chemotherapy for several cancer outbreaks
Prayers for C. and all those who are dealing with drug problems.
Prayers for the continued healing of Roberta and Patsy's daughter Wendy. Wendy is doing well and has returned to work. Thank you for all the prayers...
Prayers for Karen Maust's sister, Marilyn, as she continues chemotherapy treatment.
Prayers of thanksgiving for Carole Bennett, friend of Bob and Gail Acker, who has been taken off the ventilator and is now breathing on her own.
Prayers for Jack Nix's continued healing.
Installation Weekend:
Celebrating the Ministry of Sayville Congregational United Church of Christ
Saturday, September 30, 2017& Sunday, October 1, 2017
We are all looking forward to installing Ray as the 19th Pastor of Sayville Congregational United Church of Christ on Sunday, October 1st at 4 PM. We hope you and all those you invite will be able to join us for this time of celebration and community! The following is the schedule for the weekend: 
Saturday, September 30th: Lunch in The Grove
Ray has invited the congregation and his friends traveling to Sayville for the installation to be his guests on the 1:25 PM Sayville Ferry to Cherry Grove for lunch at Cherry Grove Italian Restaurant, Ice Cream at Sweet Licks, and time to wander The Grove, the beach or relax at a home of some of his friends. The weather will be fabulous! So, please plan to join us. We expect to return to Sayville on the 4:50 PM or 6:50 PM ferries. 
Sunday, October 1st:
10:00 AM Worship and Communion:
Rev. Jim Rigby, St. Andrews Presbyterian Church, Austin, Texas will bring the message. 
11:30 AM: Talkback with Jim and gathered friends. 
12:30 – 2:00 PM:
Free time, lunch and "hanging out." The parsonage will be open for people to gather before the installation service, as well. 
2:00 – 3:00 PM: Choir rehearsal
Everyone is invited to be part of the choir for the installation service. We will have an open rehearsal beginning at 2:00 PM. Please join us. 
3:00 PM:         Ecclesiastical Council
This is a time for Ray to share his faith journey and respond to questions from members of the Long Island Association and others. It is part of the formal process that precedes installation. 
4:00 – 5:30 PM: Installations Service
Rev. Dr. Jane Adams Spahr, Lesbian Evangelist Emerita, That All May Freely Serve, San Francisco, California will bring the message. Following the installation we will gather in the Vestry for refreshments and sending forth, thanking all those who have joined us from near and far. 
Please join us and, if you can, sign up for one of the committees that will be announced shortly. Everyone's prayers and help are much appreciated as we join together in celebrating and continuing the ministry of Sayville Congregational United Church of Christ.
---
Pat Cunningham will be singing with Long Island Voices,
​in its 5th year of raising money for Veterans and for F.I.S.T.
Pat invites you all to join her and those gathered for this evening and a Concert for Peace!
​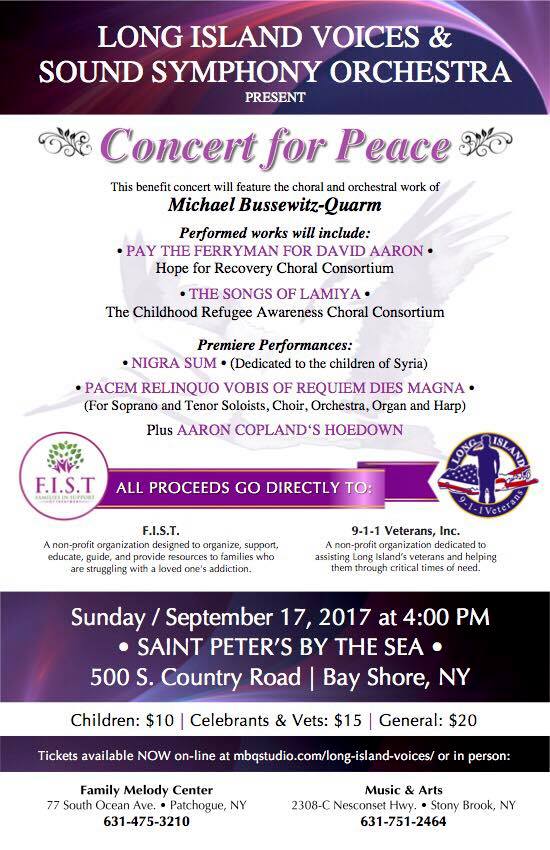 ---
Keys to the Church Office have been changed.
The keys for the front door of the church office have been changed. If you need a new key, please contact Heather or Ray to make arrangements to pick one up. The old keys no longer work and can be turned in or recycled on your own.
Planning for Emmanuel!
We want to thank everyone who helped us to consider a performance for Emmanuel for this 
Christmas. As you may have noticed, we have a full season ahead of us from Installation Weekend to our Victorian Tea and more. So, Emmanuel is in our future for sure, just not this season. Thanks again to everyone who helped us consider this performance and who will be busy helping with everything else we have planned!
---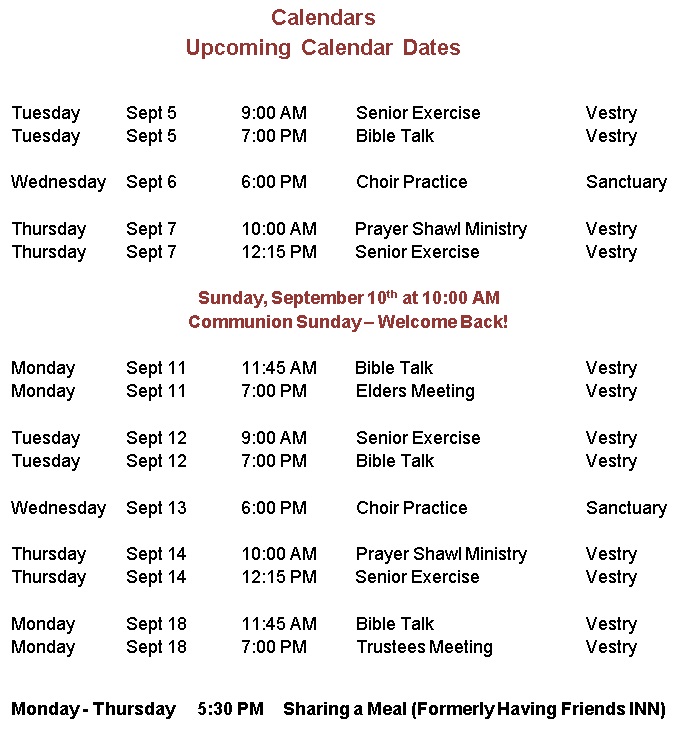 Birthday Wishes


September 7th
Gabby Lypen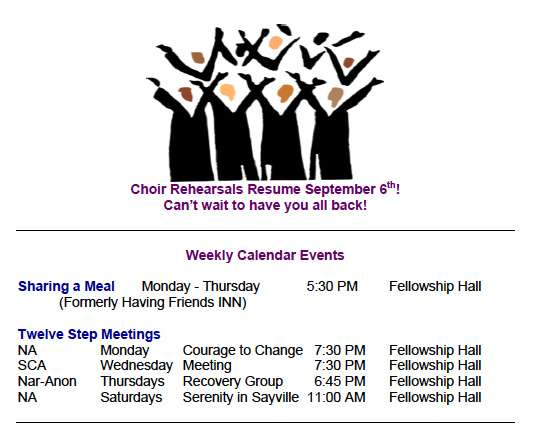 Got Baskets??
The Victorian Tea committee is in need of baskets, empty ones, to fill with treasures for the raffle that is a popular feature of the tea. If you have any size basket that you no longer need, we would love to take it off your hands. Just bring it to church in the next few weeks. Thank you!!!
Pancake Breakfast Fundraiser
Please come enjoy a delicious breakfast and help support Sharing a Meal at the same time! On Saturday, October14, 2017 a Pancake Breakfast Fundraiser for Sharing a Meal will be held at the Bluestone Tavern located at 21 Main Street, West Sayville. Tickets are $10. The breakfast includes pancakes, scrambled eggs, bacon and a beverage of your choice (coffee, tea or juice). There will also be a basket raffle. All proceeds from the event to benefit Sharing a Meal. The breakfast is from 9:00 am to 11:00 am. See Jerry Avolio or Gini McLaughlin at coffee hour for tickets or call them at 631-363-6696.


Sunday, September 10th Stewards
Liturgist
~
Kris Minschke
Music Director ~
Sean Cameron
Greeters & Ushers ~
Kathy Leis and Sue Lanchantin
Communion Set-up ~ Projectionist ~Projection Slides ~ 
Kimberley Reiser
Building Close ~
Kathy Leis
Hospitality ~
Please Sign Up
Sunday Stewards Needed for THIS Sunday!!
Communion Set-up, Projectionist and Hospitality
Please call Heather in the office if you can help. 631-589-1519



Check the Sign-up Sheets in The Vestry Hallway!
All are welcome!
---
Justice Chimes Announcements


​
Jen's Activation Checklist  Click Here
Ready to Resist Videos from www.moveon.org can be viewed on demand here.


Show Up Long Island's

Facebook Page
---
Accompaniment Ministry Opportunities
Members and friends of our congregation continue to accompany individuals appearing before immigration courts, both on Long Island and in New York City. Accompaniment is a powerful way to witness – just by your presence – that folks facing immigration hearings have community among us. If you would like to learn more about accompaniment or be placed on the email list to learn of upcoming accompaniment opportunities, please contact 
​Ray at 631-827-8611 or ray@sayvilleucc.org
---
---

Stop & Shop Cards are available at coffee hour each week.
They make great gifts and are great way to purchase your groceries
while supporting Sayville Congregational United Church of Christ.

---
Giving:
United Church of Christ congregations pays its own bills, hires its own staff, and maintains its own facilities from the voluntary gifts of members and friends. Donations are accepted in the basket on Sundays, as well as through our online giving program or through direct payments. Please call Heather in the office to answer any questions you may have about how we can best to accommodate your gifts.  And, please consider buying Stop & Shop Gift Cards to support the church. Available at coffee hour each week, a portion of their cost goes to Sayville Congregational United Church of Christ.
Newsletters:
Are you receiving our weekly newsletters:  eChimes and Justice Chimes Newsletters? Let us know: ray@sayvilleucc.org. Visit our website for more information. at www.sayvilleucc.org. Do you need these in print? 


Please let us know if anything is incorrect or needs to be edited. Thanks!
---
Sayville Congregational United Church of Christ
131 Middle Road, Sayville, NY 11782-3101
631-589-1519; churchadmin@sayvilleucc.org
 www.sayvilleucc.org; www.facebook.com/sayvilleucc
         Heather Corcoran, Church Administrator; eChimes Editor
Ray Bagnuolo, Pastor, 631-827-8611; ray@sayvilleucc.org 
---